Printer-friendly version
Caramel latte cookies are coffee flavored cookies filled with caramel.  This recipe has all the delicious flavors of a caramel latte in chewy cookie form.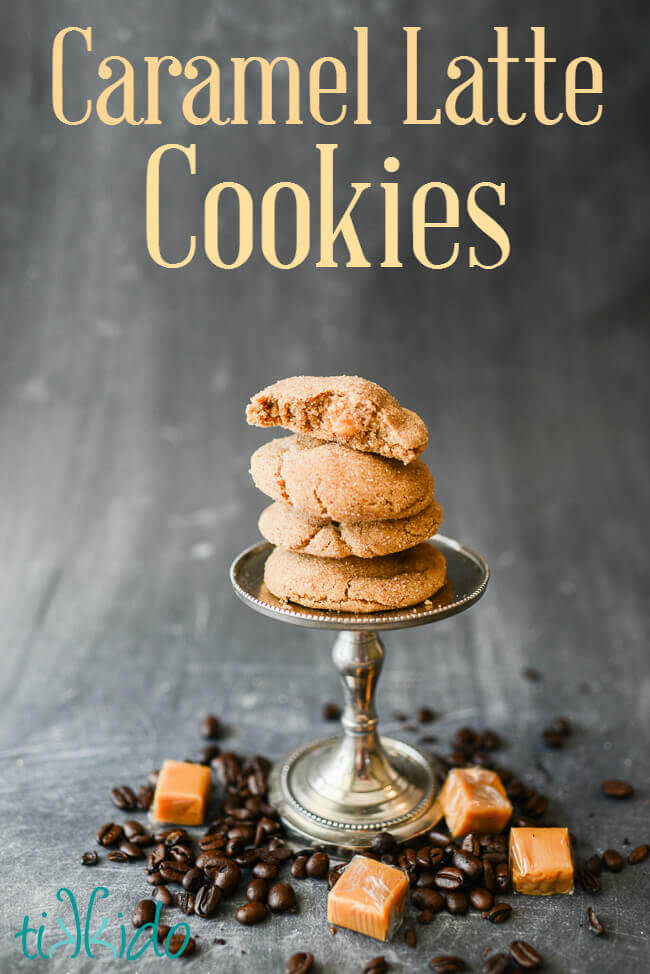 When I was planning the But First, Coffee brunch, I had an idea for a caramel latte inspired cookie, so I started looking around for recipes I could adapt to my purpose.
I wanted a soft or chewy cookie, with great coffee and distinct caramel flavor.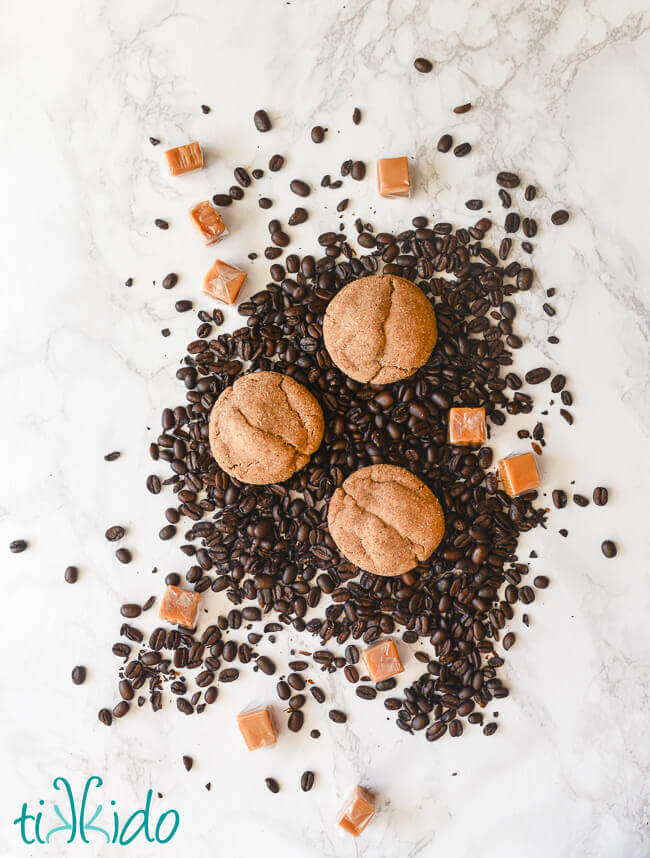 The Caramel Surprise Snickerdoodles from Sally's Baking Addiction provided the perfect jumping off point for my cookies.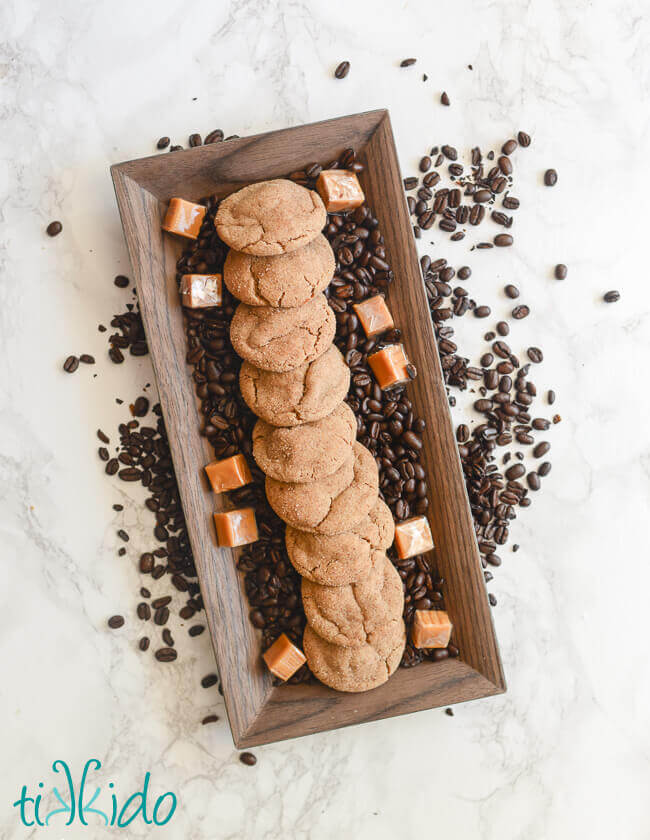 Just a few tweaks to the recipe, and I had a fabulous caramel latte cookie.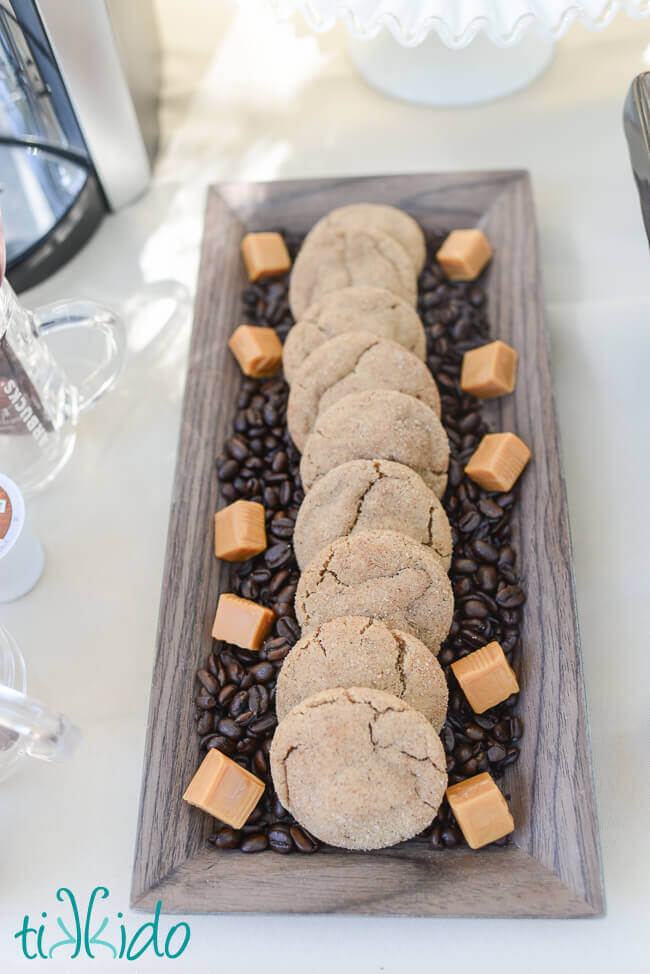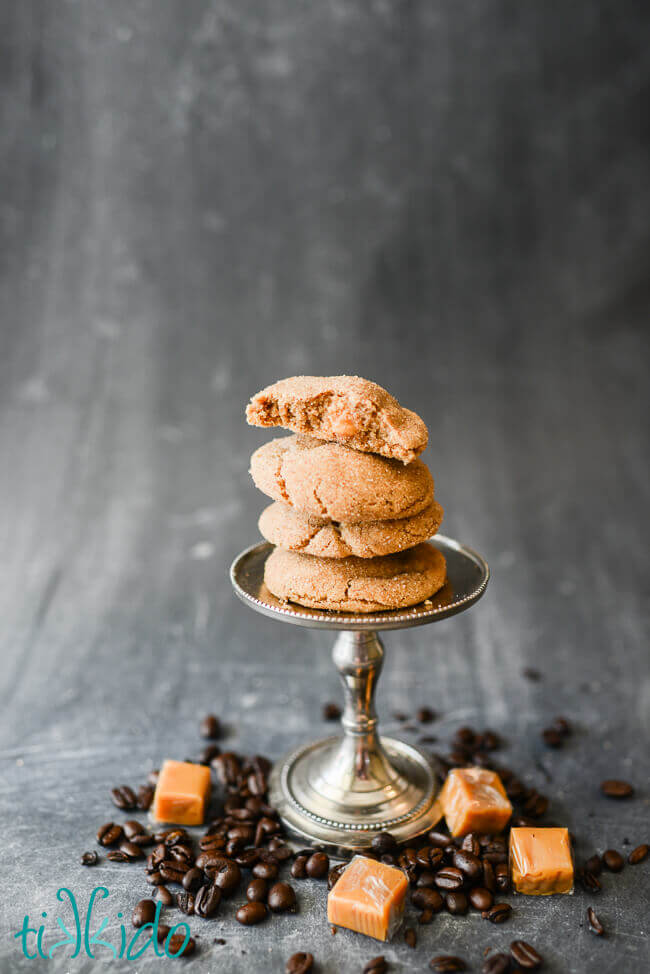 Caramel Latte Cookies:
2 3/4 cups flour
2 teaspoons baking powder
1/2 teaspoon salt
1 cup (2 sticks) butter, softened
1 cup sugar
1/3 cup brown sugar
1 egg
1 teaspoon vanilla
2 teaspoons King Arthur Espresso Powder
soft caramel candies
extra sugar for coating the cookie dough balls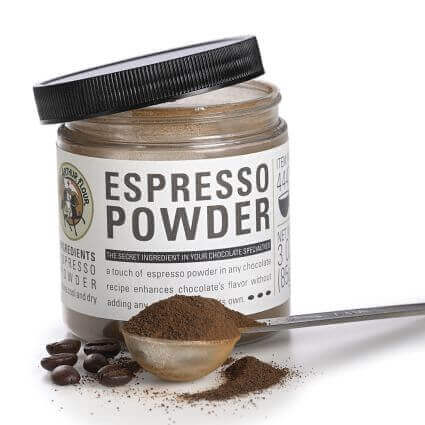 I absolutely love King Arthur Espresso Powder (buy here).  For adding true coffee flavor, it can't be beat, and it's amazing as a flavor booster in chocolate desserts, too.
Cream the butter and sugars together.  Add the egg, and beat until the mixture is fluffy.  
Add the vanilla, espresso powder, salt, and baking powder, and mix to combine.  Add the flour last, and beat just until the flour is nicely incorporated.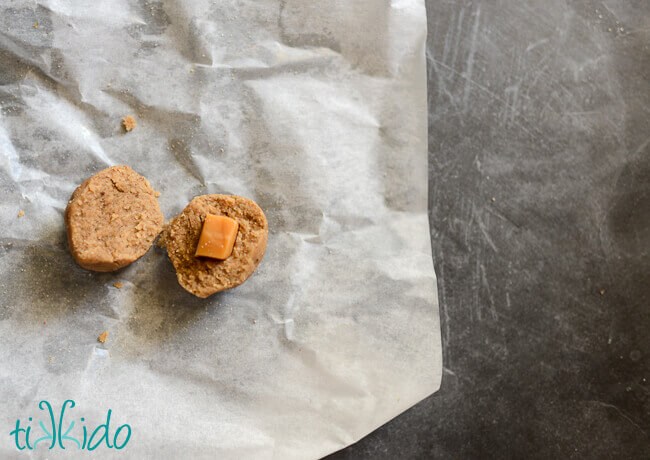 Cookies Filled with Caramel:
Use a cookie scoop (buy here) to portion out even scoops of dough, and roll each scoop of dough into a ball.  Break the ball of dough in half, insert 1/4 of a caramel, and smush the cookie dough ball back together.  Roll in plain sugar.
Bake at 350 degrees on a parchment paper, silpat-lined, or greased cookie sheet and bake for 10 minutes.  Let cookies cool before removing them from the parchment paper.
I originally tried rolling my cookies in cinnamon sugar, but that made the cookies taste oddly gingerbread-ish.  Plain sugar was definitely the way to go, and I think next time I make these, I'll also melt some of the extra caramels and add a caramel drizzle on top of the cookies.  More caramel is always a good idea!
Printable, One Page PDF Caramel Latte Cookie Recipe: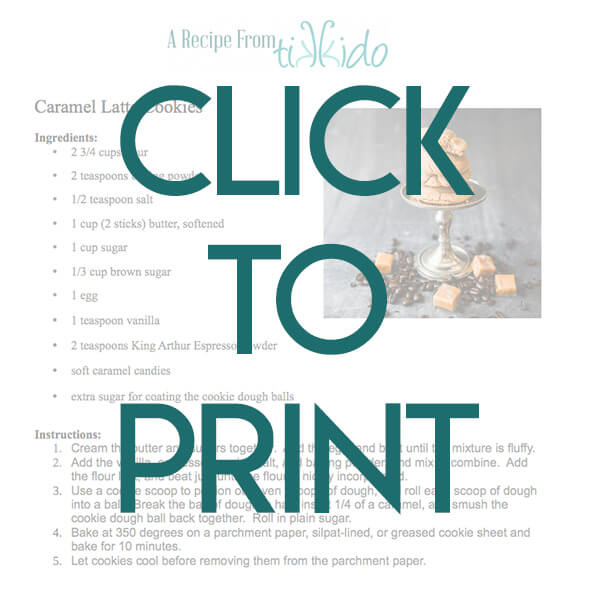 Other Coffee Recipes You Might Like: