Printer-friendly version
If you're looking for gift ideas for bakers, this is the post for you!  I've rounded up all of my favorite kitchen gadgets and must have accessories that make my baking much more fun and easy.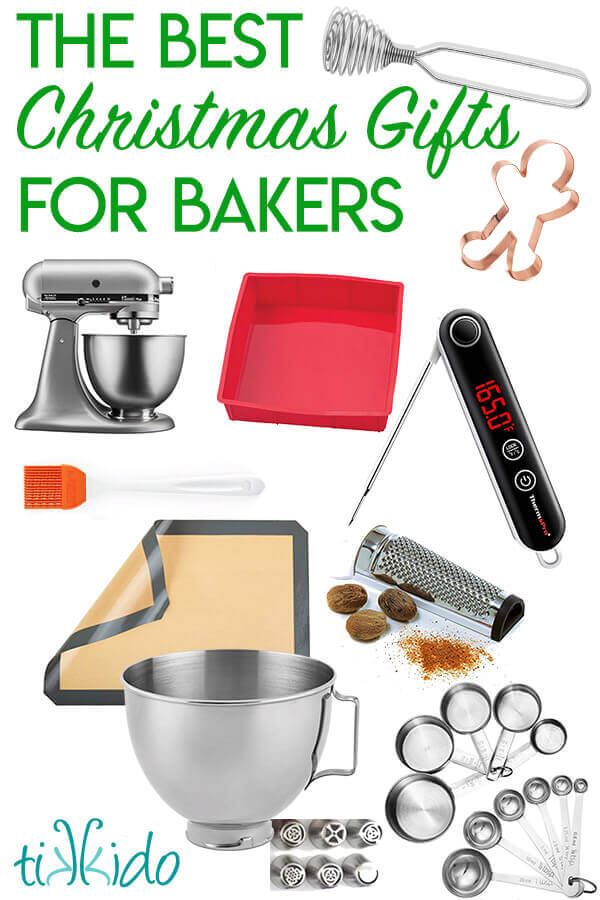 Welcome to the 5th annual 12 Days of Holiday Ideas event, hosted by Shirley of Intelligent Domestications  and  Erlene of My Pinterventures. Between Nov. 11th and December 6th there will be hundreds of new ideas shared by over 55 Co-host bloggers! 
Go here to see our kick-off collection of Holiday ideas as well as all of this years talented participating DIY and Foodie Blogs. Download this years November and December calendars with all of the topics and dates so you can make plans to watch for ideas!
We are hosting a BIG GIVEAWAY from our Sponsors this year! Be sure to scroll all the way down for more information and to enter to win!
Stocking Stuffer Gift Ideas for Bakers
I've selected my favorite kitchen gadgets and tools that make the best stocking stuffers for bakers in this section.  Nothing costs too much, and everything is small enough to easily fit in a Christmas stocking.  
Nutmeg Grater
Nutmeg graters make great stocking stuffers for bakers! The flavor of freshly grated nutmeg is so much better than the pre-ground stuff, and this little grater and some nuts are  just as easy to store as a jar of the ground stuff.  Once you taste the difference using freshly ground nutmeg makes, you'll never go back.
Silicone Pastry Brush
Silicone pastry brushes are easier to clean than traditional bristle or feather pastry brushes, but they're not all equal.  I love these silicone brushes because they have a grid-shaped center layer that helps hold liquid much better than silicone brushes with just silicone bristles.    Silicone pastry brushes are also much easier to clean than traditional bristle pastry brushes.
Coil Egg Beater
I've always called this thing an "egg boinger."  I used to love using my grandmother's when I got to help her bake, and when I got my first apartment, I found one just like it in a resale shop.  This isn't some sort of strangely shaped whisk--you squish it (boing it) to beat eggs.  This silly little tool works SO much better than just whisking eggs or using a fork to beat eggs together.  It's great for baking, or even just if you love cooking scrambled eggs and omlettes.    It's a funny looking, quirky little kitchen gadget, but it really is incredibly useful, too.
Copper Cookie Cutters
A copper cookie cutter is a great stocking stuffer for bakers who like making cookies.  I don't generally splurge on pretty copper cookie cutters when buying cookie cutters for myself, but they're beautiful and a pleasure to use, and I'd love receiving a gorgeous copper cookie cutter in my stocking.  Just find a shape your favorite baker doesn't already have, and you'll have the perfect stocking stuffer for your baker.
Instant Read Thermometer
It's common knowledge that instant read thermometers are great for cooking meat, but they're also fabulous for baking cakes, breads, and making homemade candy, too.  You'll never have to check a tester for batter and wonder if you know what internal temperature you're baking to!
Extra Cup Measures and Measuring Spoons
Having more than one set of measuring cups and measuring spoons is SO NICE.  I hate having to wash my cups and spoons between measuring things (and having to dry them SO WELL, lest the flour gets caked on and cemented into the corners of the measuring cup).  They nest and don't take up much space in the kitchen, and the slight bit of extra storage space needed to is well worth the convenience of having duplicate measuring cups and spoons.
If you want something that looks a little fancier for your favorite baker's stocking stuffers, I love these copper plated measuring cups and measuring spoons.
Russian Piping Tips for Frosting
It is so fun to make fabulous, fancy cupcakes easily and quickly with these Russian piping tips.  The whole package could be given as one bigger gift, of course, but I love the idea of wrapping each of the tips individually for a baker's Christmas stocking!  Half the fun is in opening lots of little presents and those moments of discovery.
Moderately Priced Gift Ideas for Bakers
Beater Blade
If your baker has a Kitchenaid mixer, a beater blade is a fabulous accessory to give as a gift.  It's a beater that has a rubber spatula integrated into the design, so that it scrapes the side and bottom of the bowl as you mix.  No more stopping and scraping!  
Be sure that you buy the right size for your model of mixer (there are different sizes of Kitchenaid mixers).  There are different brands you can choose from, many of which are great.  Just be sure to buy a metal beater, not a plastic one, even if it claims to be heavy duty plastic.  Trust me; I've broken several of those.
Extra KitchenAid Mixer Bowl
Having an extra bowl for your Kitchenaid mixer is so nice!  I love not having to clean my bowl between making the cake batter and the icing.  It's not absolutely necessary, but man, is it nice to have a second bowl.
Parchment Paper Sheets (Not Rolls!)
Parchment paper is great for lining baking sheets and is a fabulous kitchen tool, but it is SO ANNOYING to use the kind that comes on a roll from the grocery store!  It curls, it won't stay in place, it's hard to cut...  all around miserable.  Pre-cut sheets of parchment paper, however, are magnificent to work with.  I will never, EVER buy a roll of parchment paper again after buying sheets.
Silicone Cake Pan
I don't often bake cakes in my silicone cake pans, but they are absolutely AMAZING and my secret weapon for making homemade caramels.  They're also brilliant for making bar cookies like my raspberry crumble bar cookies.  The whole pan of bars just pops out of the pan without having to line it or make a parchment paper sling, which makes it much easier to cut the cookies.
Silpat Mat
I use parchment paper for most of my baking, but there are some things for which a silicone baking mat is absolutely brilliant.  My bagels stick horribly to parchment paper but pop right off these Silpats.  So do macarons when I've made them.  My English toffee recipe is SO much easier to make when I line the pan with a silicone mat.  Silicone mats are my secret weapon for rolling out sugar cookies and gingerbread house dough.  These Amazon Basics brand silicone mats are every bit as good as the more expensive Silpat brand.
Kitchen Scale
I love baking by weight, and a kitchen scale makes that easy and accurate.  I love digital scales because it's easy to tare (re-set it back to zero with the bowl and any fillings inside) and change units of measurement.  All of my mother's recipes from pastry school are by weight, because it's a much more accurate way to bake.  
Amazon Echo Dot
This may seem like a strange item on a list of gift ideas for bakers, but I actually love using my Amazon Echo while baking!  I adore being able to set a timer (multiple timers!) with my voice when my hands are messy and covered in flour.  I love being able to ask Alexa for a quick conversion of ounces to grams.  And of course it's fun to be able to listen to music and podcasts while I work.
Big Gift ideas for Bakers
Kitchenaid Mixer
I can't imagine doing the baking I do without a Kitchenaid mixer.  (I'm sure other stand mixers are also great; I love it when I get to use my pastry chef mother's professional 10quart Hobart mixer!).  I've grown up with Kitchenaid mixers, and can't imagine trying to have a kitchen without one.  When I've baked in friends' kitchens, and they didn't have the right tools for the job, it made me realize why people hate baking.  It sucks when you don't have the right tools!  But with the right equipment, it's a joy.
Really Great Knives (like this Zwilling J.A. Henckels Knife Set)
A set of high quality knives makes a huge difference in safety and ease when working in a kitchen.  I love my Henckels knife set, and have been using it for 18 years.  Learn how to sharpen your knives or take them to be sharpened regularly, and a good set of knives like this will last you a lifetime.
---
MEET OUR SPONSORS who have generously donated fabulous prizes for the Big Christmas Giveaway!
DecoArt  winner will receive a prize package valued at $100!
Dixie Crystals/Imperial Sugar winner will receive a Keurig Coffee Maker valued at $100!
Oriental Trading winner will receive an OrientalTrading.com gift card valued at $200!
Cabot Cheese winner will receive a gift basket of Cabot products valued at $75!
Burlap Fabric winner will receive a prize pack of products valued at $50!
Zulay Kitchens winner will receive one Milk Frother and a Lemon Squeezer valued at $21
It's Home To You winner will receive one wooden Santa sign valued at $65
Giveaway begins Nov. 8, 2019 and ends Dec. 6, 2019. Winners will be notified by December 13, 2019. Sponsors will ship each prize to the winner. There will be a total of six winners, one for each prize. Drawing is by random selection using the Rafflecopter widget. 
Must be 18 to win. Open to U.S. residents only. Terms & Conditions