Printer-friendly version
I am a big fan of the humble bar cookie.  They're so easy, so quick, and if you have the right recipe, so delicious.  This raspberry crumble bar cookie recipe is definitely the right recipe.  It's AMAZING.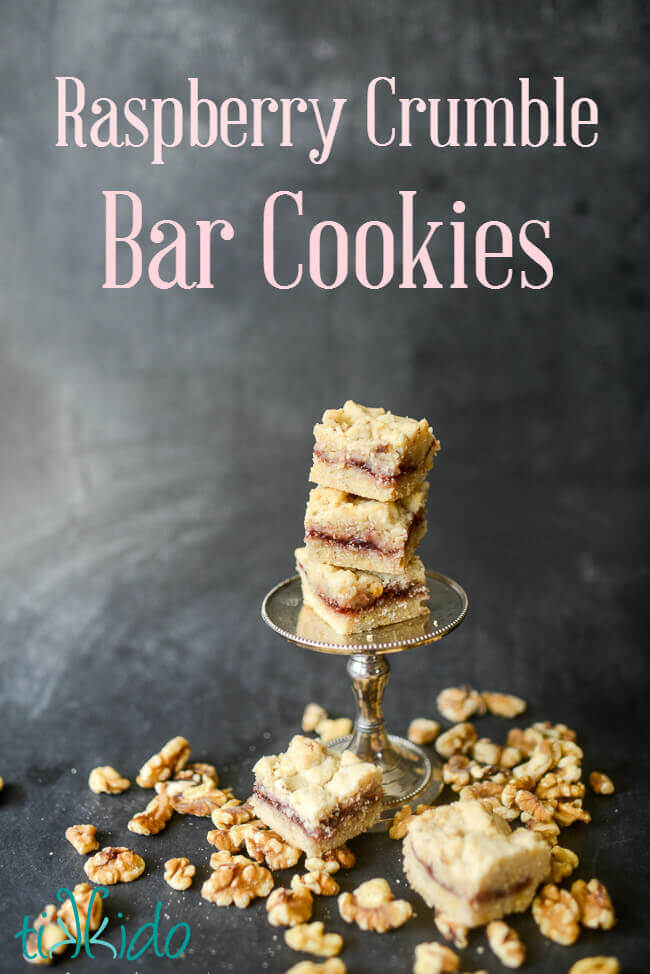 I made these (and other bar cookies) as delicious "building resources" for the Minecraft birthday party.  I originally got the recipe from one of my mom's Land-o-Lakes recipe books, and it has been a family favorite since the very first time we ever used the recipe.    I've actually never had a dud of a recipe from Land-O-Lakes, actually.  Those butter people know their cookie recipes.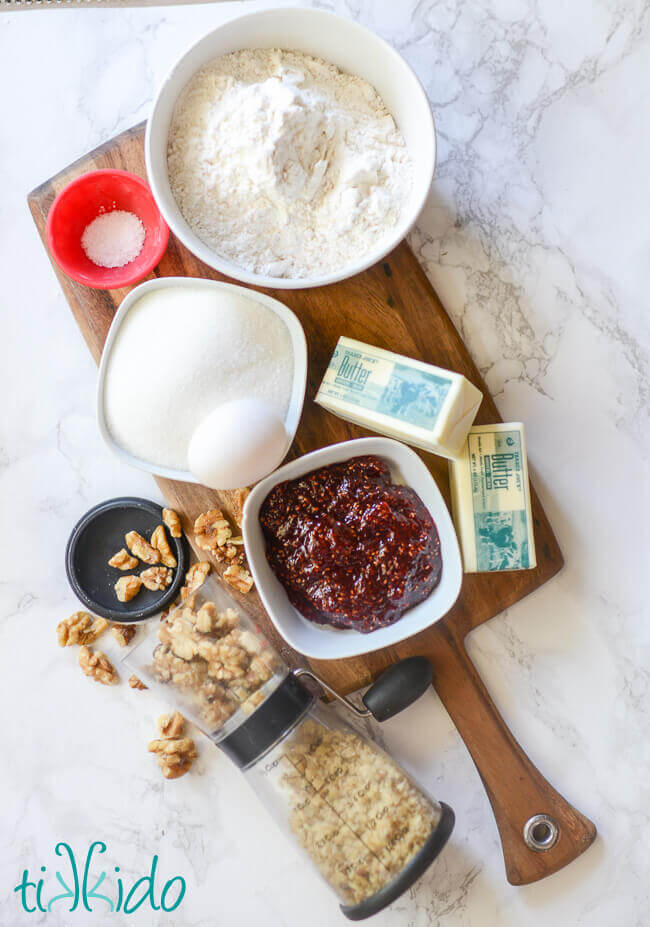 Raspberry Crumble Bar Cookie Recipe Ingredients:
1 cup butter, softened
1 cup sugar
1 cup nuts, chopped (usually pecans, but I've also used walnuts.  And I LOVE my little hand-grinder for chopping up nuts.)
1/2 teaspoon salt
1 egg
2 1/4 cups flour
raspberry jam to cover teh cookies (about scant 1 cup)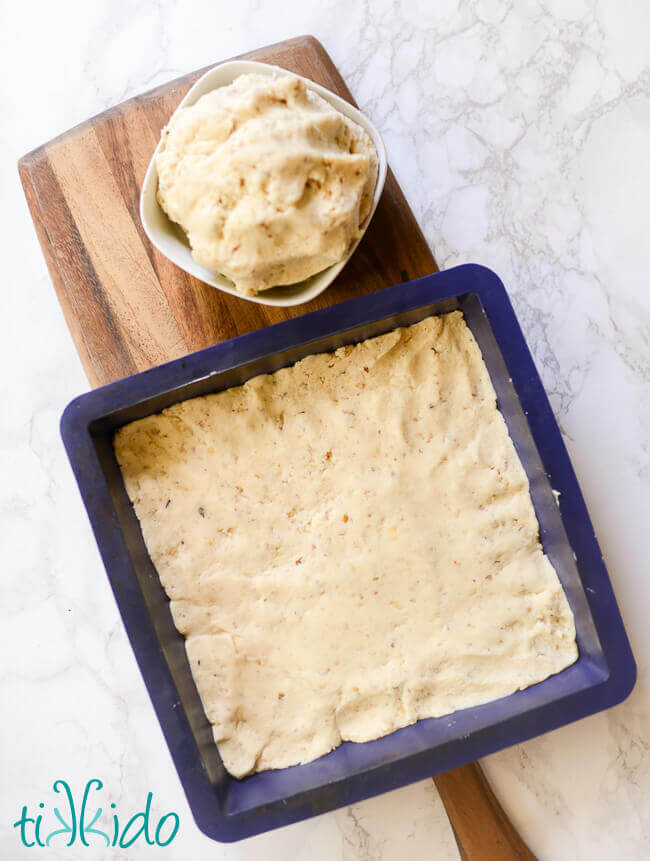 Heat oven to 350 degrees Fahrenheit.
Cream butter and sugar together.  Add egg, and beat until combined.  Add salt, chopped nuts, and flour, and mix until well combined.
Reserve two cups of the dough for the topping, and set aside.  It seems like a lot of the dough, but trust me, it works out.
Press the remaining dough into a 9" square baking pan.  I want to mention at this point that I don't use silicone baking dishes for everything, but they are absolutely AMAZING when it comes to bar cookies.  No lining the pans with parchment paper or aluminum foil.  No greasing and flouring.  No fuss at all, and the bars just pop right out onto the cutting tray, so you can easily cut the bar cookies into...um, bar cookies.  I can't recommend silicone baking pans highly enough for this job.  And for making caramels.  They will make your life so much easier if you're undertaking either of these projects.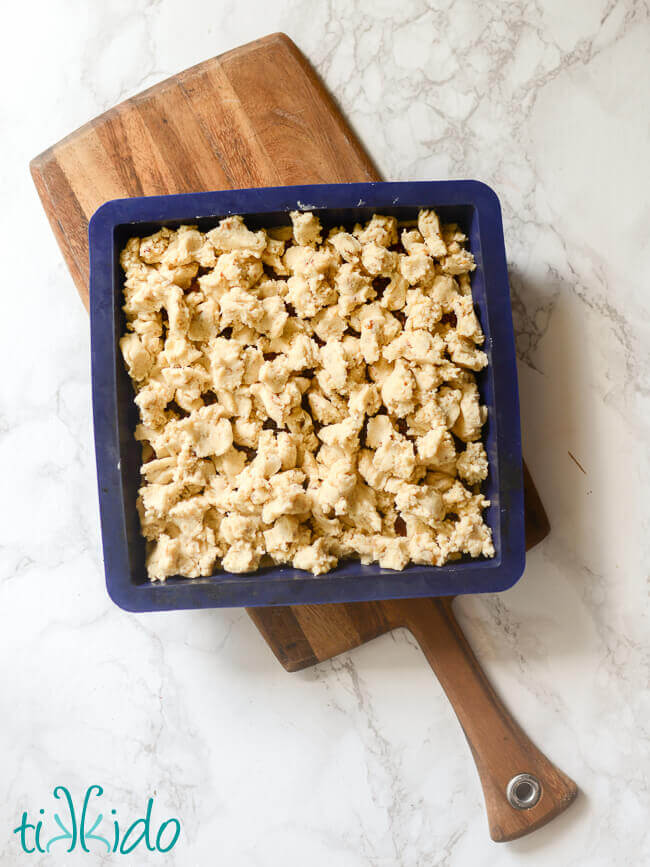 Spread the jam over the layer of dough pressed into the baking pan, and then pinch off chunks of the reserved dough over the jam layer.  Just drop them down; no need to press or arrange.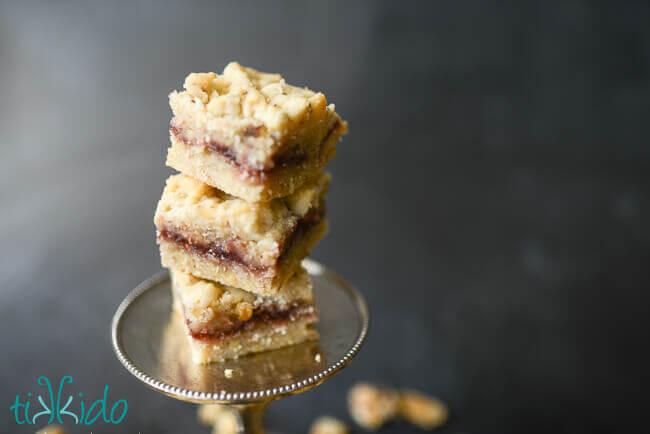 Bake for 45-50 minutes.  The bars will only be lightly browned, but they'll be done.  Done and tender and buttery and flavorful and DELICIOUS.  All that, plus the ease of a bar cookie?  You're welcome.