Printer-friendly version
Cooking Christmas dinner can be a challenge--especially figuring out how to time everything and deal with limited oven space.  These Christmas crockpot recipes are a great way to make holiday meals easier by letting your slow cooker do some of the work for you.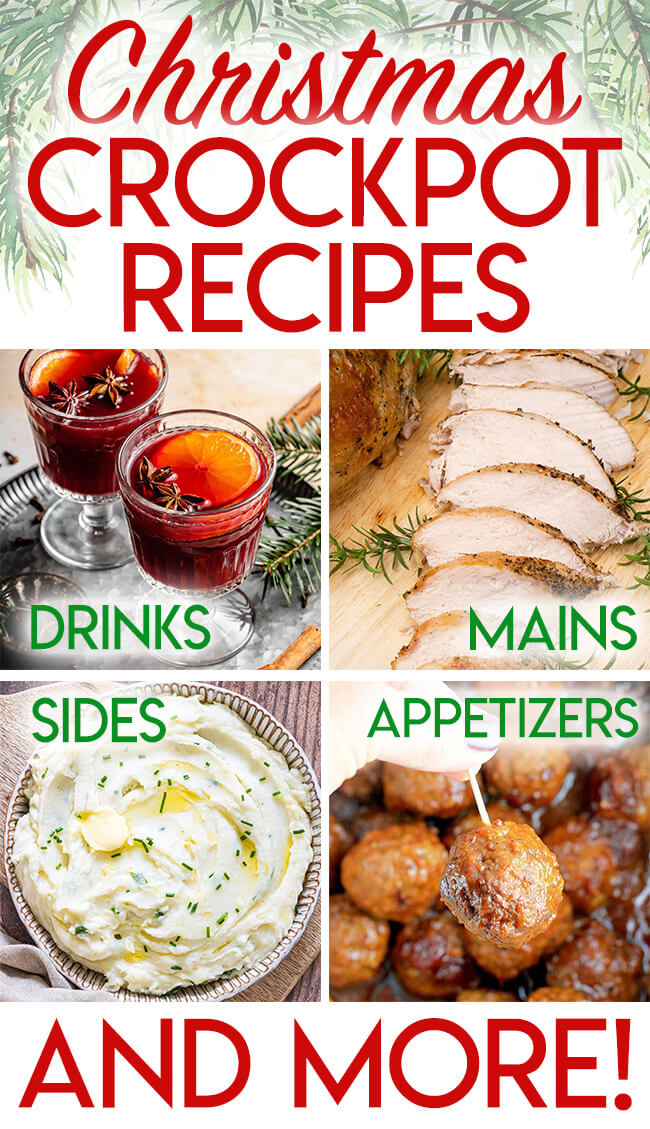 This holiday season, try one of these slow cooker recipes to make your meal prep more efficient.  I've divided this roundup of easy recipes into sections, so you'll be able to click on any link to jump right to the section you want.
Christmas Slow-Cooker Recipe Table of Contents
Crock Pot Christmas Appetizers
1. Cranberry BBQ Crockpot Meatballs
Meatballs are a classic, hearty appetizer easy to make in a crock pot.  This holiday crockpot recipe features a cranberry twist on traditional meatball appetizers--but it's just as easy to make! Get the Cranberry BBQ crockpot meatball recipe from Erica's Recipes. 
2. Crockpot Roasted Mixed Nuts with Herbs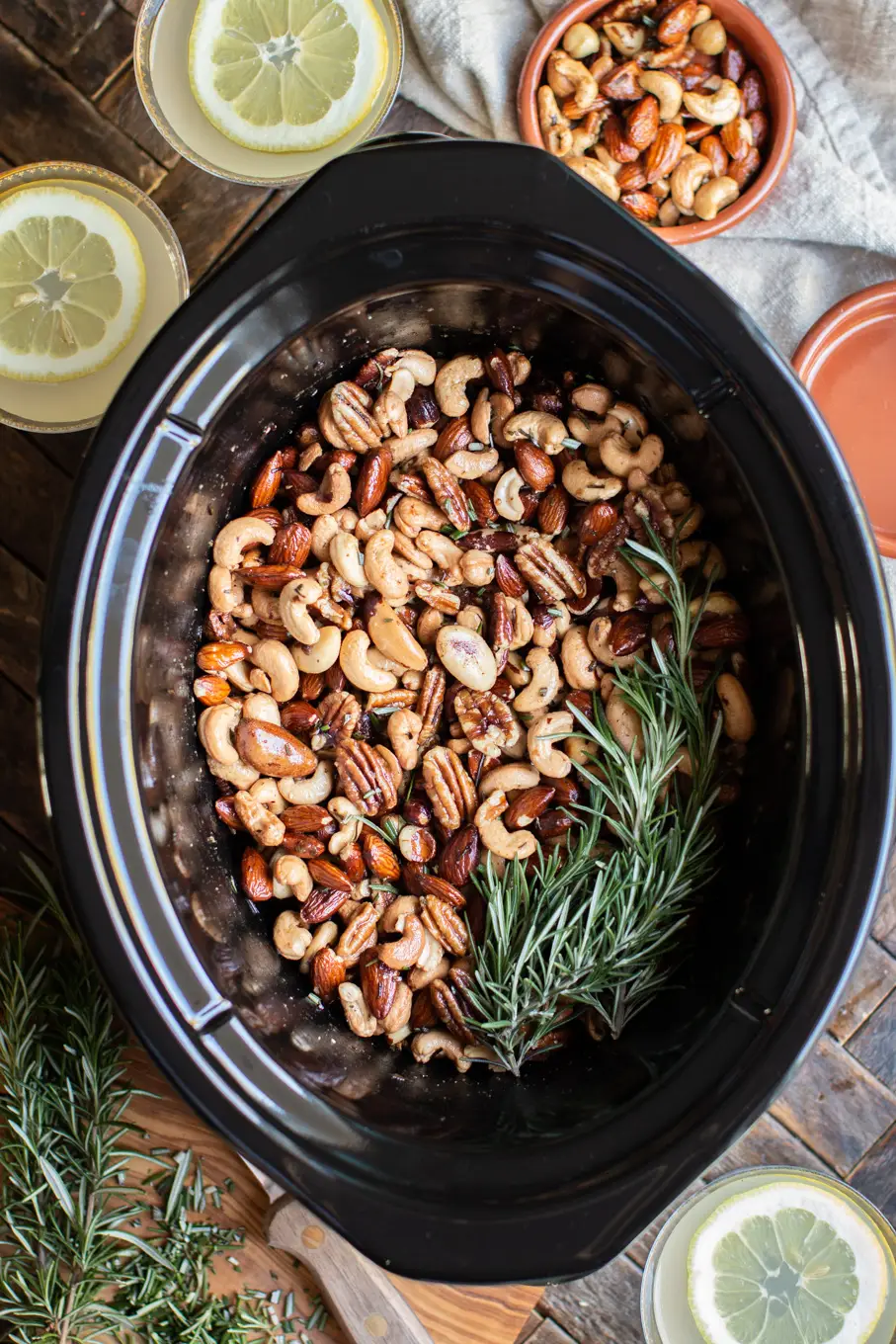 These copycat Union Square Cafe bar nuts are made in the slow cooker, and are amazingly flavorful.  A little sweet, a little salty, a little spicy, and a LOT delicious.  The fresh herbs really make this snack mix special.
3. Slow Cooker Spinach Artichoke Dip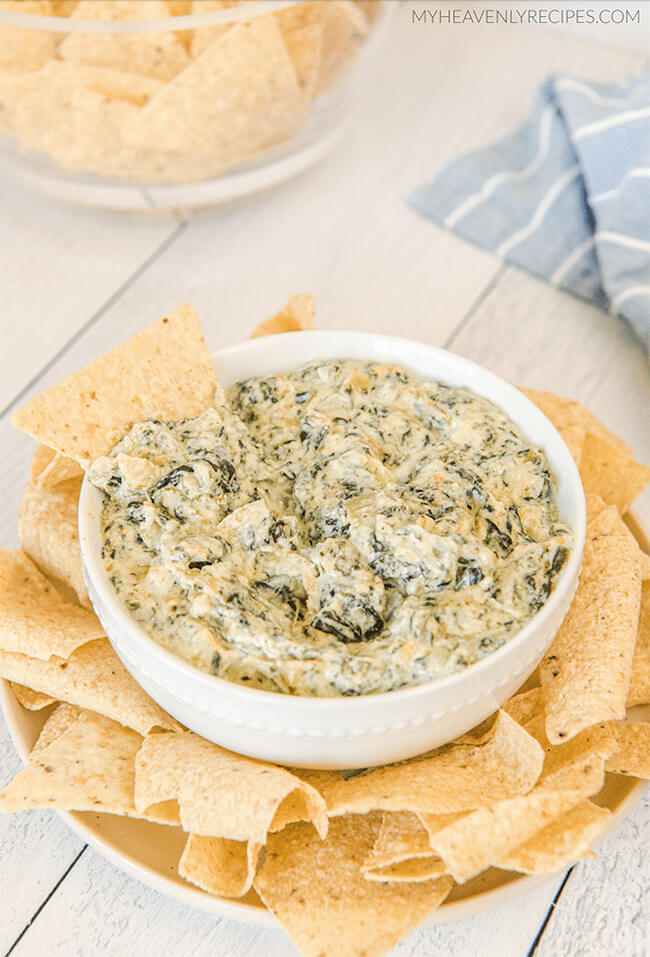 I absolutely love spinach artichoke dip!  Warm, gooey, melty, scooped up on a salty tortilla chip...  snack heaven!  This crockpot spinach artichoke dip recipe will keep your guests very happy until the rest of Christmas dinner is on the table.
4. Slow Cooker Chex Mix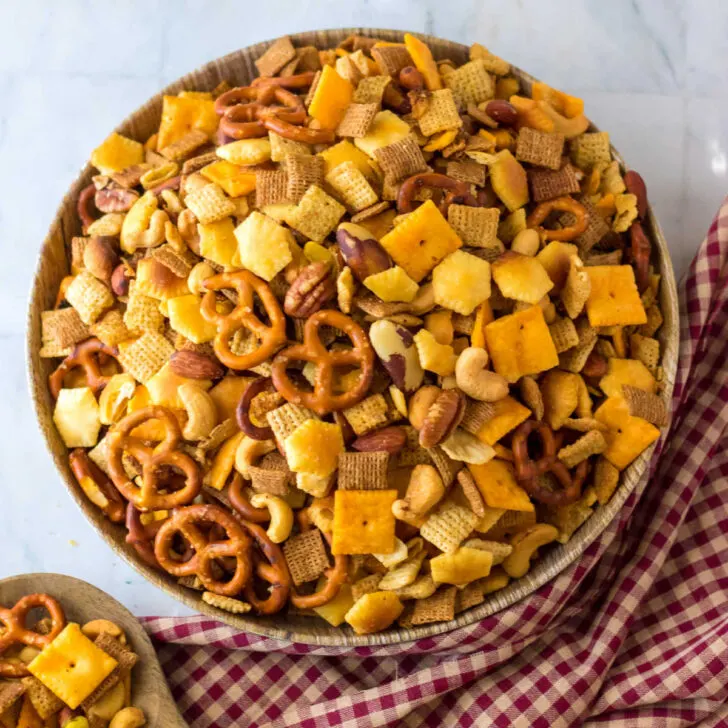 Chex Mix (or as my husband's family calls them, Doo Dads), is a holiday must in our home, but I never knew you could make it in the crockpot!  Check out how easy this slow cooker chex mix recipe is.
Main Course Christmas Crock Pot Recipes
Even main dishes can be made in the slow cooker during the Christmas holidays! Any of these recipes deserve to be the star of your dinner table this Christmas season.
5. Crock Pot Pork Loin with Honey Garlic Glaze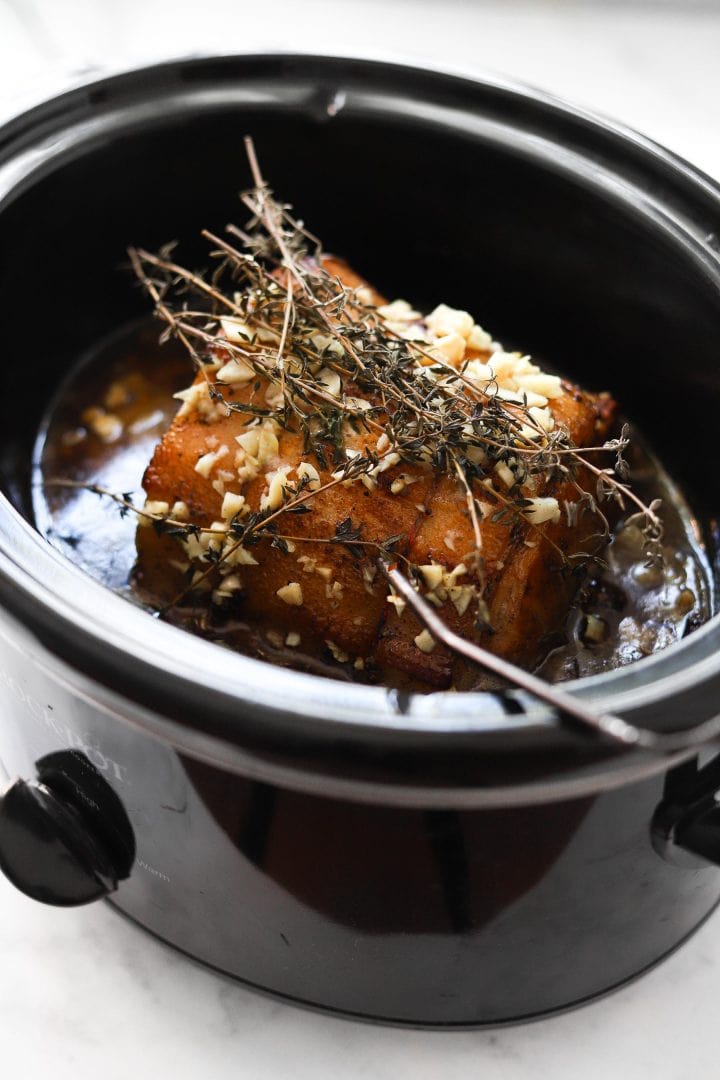 This crockpot pork loin from Kit's Kitchen is perfect for a smaller Christmas gathering. It's easy to make, full of flavor, and the honey garlic glaze is just irresistible.
6. Slow Cooker Leg of Lamb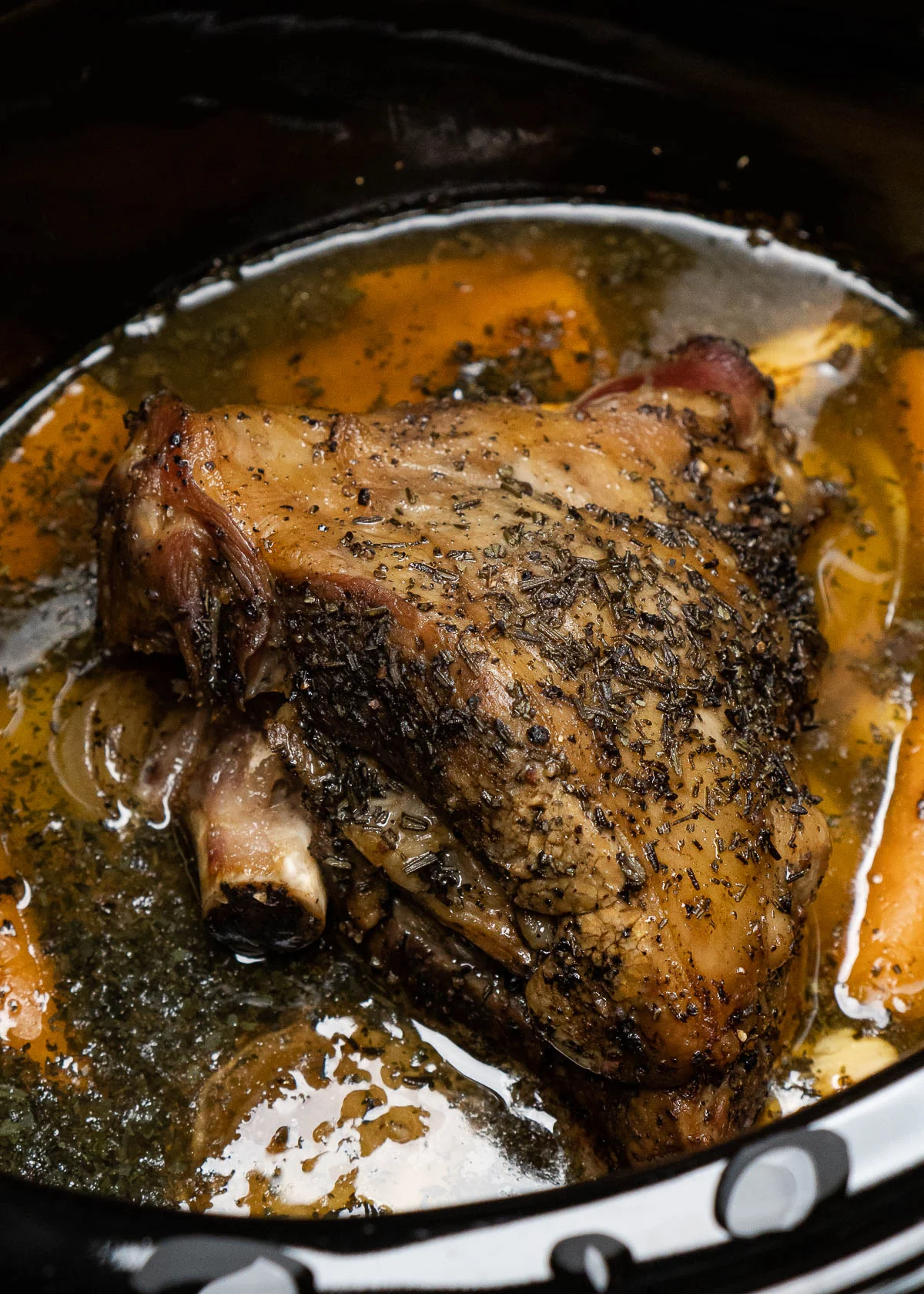 A leg of lamb always impresses, and your holiday guests will absolutely love this Crock Pot Leg of Lamb recipe.
7. Slow Cooker Whole Chicken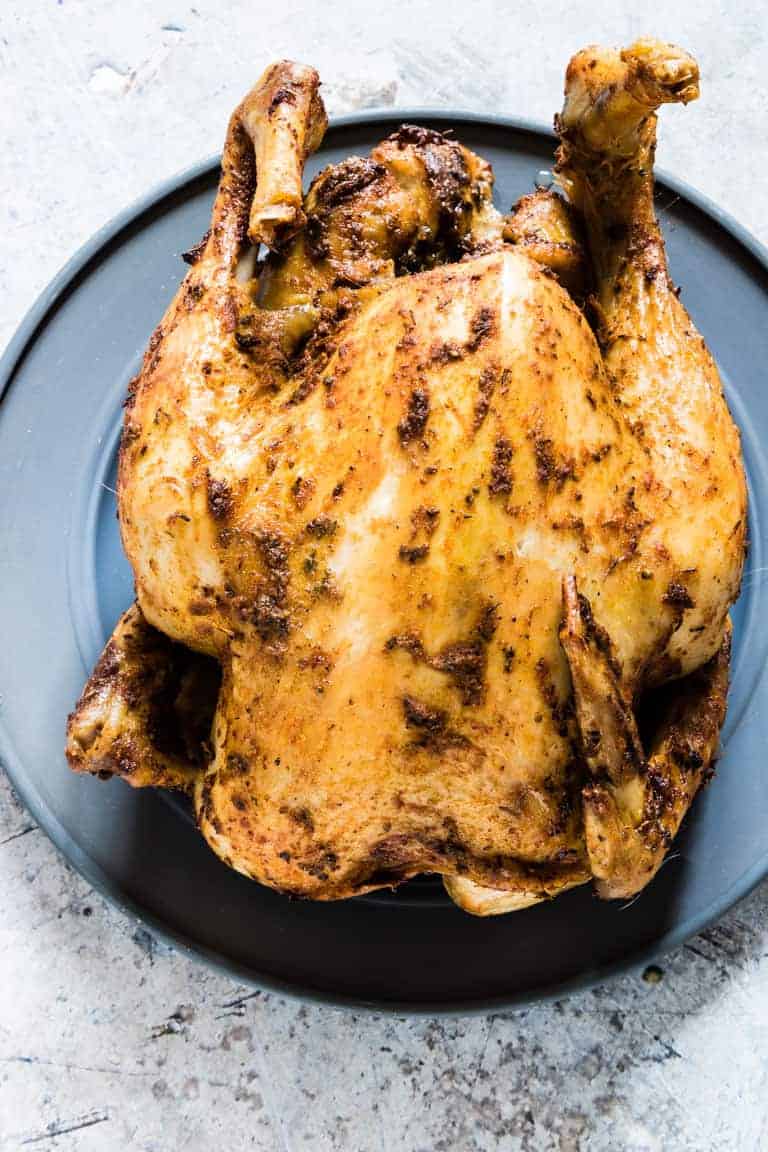 Yes, you absolutely can make a whole chicken in the slow cooker!  A roast chicken is a great alternative to a giant turkey for a smaller holiday celebration.
8. Slow Cooker Turkey Breast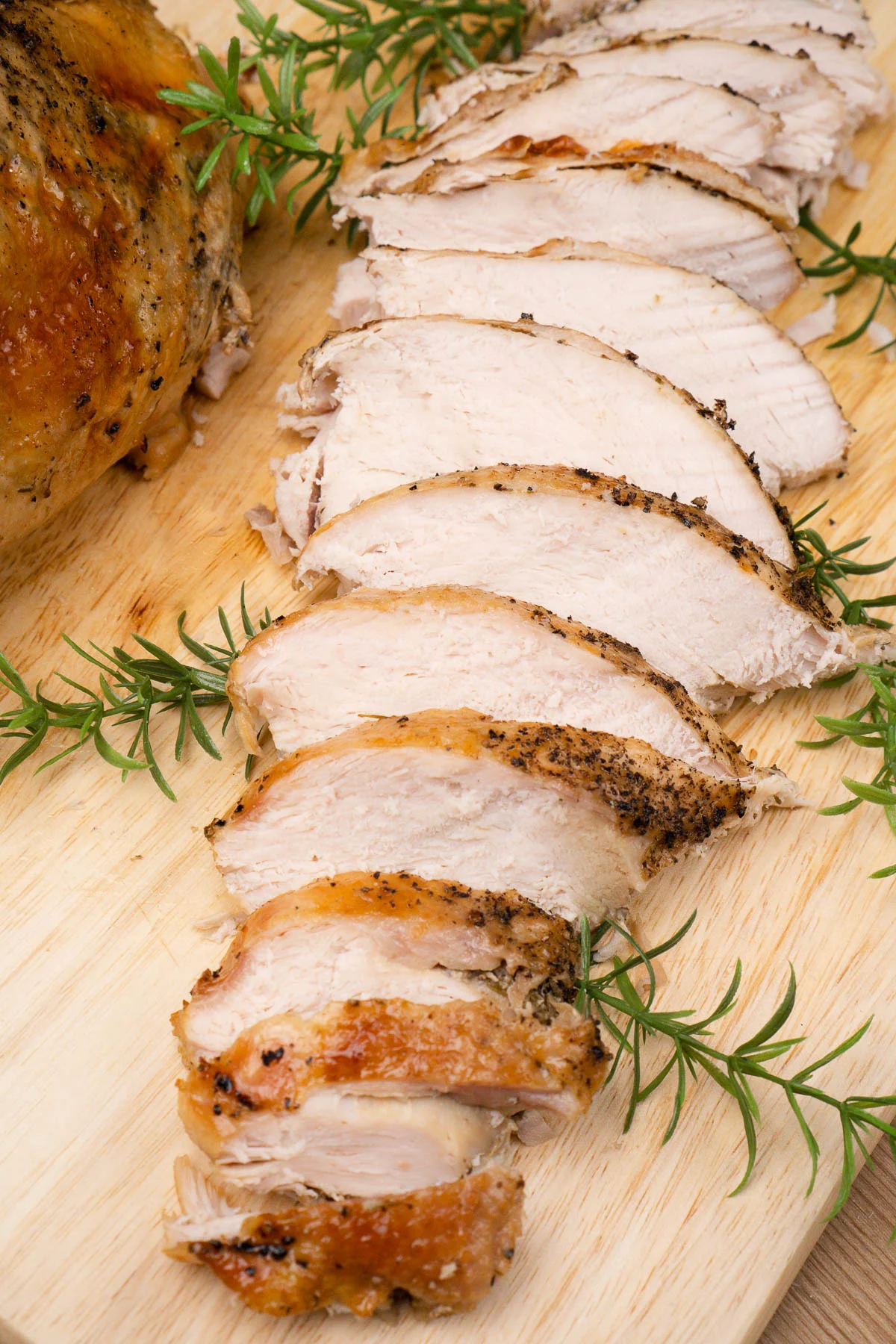 I almost always make a turkey breast (on the bone--also sometimes called a turkey crown) for big Christmas meals.  And I've always roasted it for hours.  But next time, I'm definitely pulling out the slow cooker and trying this slow cooker turkey crown recipe!  It makes delicious turkey, and frees up the oven for other side dishes.
9. Slow Cooker Brown Sugar and Pineapple Ham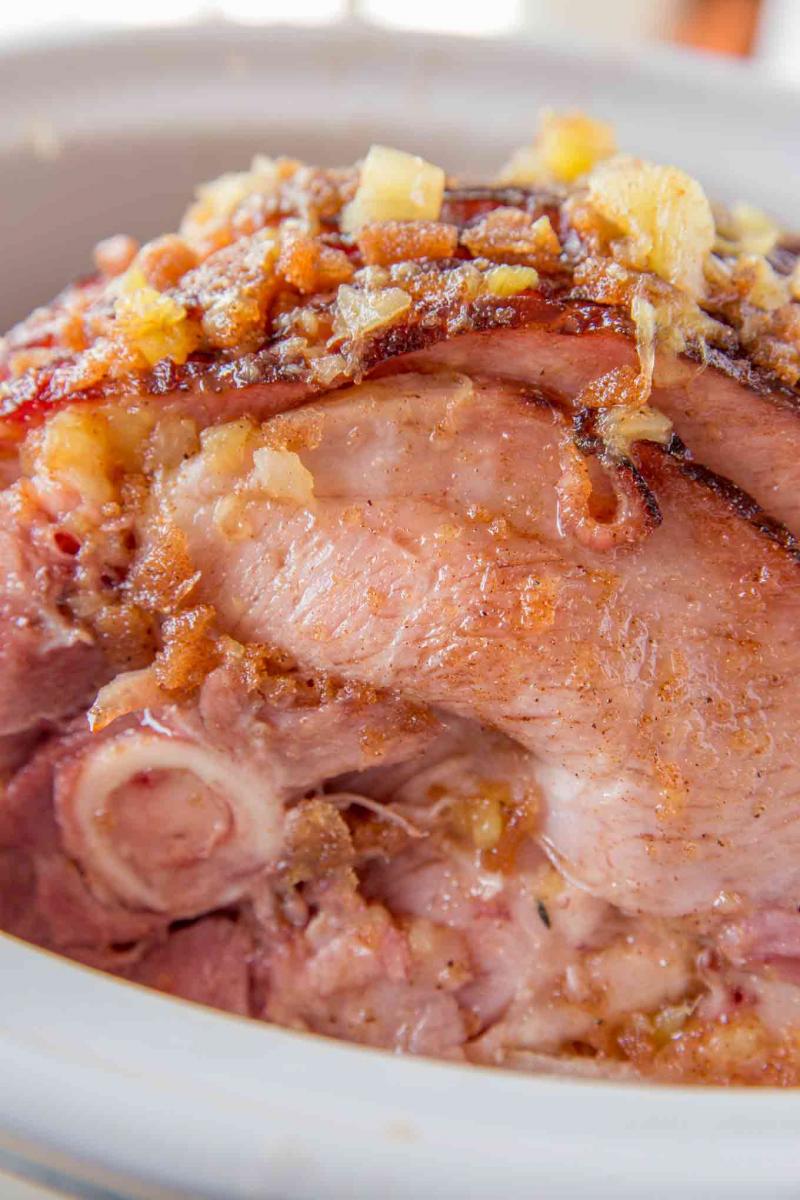 If a Christmas ham is always on your holiday table, fear not, there's an amazing Crock-pot recipe for you, too!  Check out this succulent slow cooker ham glazed with brown sugar and pineapple from Kitchen Fun with My 3 Sons.  And if you want a no-sugar crockpot ham recipe that's just as delicious, try this one from Whole Lotta Yum.
Christmas Side Dishes Made in a Crockpot
The slow cooker is great for making sides, too!  There's a crockpot recipe for every part of your Christmas menu.
10. Crockpot Mashed Potatoes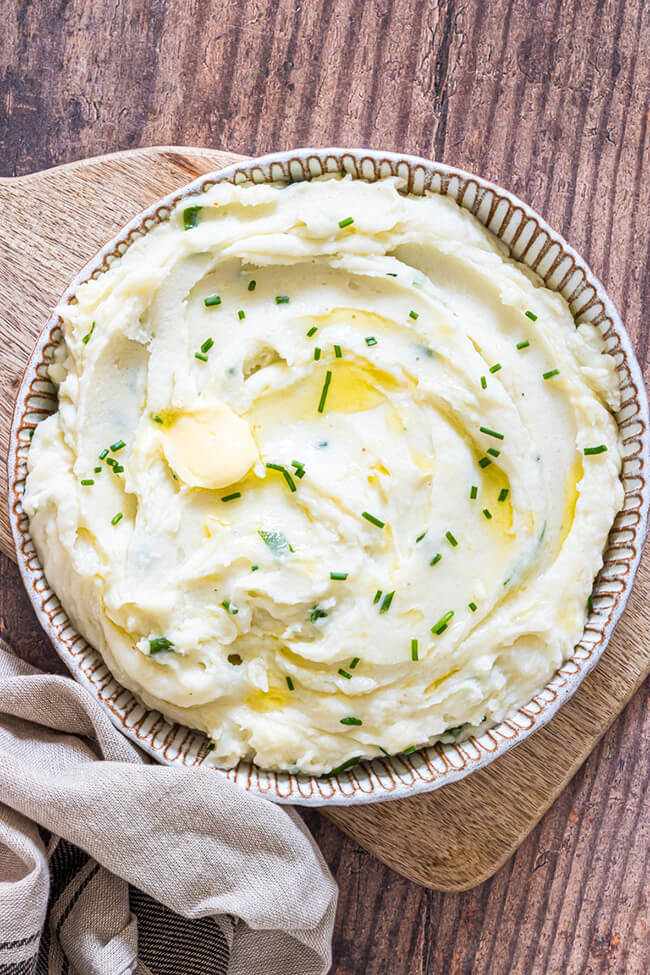 We have to start with a classic:  mashed potatoes.  This crockpot mashed potatoes recipe is especially great if you have a large family that loves mashed potatoes, because you can make a very large batch.
11. Slow Cooker Mashed Sweet Potatoes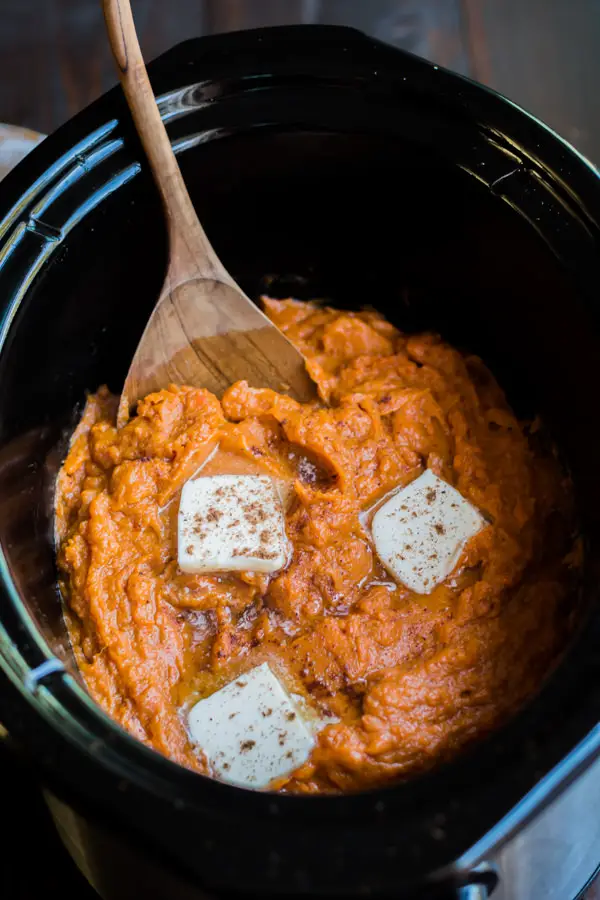 I like sweet potatoes more than regular potatoes, personally, so this slow cooker mashed sweet potatoes recipe is calling my name.  Feel free to turn these mashed sweet potatoes into sweet potato casserole by topping with some mini marshmallows and pecans and giving it a little toast in the oven.
12. Crockpot Green Bean Casserole
Green bean casserole--another absolute classic on so many holiday tables in the United States!  And YES, you can make green bean casserole in a crockpot! I prefer my green beans roasted, but you just can't mess with tradition, sometimes.
13. Slow Cooker Creamed Corn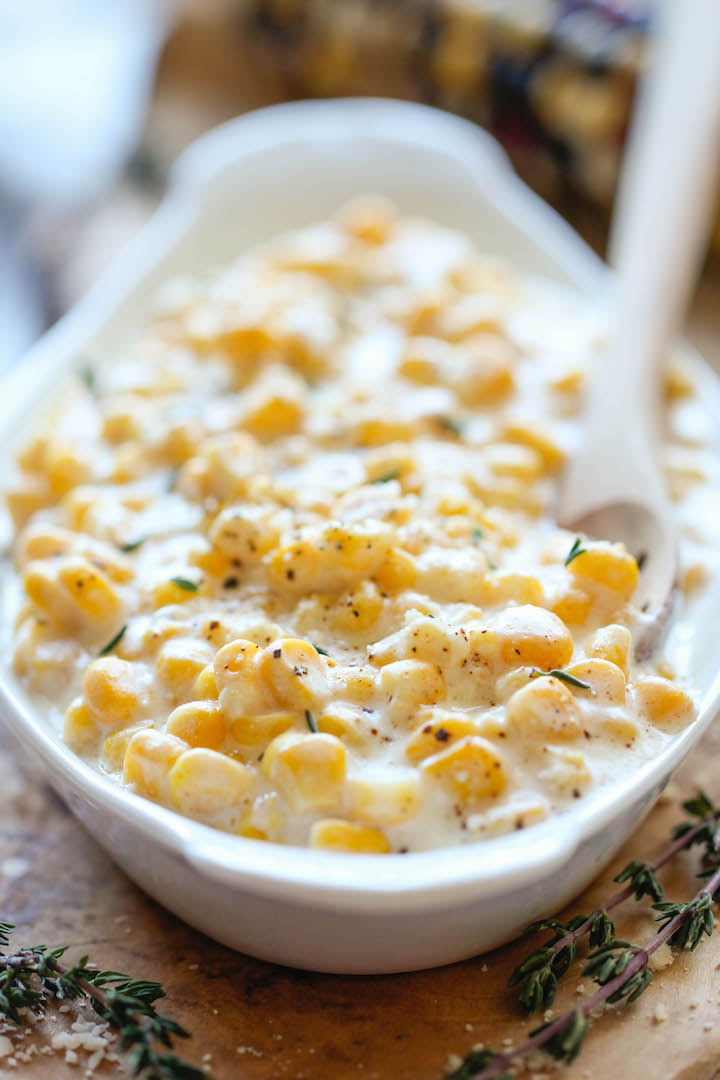 Creamed corn is another traditional holiday side dish for many families, and this slow cooker creamed corn is easy to make and so much better than the canned version.
14. Slow Cooker Stuffing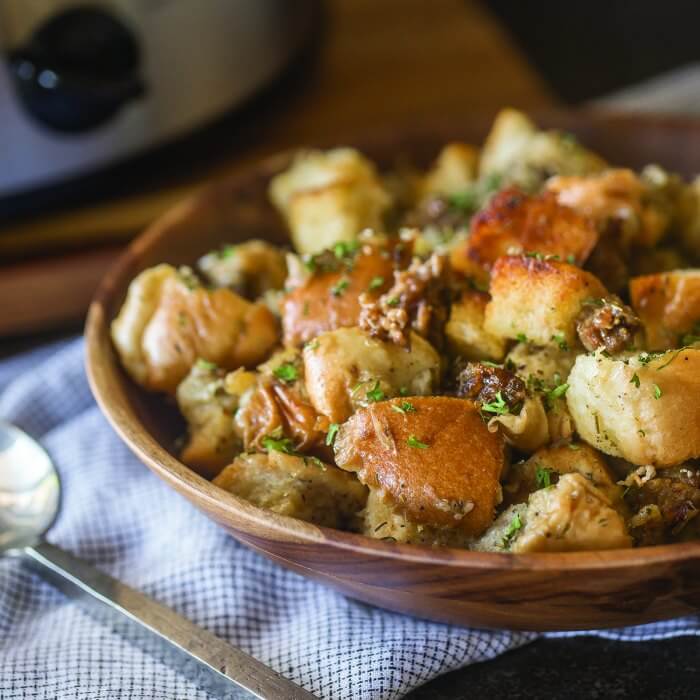 You need to do some of the prep work for this crockpot stuffing, like browning the sausage, on the stovetop, but that part can be done well ahead of time.  And then you just need to put the ingredients together in the crockpot to make this amazing slow cooker sausage stuffing!
15. Slow Cooker Roasted Carrots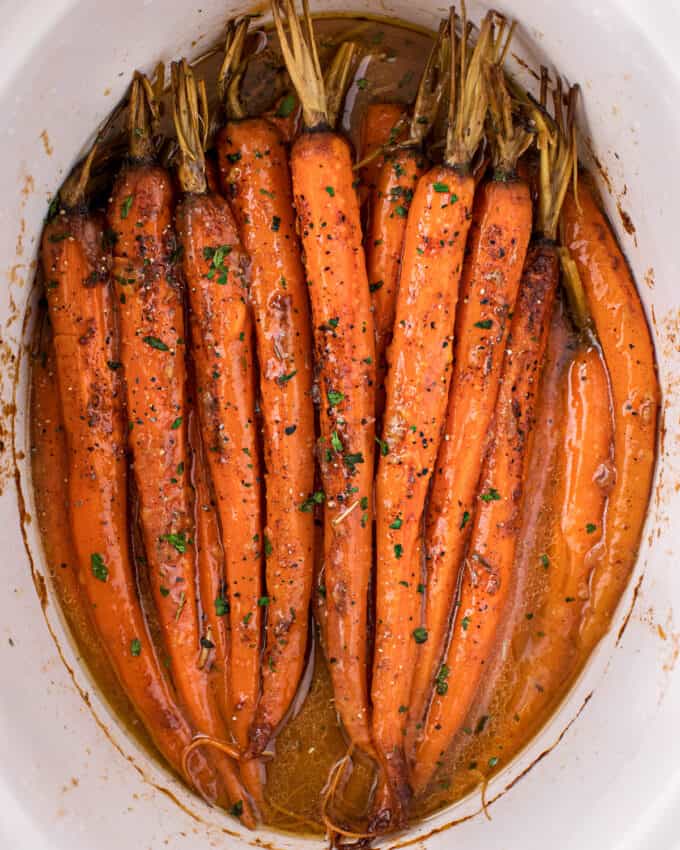 These Crockpot Roasted Carrots are perfectly spiced, with a delicious sweet and savory glaze.  And made in a slow cooker--what could be easier?
16. Slow Cooker Focaccia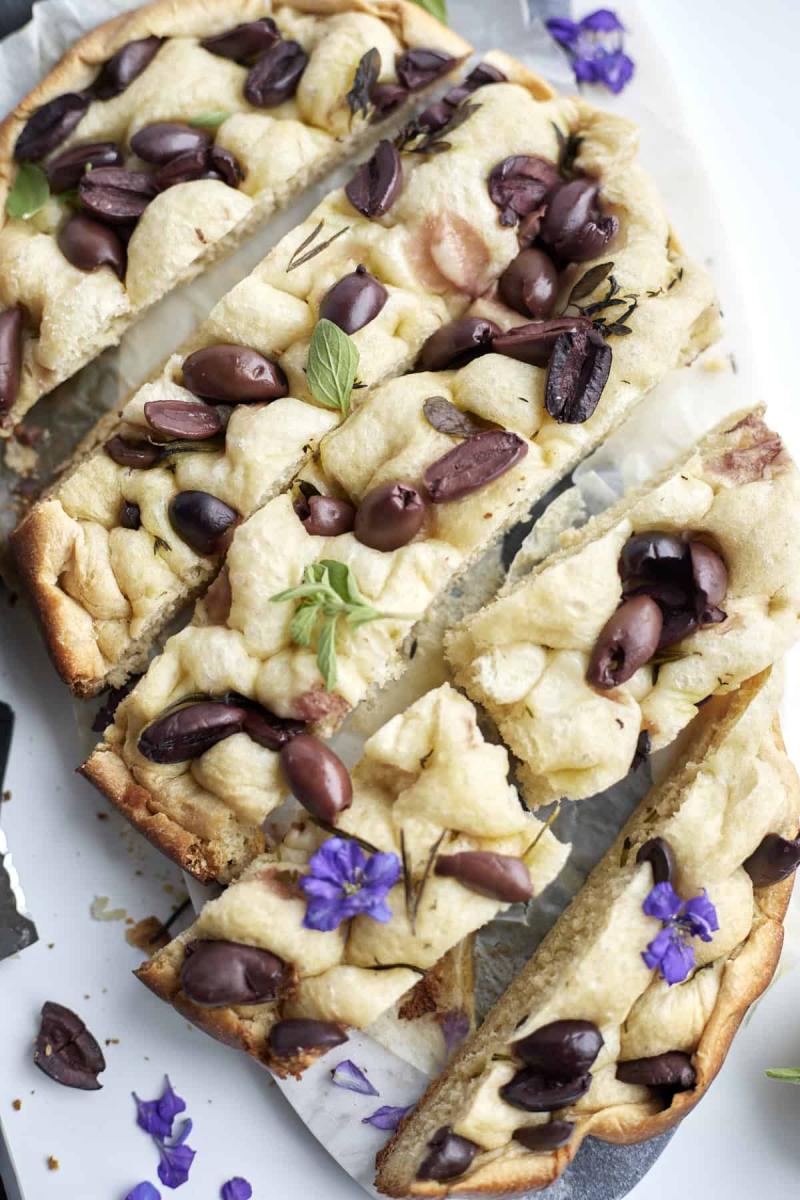 You can even make bread in a slow cooker!  This crockpot focaccia recipe is a great recipe for beginner bread bakers, and a welcome addition to any meal.
Christmas Crockpot Desserts
No collection of Christmas crockpot recipes would be complete without some slow cooker desserts!  Here are some of the best recipes for sweet treats the entire family will love. 
17. Crockpot Pumpkin Bread Pudding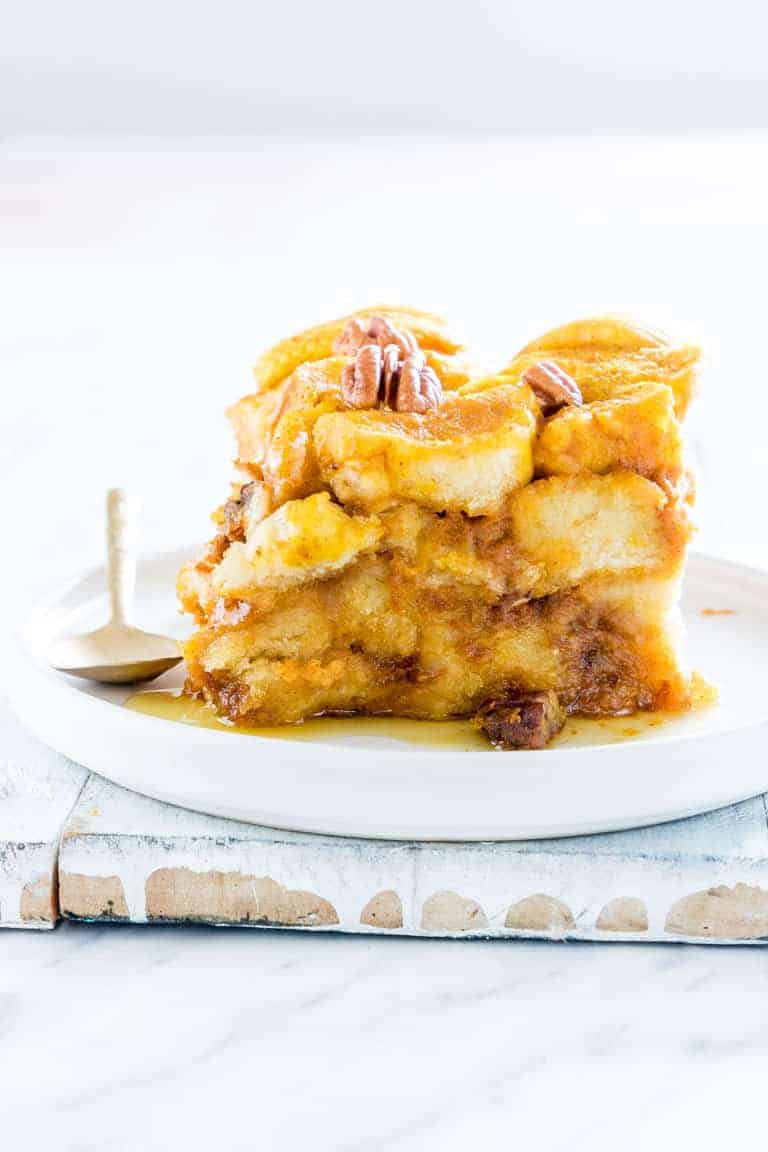 Bread pudding is the perfect dessert make in a slow cooker.  And this Pumpkin bread pudding, flavored with Christmas spices and sprinkled with pecans, is the perfect recipe for your Christmas menu.
18. Slow Cooker Gingerbread Pudding Cake
Gooey, saucy desserts are my favorite--especially when served warm and topped with vanilla ice cream like this slow cooker gingerbread pudding cake.  YUM!
19. Crockpot Apple Crisp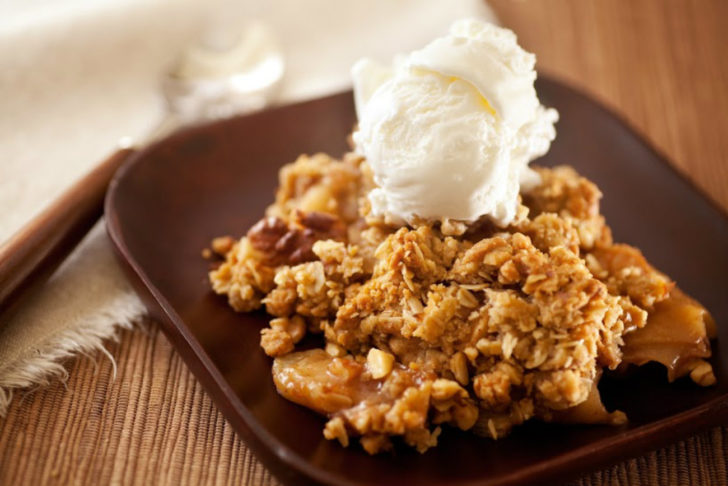 Apple crisp has all the great flavor of apple pie, but is WAY easier to make.  Especially if you make slow cooker apple crisp!
20. Crockpot Christmas Candy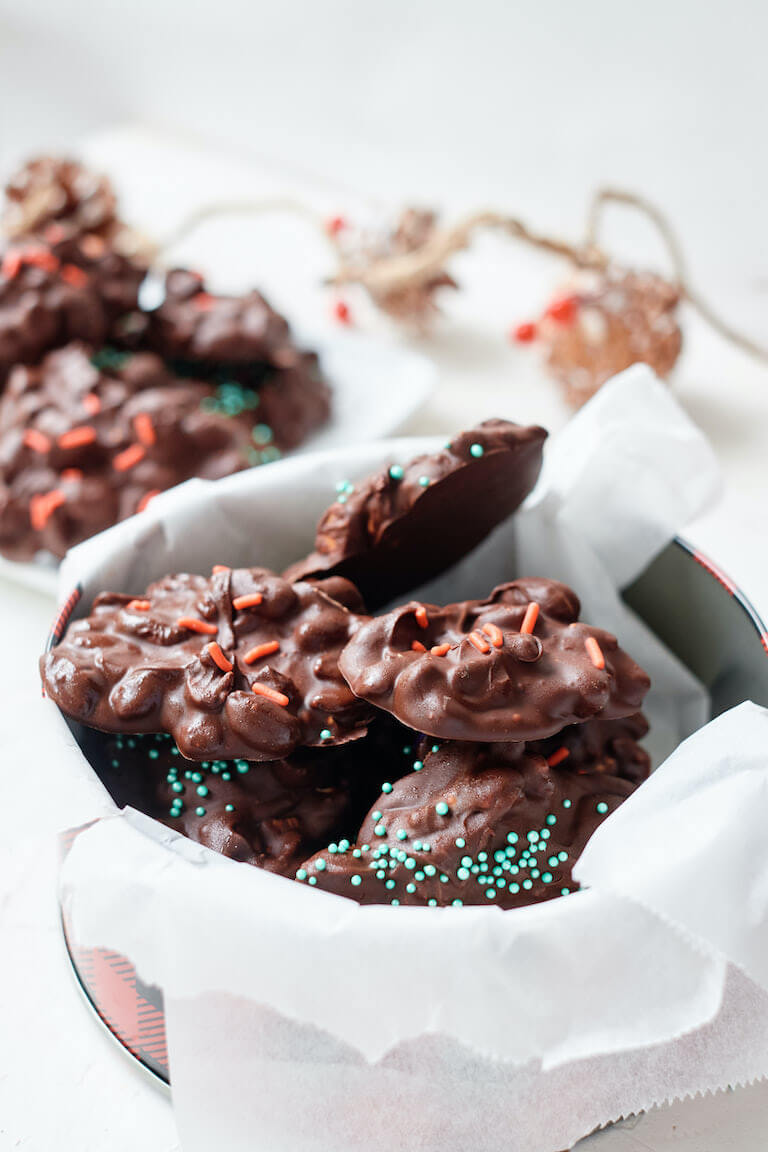 Homemade Christmas candies don't get any easier than classic Crockpot Christmas Candy!
21. Slow Cooker Candied Pecans
I'd eat candied pecans all year round, but they do feel like a special Christmas treat to me.  And this slow cooker candied pecans recipe makes it easy to make this sweet Christmas treat in the crock pot.
22. Slow Cooker Chocolate Bark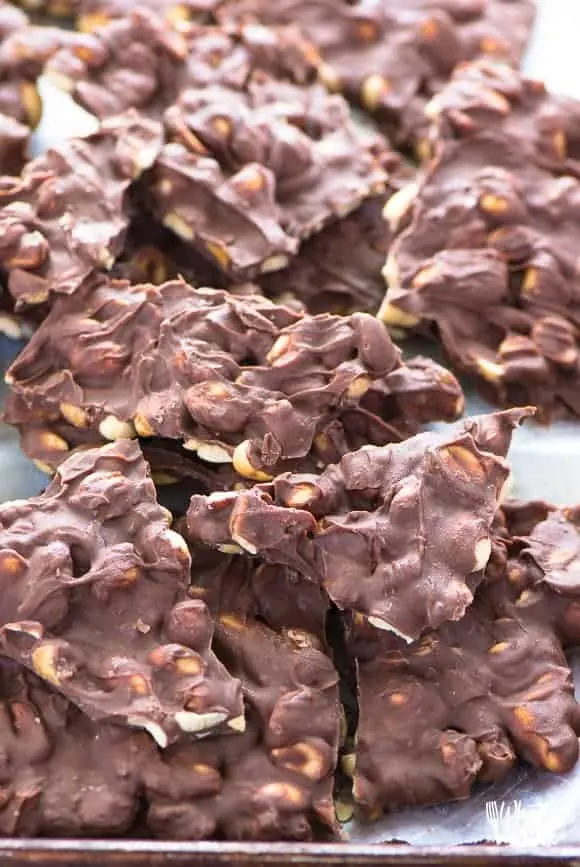 Now this is an easy chocolate bark recipe!  Made in a crock pot, and filled with salted peanuts, this sweet treat will make a great addition to any Christmas dessert table or cookie tray.
23. Slow Cooker Gingerbread Cake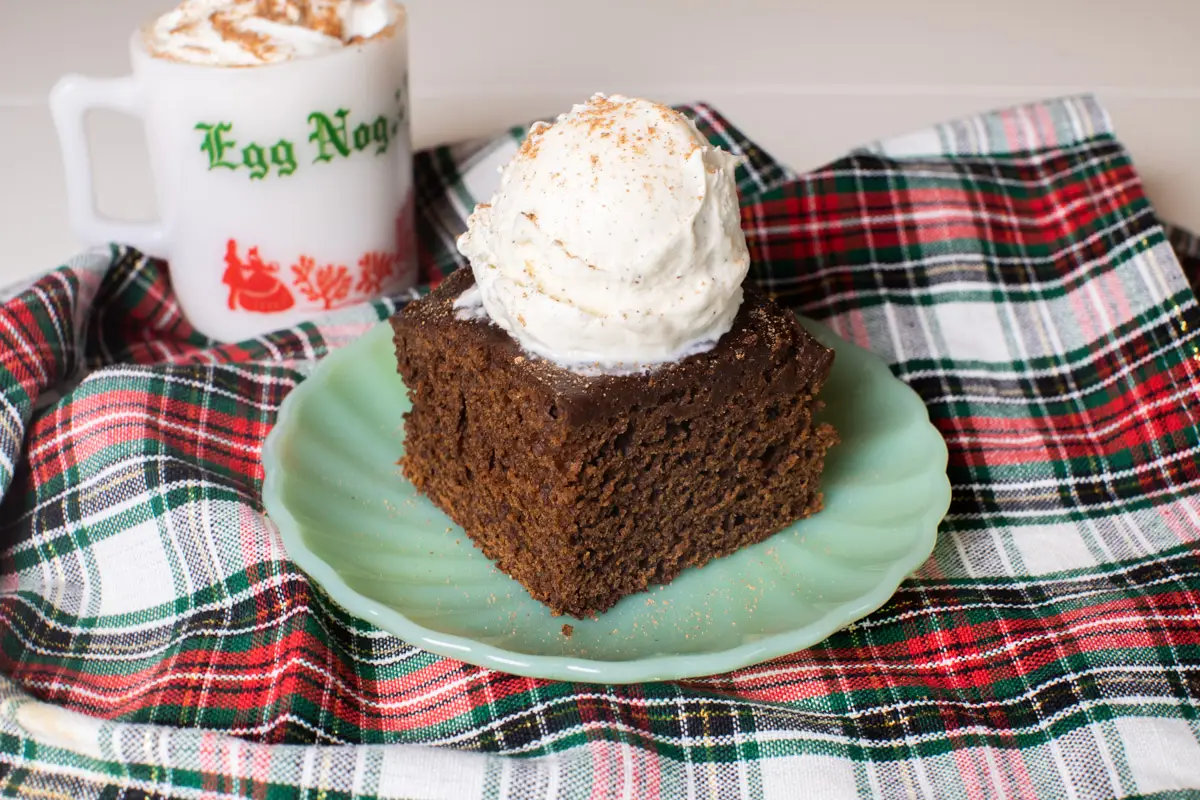 Did you know that you can bake actual cakes in a slow cooker?  And what could be more perfect for Christmas than this crockpot gingerbread cake?
Crockpot Christmas Drink Recipes
Slow cookers are absolutely brilliant for making warm, cozy holiday beverages, especially for a crowd.  The Crock-Pot keeps the drinks at a steady, warm temperature for the entire time you're celebrating, and it's easy for guests to serve themselves.  
24. Slow Cooker Hot Chocolate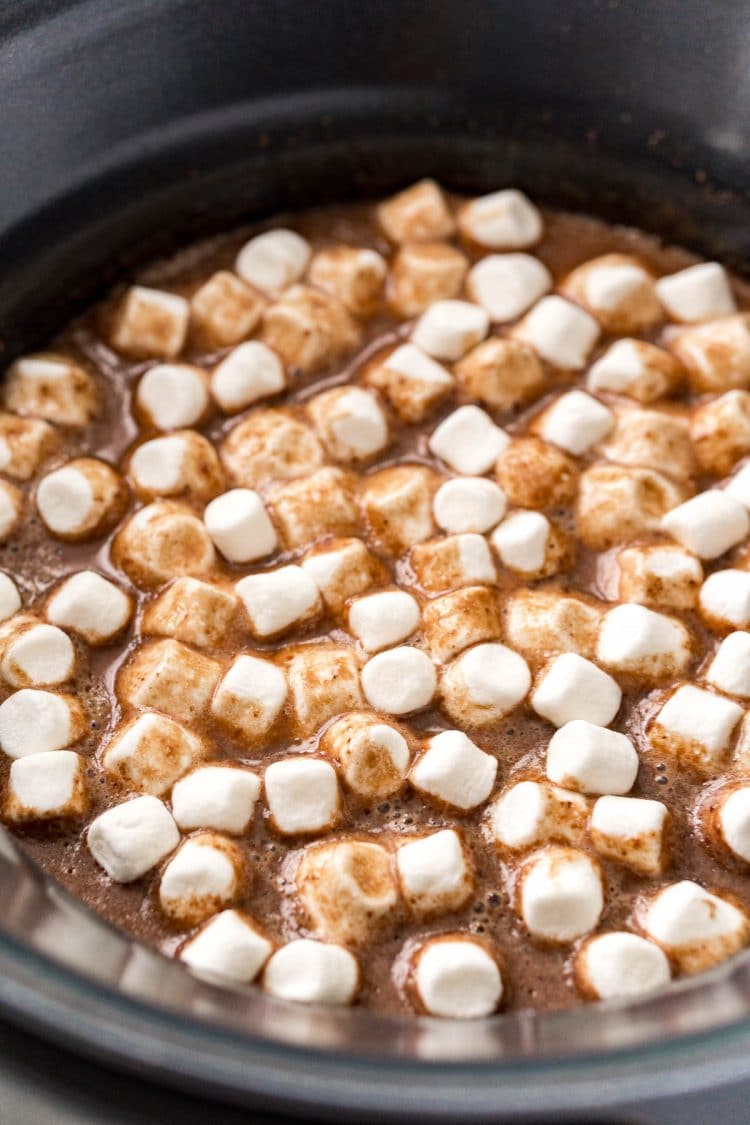 There's nothing like a mug of cocoa with marshmallows on a cold winter day.  Keep your guests cozy and happy with this crockpot hot chocolate recipe.  You could easily adapt this recipe to make white hot chocolate in the slow cooker, too.
25. German Mulled Wine (Gluhwein) Made in a Crock Pot
One thing I absolutely love about living in Europe now is how common it is to find mulled wine at Christmastime, and I love tasting the regional differences in mulled wine recipes.  This is a delicious German mulled wine recipe called Gluhwein.  And it can be made on the stovetop, or in a slow cooker!
26. Ponche de Frutas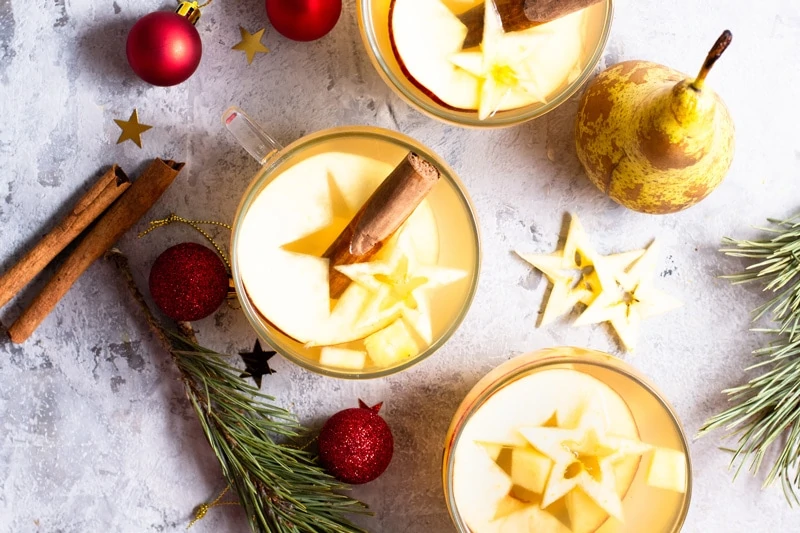 And now we head to Latin America, where Ponche de Frutas, a delicious, warm, spiced fruit punch is traditionally served over the winter holidays.  You can spike it with rum if you want, but this is a delicious non-alcoholic punch recipe as written.
27. Crockpot Mulled Apple Cider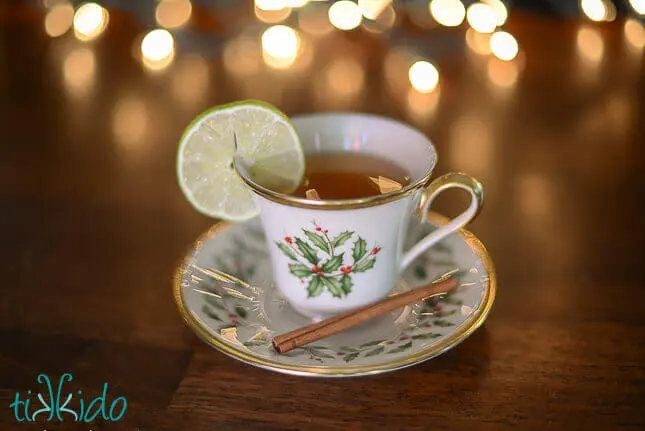 Mulled apple cider (another non-alcoholic warm Christmas drink) is so easy to make in a crock pot or percolator.  And it makes your even smell AMAZING, too.
28. Scandinavian Glogg Made in the Slow Cooker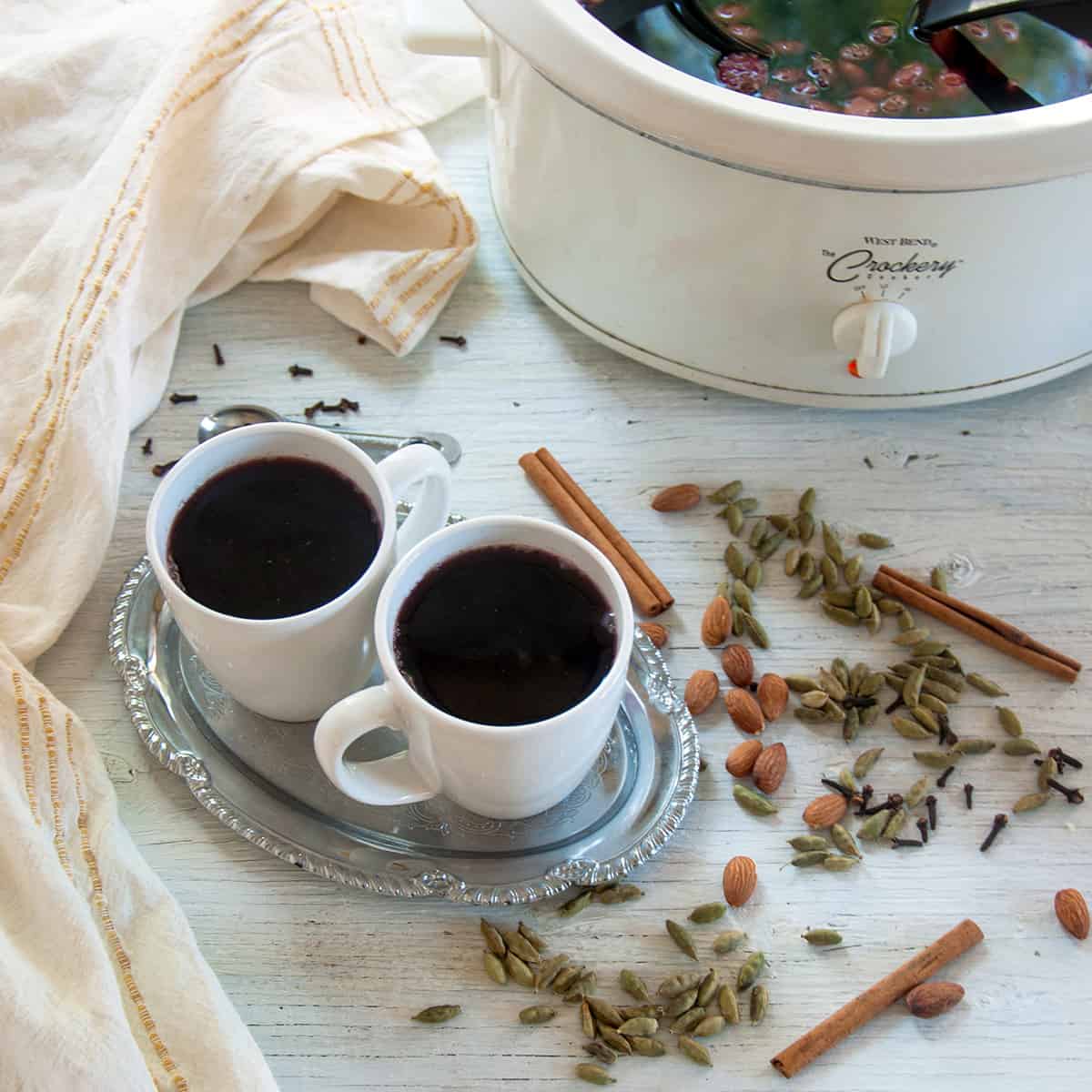 Glogg is the Scandinavian countries' version of mulled wine.  This delicious Glogg recipe is easy to make in a slow cooker this Christmas.
29. Non-Alcoholic Mulled Wine Made in a Slow Cooker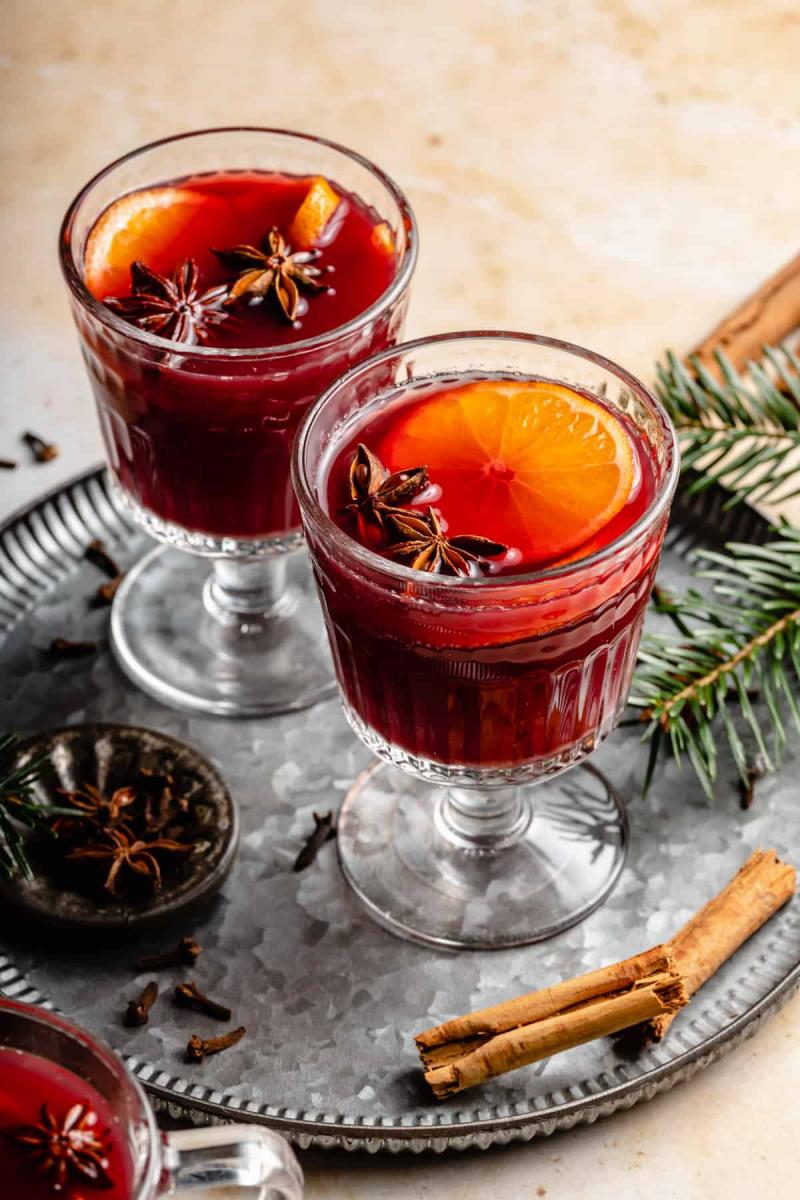 Here's a non-alcoholic version of "mulled wine" with fabulous flavors and all the Christmas spices.  I always like to have plenty of non-alcoholic drinks available at any party I throw.  This is definitely getting made for our Christmas party this year!
30. Cranberry Cider Made in the Slow Cooker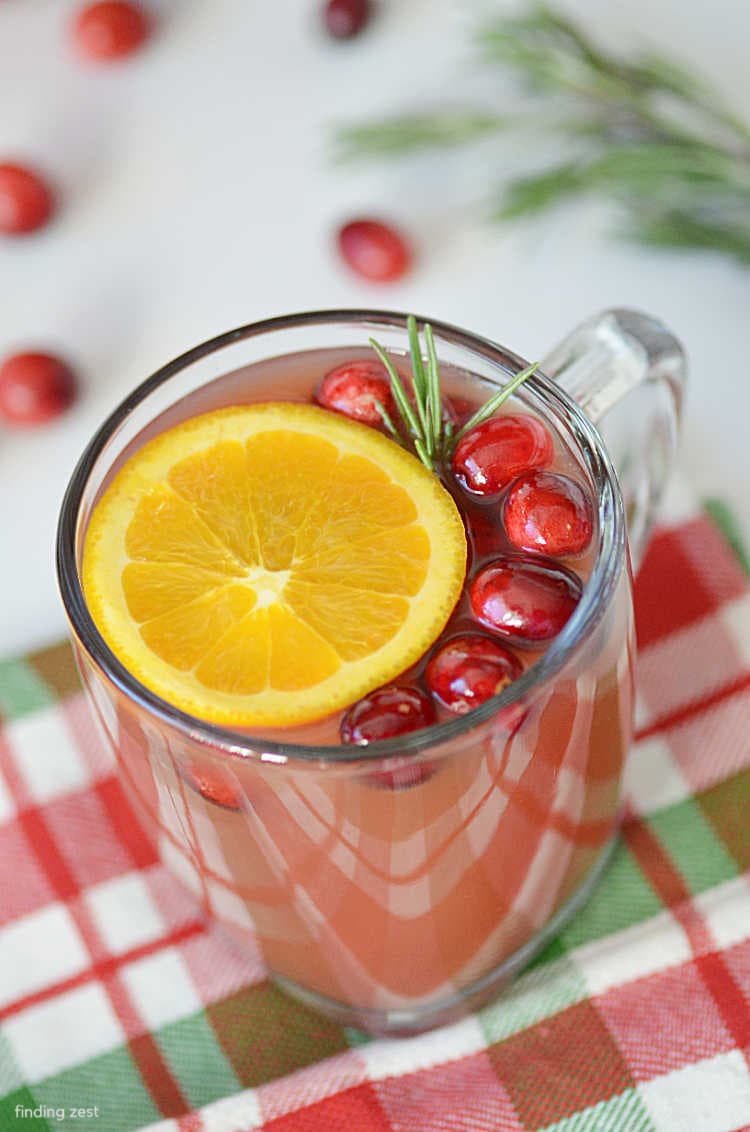 Spiced, mulled cider gets an extra dose of holiday cheer in this slow cooker cranberry cider recipe.
Crockpot Christmas Breakfast Recipes
The slow cooker is a brilliant tool for making Christmas morning easier with these Christmas breakfast Crock-Pot recipes.  Sweet or savory, we've got you covered!
31. Slow Cooker French Toast Casserole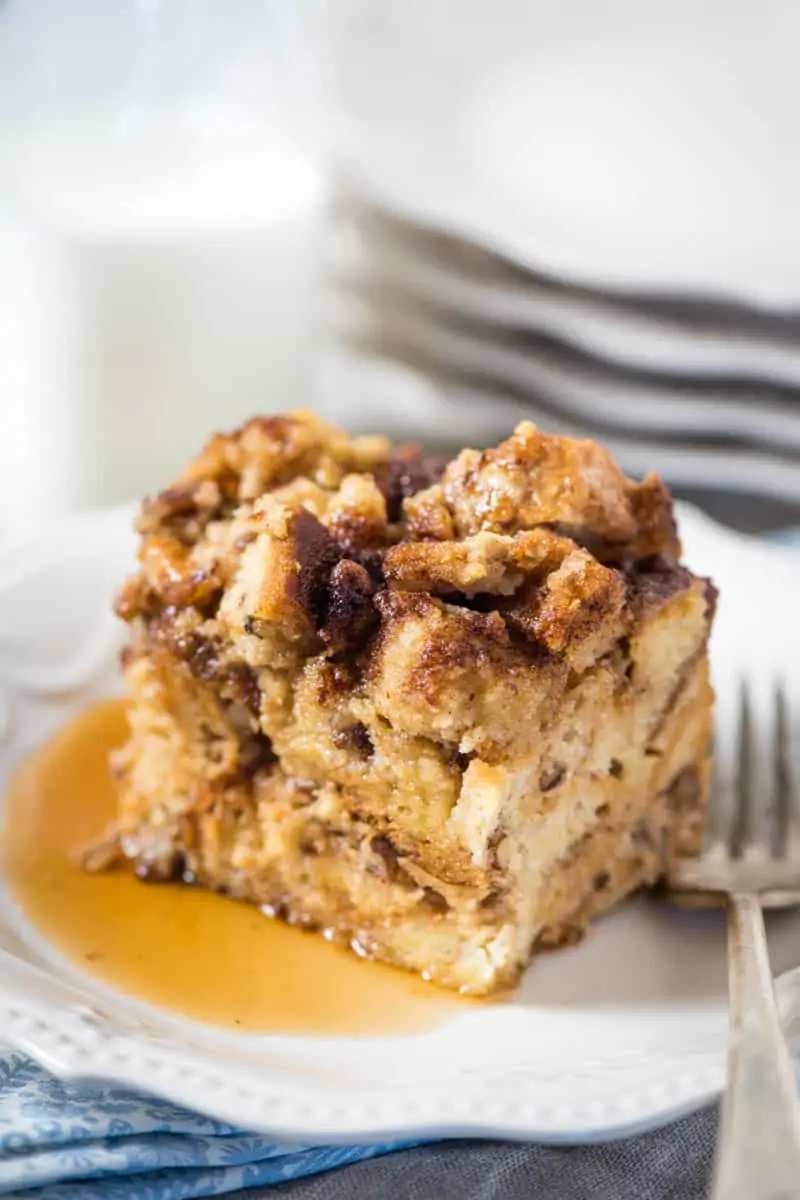 French toast casserole is even better than regular french toast, in my opinion.  This crock pot french toast casserole can be prepped the night before, too.  If you want a classic baked brioche french toast casserole recipe, I have a great one of those, too.  But the really brilliant part of making this dish in a slow cooker is that it keeps the breakfast warm until it's ready to serve (no matter when people wake up on Christmas morning).
32. Slow Cooker Sausage and Cheese Breakfast Casserole
This savory slow cooker breakfast casserole is full of sausage, egg, cheese, and bagels, and can cook overnight so it's ready for you on Christmas morning.  What could be better?
33. Savory Overnight Slow Cooker Breakfast Casserole
This is another savory, overnight slow cooker breakfast casserole.  This one is packed with ham, cheese, vegetables, and hashbrowns!
34. Crockpot Cinnamon Roll Breakfast Casserole
If you love cinnamon rolls but don't like all the fuss of making them, you're going to love this slow cooker cinnamon roll breakfast casserole!
35. Crockpot Monkey Bread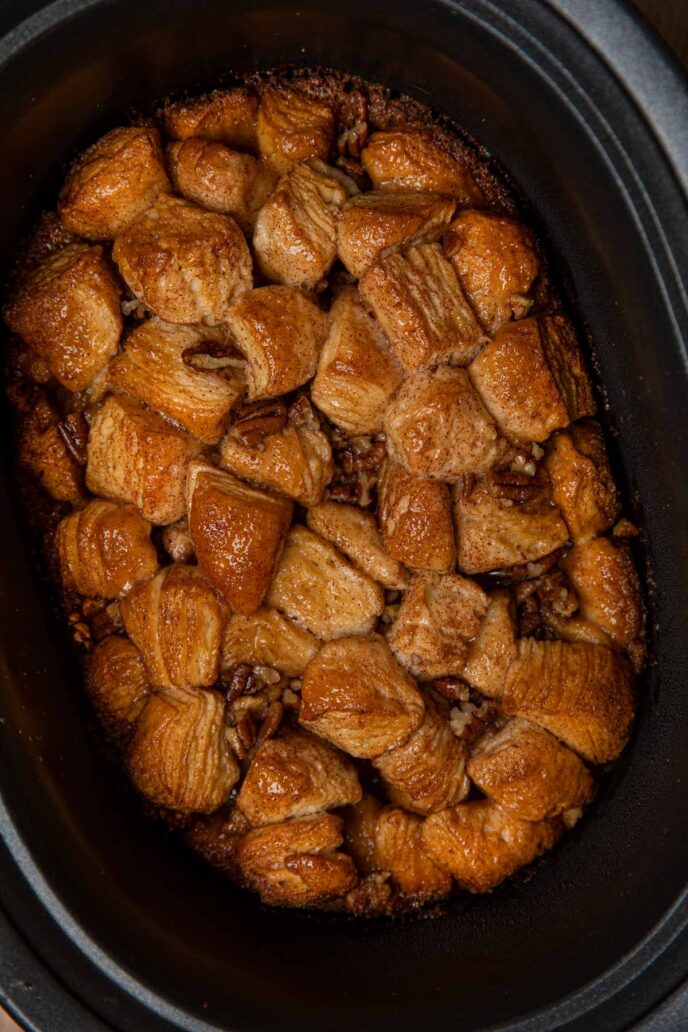 My grandmother always made traditional baked monkey bread for Christmas morning, and I always LOVED it.  I can't wait to try this slow cooker monkey bread recipe!
Other Christmas Slow Cooker Recipes
Here are a couple more decidedly lovely crock-pot Christmas recipes that didn't quite fit into any other category.  But still very worth sharing and making!
36. Crockpot Cranberry Sauce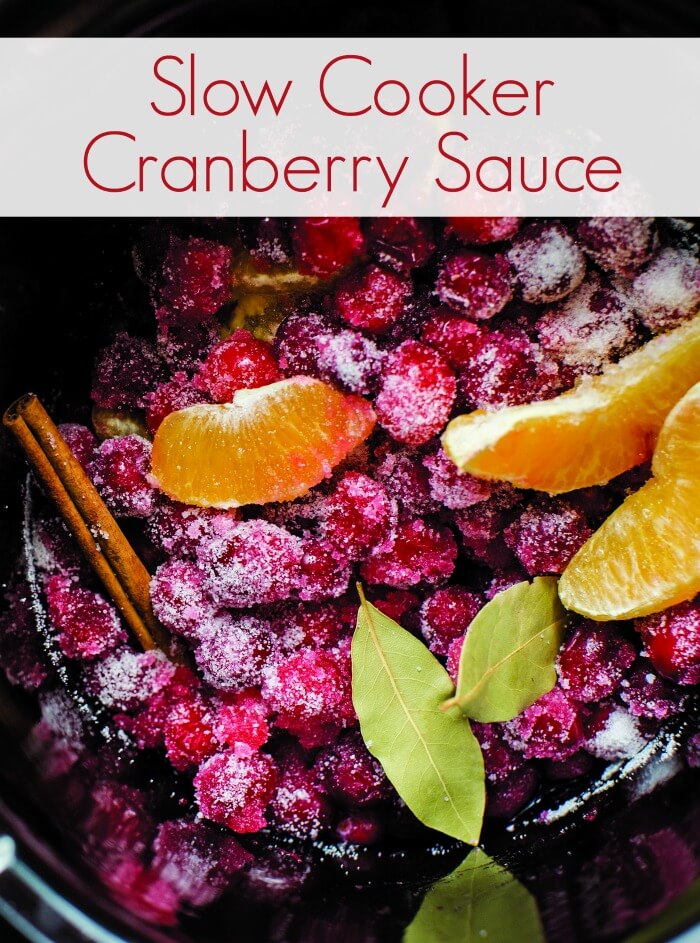 Homemade cranberry sauce is so easy to make in the crock pot!  Get the easy recipe for this slow cooker cranberry sauce from Mommy Evolution. 
37. Crockpot Simmer Pot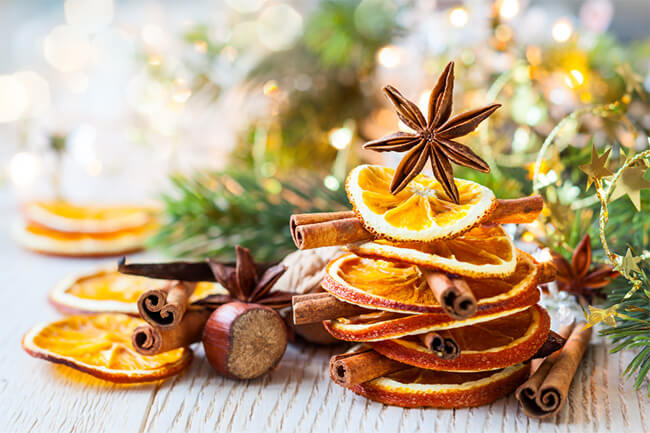 This isn't a recipe for eating, but rather for making your home smell absolutely amazing.  Try one of these simmer pot recipes from Mimosas and Motherhood and enjoy a feast for all of your senses.  You can make your house smell like Christmas using one of these mixtures on the stovetop or in a slow cooker, but the crockpot is easier and safer.
Whether you're going to Christmas potlucks, bringing a contribution to someone's house, or are in charge of the main event yourself, I hope you'll find a holiday crockpot recipe in this collection to make these next few weeks easier and more delicious.