Printer-friendly version
A dried orange slice garland is a beautiful, rustic, traditional Christmas decoration that's easy to make.  This style of dried fruit garland is a beautiful addition to your Christmas tree or fireplace mantel.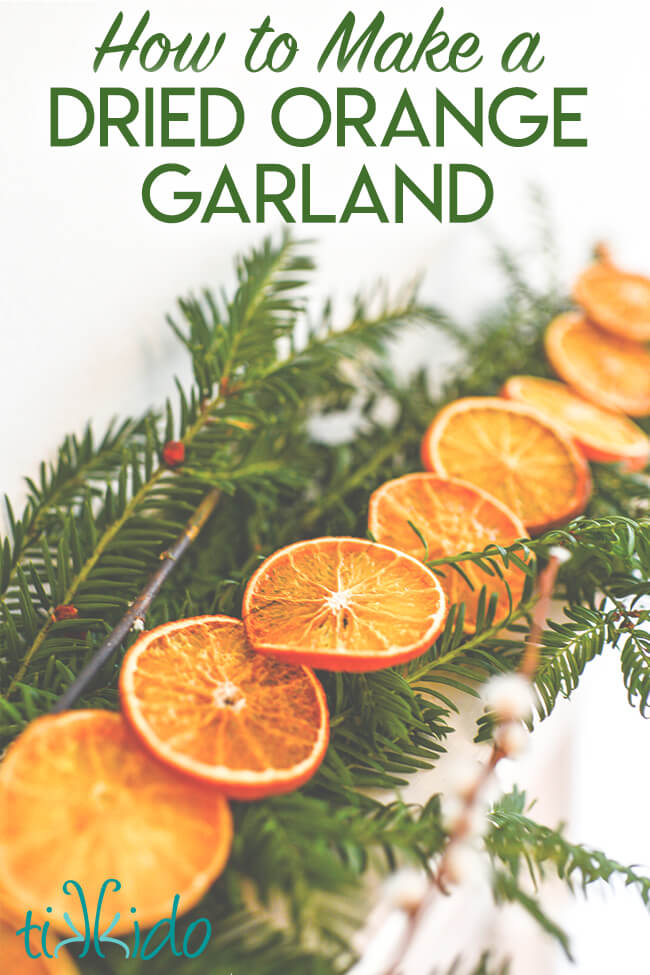 Do you love the Scandinavian Christmas look?  This DIY dried orange garland is the perfect winter decor to make this holiday season.  
How Long Does an Orange Slice Garland Last?
Because the citrus slices are dehydrated, this garland will last all winter long.  So feel free to leave it up a long time, well after the new year!
Be aware that if you use this citrus garland outside, or use the dried oranges to make a dried orange wreath for your front door, the local bird and squirrel population will probably find and eat your decorations pretty quickly.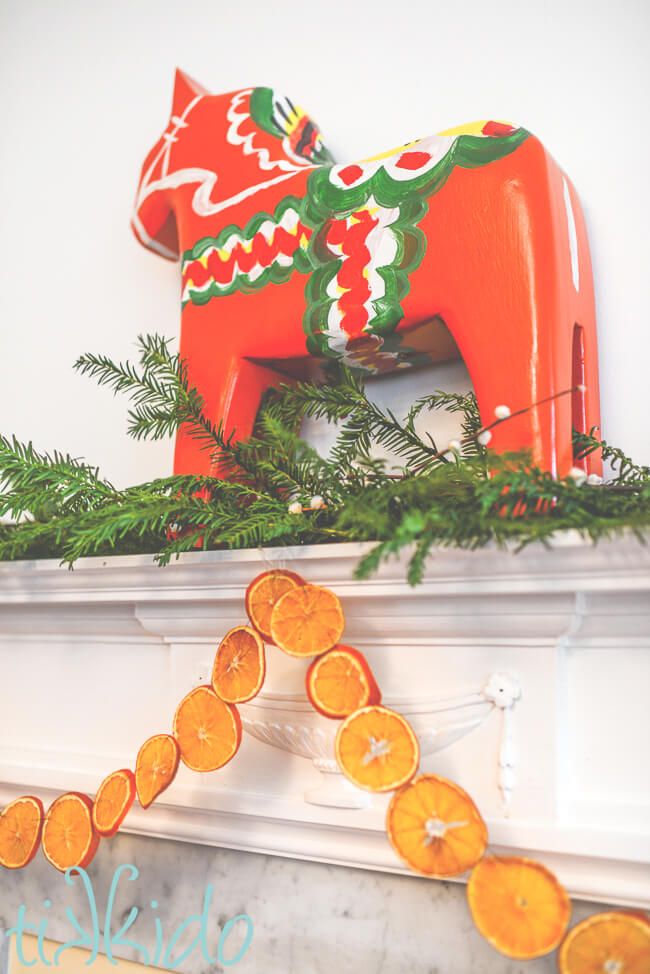 I love holiday crafts, especially ones made with natural elements.  This is such an easy project that it's a great christmas craft to make with kids (once the oranges have been sliced). 
How to Make a Beautiful Dried Orange Garland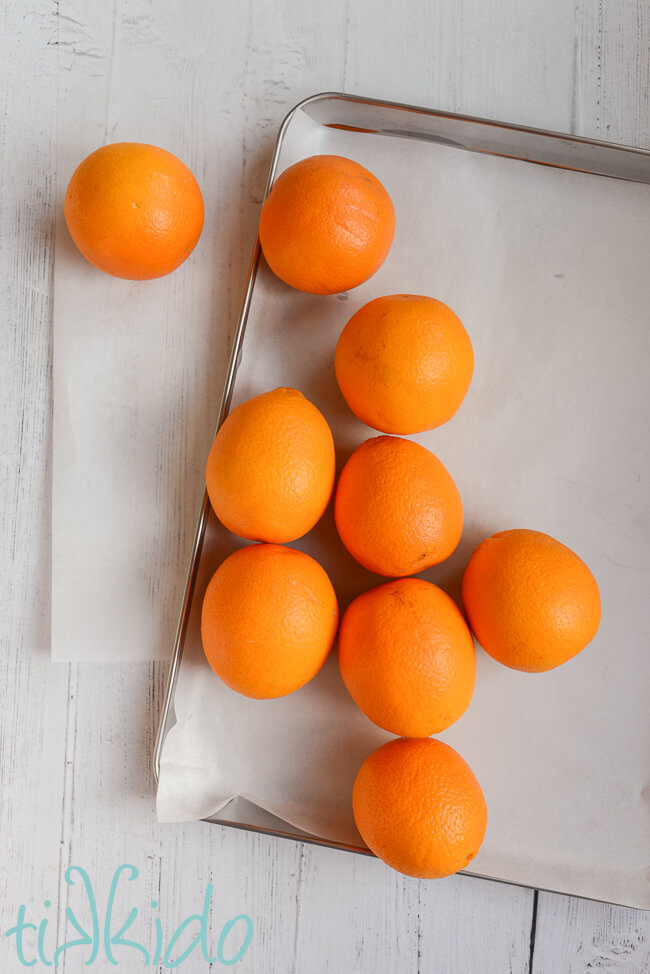 Materials for a simple dried orange garland
fresh oranges
baking pan lined with parchment paper
needle and thread
How Many Oranges Do You Need to Make an Orange Garland?
I used six oranges to make my garland, which was almost six feet long, and I kept a few dried orange slices aside to use for a gift wrapping project.  So I used about one orange per foot of dried orange garland.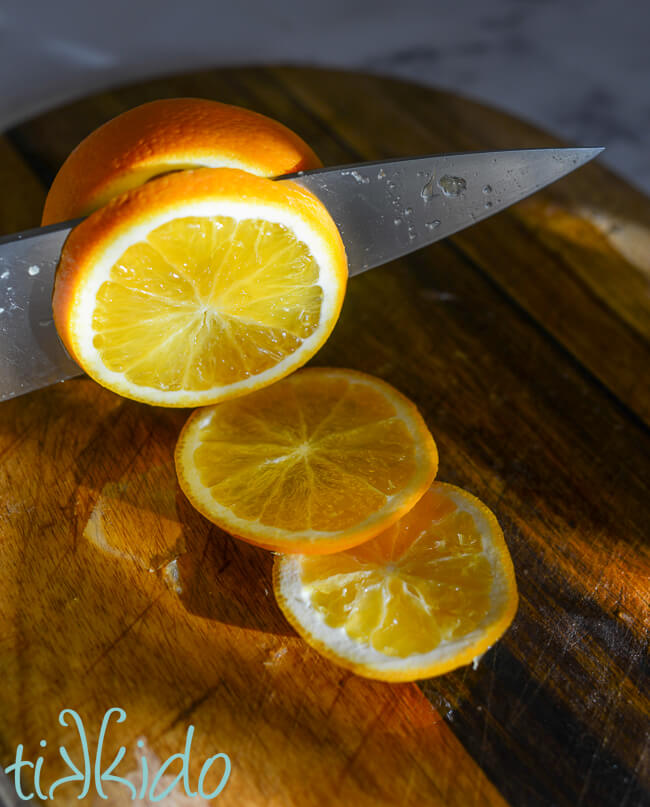 Slice oranges with a sharp knife.  You could also use a mandoline slicer if you have one, but I just used a kitchen knife.  Slice as thinly as you can; thick slices take longer to dry.  My oranges were cut into approximately quarter inch slices.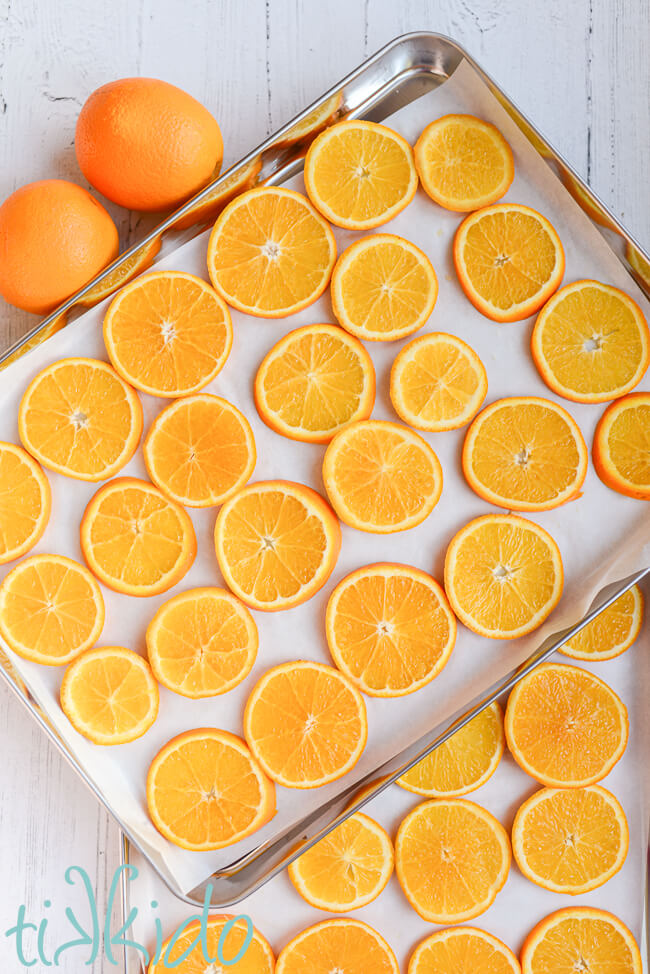 The Drying Process for Making Dehydrated Oranges
Line a large baking sheet with parchment paper.  Arrange orange slices in a single layer.
Bake at 250 degrees Fahrenheit (about 120 degrees Celsius) for about 30 minutes.  If you have a convection fan in your oven, use that setting.  After 30 minutes, flip the oranges and return to the oven for another thirty or so minutes.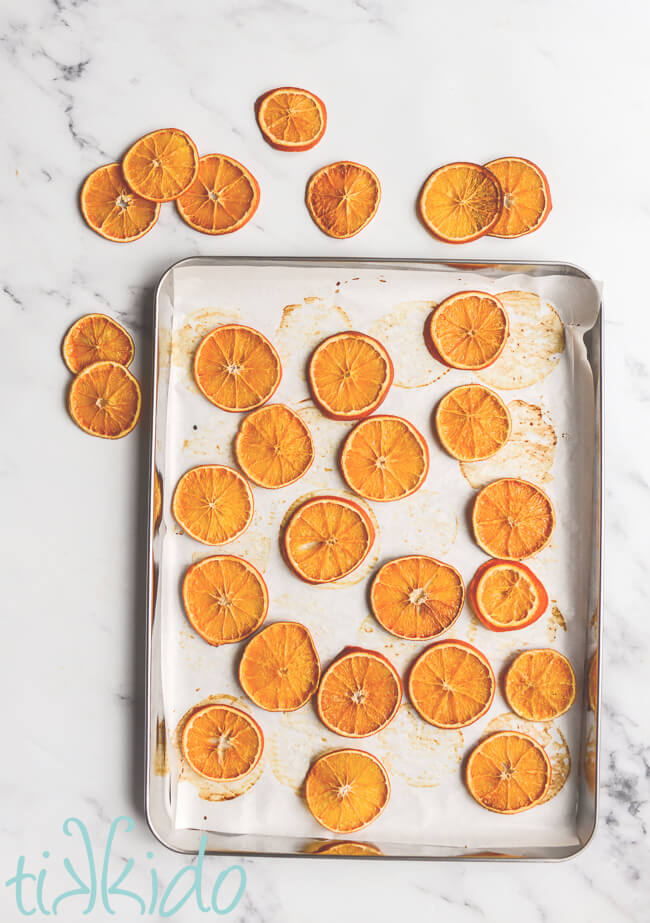 The flesh of the orange should be dried out, but not entirely crispy and hard.  It may take more or less time, depending on how thick your orange slices are. Let the dried oranges cool on a cooling rack before making your new garland.  It doesn't take long at all to cool down.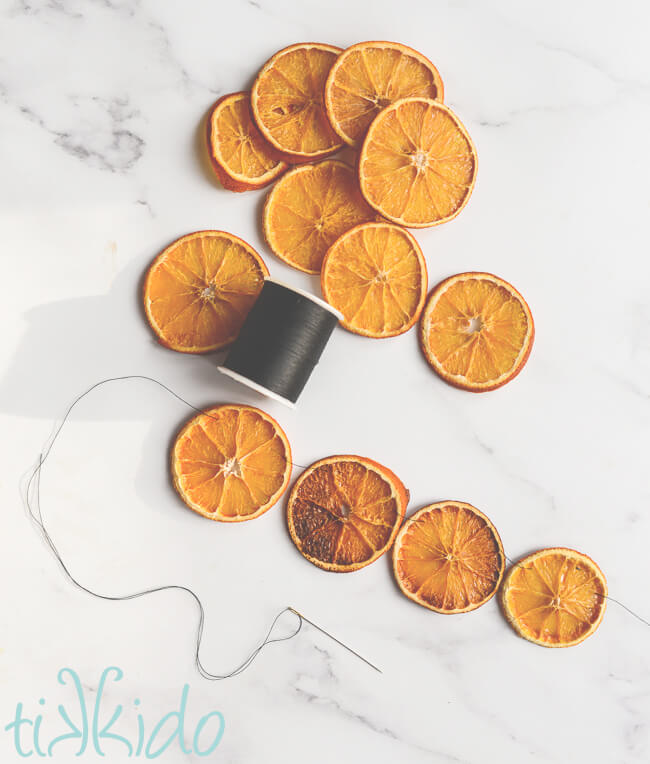 I used black thread to make my simple garland.  You could use clear fishing line instead, but I found that once strung, the black thread was pretty much invisible.  And regular thread is much easier to work with than plastic fishing line or clear plastic thread.
Cut a length of thread longer than you want your orange garland to be.  Use a large needle and the thread to string the orange slices together.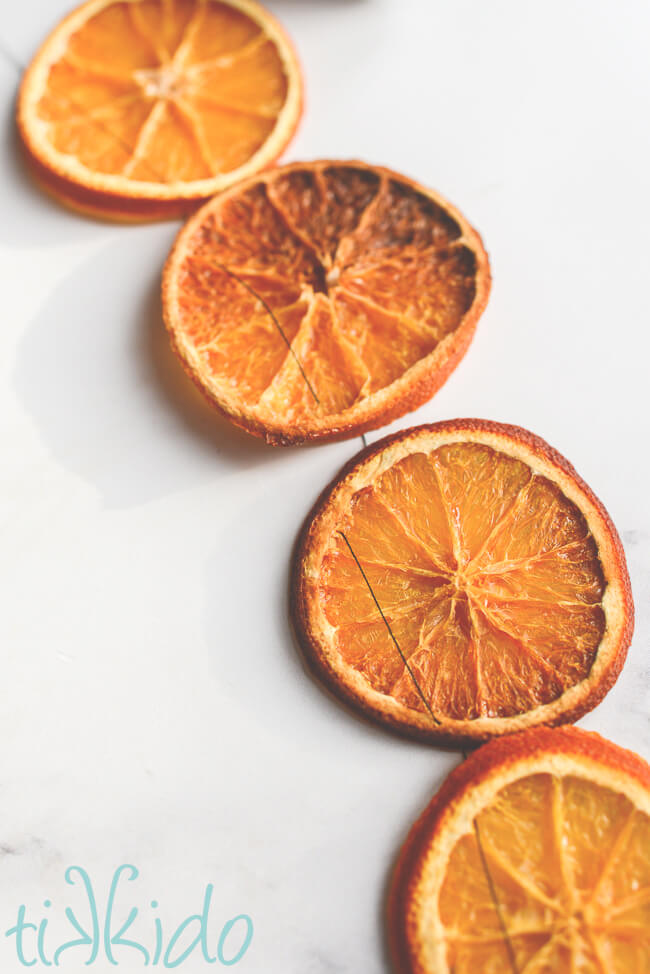 Put the thread through the top third of the orange slice, not right in the middle, so the garland will hang more nicely.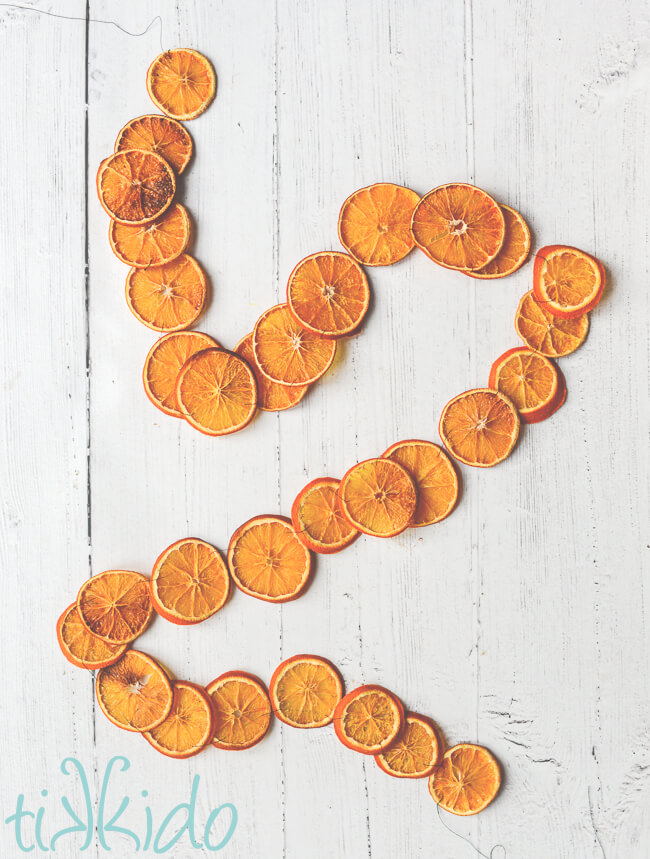 The dehydrated fruit has little fragrance on its own, so if you want your orange garland to have more of a Christmasy scent, stud some of the orange slices with whole cloves, or string some cinnamon sticks on the garland.  You can also punch up the orange scent by adding some orange essential oil to the garland.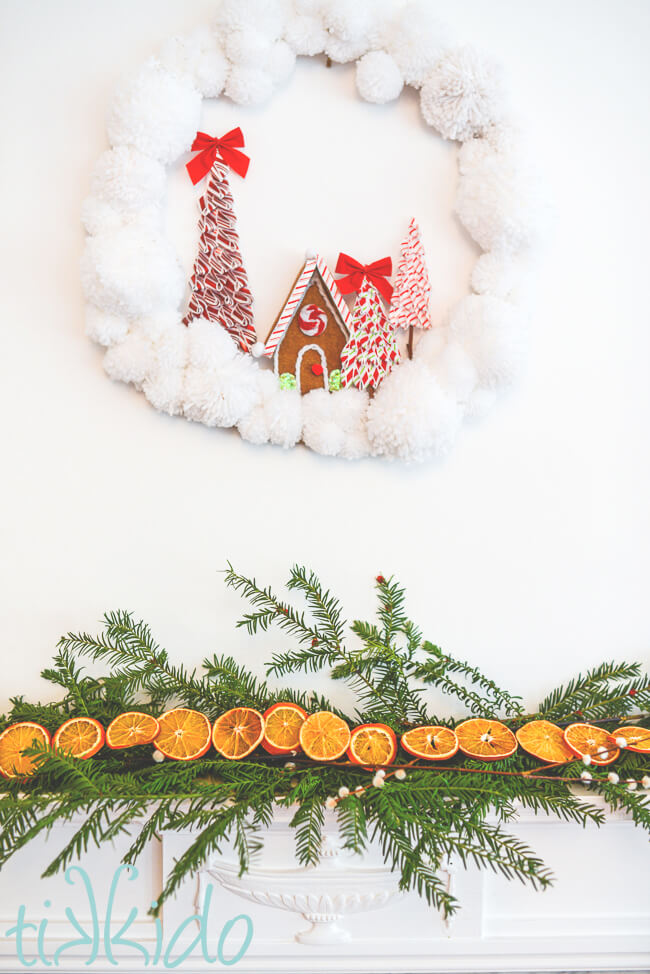 There you go--the perfect dried orange garland!  The perfect holiday decoration that you can keep up the entire winter season.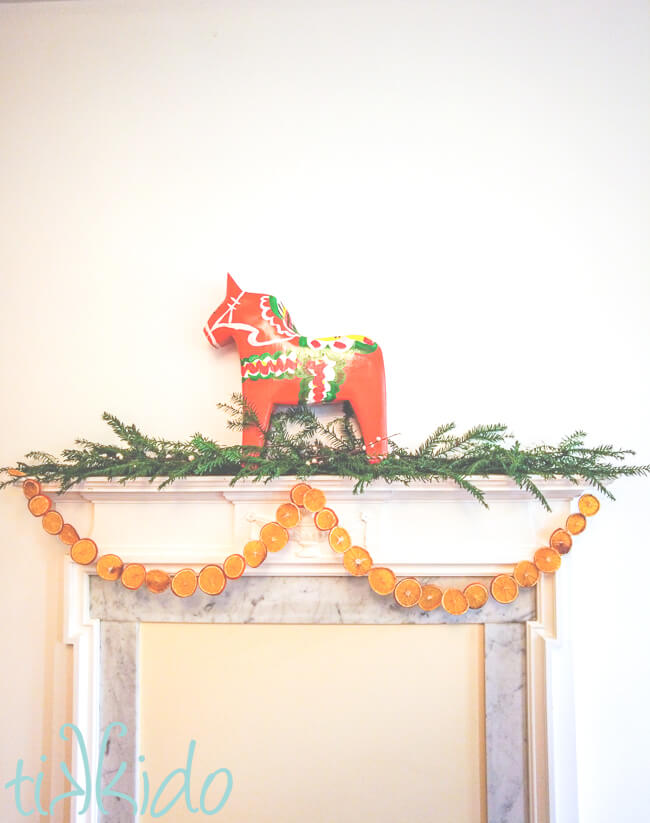 Other Uses for Dried Orange Slices
Make orange slice ornaments for your Christmas tree to add old world charm with natural christmas decor.
Make stove top potpourri with the dried orange slices!  Here are some great combinations for making jars of potpourri as gifts.
Use to make your own mulling spice mix for mulled wine or mulled apple cider.
Use to decorate homemade candles (especially lovely with orange-scented or holiday scented-candles).
Garnish Christmas cocktails with dried orange slices.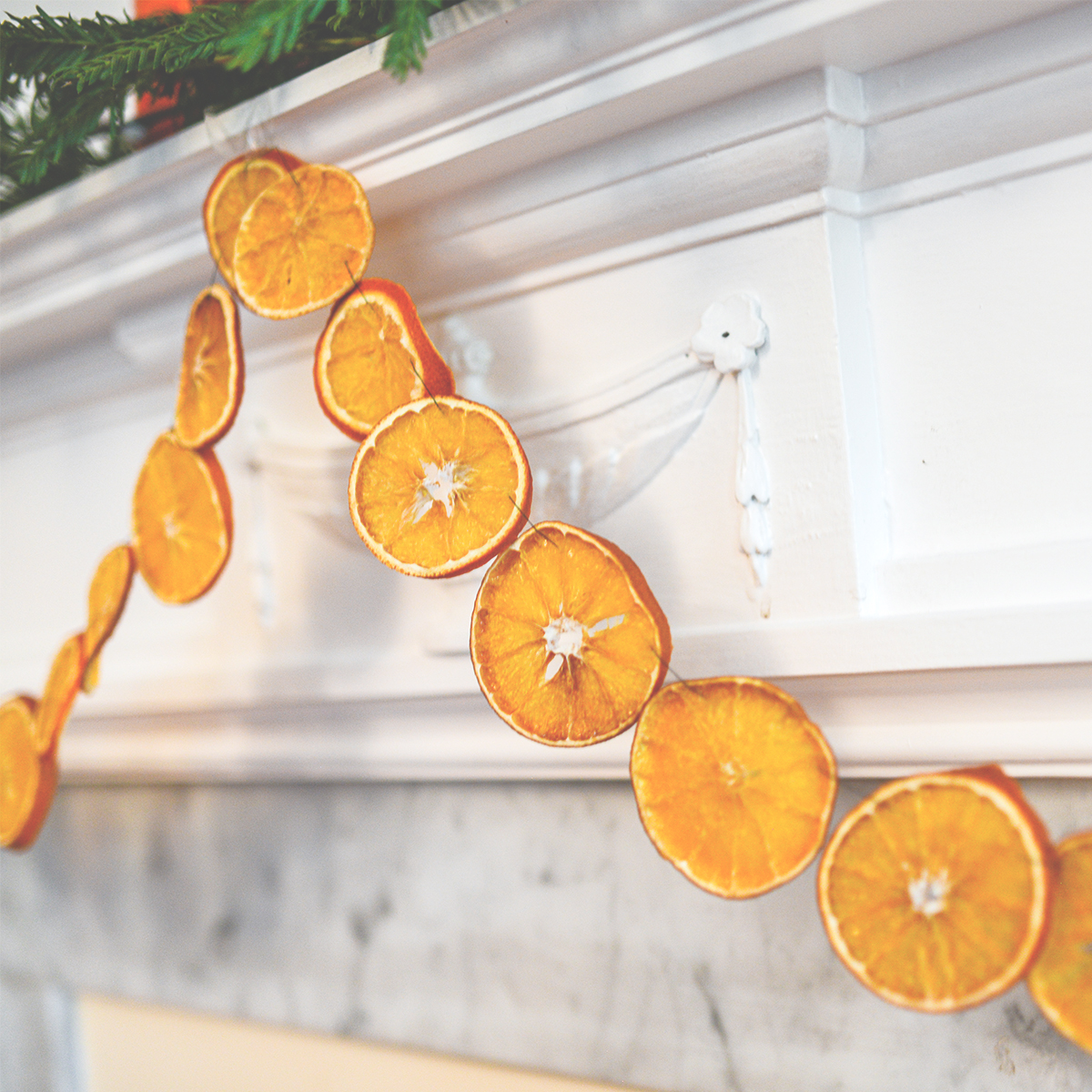 Are you going to make some natural Christmas decor this year?
Other Christmas Garland Tutorials You Might Like: