Printer-friendly version
Nothing says "party!" like bunting, so for the Doctor Who birthday party, of course I wanted to make some Doctor Who themed bunting.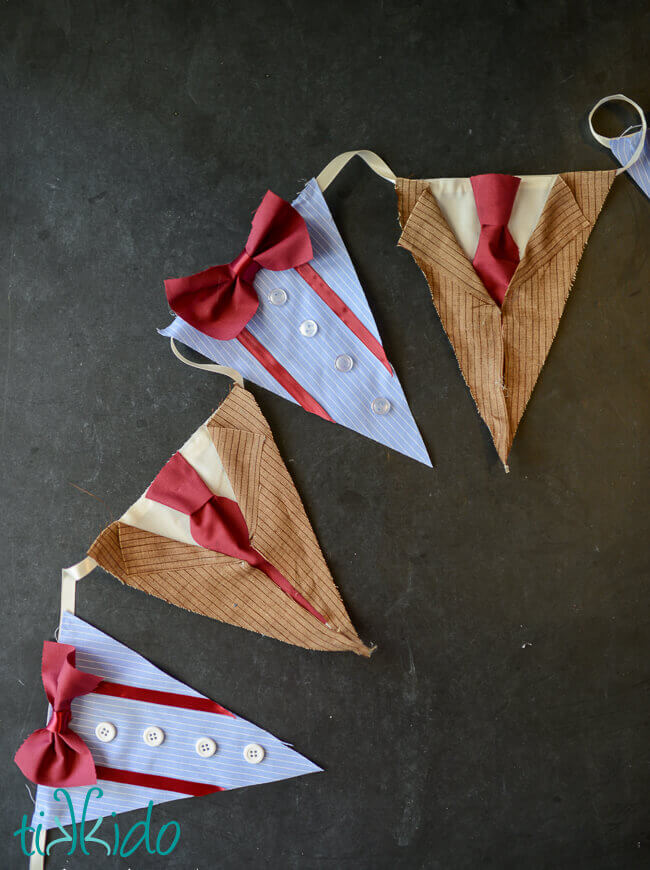 Or at least some 10th and 11th doctor themed bunting.   Their easily recognizable styles were perfect for transforming into party decor for our birthday party.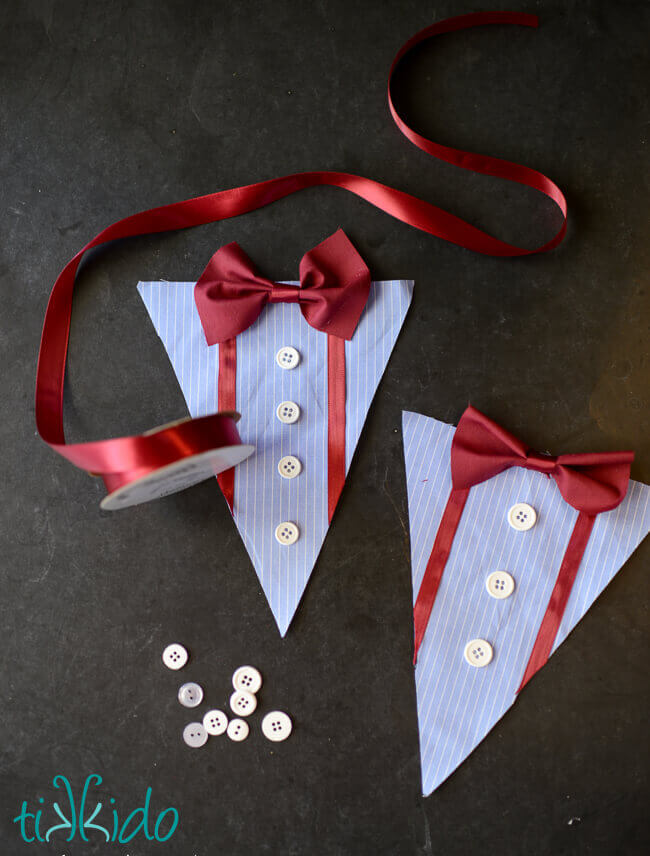 Matt Smith 11th Doctor ("bow ties are cool") bunting triangles were the easiest to make.   I cut the basic triangles (6" across the top, 8" tall) out of classic dress shirt fabric, and glued burgundy satin ribbon to the triangle to mimic the Doctor's suspenders.  The bow tie was made from a simple rectangle of burgundy fabric cinched with a small length of more of the burgundy ribbon (the same technique I used to make the 11th Doctor party cups).  
A few white craft buttons completed the illusion of a dress shirt perfectly.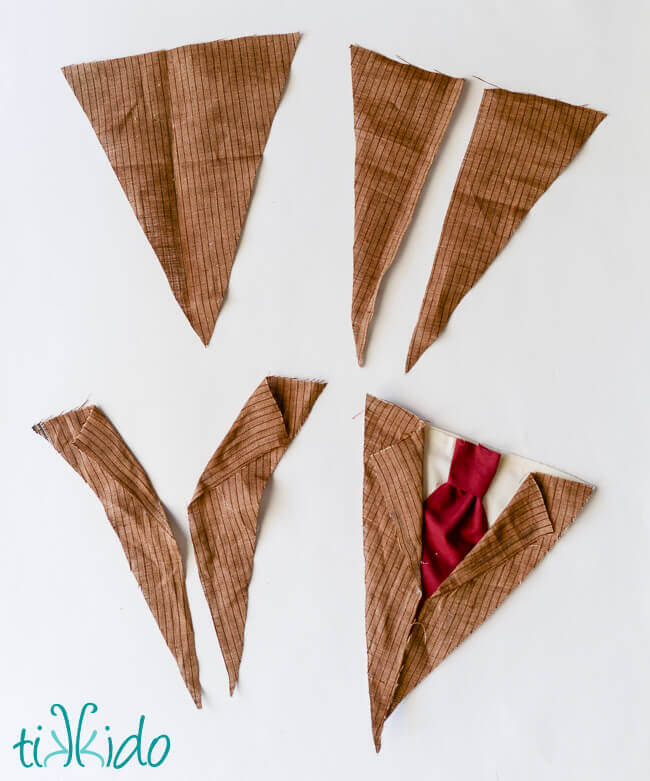 The 10th Doctor (David Tennant) bunting triangles were a little more complex to make, but still no-sew, at least!  I started by cutting a triangle of plain, cream colored fabric (the same 6"x8" size) as the base and shirt fabric for the bunting.  I cut a second triangle the same size out of the brown pinstripe suit fabric, and cut that triangle down the middle, into two separate triangles.  I used my hot glue gun to fold back and affix the center top point of each of the brown triangles to make the lapels of the suit jacket.
I fashioned a fabric tie (more on that in a second), glued it to the cream base fabric triangle, and layered the two suit jacket triangles on top.  Glue guns FTW!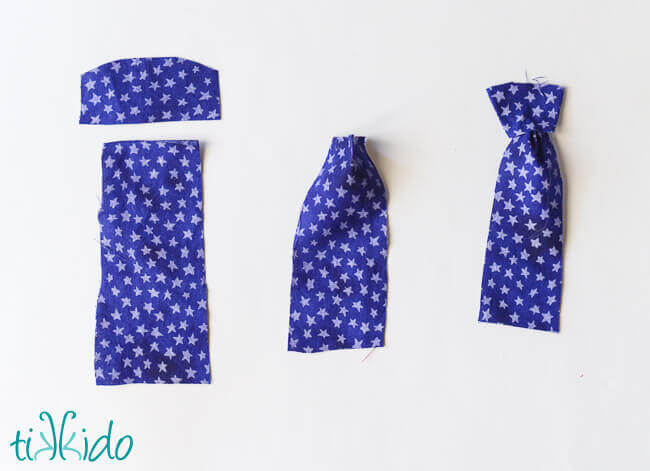 Ok, for the tie.  I've never tied a real tie, so I didn't even attempt such a thing.  Someone probably could.  I decided to hack together a glue-gunned version for my bunting, though.  I cut a rectangle of fabric for the long portion of the tie and a smaller horizontal rectangle, slightly rounded at the top, for the knot part of the tie.  Easy and fast.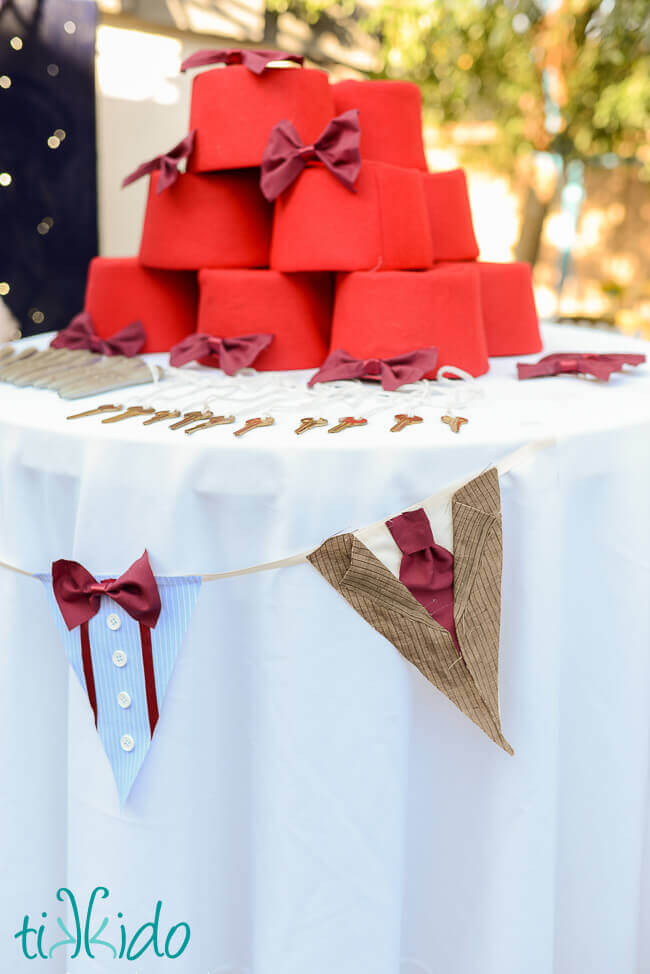 I glued the bunting triangles to some satin ribbon, and hung it all over the place at the party.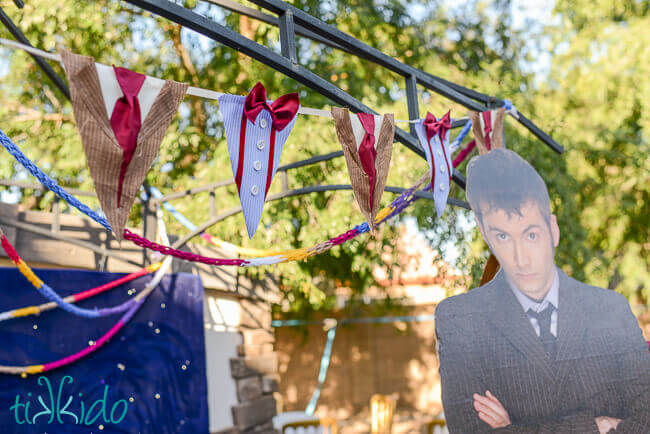 Always bring bunting to a party!  I feel certain that the Doctor would agree with me.