Printer-friendly version
This recipe for baked polenta is an incredibly easy polenta recipe.  No standing over the stove, constantly stirring.  You just pop the ingredients in the oven and are rewarded 30 minutes later with absolutely perfect, creamy, delicious polenta.  And in this post, I show you how to roast mushrooms in the oven at the same time, so you end up with a complete meal at the end of that half hour!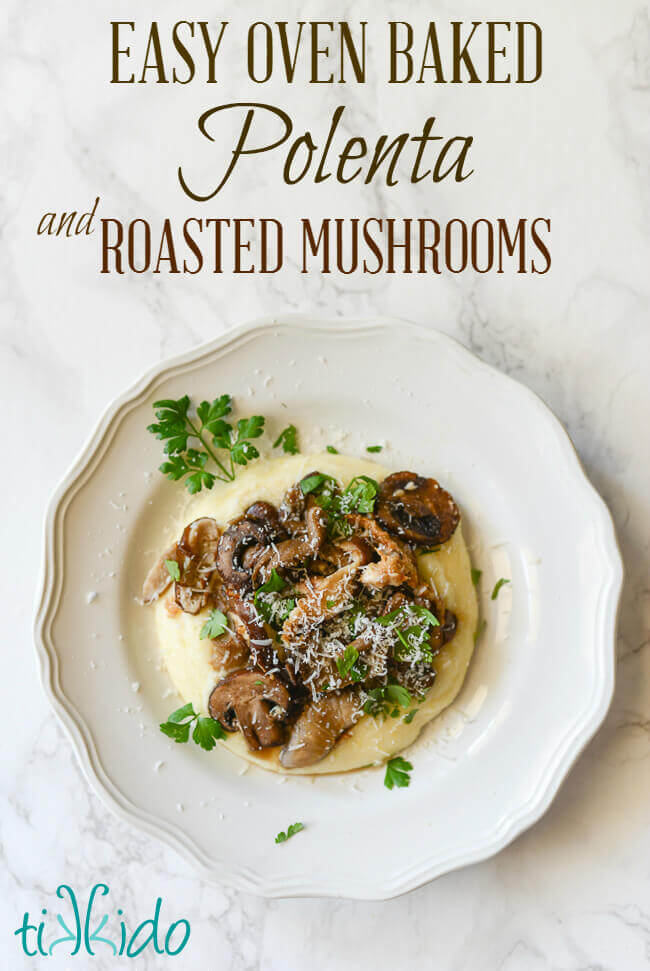 It's time for the November Taste Creations Blog Hop!  November's theme is Polenta.
I love polenta, but I've never made it.  I've always been intimidated by the constant stirring and stovetop time and attention.  Not that it sounded difficult, precicely, but fussier than I was interested in trying.  But then I remembered reading about a hands-off, easy, oven baked polenta technique on the Chowhound message boards (back when there were Home Cooking Chowhound message boards), and I decided that an oven baked polenta sounded like exactly the kind of effort-investment that sounded appealing.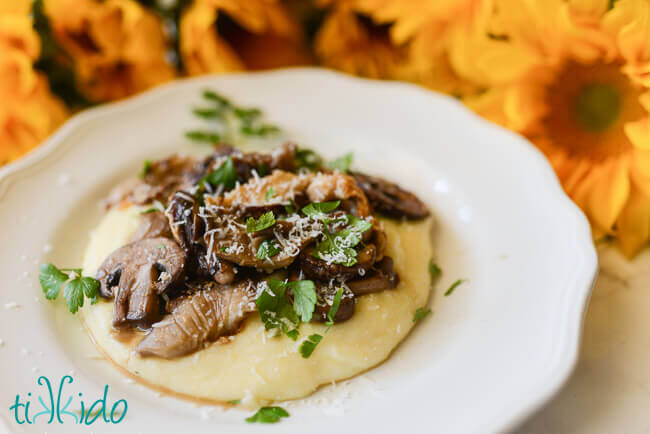 Even better, could I make some fabulous roasted mushrooms in the same oven at the same time, and have a fabulous, gourmet, company-worthy meal ready in 30 minutes?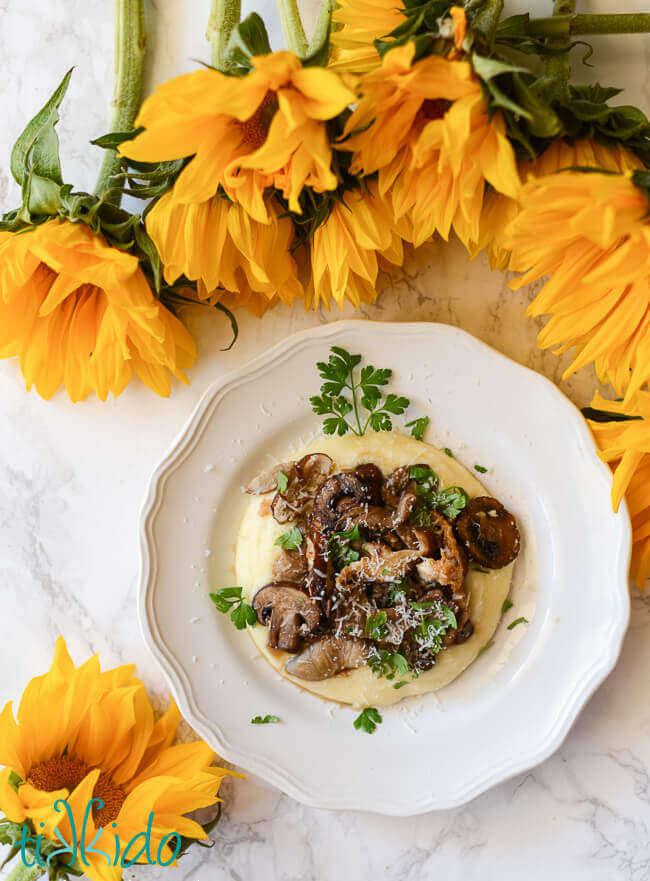 Turns out, the answer is YES!  And also, "OMG so delicious yes and YES again."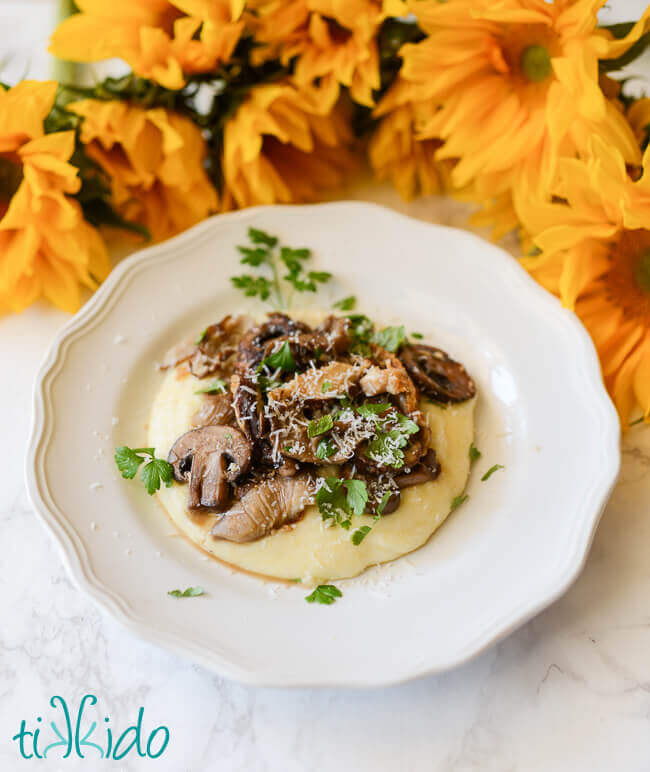 This amazing, easy meal is definitely going in regular rotation at our house.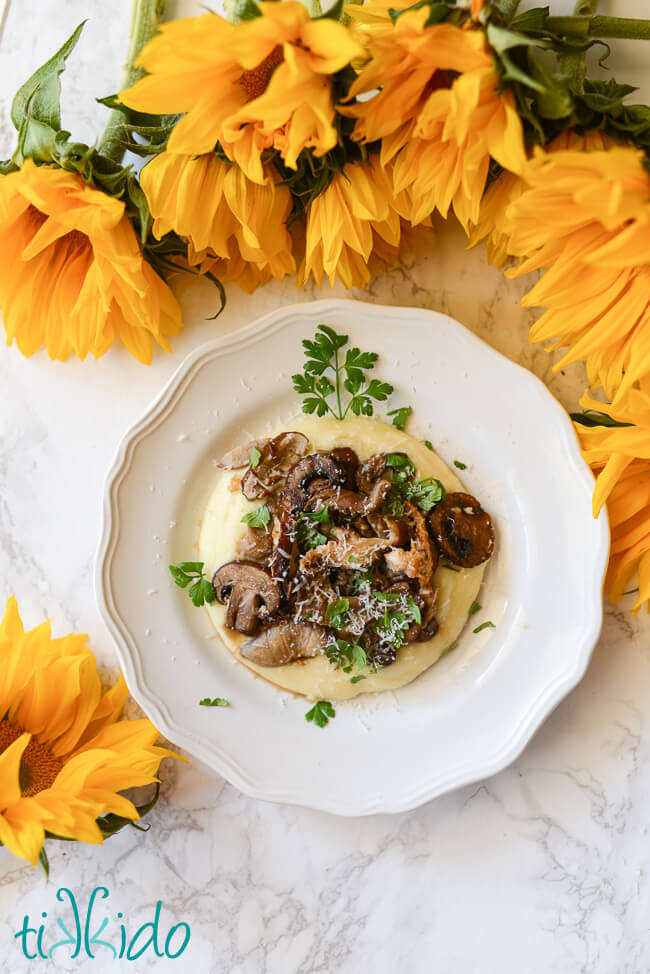 I made a mascarpone and Parmesan oven-baked polenta, but you could certainly omit the cheese or add in any other flavors that you prefer.  We love cheese in our house.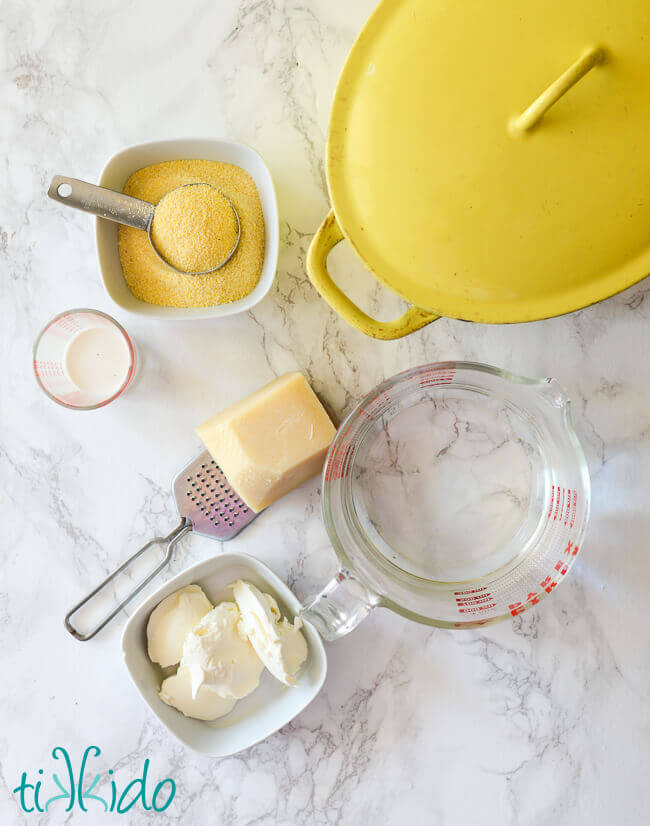 Recipe for Baked Polenta (Made in the Oven!):
3/4 cup cornmeal
3 cups water
1/2 cup mascarpone cheese
1/2 cup Parmesan cheese
1 Tablespoon heavy whipping cream
salt and pepper to taste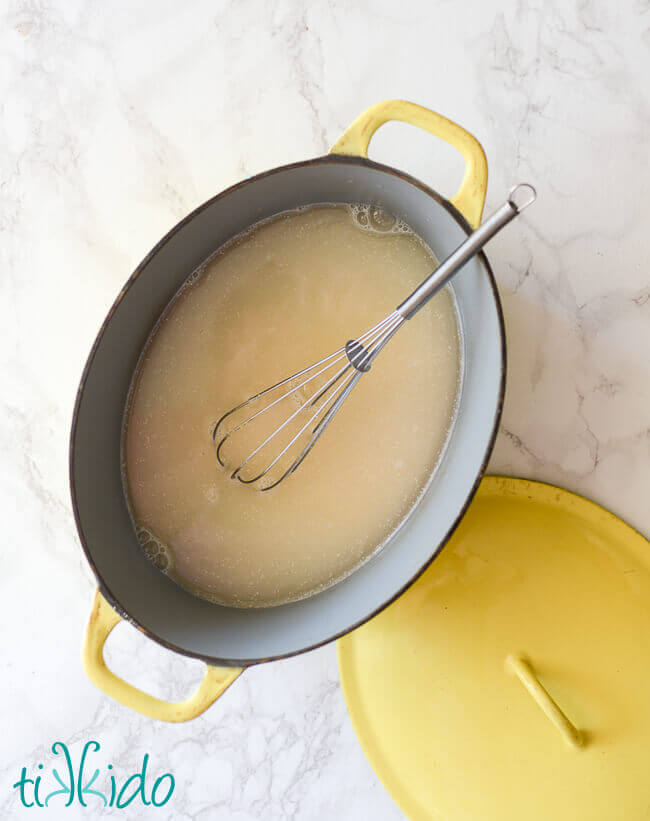 Preheat oven to 400 degrees Fahrenheit.  I put my oven on convection mode to ensure even cooking of both the polenta and the mushrooms at the same time.
Whisk the cornmeal and water together in an oven-proof, covered dish.  My classic, enamel-covered cast-iron Dutch oven was perfect for this task (buy one here).
Place in preheated oven for 15 minutes.  Take the polenta out of the oven after the first 15 minutes, whisk it again, and return it to the oven for a final 15 minutes.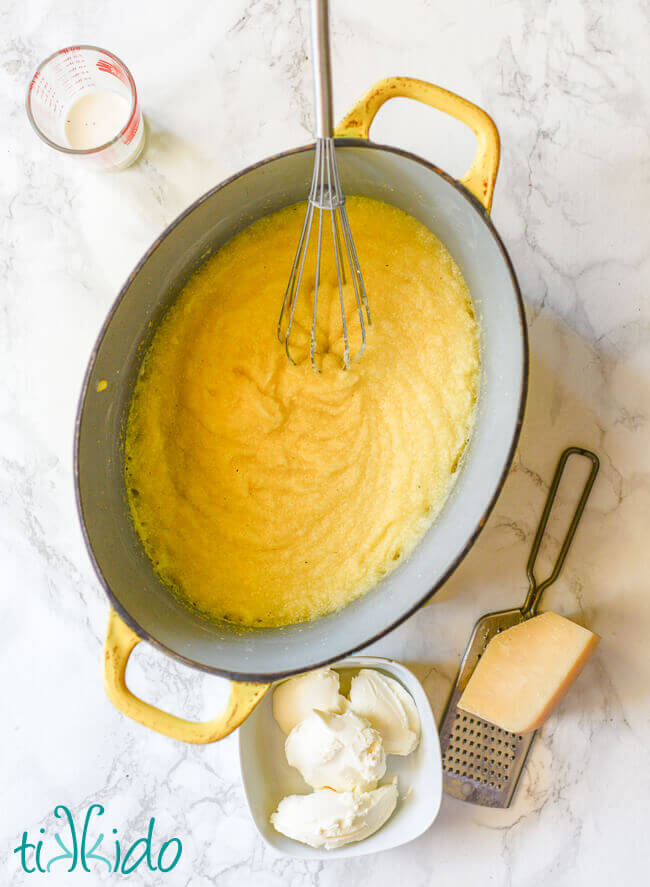 When the second 15 minute segment is done (30 minutes of cooking total, take the polenta out of the oven, and stir in the mascarpone, Parmesan cheese, and salt and pepper to taste.
That's it!  It's done!  And it's AMAZING.  Now, to learn how to make the roasted mushrooms at the same time, and to get a free, printable, one page version of this entire recipe, head to the bottom of the page.
Easy Oven Roasted Garlic Butter Mushrooms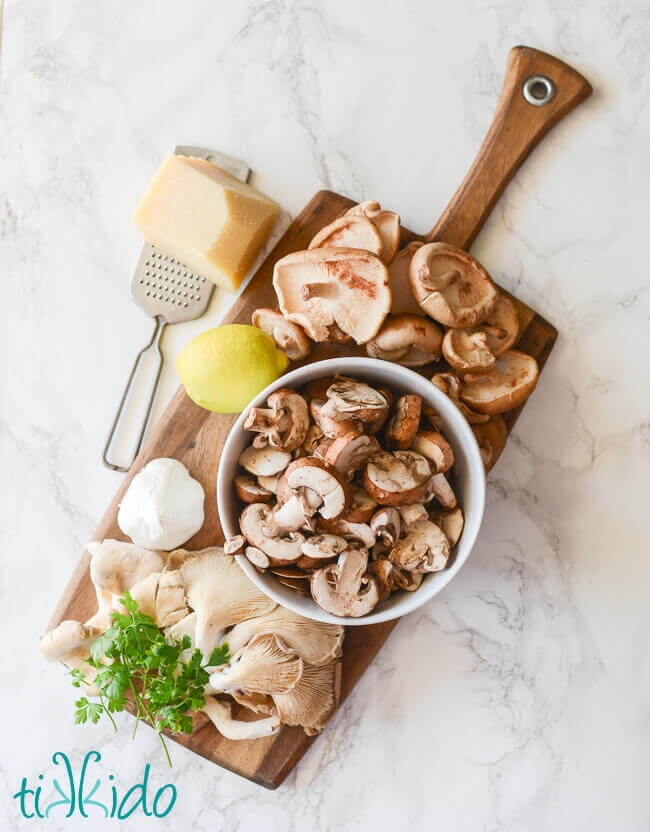 Start prepping this dish while the polenta is in the oven for the first 15 minutes of its cooking.
Ingredients for Oven Roasted Mushrooms:
One pound of mushrooms, sliced (I used cremini, oyster, and shiitake mushrooms)
Zest of one lemon
four cloves of garlic
1/2 teaspoon salt
4 Tablespoons butter, melted
1/4 cup parmesan cheese
fresh parsley to garnish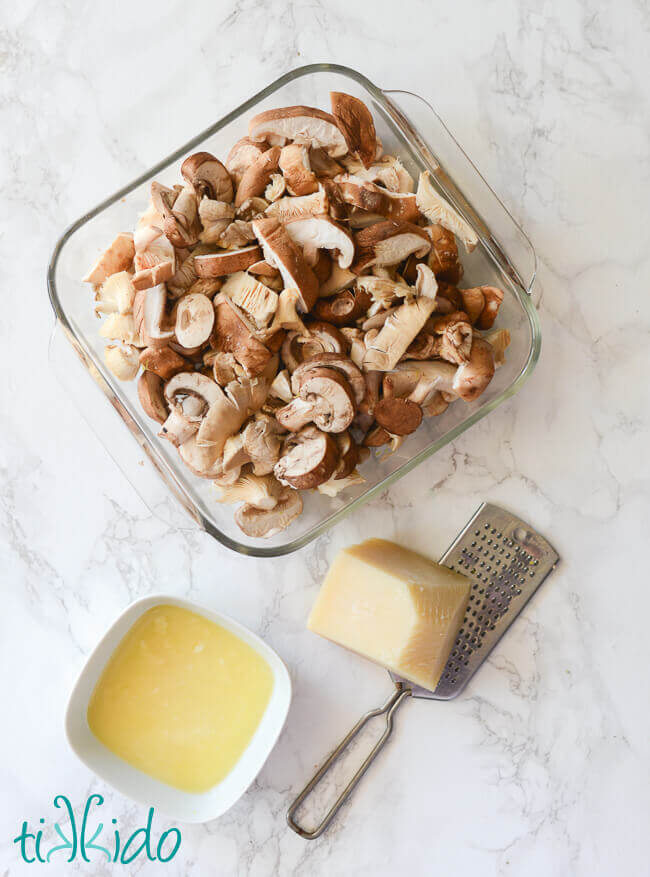 Place sliced mushrooms in an oven safe baking dish (I used my classic Pyrex 8" square baking dish).
Melt butter, and mix 4 crushed (using a garlic press) cloves of garlic into the butter.
Sprinkle the salt over the mushrooms, and drizzle the garlic butter over the mushrooms.  Add the lemon zest, and toss to cover the mushrooms evenly.
Top with Parmesan cheese, and bake at 400 degrees Fahrenheit for 15 minutes.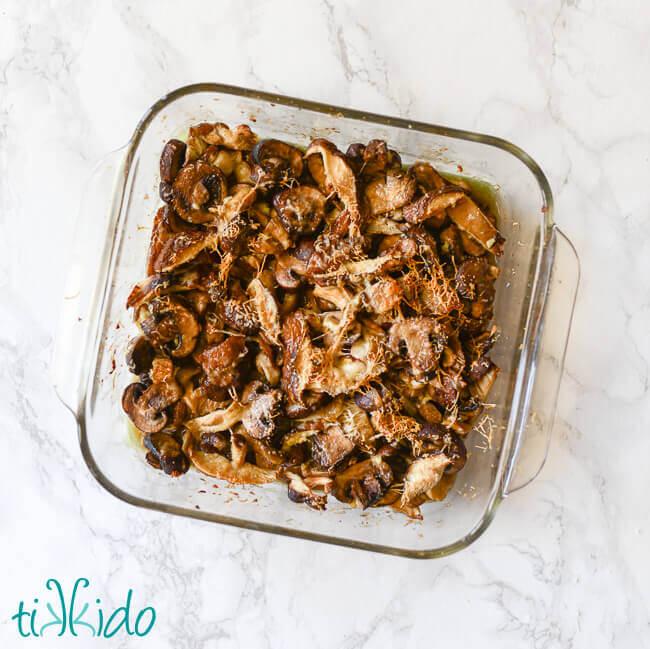 This, conveniently, is exactly the same temperature and time the polenta needs to finish after its first stir, so when you put the polenta back in the oven after stirring, put the mushrooms in the oven as well.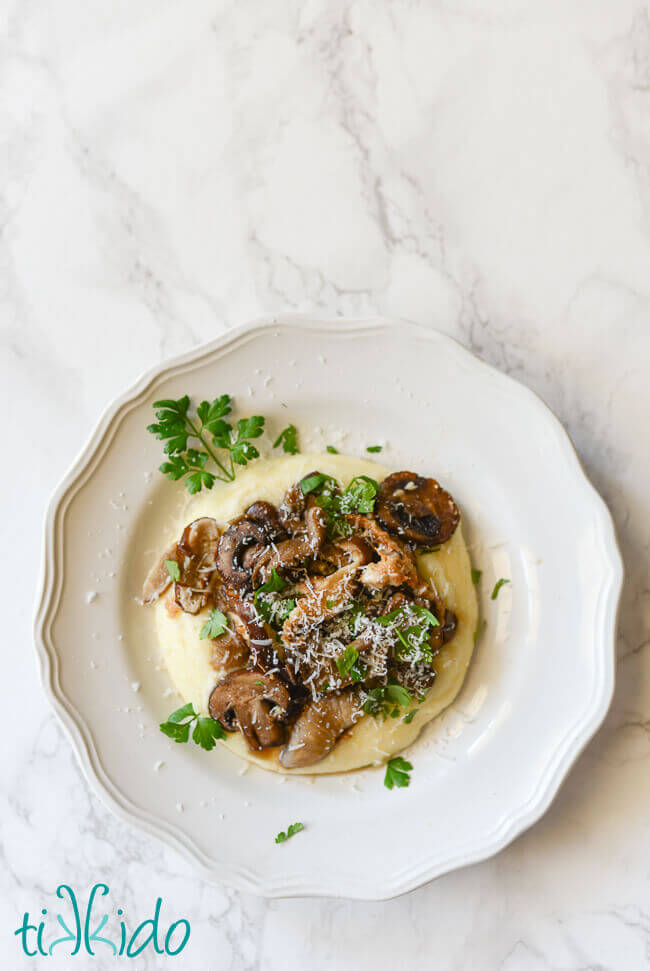 Fifteen minutes later, you have an amazing, complete, perfectly timed meal.  Garnish with fresh parsley, add a bit of freshly grated Parmesan cheese, and prepare to be blown away by how delicious this is for the amount of effort involved.
Printable, One Page PDF Version of the Easy Polenta Recipe: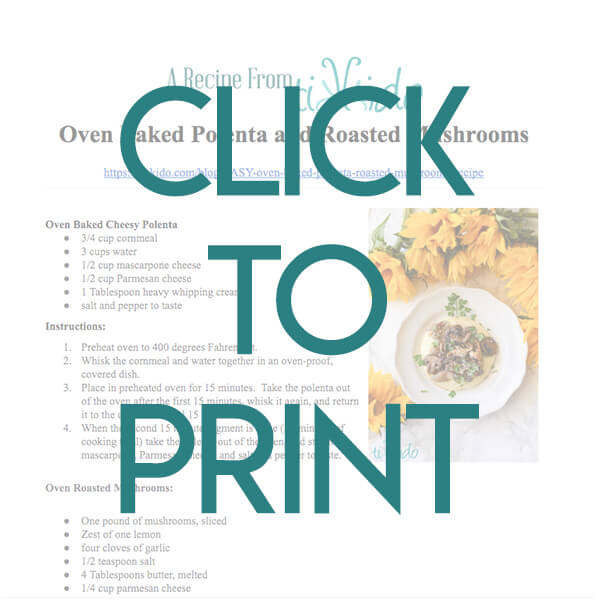 Other Polenta Recipes You Might Like: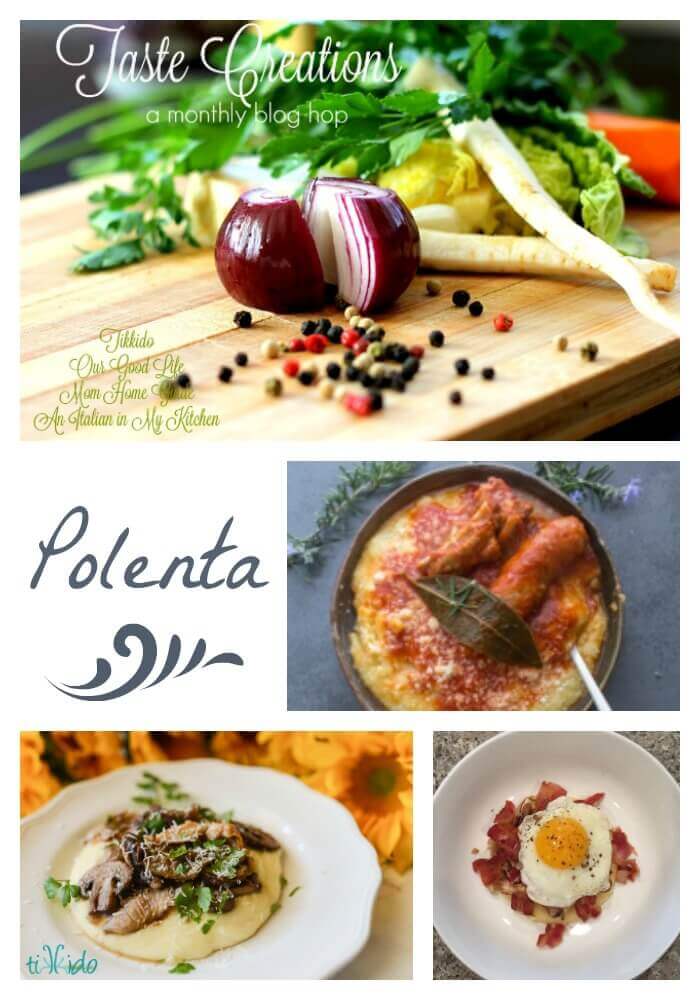 And be sure to check out the other amazing Polenta recipes from my friends in the Taste Creations Blog Hop this month:
Our Good Life, Breakfast Polenta
An Italian in my Kitchen, Traditional Polenta
Other Mushroom Recipes You Might Like