Printer-friendly version
This cream of mushroom soup recipe makes a hearty, flavorful soup perfect for a cold winter evening.  Once you know how easy it is to make homemade mushroom soup, you'll never go back to the canned version.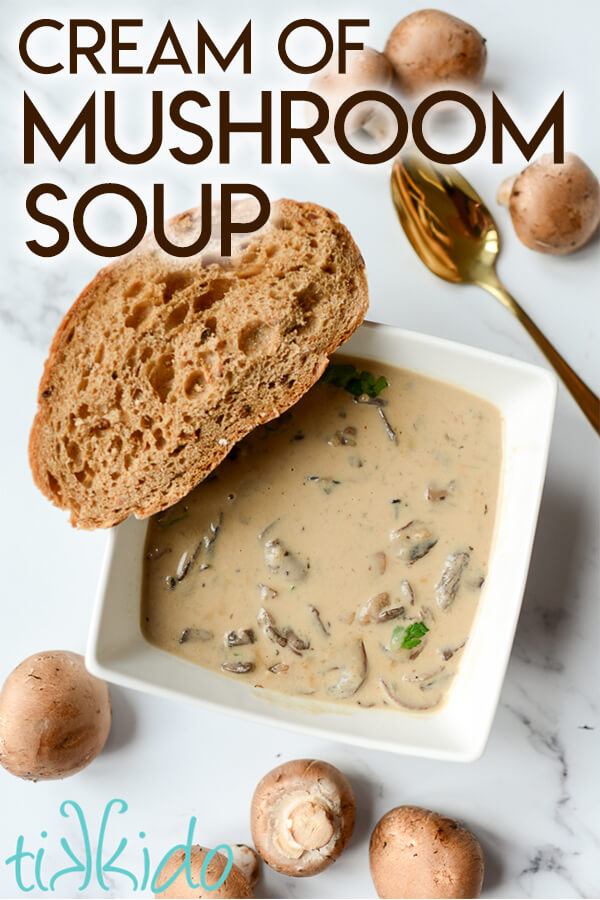 It's time once again for the Taste Creations Blog Hop, and our theme this month is Soup!  We're all sharing hearty, easy, warm and comforting homemade soup recipes.  I absolutely LOVE mushrooms, so I'm sharing a recipe for making an incredible homemade cream of mushroom soup.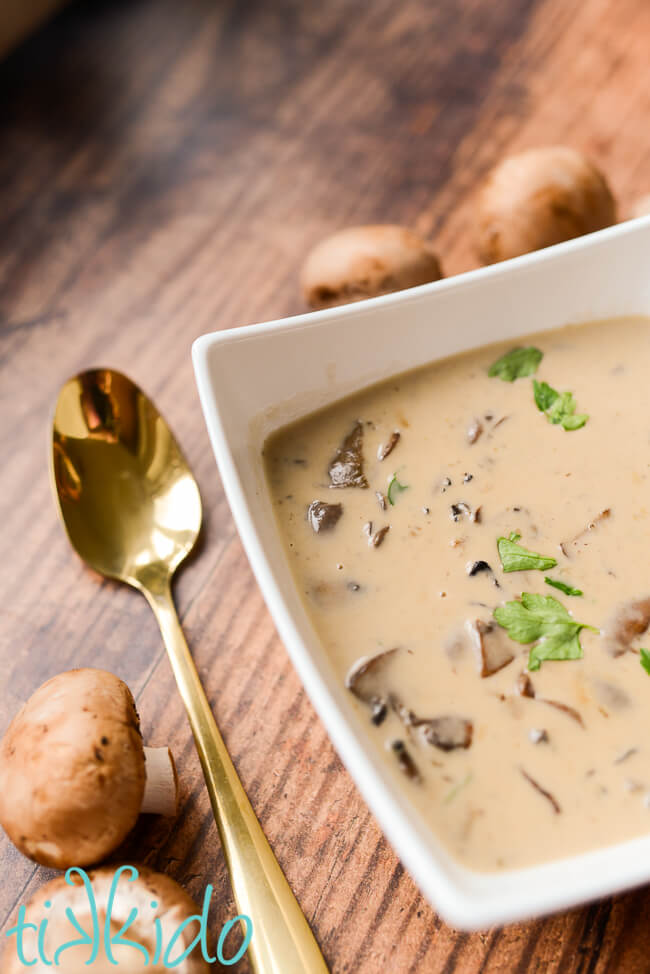 Be sure to check out the other fabulous winter soup recipes from my blogger friends at the end of the post.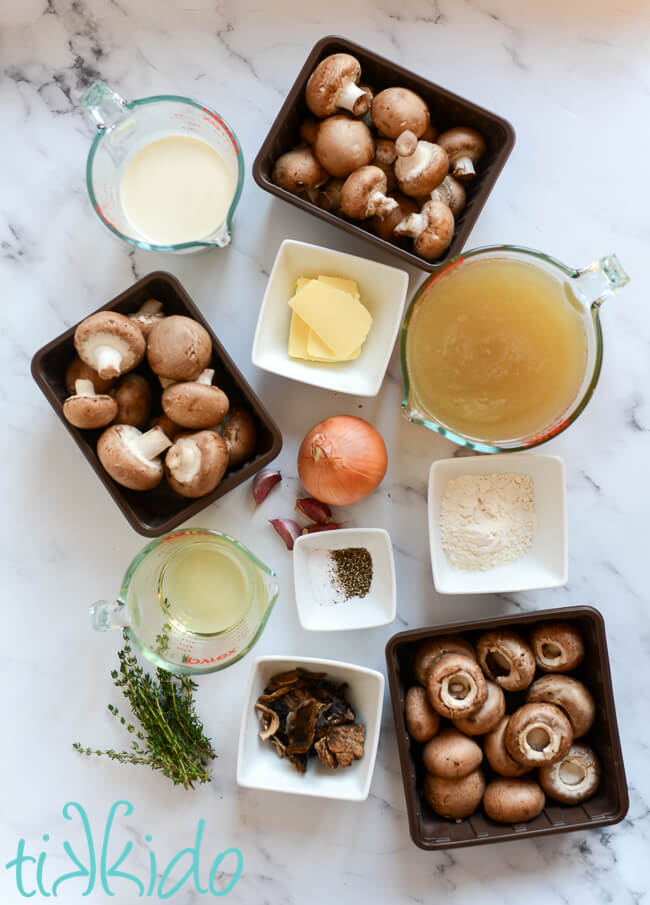 Cream of Mushroom Soup Recipe
15 grams dried mushrooms
3 containers of mushrooms (I used cremini mushrooms), about 900 grams, sliced
1 onion, diced
4 cloves of garlic, minced
4 Tablespoons butter
1/2 cup dry white wine
5 Tablespoons flour
4 cups chicken stock
1 teaspoon salt
1/2 teaspoon black pepper
1 cup cream
fresh thyme and parsley, to taste
How to Make Cream of Mushroom Soup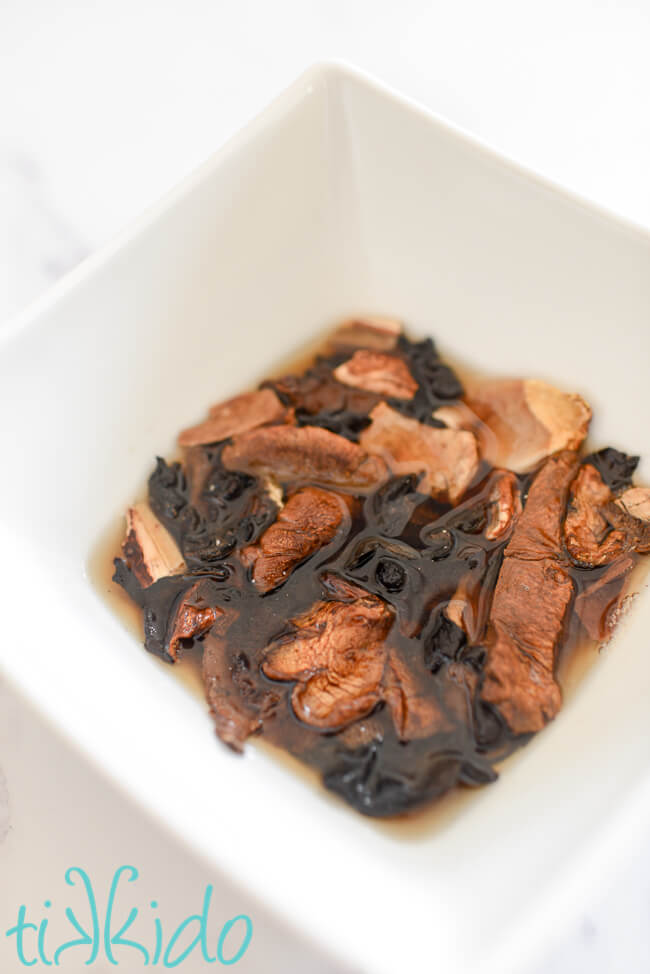 The first step in making this cream of mushroom soup recipe is to rehydrate the dried mushrooms.  You could eliminate this ingredient and step, but it really adds an intensity and complexity of flavor to the mushroom soup, and I highly recommend doing it.
How to Rehydrate Dried Mushrooms for Cream of Mushroom Soup
Place the dried mushrooms in a small bowl, and cover with hot water.  No need to use a particular amount of water--just enough to cover the mushrooms.  Let sit for 20 minutes.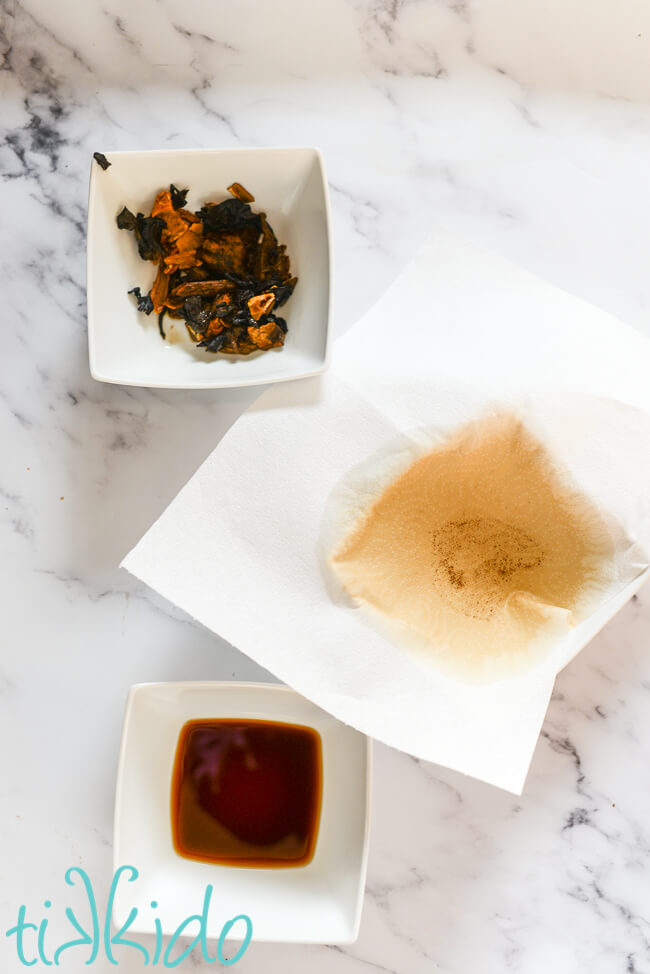 After the dried mushrooms have soaked for 20 minutes, strain them (I used a small mesh strainer) and reserve the liquid.  That liquid is full of fabulous mushroom flavor, and we'll want to add it to our soup later.
But dried mushrooms are notorious for having grit in the package, and we don't want any of that in our soup.  So strain the mushroom liquid with a paper towel to remove any grit.  Give the rehydrated mushrooms a rinse in cool water to remove any residual grit, too.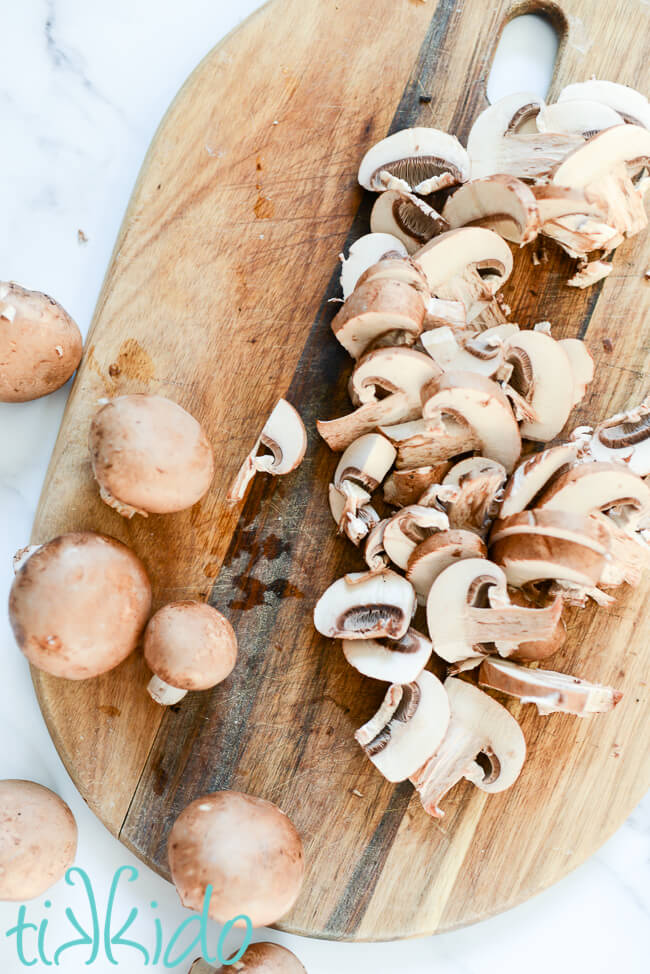 While you're waiting for the dried mushrooms to rehydrate, it's the perfect time to slice your mushrooms and dice your onion.
Cooking Homemade Cream of Mushroom Soup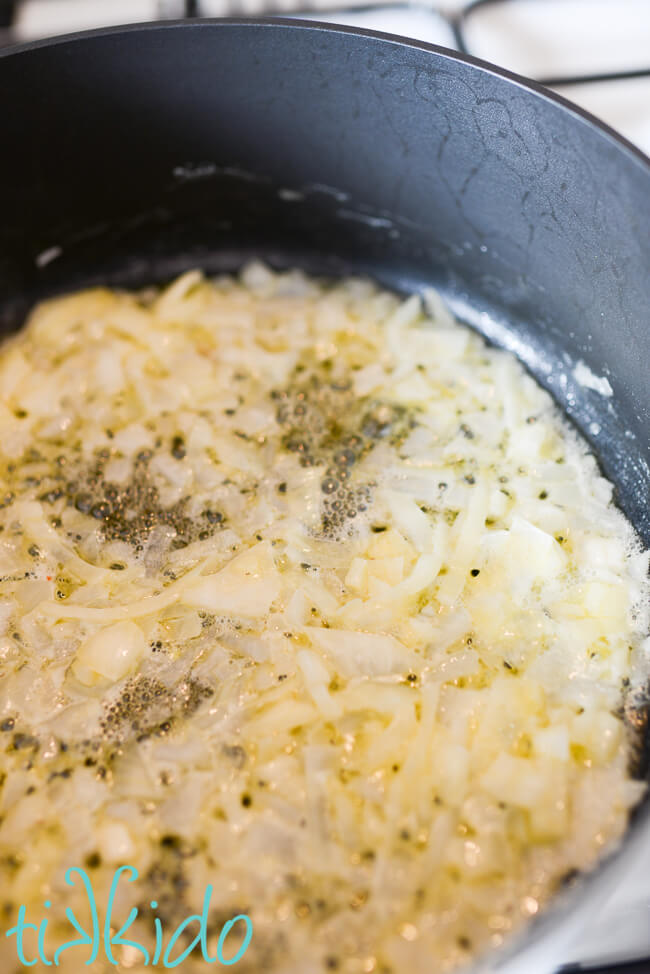 Melt the butter in a large, lidded pan.  Add onion and cook for about 3 minutes, until the onion softens and starts to look translucent. Add garlic and cook one more minute.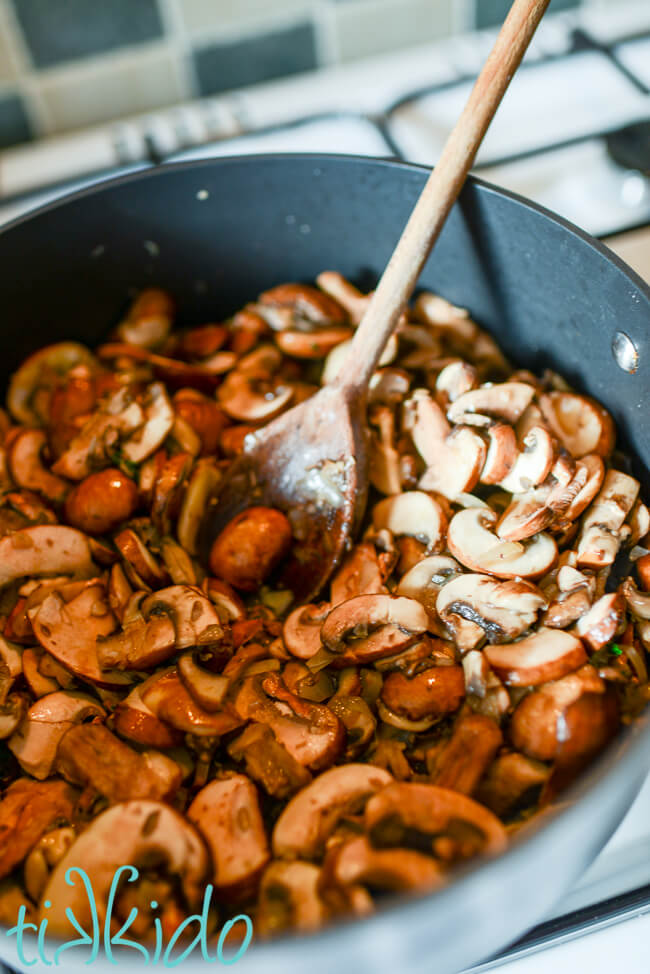 Add mushrooms and fresh thyme and cook on high heat until the liquid that releases from the mushrooms evaporates, and the mushrooms brown.  The picture above is from early on in the mushroom cooking process.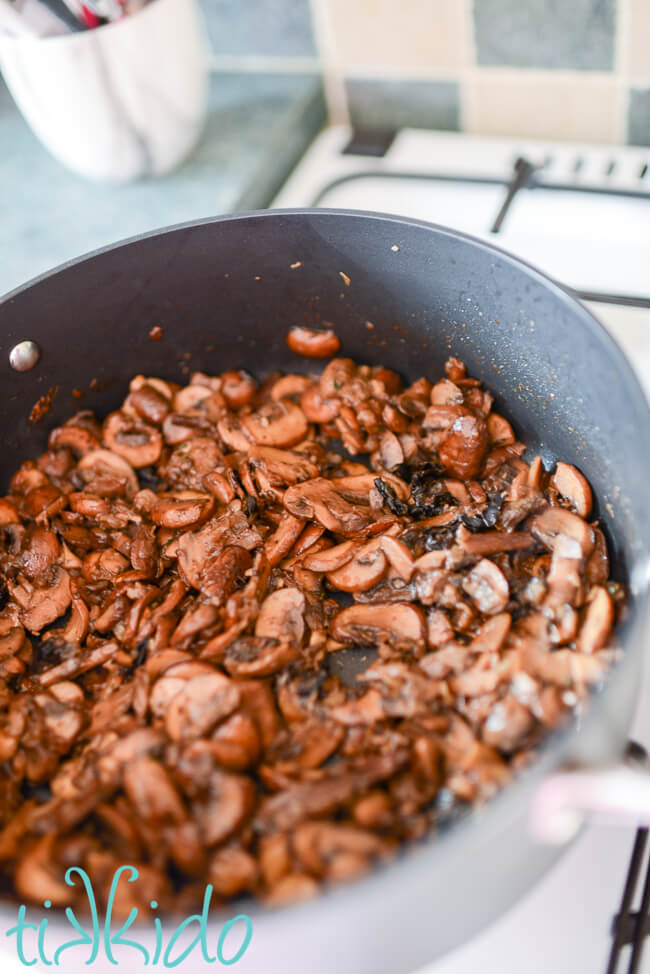 And here are the finished, cooked mushrooms.  You can see that the volume reduces quite a bit, and the mushrooms brown up nicely, adding delicious layers of flavor.  It takes time to cook off that liquid so that the mushrooms can brown, but the flavor it adds makes it worth taking the time to do this step.
Add the half cup of dry white wine (I used a chardonnay) and cook for about two minutes, scraping the bottom of the pan to deglaze and capture every bit of that lovely browned flavor.
Add the flour, and cook for two minutes.  It's important to cook the flour before adding any liquid, to get rid of that raw flour taste.  So don't skip this step!  The flour is how we thicken cream of mushroom soup.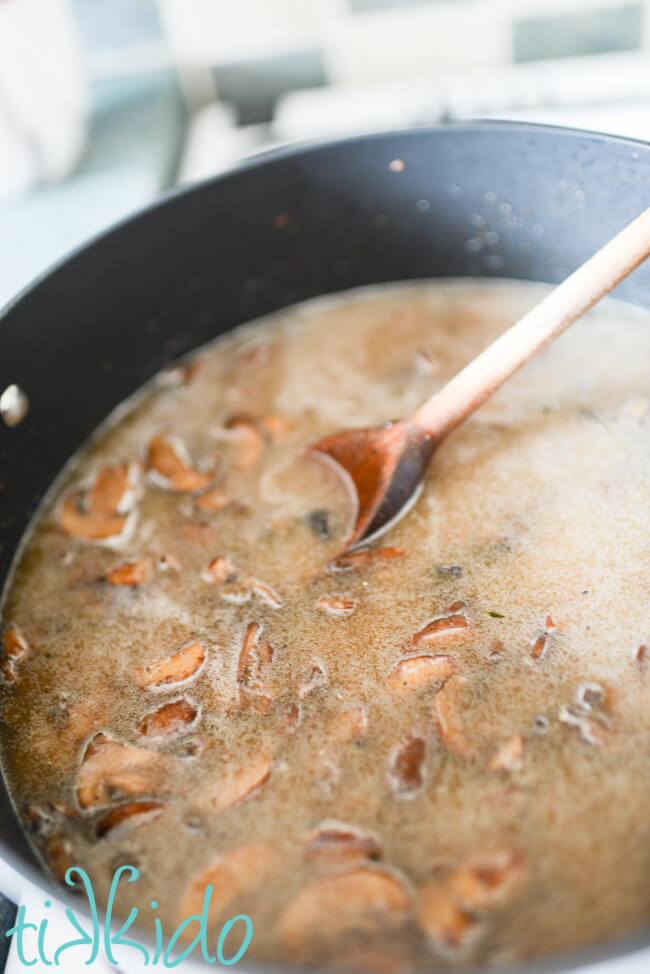 Add the chicken broth and stir well.  Bring to a boil.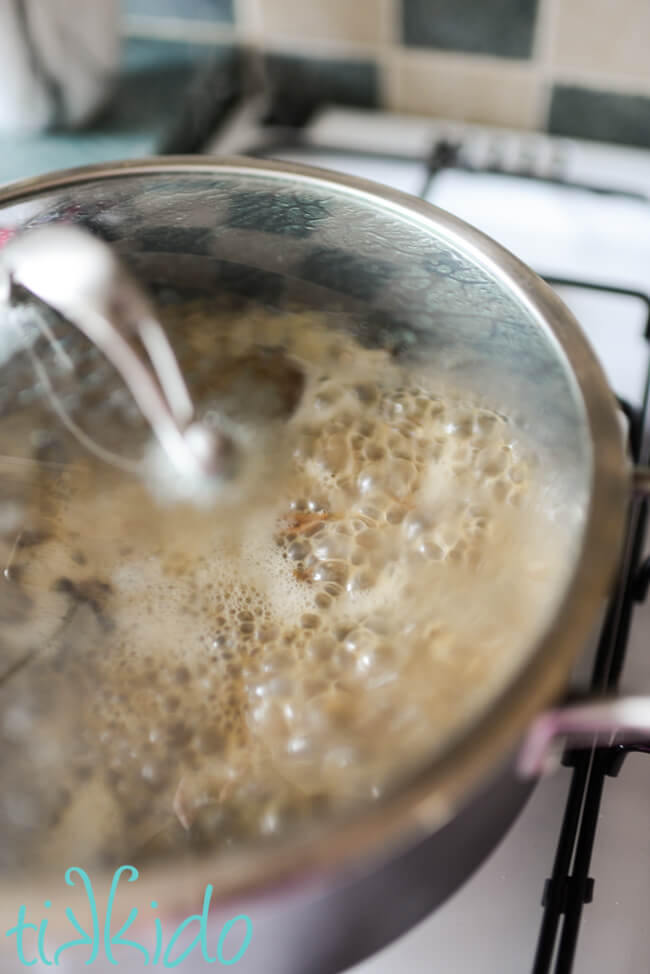 Place the lid on the pot, lower the temperature, and simmer for 10 minutes, stirring occasionally.
The soup will thicken nicely while it simmers.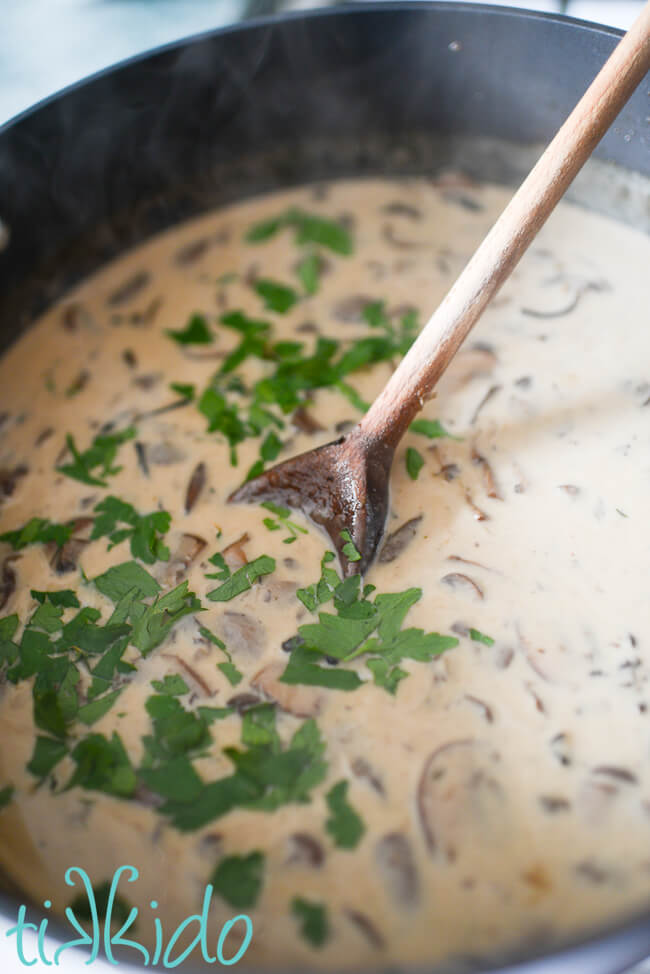 Remove from heat, and stir in the cup of cream.  Add fresh parsley and thyme to taste.
What to Serve with Mushroom Soup:
One of the best things about soup is that it's an entire meal in a bowl, but I'll admit that I can always serve cream of mushroom soup with a couple slices of rustic bread, toasted, to help soak up every last bit of the soup in the bowl.  I particularly like a sourdough bread with this recipe--the tang of the sourdough compliments the rich mushroom soup perfectly.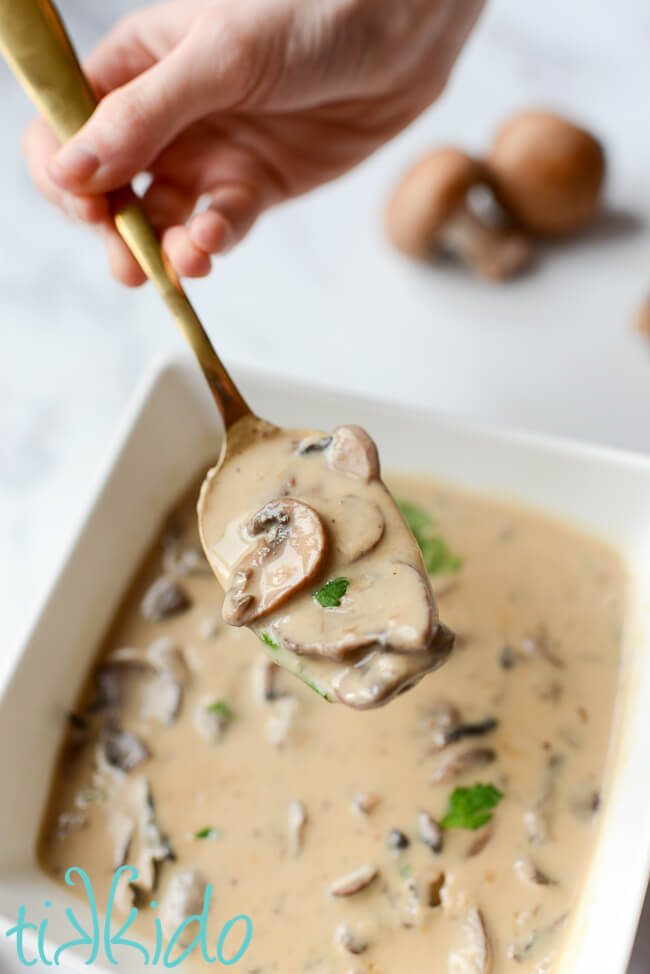 What's your favorite soup recipe?
Printable, One Page Cream of Mushroom Soup Recipe
Want a one page, printable version of the Cream of Mushroom Soup recipe?  Click on the image below to print or download a one page, PDF version of this recipe.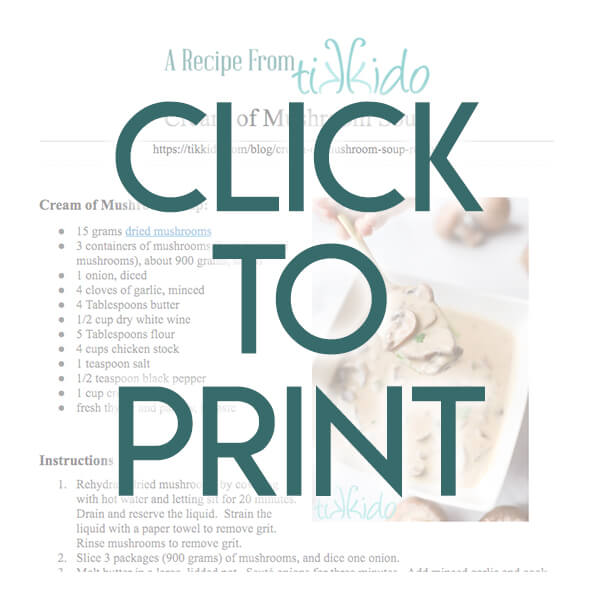 Other Soup Recipes from the Taste Creations Blog Hop: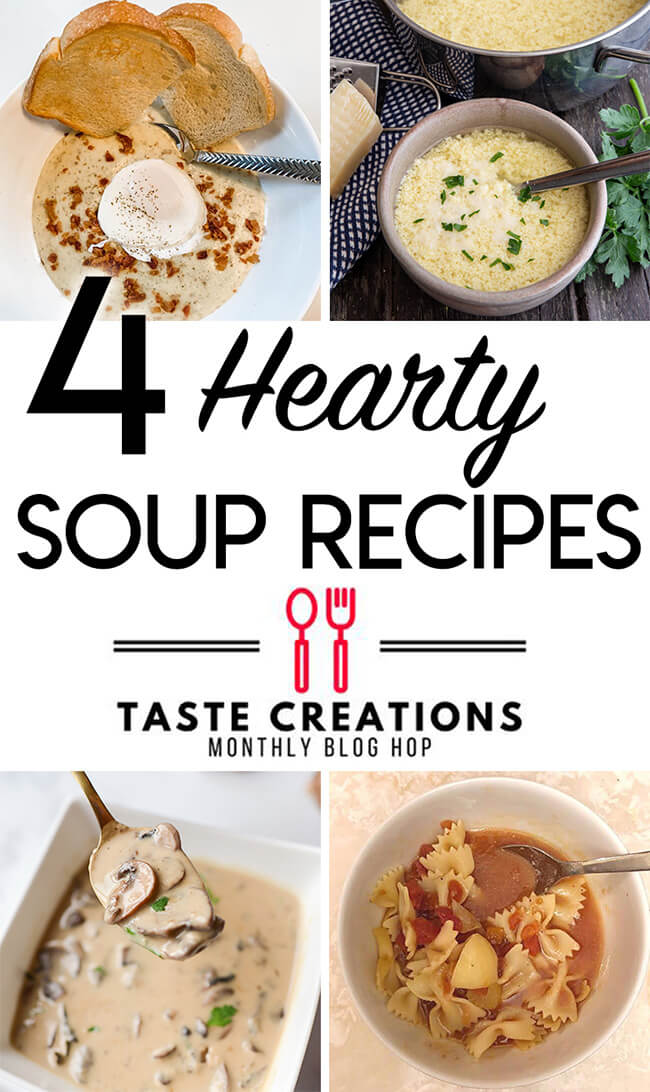 Be sure to check out the other hearty, easy, delicious soup recipes from my fellow bloggers in the Taste Creations blog hop.
Mom Home Guide: Tomato Potato Vegetable Soup with Pasta
An Italian in my Kitchen:  Italian Stracciatella Soup
Our Good Life: Potato and Onion Breakfast Soup with Egg and Bacon
Other Soup Recipes You Might Like: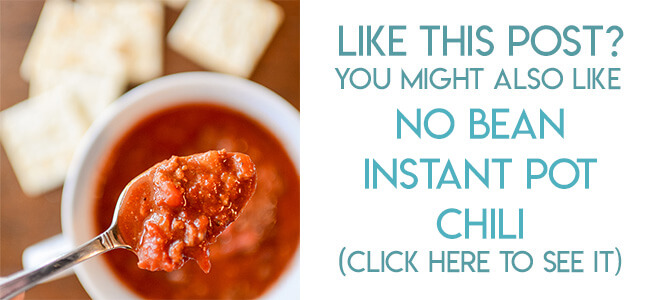 Other Mushroom Recipes You Might Like