Printer-friendly version
Having a scary movie marathon this Halloween season?  These Friday the 13th Jason Mask Cupcakes are the perfect snack to serve!  Learn how easy it is to make these spooky gum paste cupcake toppers in this tutorial.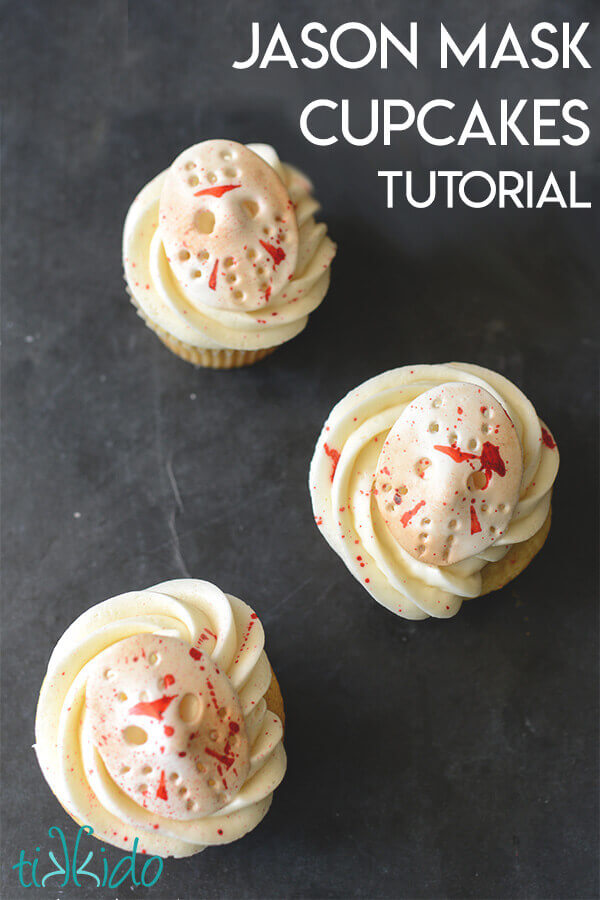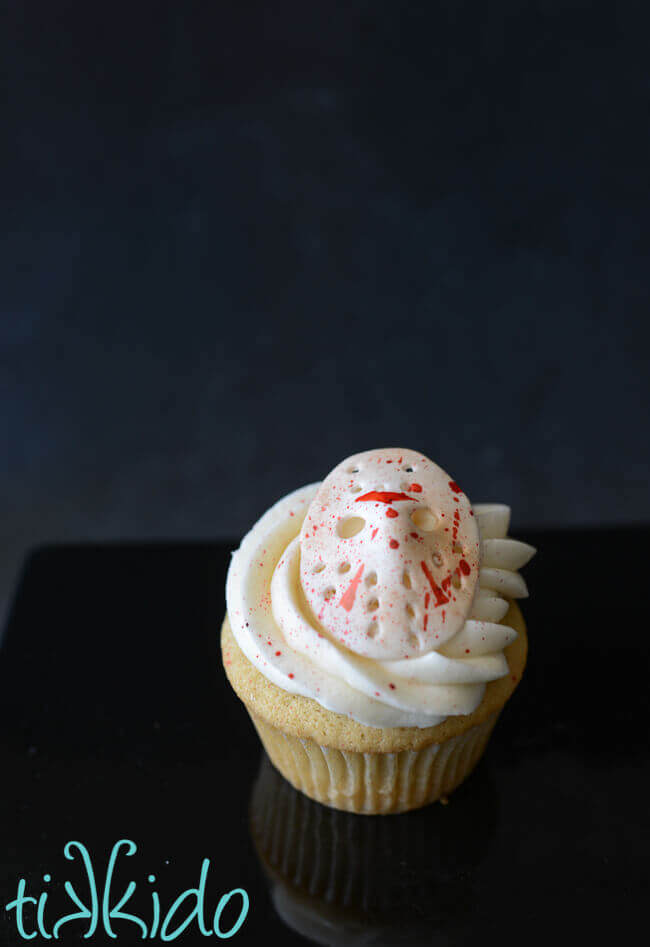 How to Make a Jason Mask Halloween Cupcake Topper: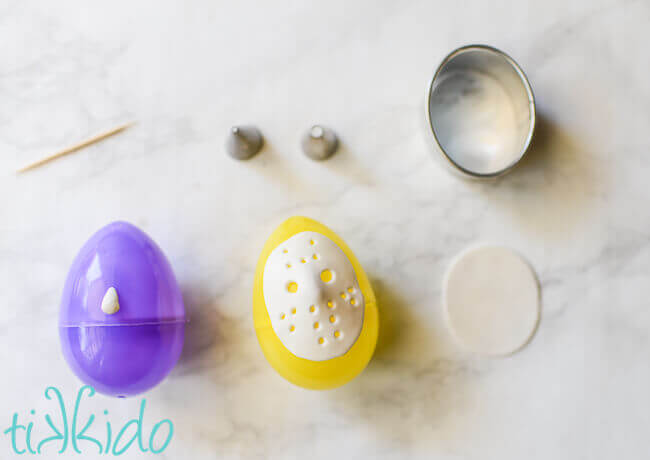 I used an oval cookie cutter (from this set of nested oval cookie cutters) to cut the basic mask shape out of gum paste (Satin Ice is my favorite brand to use).
The eye and ventilation holes in the gum paste mask were cut out using the small end of two sizes of round piping tips as little cutters.
Adding a little nose-shaped lump under the mask really helped give it the right shape as it dried.
But the real secret to making these edible gum paste Jason mask cupcake toppers?  Plastic Easter eggs.  They turned out to be the perfect size and curve for drying the masks into the perfect shape.
Tip for Using Easter Eggs as a Curved Drying Form for Gum Paste:
Use a small blob of gum paste under the Easter egg to stabilize the egg and keep it from rolling over when the mask is applied to the top of the egg.
You can also make a small nest of aluminum foil or cling wrap to keep the eggs stable and upright while the masks dry.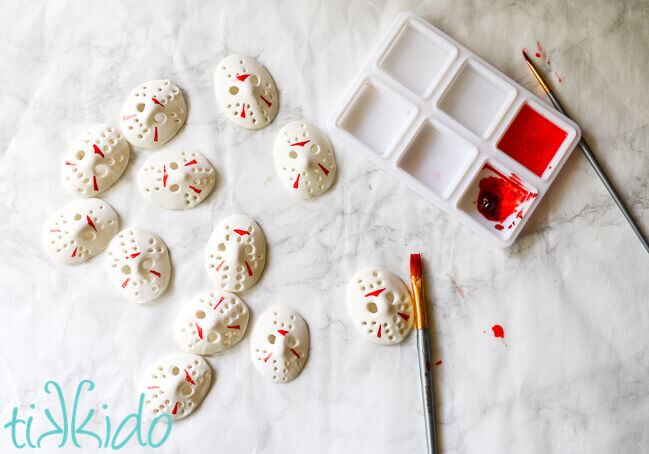 Once the masks are dry, remove from the Easter eggs and paint on the red details with a fine, food-safe paintbrush.
The masks looked a little too clean and new at this point, so I dirtied them up a little bit by dusting on some dry brown petal dust.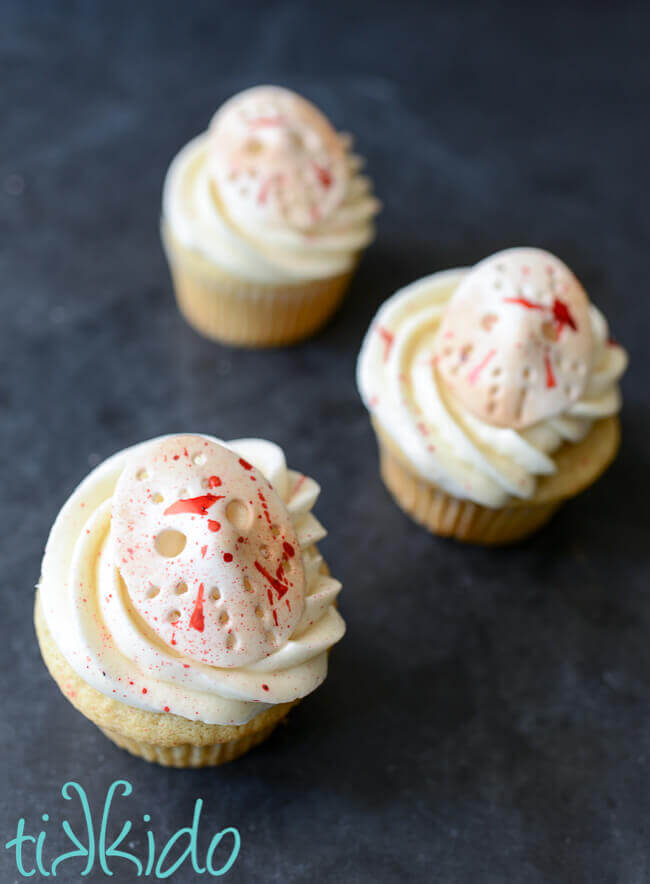 I placed the Jason mask cupcake toppers on the cupcake and then splattered the whole thing with red gel food coloring thinned down with vodka.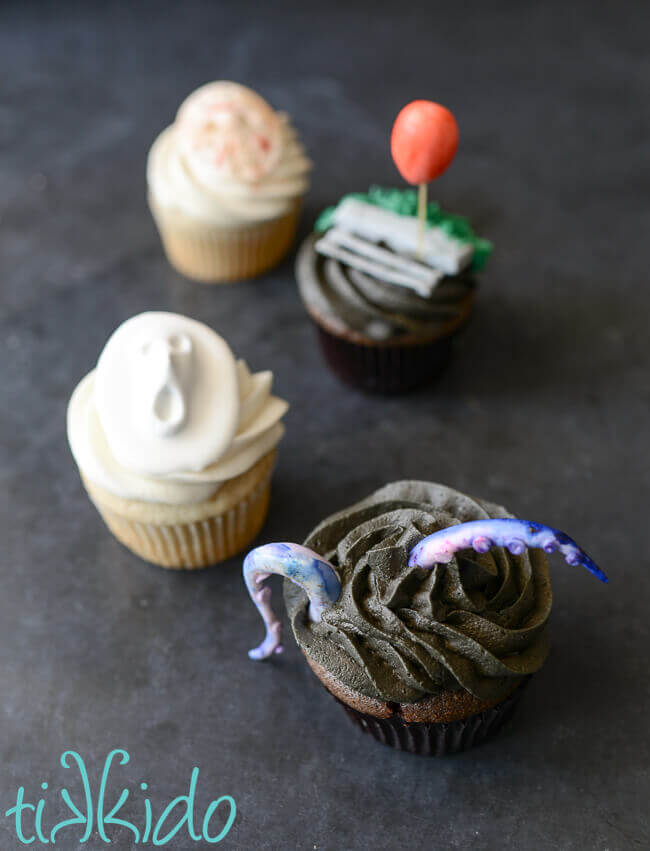 The Jason mask cupcakes were the perfect addition to the horror movie cupcakes I made for a friend's Friday the 13th birthday party.  And they're perfect for Halloween, too.  Perfectly spooky and sweet.