Printer-friendly version
Make these easy fall leaf cupcake toppers for your cupcakes this autumn.  These non-edible cupcake toppers are easy and fast to make, and look like fall leaves swirling in a frosty autumnal breeze.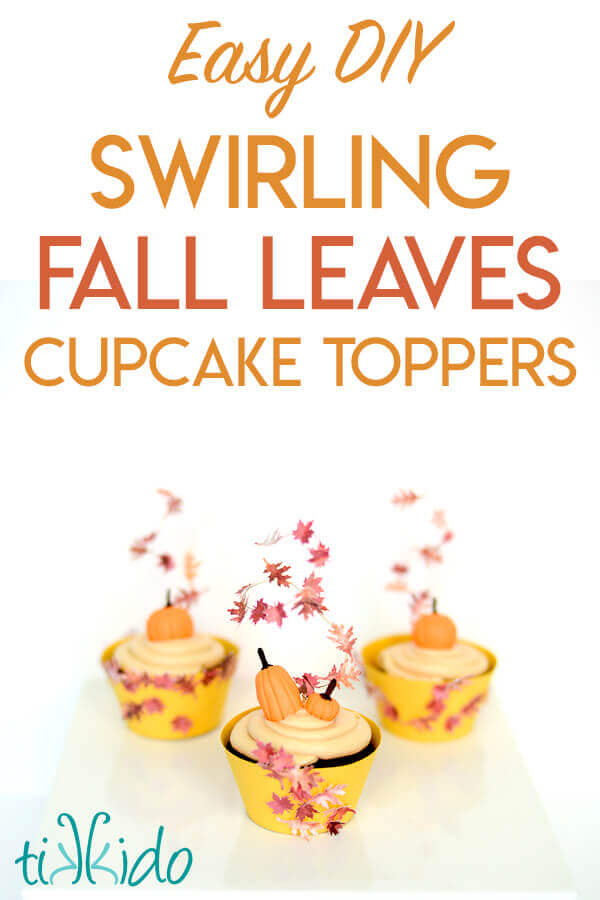 I'm a big fan of edible cupcake toppers.  Almost always go with that option, in fact.  But sometimes you get an idea for how you want something to look, and it's just impossible to make it happen just using edible items.  Well, maybe not impossible, but way beyond my pastry skills.  
That's exactly the situation I was deling with when I came up with the idea for these cupcake toppers that look like fall leaves swirling in the wind.  Sure, maybe I could learn how to work with molten sugar and form it into thin, invisible, fragile swirls.  Or maybe not.  Not even I have time for that.  ;-)  But a few minutes with paper and glue?  That I can do.
Materials Needed for Flying Fall Leaves Cupcake Toppers:
paper in fall colors
toothpicks
hot glue gun
The process of making these is incredibly simple.  You don't want bare wire stuck in food (that's not food-safe), so I twisted the wire around the end of a toothpic (which is safe to stick in cupcakes).  The wire was naturally nicely curled when I clipped it off the spool, and it took very little coaxing to bend the wire into a lovely swirl.
Use inexpensive craft punches in leaf shapes to cut out the leaves for the cupcake toppers.  I found that using patterend paper made the most interesting, realistic looking miniature leaves.  Use the hot glue gun to attach the leaves to the wire.
Pop them in a simply iced cupcake, and suddenly you have autumn magic.
Add candy corn or gumpaste pumpkins for extra charm.
I loved these so much that my mind immediately started spinning, thinking of all the fun variations I could do for other holidays and events.
Spring butterfly party, anyone?  (Maybe not with the salted caramel autumnal-toned icing.)
A flurry of sparkling snowflakes?  Yes yes yes!
Wouldn't a kite be delightful?  Stars and planets for a space party?  How about using a colored toothpick stuck in just a bit as a magic wand, with a swirl of magical stars streaming from its tip?  I told you, mind spinning with the possibilities!  What variation on this technique pops into your mind?