Printer-friendly version
Mother's day is right around the corner, and I'm always trying to think up cool ideas that the kids can either do entirely on their own, or with minimal parental involvement.  Preferrably none of mama's help (what's the fun in that?).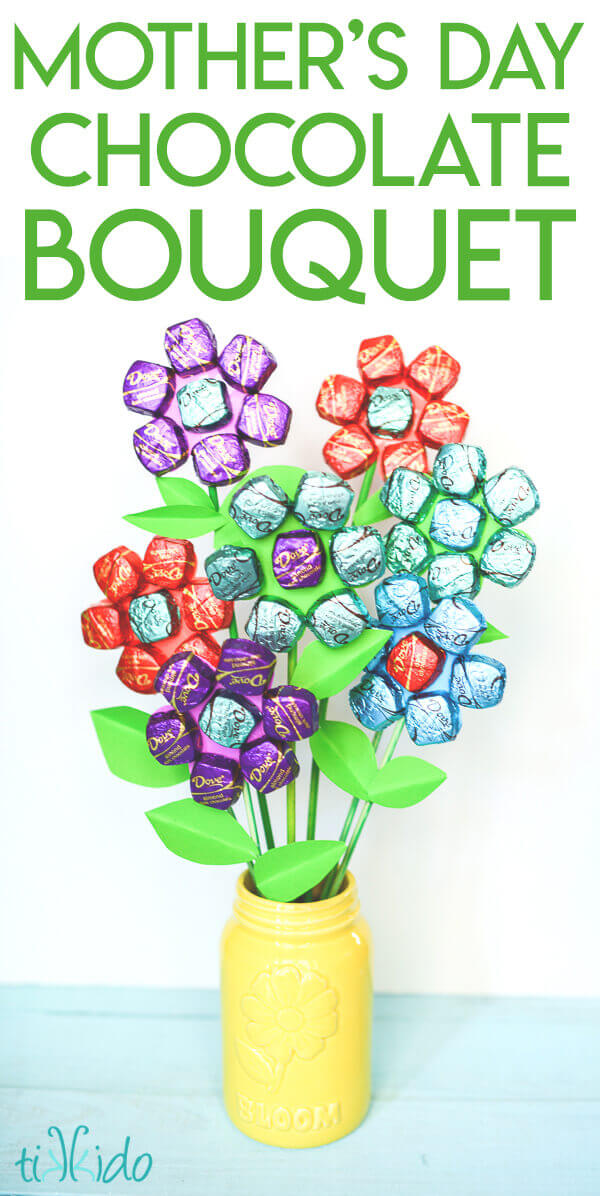 When Dove sent me some samples of their new Dark Chocolate flavors (mmmm....Dark Chocolate Sea Salt Caramel...), those colorful little pillows of chocolatey bliss immediately made me think of flower petals, and the idea for an edible arrangement of colorful chocolate flowers was born.
Edible Chocolate Flower Arrangement Materials:
DOVE

 

® Dark Chocolate PROMISES

 

® 

in assorted flavors

green paint

scissors

colorful cardstock

hot glue gun

floral arranging foam

vase (preferably opaque)
Start by painting the bamboo skewers green.  You can actually buy pre-painted green skewers in the floral section of any major craft store, but 1) I'm cheap, and 2) I already had plain skewers and green paint.  But if I didn't already have the paint and skewers in my house, I totally would have just bought the already-green sticks.
Cut some flower shapes out of colorful, heavy cardstock.  You really do need to use a nice, sturdy cardstock for this project, because these paper flowers are going to provide the support for the chocolate petals.  Construction paper just isn't going to cut it.
I traced around a flower cookie cutter I happened to have, but you could easily free-hand the flower or find some free clip art to use as a template.  If I can find some extra time this afternoon, I'll create a printable template you can use, too.
Cut out the cardstock flowers.
Glue the bamboo sticks to the back of the flowers.  I suppose this could probably be done with tape if the kiddos are doing this project all on their own, but I didn't test that.  The flowers might be a little heavy for that once they're laden with chocolate.
Apply double-sided tape to the paper flowers, and then simply stick your chocolate petals right on!  Fast and easy.
I liked using a contrasting color/flavor of the DOVE® PROMISES® for the center of the petals.  Plus, then you get to sample all of the delicious possibilities.  ;-)
Once the flowers have been made, trim a piece of floral foam to fit inside a vase.  I found this charming little ceramic mason jar vase at Michaels--how perfect for this project!  It matches the theme, and is opaque, which hides the drab floral foam.  It was also nice and heavy, which helped give the whole arrangement stability.  Chocolate flowers are pretty top-heavy, after all!
Stick the flowers in the foam and add a few cardstock leaves, if you'd like.
Real flowers are nice, of course, but you just can't beat chocolate, in my opinion.  Especially the Mint and Dark Chocolate Swirl.  The fact that I used a lot of the green in my arrangement is not a coincidence.  ;-)
I think this would also make a fabulous teacher's gift!  Teacher Appreciation Week is right around the corner, people!
Disclaimer:  Compensation was provided by DOVE ® Dark Chocolate via MomTrends.  The opinions expressed herein are those of the author and are not indicative of the opinions of Dove or Momtrends.