Printer-friendly version
Make a darling garden-themed gift basket for Mother's Day or Teacher Appreciation Week, full seed packets, garden tools, ceramic garden mushrooms, all in a flower covered container.  Add some origami flowers made out of money for a truly appreciated garden themed teacher gift!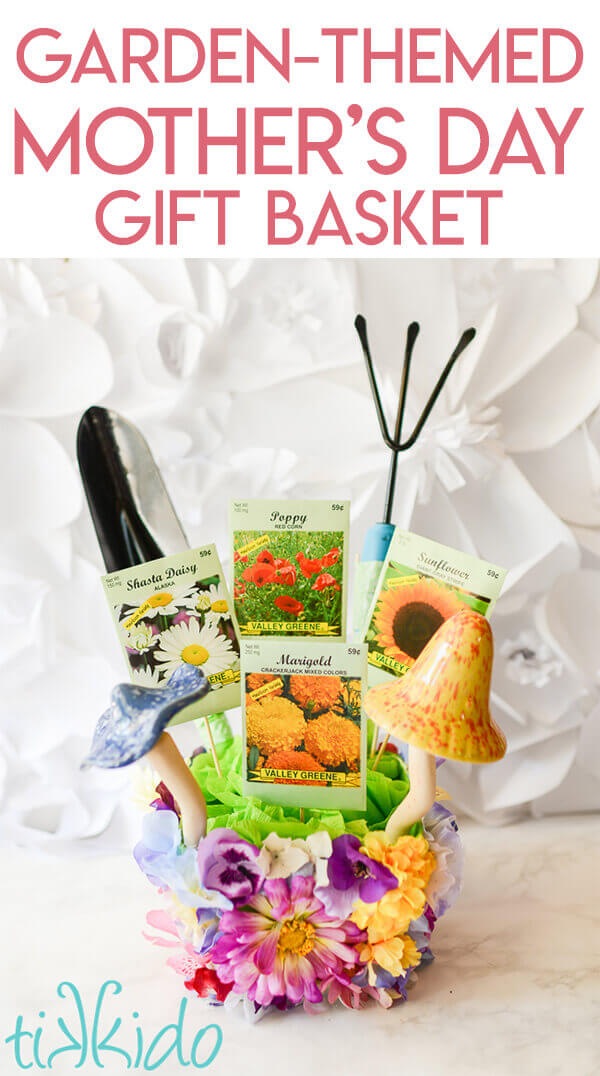 The best part of this clever garden gift basket craft?  I bought everything I needed at the dollar store.  Yes, even those ceramic garden mushrooms!  The two I bought years ago cost me north of $15 each, I'm sure of it.  I was so excited to see them in the dollar store near me!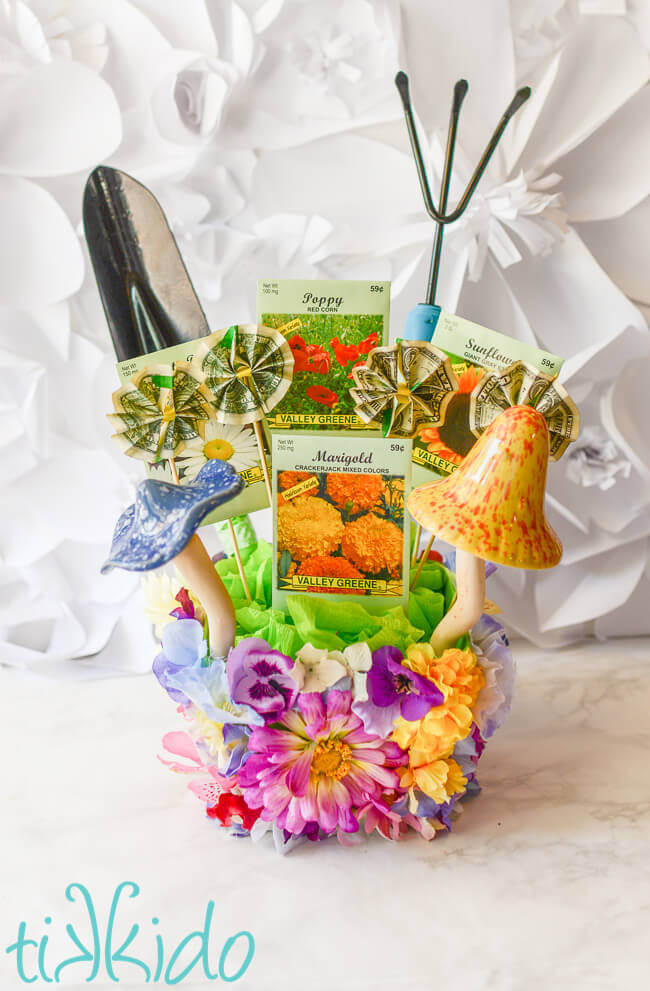 My teacher friends have told me that the gift they most want at the end of the year is cash.  With what teachers (especially here in Arizona) are paid, I'm not surprised.  So I made some simple money origami flowers to stick in the garden gift basket, too.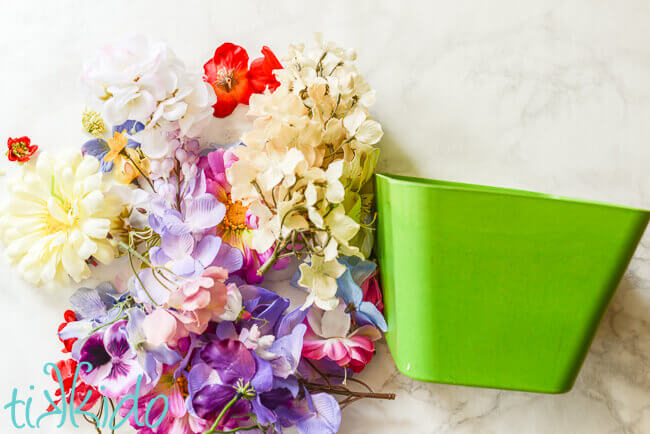 Materials for Mother's Day or Teacher Appreciation Garden Gift Basket:
plastic garden pot
silk flowers
bamboo skewers
seed packets
garden hand tools and garden accessories
washi tape
basket filler (I used green crepe paper)
styrofoam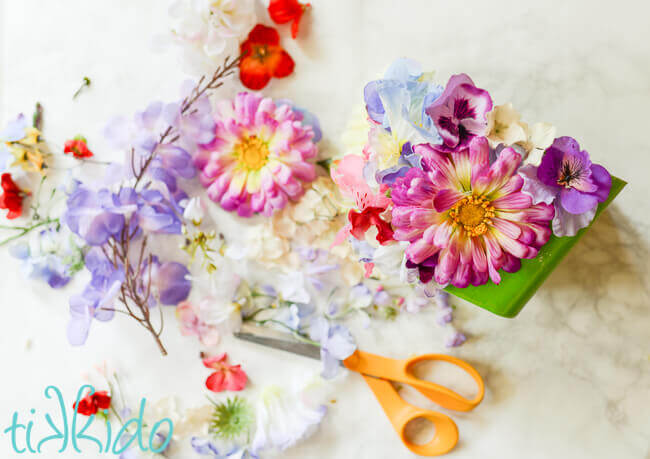 I came up with the idea for this craft because I was recently gifted a large, black garbage bag FULL of silk flowers.  My neighbor was cleaning out her garage, and thought I could come up with some creative use for them.  Of course I had to accept that challenge.  ;-) . This craft doesn't begin to make a dent in my flower supply, but hey, it's a start!
The dollar store is also a great place to get inexpensive silk flowers to use for crafting, too.
To make the gorgeous floral gift basket, just glue silk flowers all over the exterior surface of the garden pot.
Tips for Gluing Silk Flowers to Anything:
Even after you pull the flowers off of the plastic stems, there's usually a bit of plastic on the back of the flower.  That sticks out awkwardly and makes it difficult to glue, and hot glue guns don't work all that well connecting plastic to plastic (at least the low temperature kinds I always use), so I pull that bottom plastic bit off, or trim it away with a pair of scissors.   Once that pointy plastic bit at the base of the flower is removed, it's much easier to glue to a flat surface.
Sometimes this makes the layers of a silk flower fall apart.  You can either use each layer of the flower individually, or you can use a dab of hot glue to re-attach the layers of the flower together.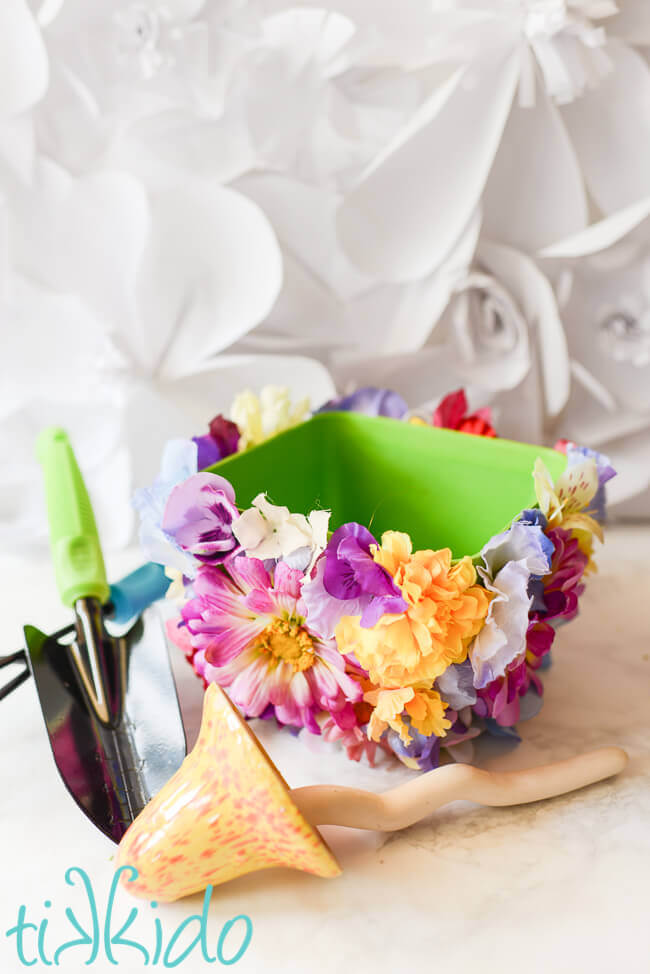 This project would have looked cute with just the plain green potting container from the dollar store, but I'm completely in love with it all covered in flowers.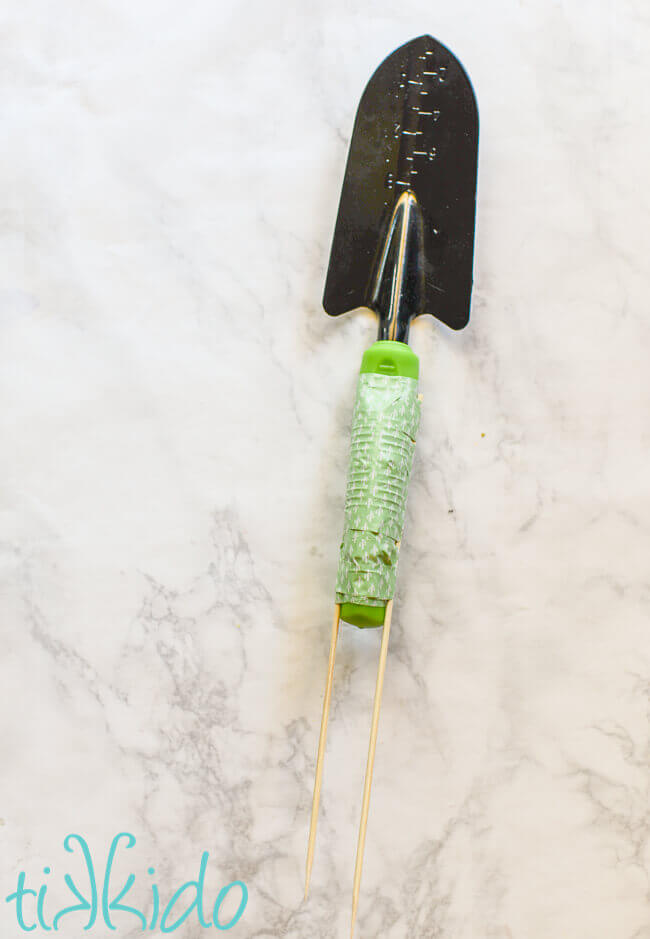 Place Styrofoam inside the flower-covered pot, and begin arranging the various parts of the garden gift.  I used washi tape to attach two skewers to either side of my garden tools.  The washi tape peels off easily, but holds the skewers in place perfectly so that they can stick into the Styrofoam and stay where you want them to be.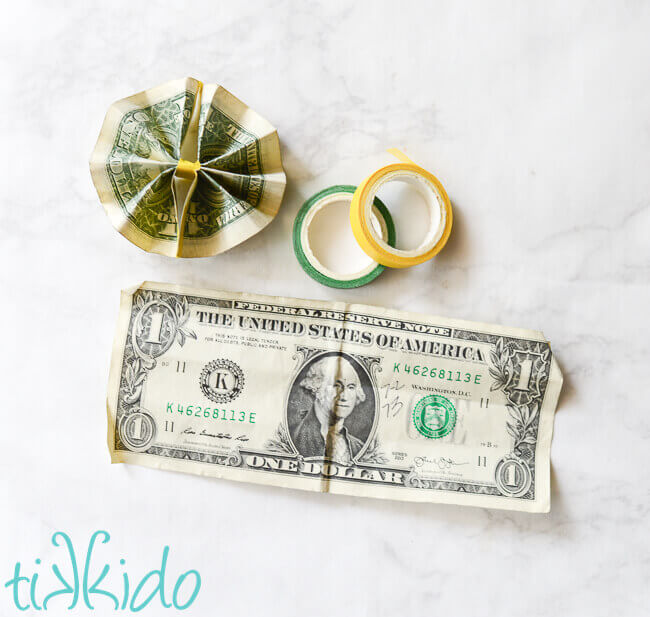 For the teacher appreciation version of this garden gift basket, I knew I wanted to make some cash origami flowers.  But I didn't want to destroy the money in the process.  Once again, washi tape to the rescue!  It's sticky enough to stick for this project, but peels off the money cleanly and doesn't do damage.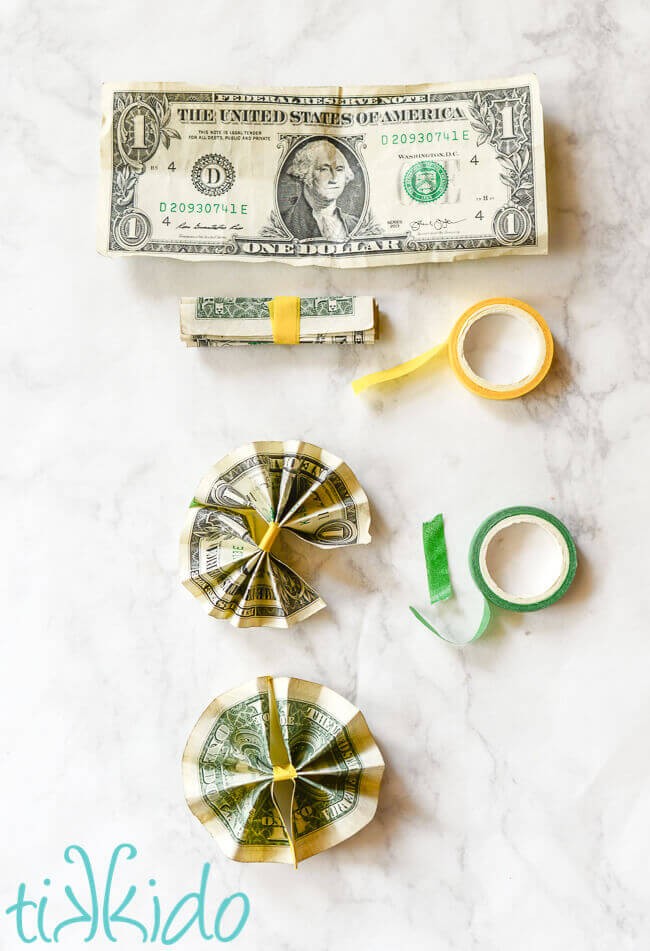 How to Make Easy Origami Cash Flowers for a Teacher Appreciation Gift:
Accordion fold a bill the short way.
Wrap center of the folded bill with washi tape.
Fan out either side of the folded bill, and use more washi tape to attach the two sides of the fan together to form an accordion folded circle.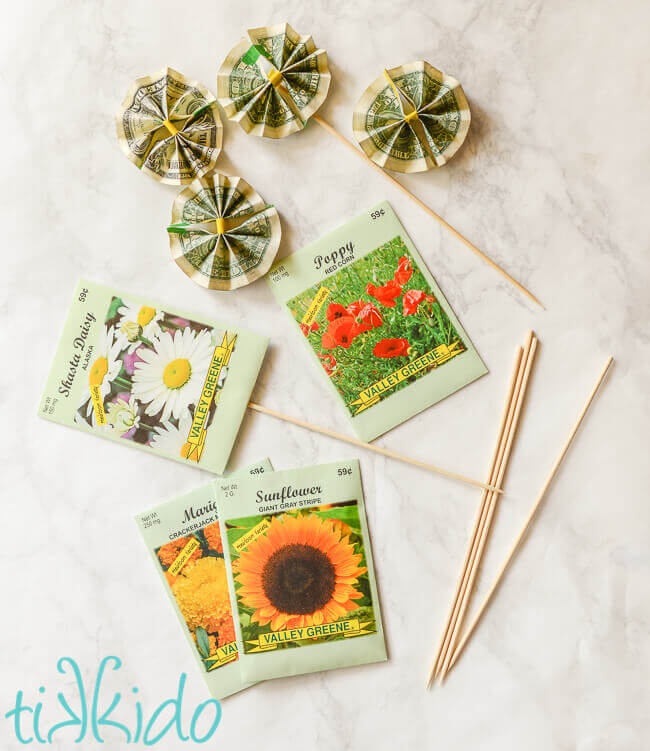 Use a hot glue gun to glue the flowers to a bamboo skewer (be sure only to glue the washi tape, not the cash!).  Attach some seed packets (also found 4/$1 at the dollar store) to bamboo skewers with a hot glue gun.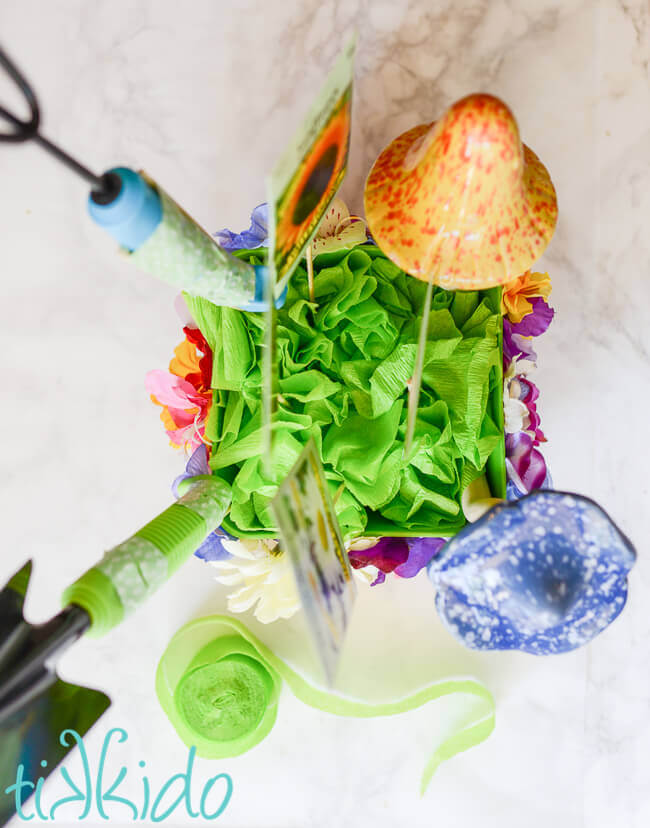 I originally intended to cover the Styrofoam in the basket with Easter grass, but I guess past-me decided she was DONE with Easter grass and got rid of all of it.  I just crumpled some green crepe paper I had around the house, and I love the result even more than I would have liked using the plastic grass.
For an extra special final touch for your gift basket, I love these free printable, leaf shaped tags that say "Thanks for for helping me to grow!"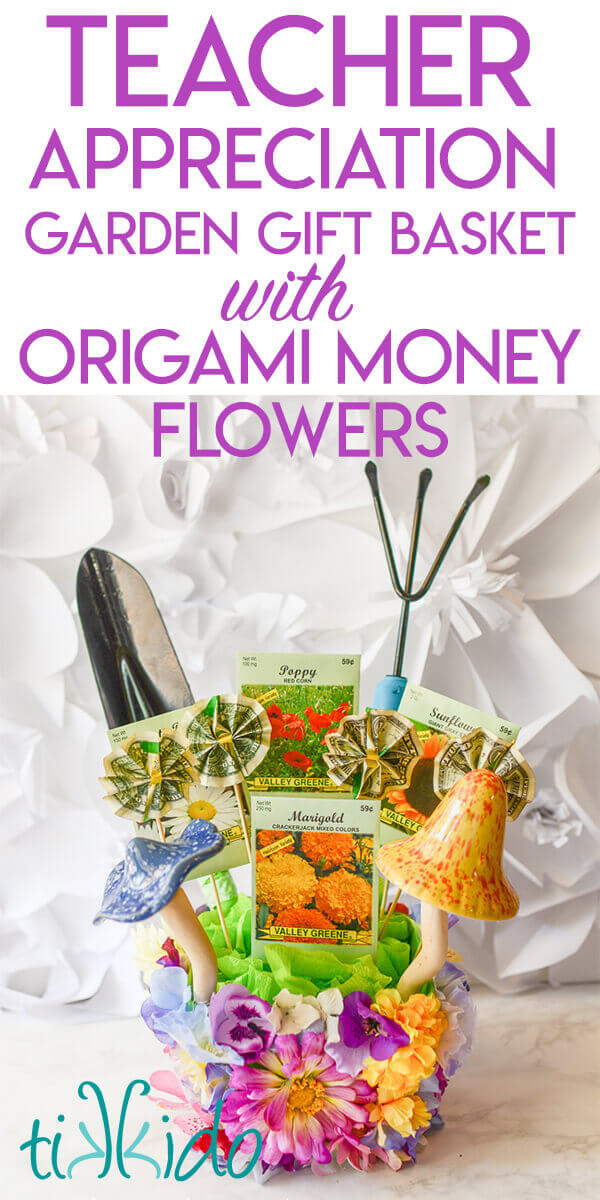 If any of my girls' teachers are seeing this now and getting a sneak peek of what you'll be getting in a couple weeks, I promise I'm not going to be using $1 bills for your gift!  That's just what I had on hand for the tutorial, I promise.