Printer-friendly version
Every time we host a pizza night with the wood fired pizza oven I built in our backyard (while I was pregnant!--I nest with power tools), I have to make our dessert pizza to end the meal.  HAVE to. Seriously, one time I had a different dessert planned, and some of the guests rebelled and went to the grocery store in the middle of the party to get me the ingredients I need to make the chocolate pizza.  It really is that good, and I've never tried to get away with a different dessert again.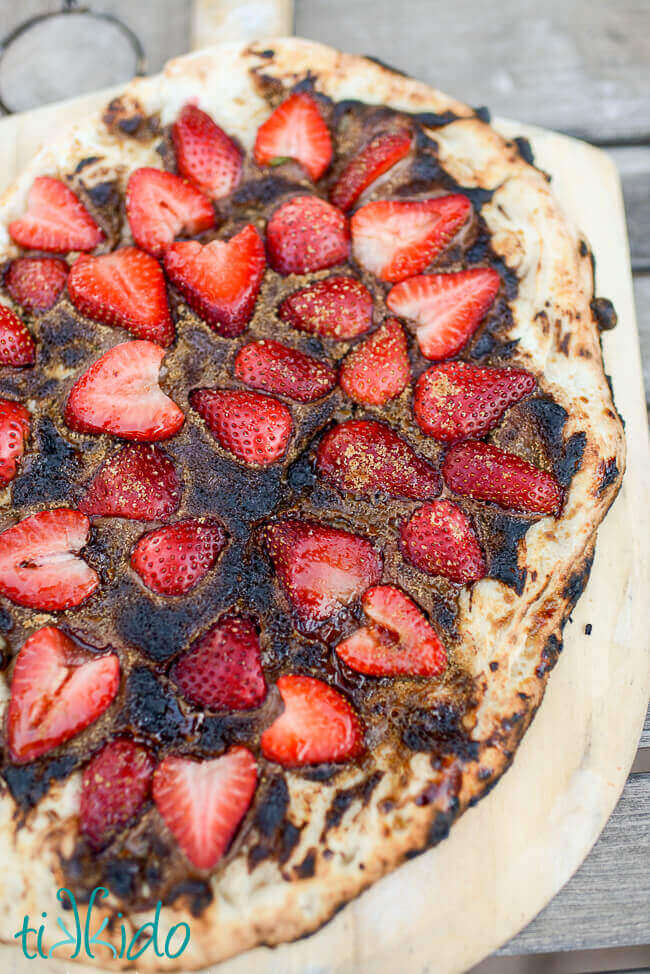 I also tried a new variation on our chocolate pizza recipe--this time a chocolate strawberry pizza.  Oh yeah, this is worth repeating, too.  I'll share both recipes with you in this blog post.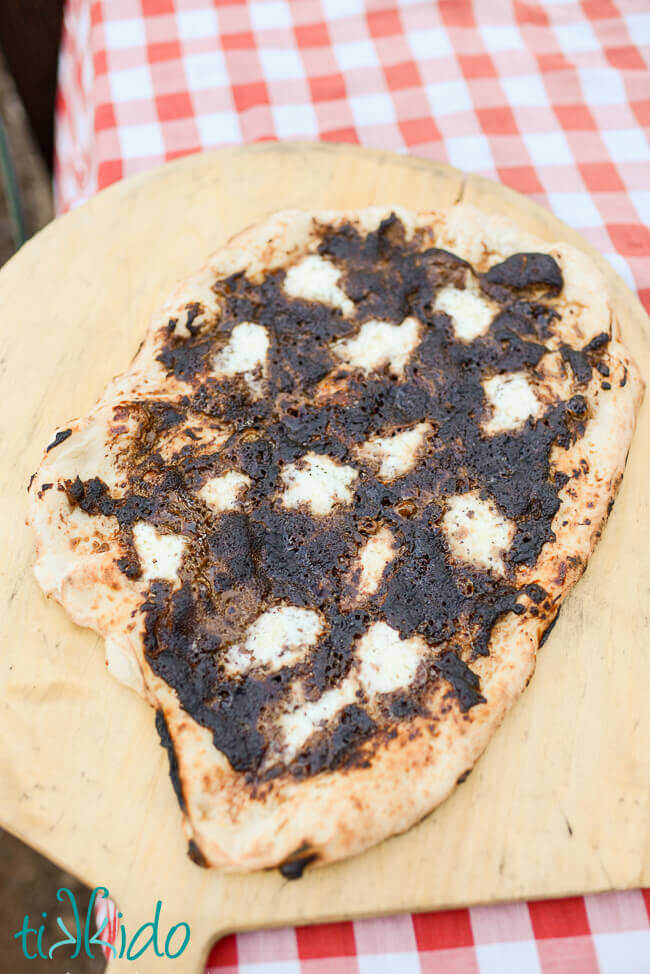 This is our classic chocolate pizza, the one that the guests rose up and brandished their pitchforks (ok, just their forks) and demanded.  It doesn't look pretty (good thing our pizza parties are pretty much at night in dim, romantic light?), but holy cow, it is SO GOOD.  It looks burnt, but I swear it's not.  That right there tastes like pure heaven.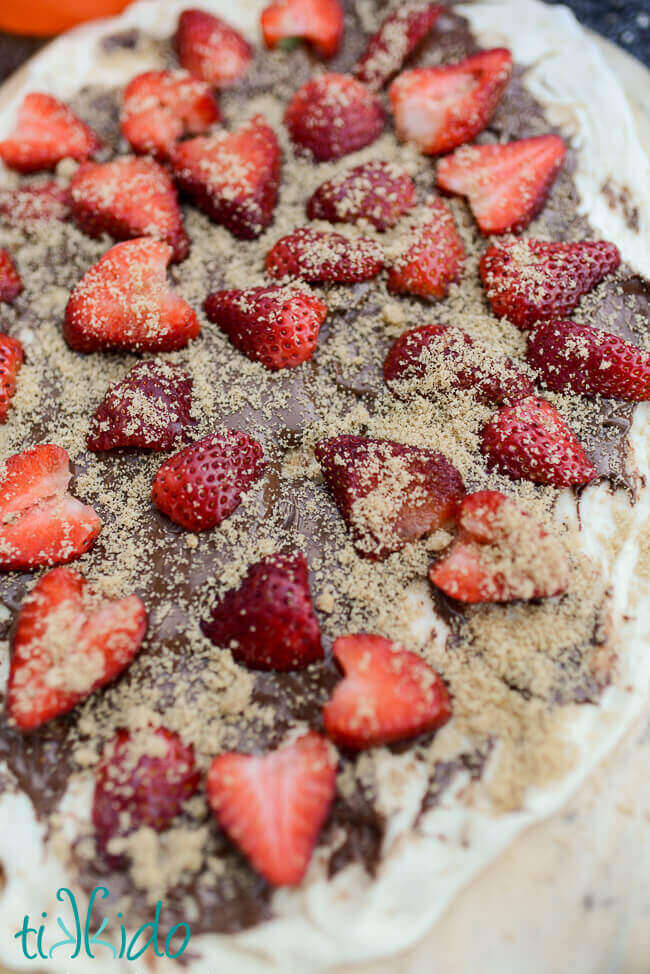 Ingredients for Chocolate Nutella Neapolitan Dessert Pizza:
pizza dough (here's my favorite Neapolitan pizza dough recipe)
Nutella (chocolate hazlenut spread)
brown sugar
mascarpone cheese (a slightly sweet Italian cream cheese) OR strawberries, sliced
By the time we get around to making the dessert pizzas, the oven has cooled down a bit, maybe to 700-800 degrees or so.  Still above normal home oven temperatures, so to make this without a WFO, crank up that oven as hot as it'll get and use a pizza stone.
Stretch out the pizza dough, just as you usually would for a normal pizza.  I use exactly the same pizza dough as I do for our dinner pizzas, not a special sweet dough.  When we bake in the wood fired pizza oven, we're baking at such high temperatures that any sugar in the dough would make it blacken horribly (not in the appropriate, leopard-spotting Neapolitan way).  
Spread a layer of Nutella on the pizza dough.  
For our original chocolate pizza, dot with dollops of mascarpone cheese.  Sweetened cream cheese will not be as good, trust me.  Find the mascarpone. 
For the chocolate strawberry version, place sliced strawberries on top of the Nutella base.
For both versions, sprinkle brown sugar liberally on top of the entire pizza and bake.  In my wood fired oven, that takes 90 seconds to two minutes, tops.  In a home oven that doesn't get so hot, you'll have to experiment a bit to learn what works for you.  I'd start checking around 6 minutes at the highest heat you can get.
The brown sugar caramelizes into this amazing, magical crunchy (but delicate) element on top of the pizza.  The mascarpone and the strawberries both provide a creamy, more smooth texture.  And the Nutella--well, all the Nutella has to do is be Nutella to be awesome.  It all combines to create something absolutely amazing and delicious.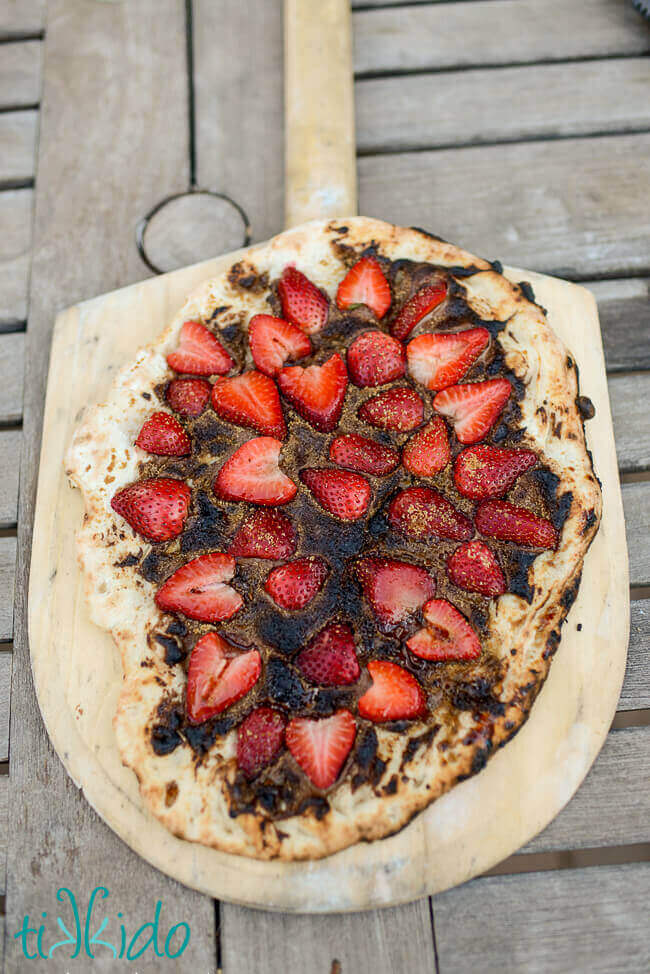 I originally wanted to experiment with a strawberries and cream type pizza instead of strawberries and chocolate, but my clotted cream had turned more into cheese, and I just didn't quite trust it.  Still, I can't get the idea out of my head, so expect more experiments to come!