Printer-friendly version
No celebration with Creole inspiration would be complete without the classic pecan praline.  This seriously sweet candy is a treat nobody will want to pass up.  This praline recipe is an absolute classic, just like you'd find in New Orleans.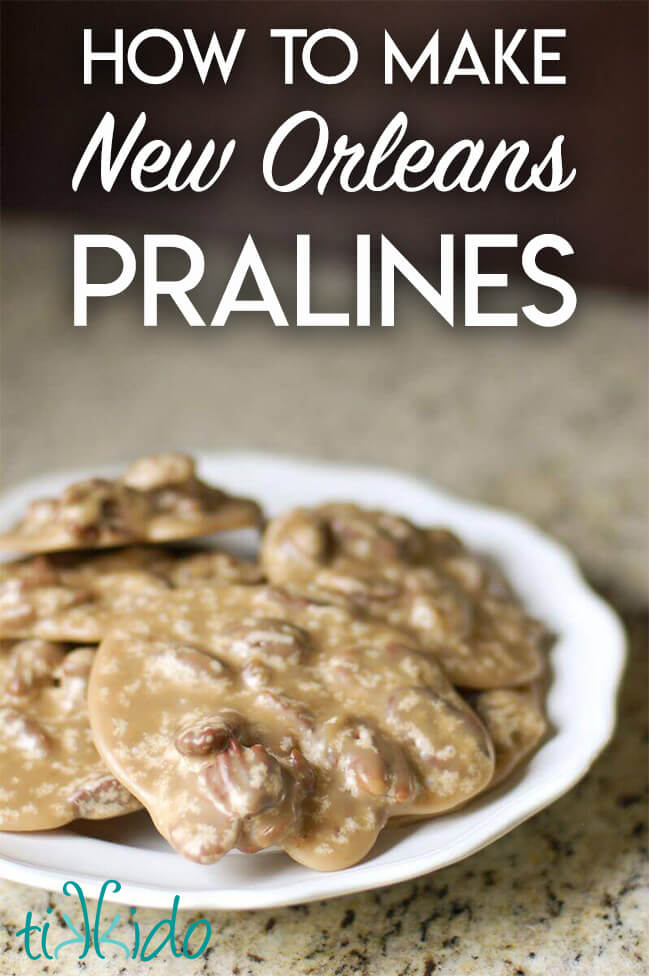 I know it'll be hard to believe with all the sweets I make, but I'm more of a savory gal.  Give me a salty snack over a cookie any day.  But there are a few super-sweet desserts that even I find completely irresistable.  Classic New Orleans Pralines are very high on that short list.
The texture is almost fudge-like, but firmer, crisper.  But this candy is not hard--oh no.  It is easy to bite in and taste that heavenly combination of butter, sugar, cream, and pecans.   So very, very easy.  What's hard is stopping before you end up in a sugar coma, sick to your stomach, dreading the scale the next day, but so happy that you can't quite bring yourself to care.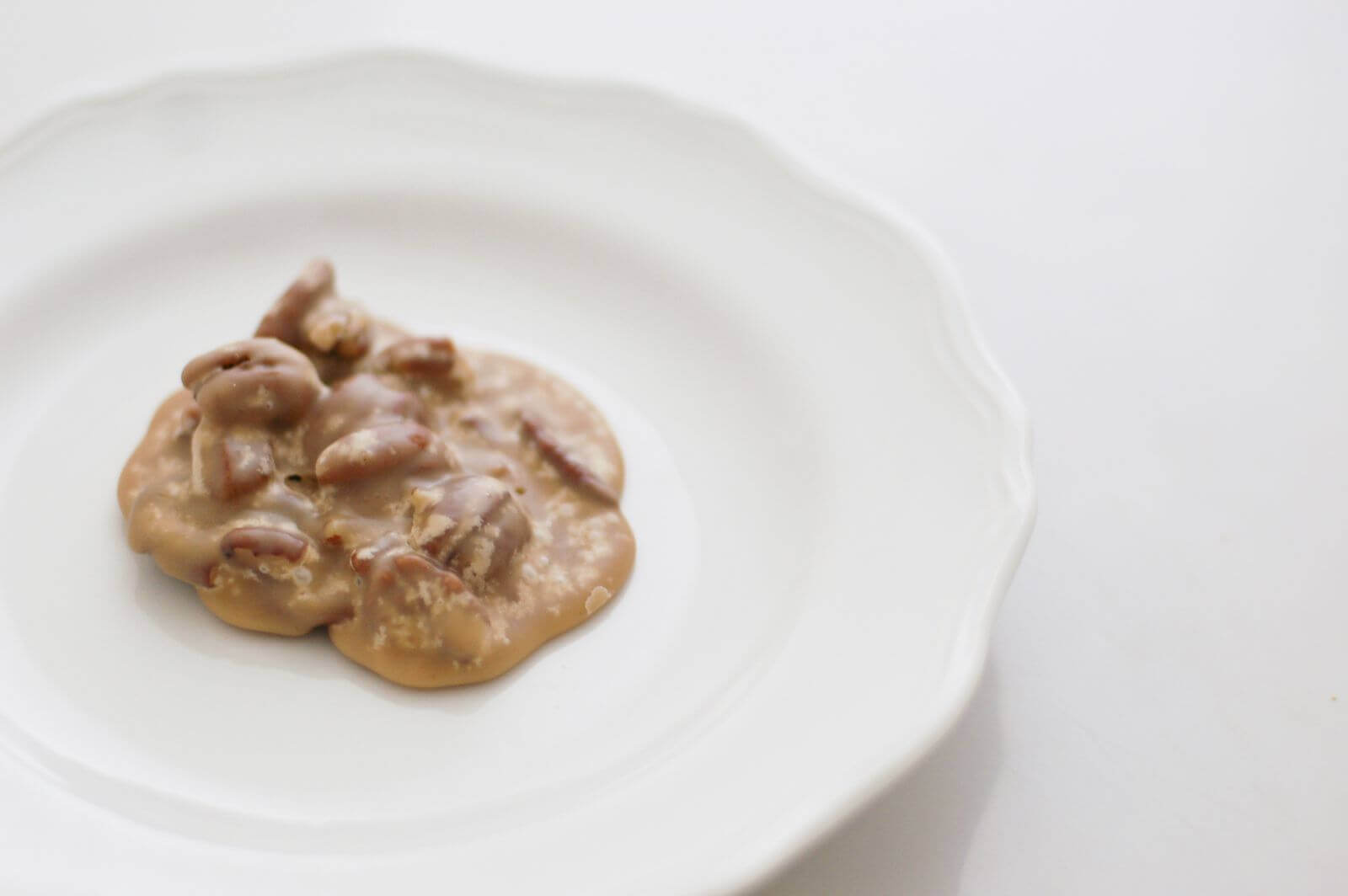 When I decided to throw the Let the Ghoul Times Roll party for Festivities Magazine (with its adorable, kid-friendly New Orleans/Mardi Gras vibe), I knew that praline candies would be on the menu.  How could they not?
How to Make Pralines
Preparation is key in making pralines, since things come together quickly.  Have all the ingredients measured out, and all the necessary equipment within reach before beginning.
Materials for Making Homemade Pralines:
4 quart saucepan
Wooden Spoon
parchment paper
spoon for scooping
Ingredients for Pralines:
1 ½ cups toasted pecan halves and pieces
1 ½ cups white sugar
¾ cups brown sugar
6 Tablespoons butter
½ cup cream
1 teaspoon vanilla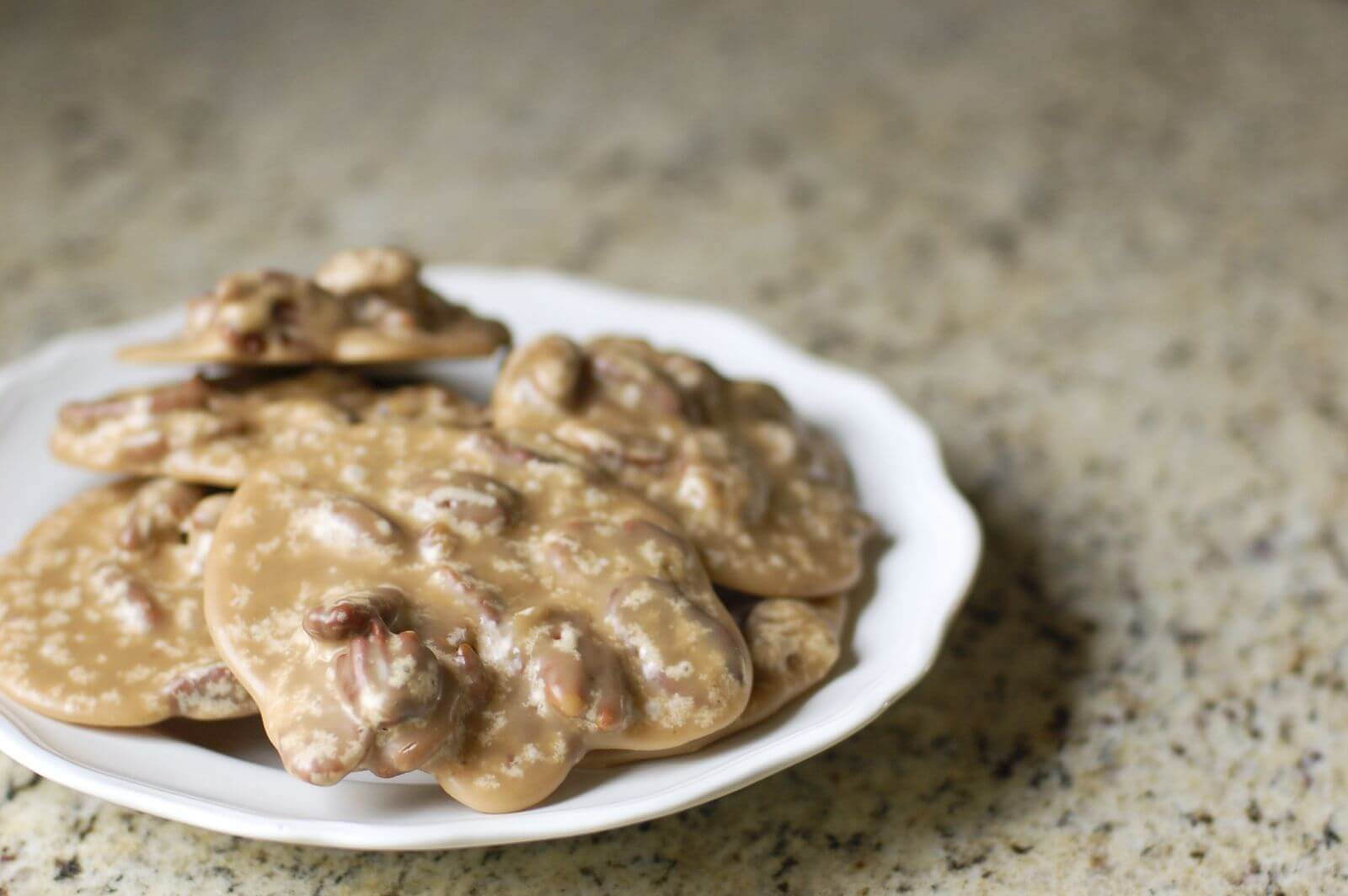 Praline Candy Making Method:
Heat sugar, brown sugar, butter, cream, and vanilla in a large saucepan over medium heat.  Stir occasionally, and heat until the mixture reaches 240 degrees Fahrenheit (just above the softball stage).  This happens quickly, so keep a close eye on the candy thermometer, and don't turn away from the stove for even a moment.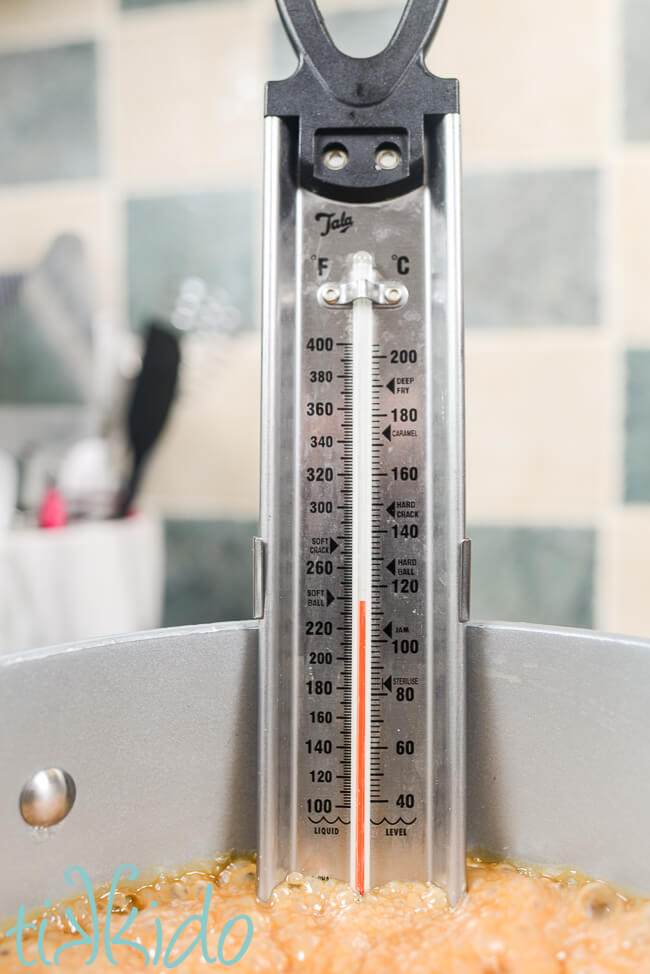 When the mixture reaches 240 degrees Fahrenheit, remove from heat and quickly mix in the pecans.  Stir vigorously for 1-2 minutes, until the mixture starts to thicken and crystallize slightly.
At this point, be prepared to move quickly.  As fast as possible, spoon the candy mixture on to the parchment sheets.  The mixture hardens quite rapidly once removed from the heat, so don't worry about making perfect circles; just worry about getting the candy on the parchment.
Let cool, and enjoy the heaven that is a real southern praline.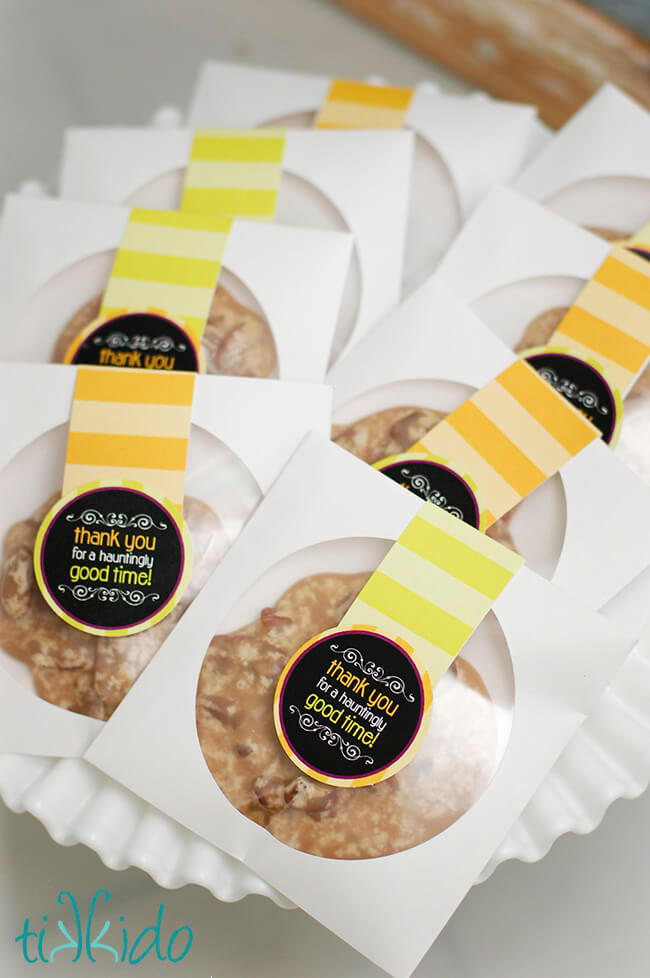 Rather than put them on the dessert table (where they wouldn't look impressive at all under black light), I decided to make these southern staples my party favors.
Packaged with blank cd sleeves and some of the party printables, they looked fabulous, and were a truly sweet way to thank guests for coming. 
Printable Praline Candy Recipe
Want a one page, printable, PDF version of this recipe for pralines?  Click on the image below to print directly or download the recipe to your device.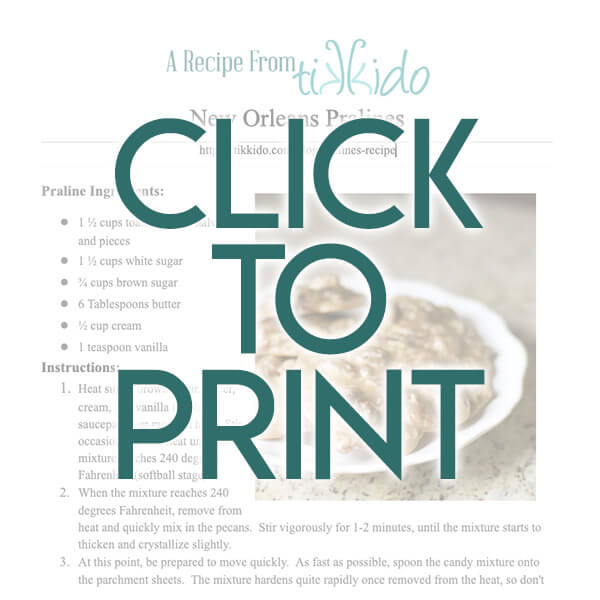 Other Candy Recipes You Might Like: