Printer-friendly version
Do you have an Elsa from Frozen or Snow Queen this Halloween?  This icy tiara is the perfect crowning touch to the costume.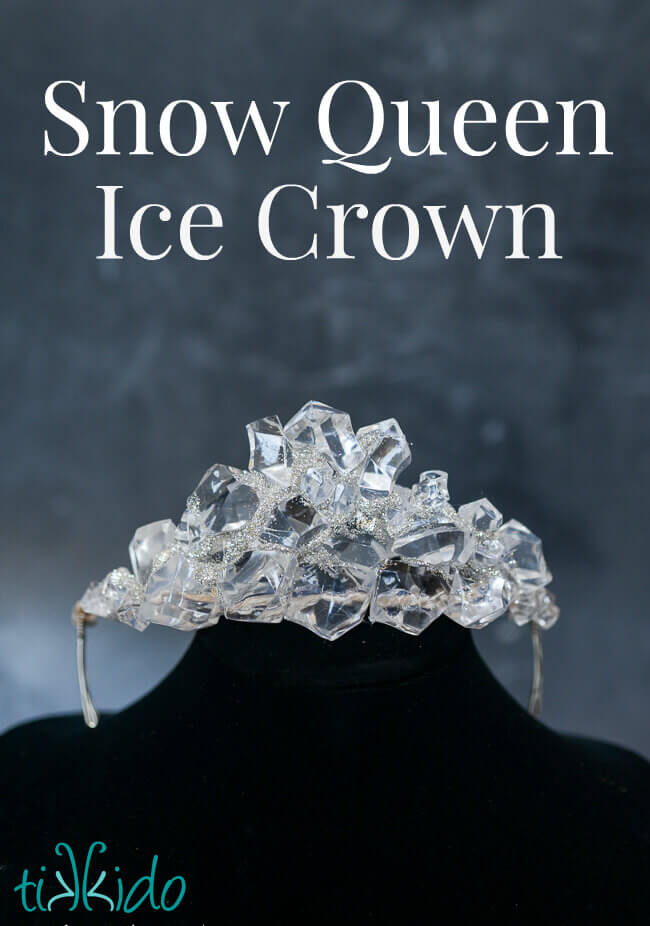 I made this arctic accessory for this year's Narnia themed Trunk or Treat.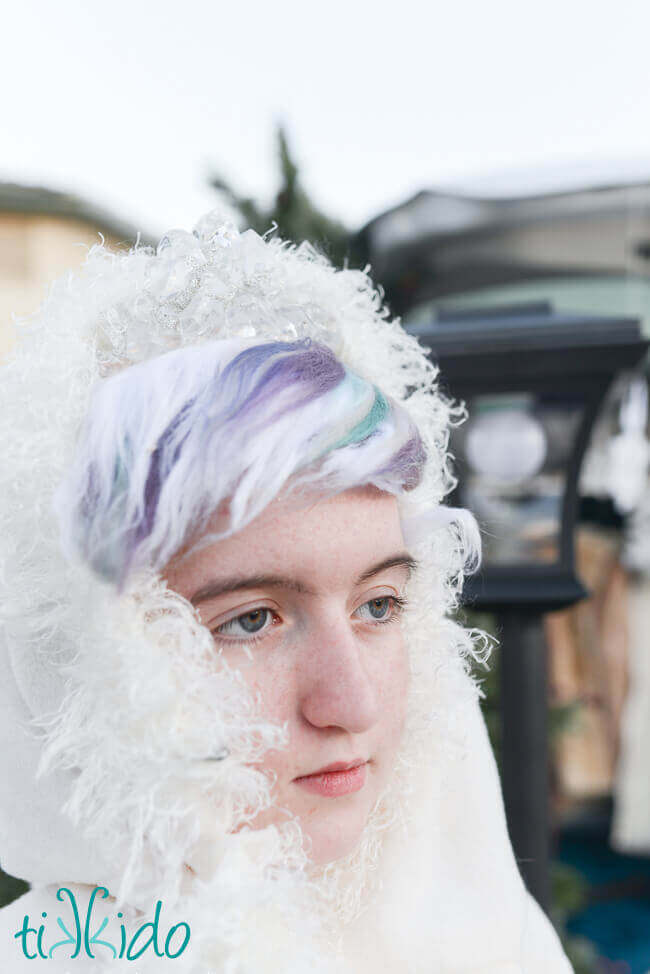 It was the perfect finishing touch for our Jadis, the White Witch from The Lion, the Witch, and the Wardrobe.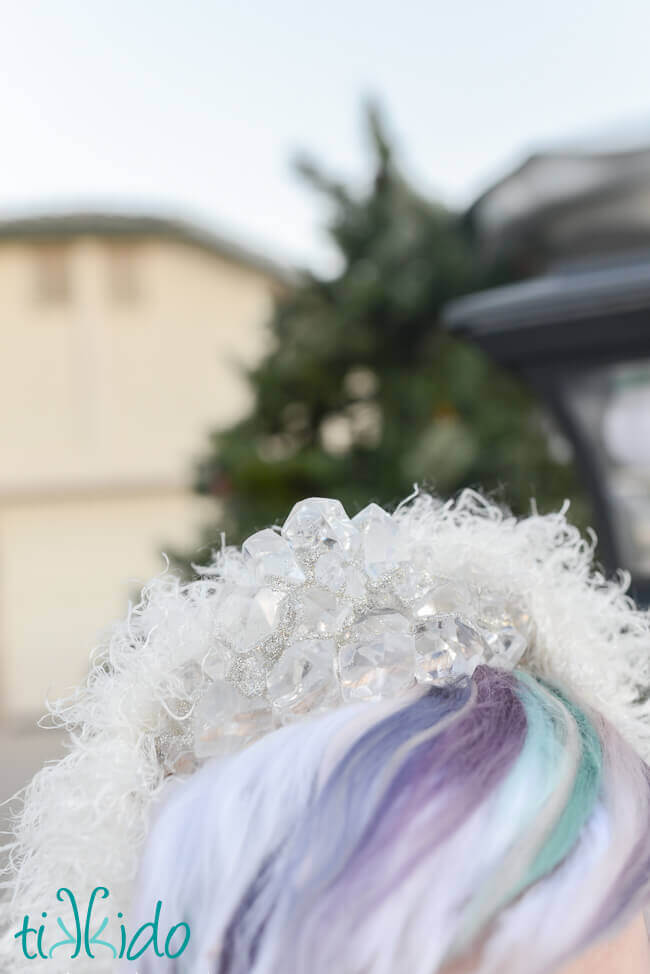 It's a little hard to capture in the pictures with the white hood behind it, but in person, it looked so cool!  (Hah, I didn't mean that pun, but I'm leaving it in.)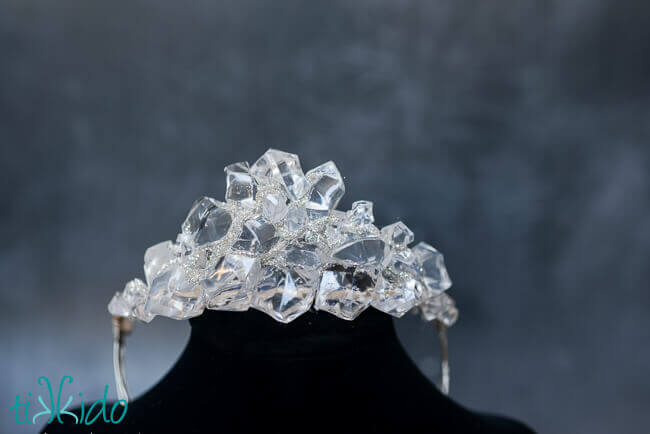 Frozen Elsa Snow Queen Tiara Tutorial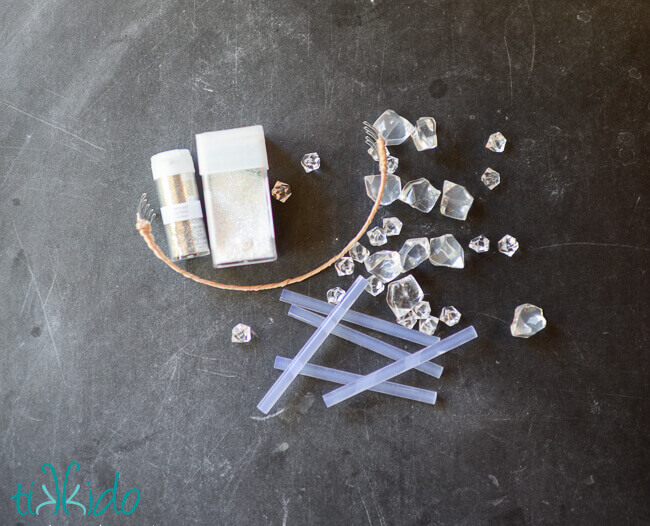 Materials for Making an Icy Snow Queen Crown:
tiara base or headband
low temperature hot glue gun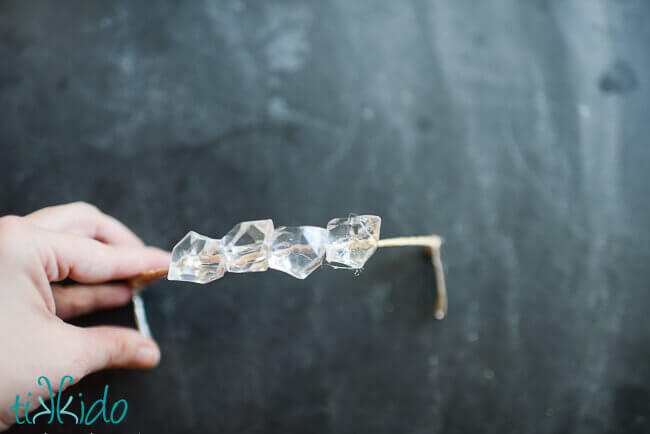 The tiara needs to be built on a foundation, of course.  I use great blank tiara forms that I have leftover from my 13 years as a tiara designer.  The company that I used to purchase from, sadly, has gone out of business.  You can find blank metal headbands (buy here) and fabric covered headbands (buy at the dollar store, or here), but I have no idea where you might be able to find the awesome semi-circular metal tiara bases with the attached combs that I use, sorry.  
If you use a metal headband or tiara form, you'll need to cover it with ribbon first.  Hot glue guns do NOT like to stick to metal.  That's why, if I were buying the base for this project right now, I'd just opt for the fabric covered headbands and skip this step.
To create the tiara, simply start gluing the fake ice vase filler (buy here) to the base of the tiara.  Then start gluing more layers of crystals on top, fitting it together like a puzzle.  Don't worry about being particularly precice, though--in fact, be kind of sloppy and generous with your hot glue gun glue.  After placing each crystal, sprinkle the exposed hot glue with silver glitter before it cools.  It adds extra depth and sparkle to the tiara and makes the whole process easier.  Score.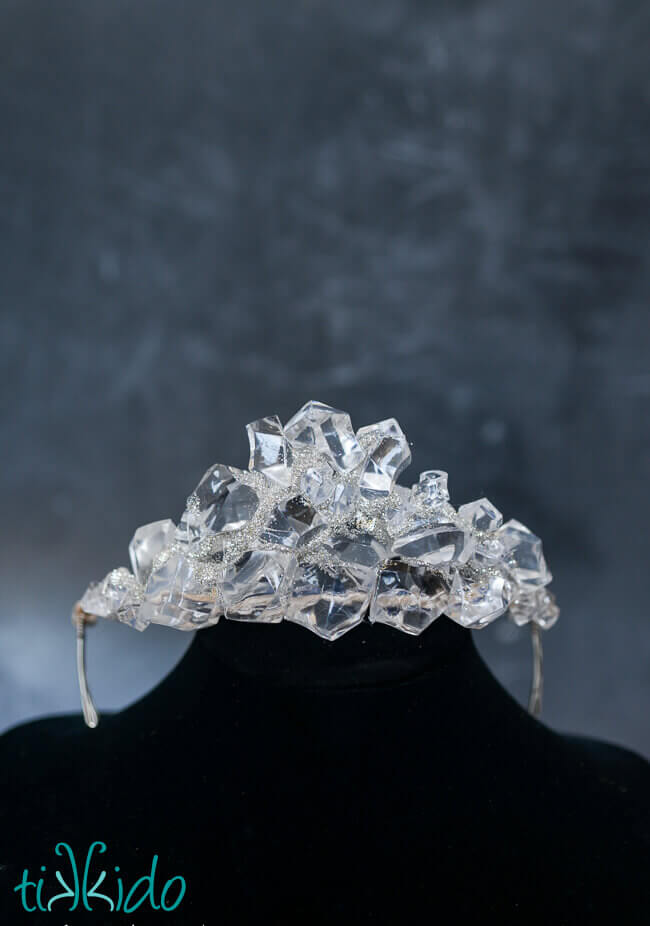 Want another Elsa Frozen tiara tutorial, but made with only glitter and a glue gun?  Check out this tutorial I made a few years ago:  Easy Frozen Crown.  And if you or your kid ends up using either tutorial for her (or his) costume, post the pictures to my Facebook page!  I love seeing your creations!