Printer-friendly version
This isn't the post I intended to write today.  I was going to write the tutorial for making panoramic Victorian sugar Easter eggs, and in preperation for that post, I decided to get some photographs of the sugar eggs my grandmother made.  I'm only sharing a fraction of our collection of her sugar work that we have (and the full collection was split between her three children when she died in the 1980s), but I had so much that I wanted to document and share that I decided these amazing icing creations needed their own post.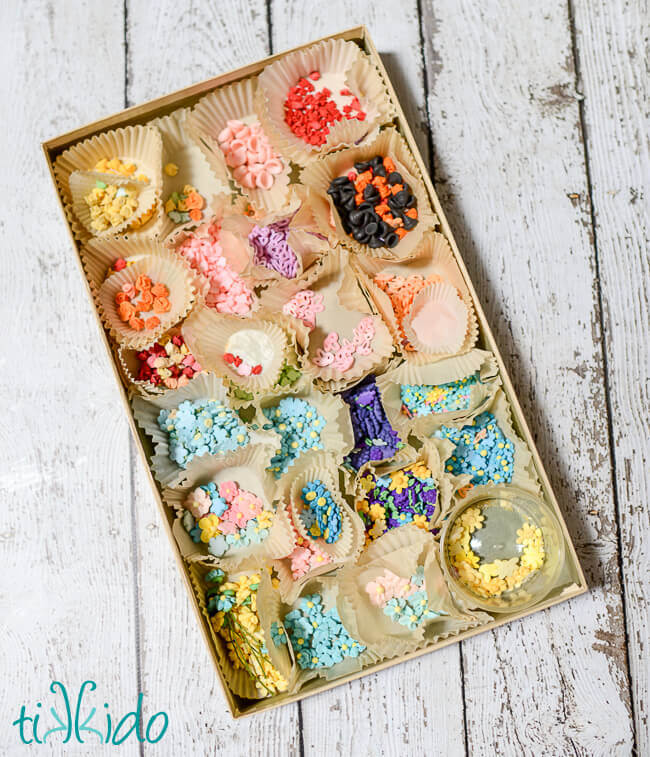 My memories of my grandmother are tinted by the memories of warm kitchens full of the scent of baking cookies and soft, flour-dusted hugs.  She died when I was 10, and I only knew her from that youthful, innocent version of a relationship.  I'm sure she was like every other human, with her difficult quirks and behaviors, but my relationship with her was one of complete adoration and love.  
My grandmother was a professional cake decorator, and created absolutely amazing confections in that warm, midwest kitchen--sweets and treats that seemed nearly magical to a small child.  She'd never let leftover royal icing go to waste, and instead used it to create a huge collection of pre-made icing decorations that she could use for other cake and cookie decorating projects later on.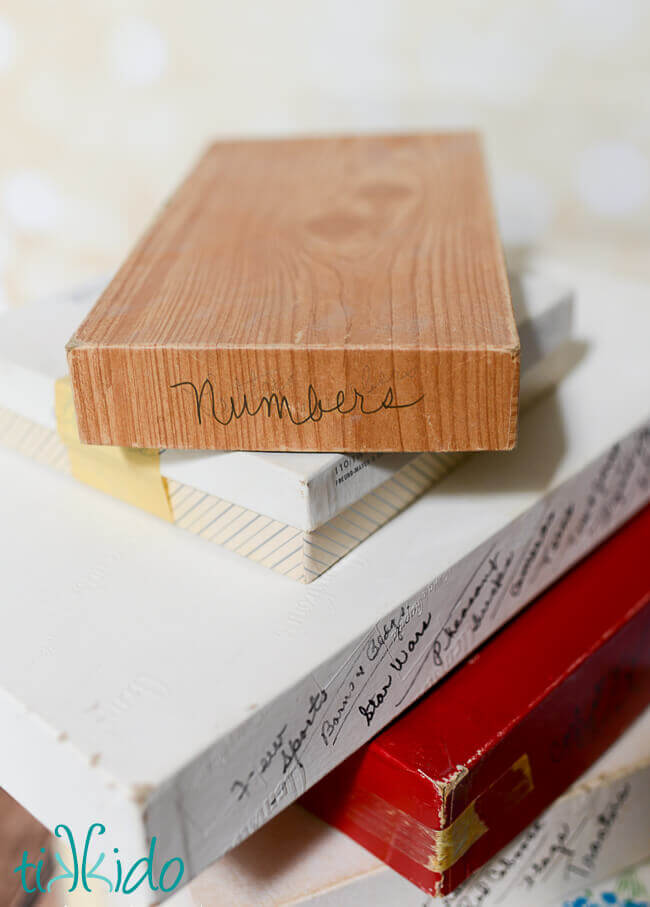 She stored her tiny royal icing decorations in cupcake liners, tucked inside department store shirt boxes.  After my grandmother passed away, I'd occasionally pull down the boxes of royal icing decorations, read her handwriting, and carefully go through the contents of the boxes, wondering at her amazing miniature icing creations.  These days, I love the vintage boxes nearly as much as the amazing royal icing decorations inside.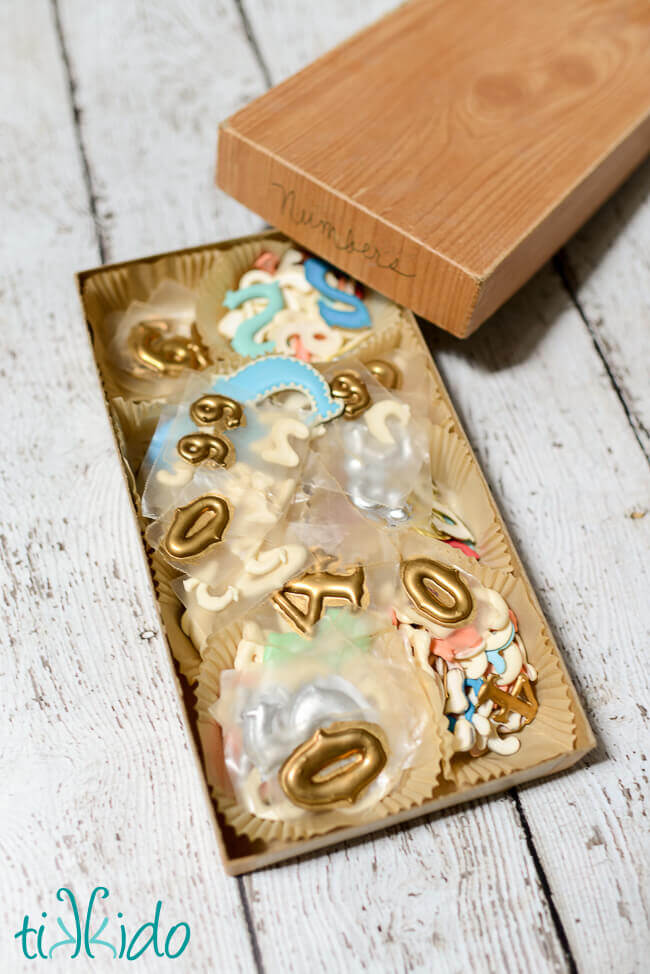 She had stashes of royal icing decorations for absolutely every imaginable event and holiday.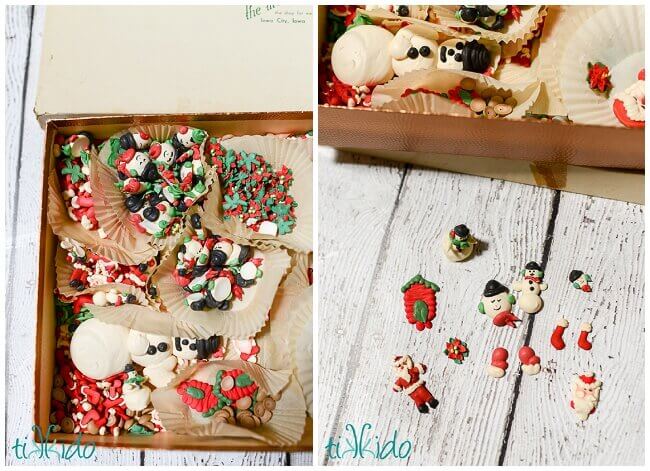 You should have seen the amazing sugar cookie trays my grandmother used to make every Christmas.  I always loved the Santa Claus heads the best, because they had the most icing with their white, fluffy piped beards, but each and every cookie she created was an amazing work of art.  She'd make dozens of other kinds of cookies and candies for Christmas, too, and would always fill a small green ceramic jar with tiny cookies, just for the grandchildren, and keep it on a low shelf in the kitchen.  We always thought we were so sneaky, crawling into the kitchen to pilfer cookies from our jar, but of course she knew what we were doing; the jar was always full the next time we came creeping back.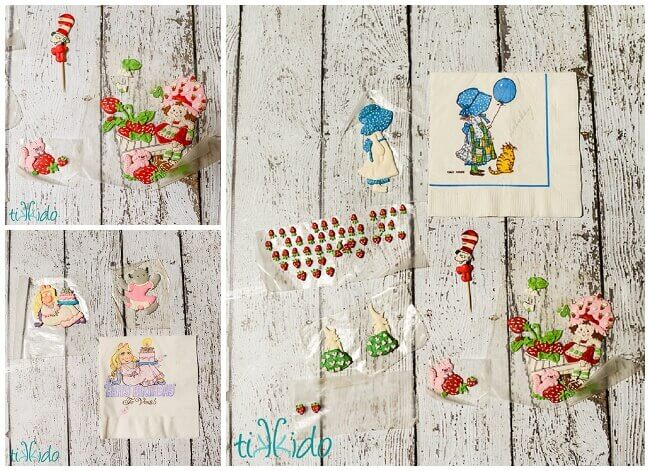 The Holly Hobby decoration was an extra left over from the cake my grandmother made for me for my 3rd birthday, I believe, and the Strawberry Shortcake from my 4th birthday.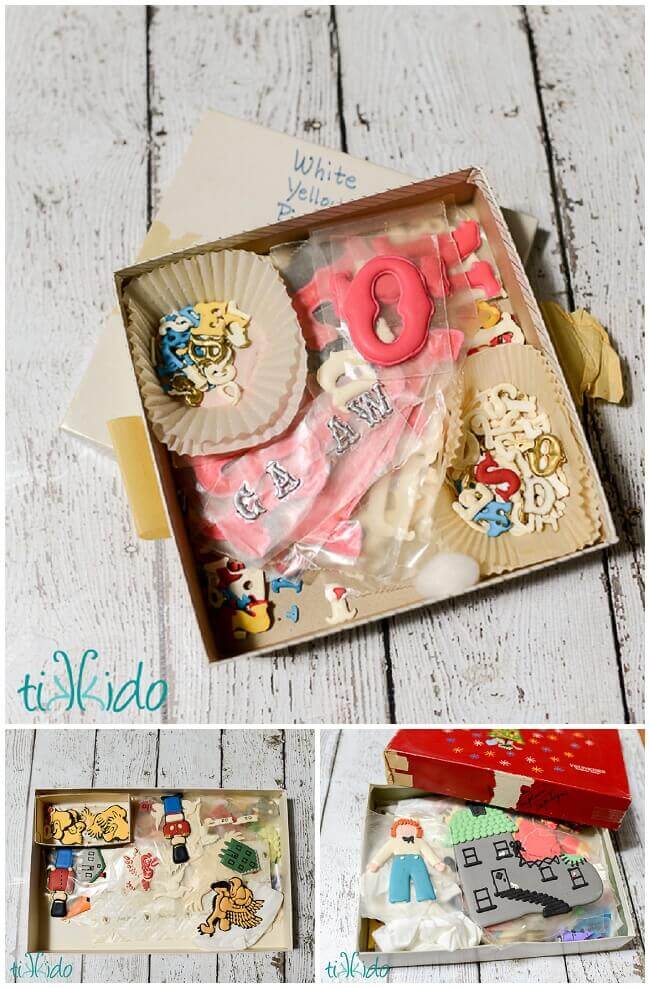 Some pieces are finished, some are in progress, but I cherish every single one.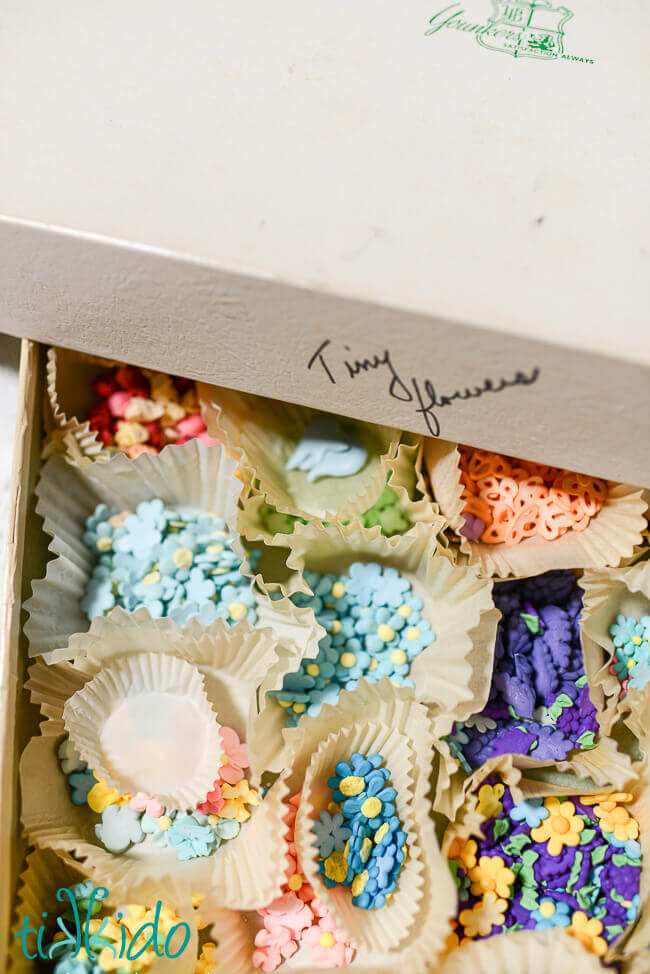 The tiniest icings were always my favorite.  Thousands and thousands and thousands of miniature flowers, bunnies, snowmen, and more, all painstakingly replicated in royal icing.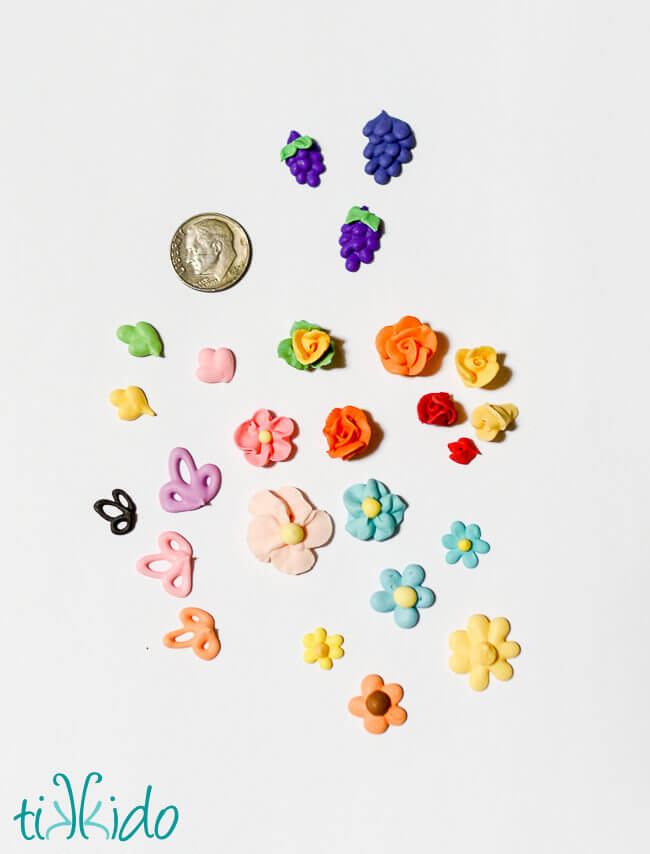 And when I say "tiny," I mean it!  Here's a scale picture of some of her flowers.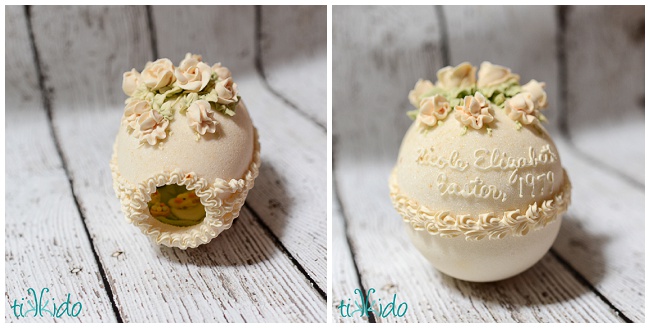 She used the tiny royal icing decorations to create the scenes in the Victorian panoramic sugar eggs she used to create each Easter.  This is the egg she made for me when I was three years old, in 1979.  It's faded a bit over the years, but it's still absolutely beautiful.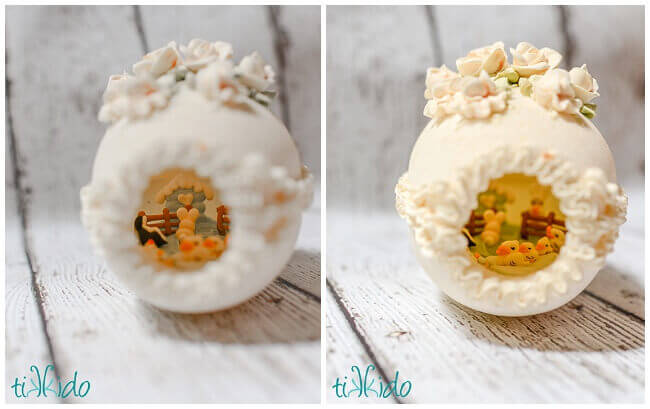 It was very difficult to get good pictures of the scenes inside, but you can get a glimpse and an idea of the charming tableaus grandma created.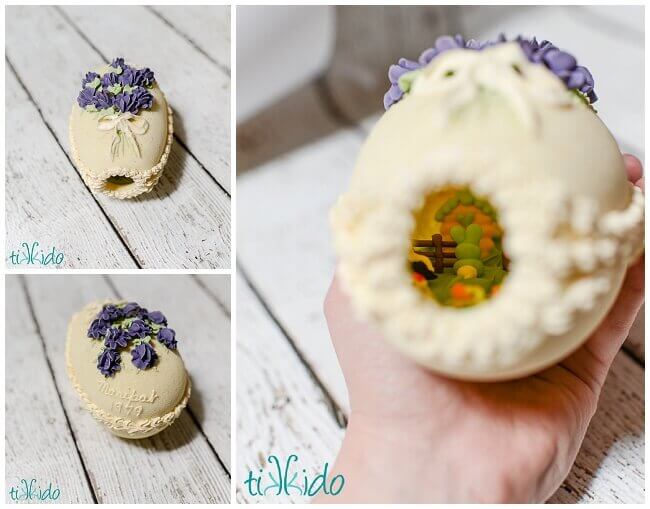 This is the panoramic egg my grandma made for my mother that same year.  I love that there's a little skunk in so many of her bucolic Easter scenes.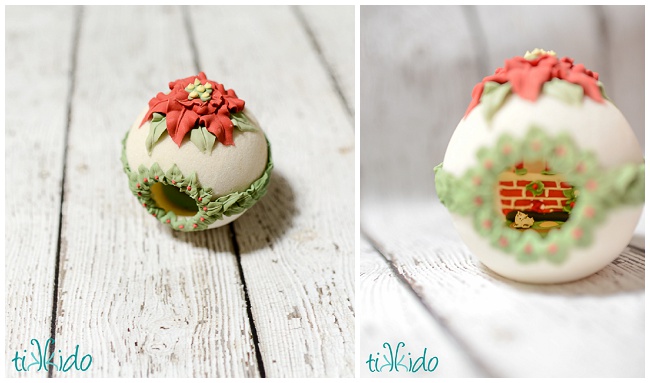 She made completely round Christmas snowball/ornament versions of the sugar eggs, too.  These were the inspiration for the sugar snowballs I made for the FROZEN Easter egg hunt.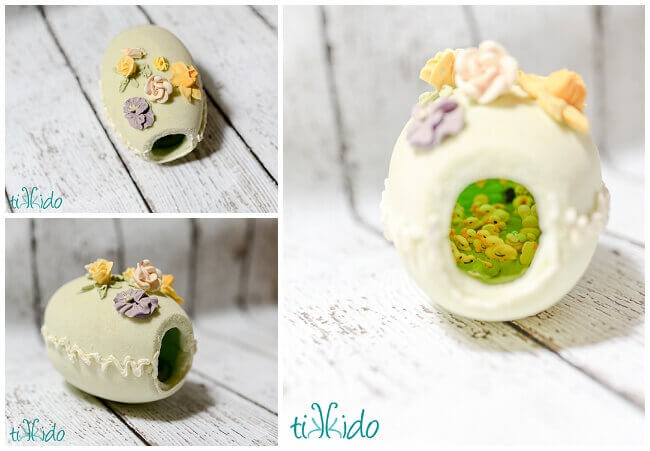 This particular sugar egg looks a little rough, I know.  That's because grandma let me make one of my own when I was four.  I clearly really really liked ducks.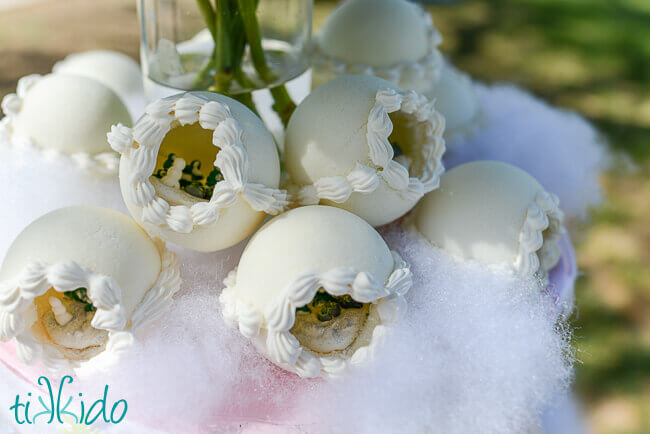 I'll get around to sharing the details of how to make your own panoramic sugar Easter egg tomorrow, but I just had to share what inspired me to make these in the first place.