Printer-friendly version
I love fall!  I can't wait for the weather to cool down.  We have a good month or more so to go of high heat here in Phoenix, but at least we can escape to our cabin in the White Mountains to get a taste of real autumn weather.  We always go on hikes when we go up there, and invariably come home with pockets full of acorns, interesting stones, and pine cones.  This year, I'll be prepared for our bounty, with some of these fabulous acorn craft ideas!
The squirrels like acorns, too, and it's often just the caps we find.  Never fear, the acorn caps alone are absolutely perfect for making these charming felted acorns with easy felt balls!  Learn how to make felted acorns over on Catch My Party.  
Once you know how to make the felted acorns, head back to Tikkido to learn how to turn them into these fabulous fall acorn napkin rings.  Or if you're not in a DIY mood, you can just buy them here.
From Songs from the Hearth, I absolutely love this acorn candle wreath!  It would look great with just acorns, but I absolutely adore how some of the acorns are actually various sizes of artificial pearls.  That makes this craft perfect for fall straight through the entire winter season.  
From The Juise, a fabulous tutorial for making this darling acorn garland, plus great tips for keeping the acorns hanging the way you want them to.  
From Twig and Toadstool, a tutorial for making the cutest doll's tea set of acorns.  You know me and anything miniature!!
Of course, you'll need a doll to go with that precious acorn tea set.  This isn't a tutorial, but you can get absolutely amazing inspiration from Princess Nimble Thimble's amazing little dolls.   They'd be pretty easy to make with pipe cleaners, embroidery floss, a round wooden bead, a bit of paint, felt, and, of course, an acorn cap to top it off.
Keeping with the OUTRAGEOUSLY cute theme for a bit, check out these amazing acorn diorama ornaments from Lil Fish Studio.   I might have squealed out loud when I saw this for the first time.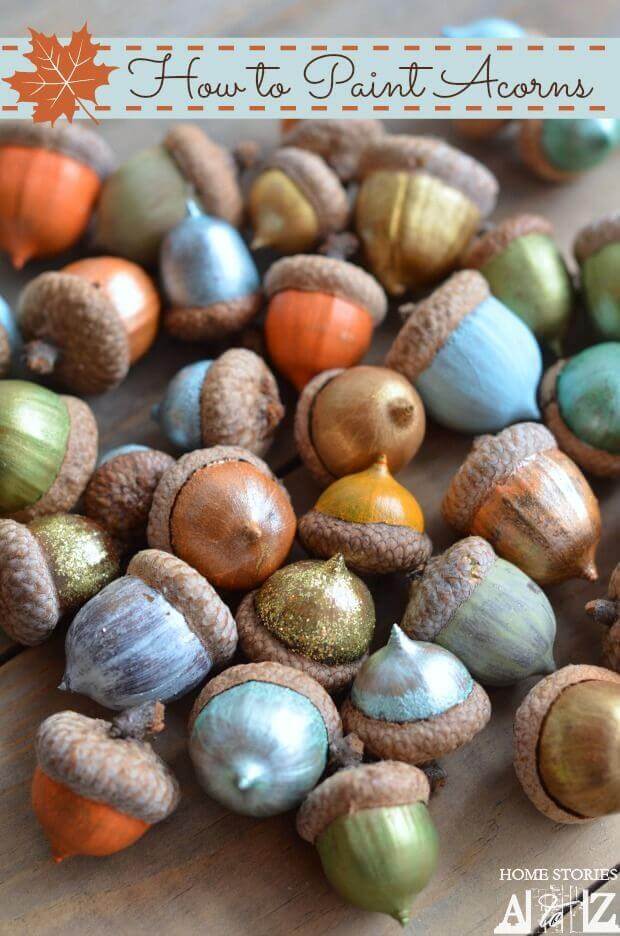 The felt acorns tutorial above teaches you how to paint acorn caps, but here's the reverse, and it's just as pretty!  Perfect for customizing any of these acorn crafts to your project's needs.  Learn how to paint acorns in this post from Home Stories A to Z.
What could be more purely autumn than this acorn wreath from Tried and True?  Love the big burlap bow with it, too.
This acorn wreath from 320 Sycamore is a great project for the kids, and a fun way to remember a special autumn family outing.  Plus, it cost less than $10 to make!
And last, but certainly not least, is this Pottery Barn inspired fall decor tutorial.  Live Laugh Rowe has lots of good ideas in this post, but what really caught my eye was her innovative use of grapevine layered with the acorns as vase/candle holder filler.  Brilliant!
What are your favorite fall crafts?