Printer-friendly version
I absolutely love apple fritters.  More than apple cider, more than cider donuts, they are, to me, the perfect fall treat.  The ones that are a big, bready lump are ok, but the kind that calls to me with a sweet siren's song is the ring-shaped variety.  I want a lot of apple in my apple fritters.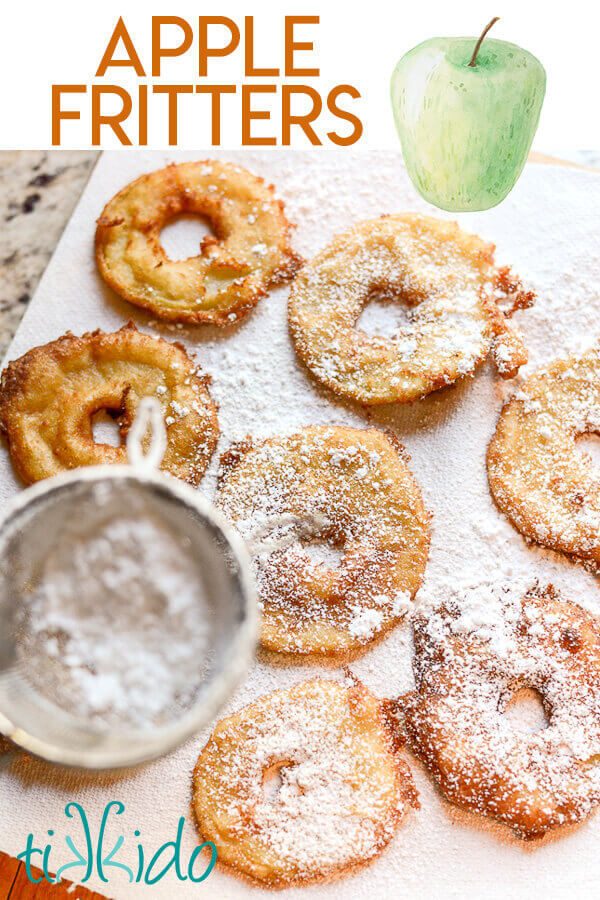 Ring Style Apple Fritters Recipe:
Apples, sliced thinly and cored
1 cup milk
1/2 teaspoon cinnamon
1/4 cup sugar
2 Tablespoon vegetable oil
1 egg, beaten
1 cup flour
1 teaspoon baking powder
1/4 teaspoon salt
Start by peeling your apples, and slicing them thinly.  I like to use a nice, tart Granny Smith apple in these.  The cooked apple has a good texture, and you can't beat that bright flavor in a fritter.  You can use a knife to slice the apples, of course, but a mandolin makes quick work of the job, and makes perfectly even slices.  
Use a small round cookie cutter (like I did) or just a knife to cut out the center core of each apple ring.
Mix together your batter (all the ingredients except for the apples).
Dip apples in the thin batter.  It's ok if there are lumps.  (See?  Lots of lumps!  But the fritters turn out perfectly, I promise.)
Fry in hot vegetable oil until golden brown.  I don't have a deep fat fryer, so I use my electric skillet for the job.  I almost never fry things, so there's no way I want to find room in my kitchen for a single-use appliance like that.
Place the golden apple fritter rings on a paper towel to soak up any excess oil while you fry up the next batch.
Sprinkle the warm apple fritters with powdered sugar.  I like to use a very fine, small sifter for this job, but you could just use a fork or a spoon, too.
My goodness, these are delicious.  A light, crisp batter surrounding a flavorful ring of apple.  It's the perfect ratio of batter to fruit, in my opinion.
This is what autumn should taste like.  
Pure apple perfection!
Printable, One Page Version of the Apple Fritter Rings Recipe:
And if you have some extra batter?  Mini funnel cakes!  
Other Apple Recipes You Might Like: