Printer-friendly version
Make these easy chocolate acorns for any fall event.  They're the perfect no-bake fall treat!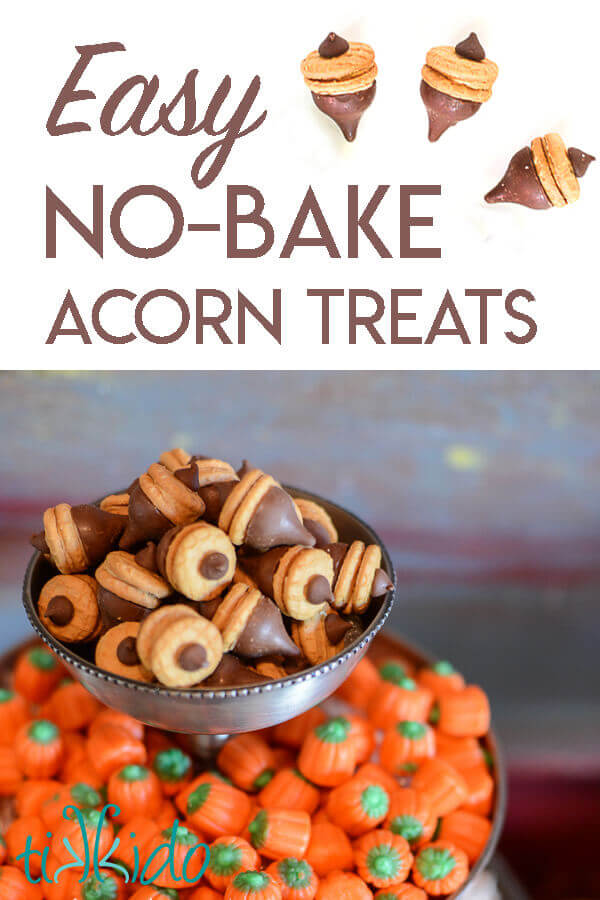 As a fun follow-up to Monday's acorn craft round-up, here's an acorn craft so easy that the kids can do it.  And who doesn't love chocolate and peanut butter?
Chocolate Acorn Ingredients:
Hershey Kisses
Nutter Butter Minis
chocolate chips
icing or melted chocolate
I bet you can already totally see how these come together, but I'm still going to show you, step by step.
Unwrap the Hershey Kisses.  Use a bit of buttercream icing or melted chocolate to stick the flat part of the chocolate to one side of the Nutter Butter Mini cookies.  Then put a small dab of icing or melted chocolate on the top of the cookie, and add a chocolate chip for the stem.
That's really all there is to it.  
If you've used melted chocolate as your edible glue, you'll want to let the chocolate cool and solidify completely before putting the acorns out on display.  Chocolate sticks well once it's completely cooled and solid, but buttercream is better if you need the job done NOW.
I made these darling little acorn treats for A to Zebra Celebrations' gorgeous Thanksgiving tablescape last year.  
Aren't they perfect in that gorgeous tiered display?  I covet that serving dish!