Printer-friendly version
This really is the best sugar cookie recipe around!  It's a no chill sugar cookie, so the dough is incredibly easy to work with, and the cookies are absolutely delicious.  If you want a cut out sugar cookie that tastes as good as your cookies look, this is the recipe for you.
Have you ever wanted to make gorgeous, perfect, amazingly decorated sugar cookies?  Well, that'll take a lot of practice, but this is the recipe you'll want to use.  Seriously, this is the perfect sugar cookie recipe--absolutely delicious, and so easy to make.  No chilling the dough before rolling it out, and it holds its shape fabulously.  If you want to bake amazing sugar cookies, this is the recipe you'll come back to again and again and again.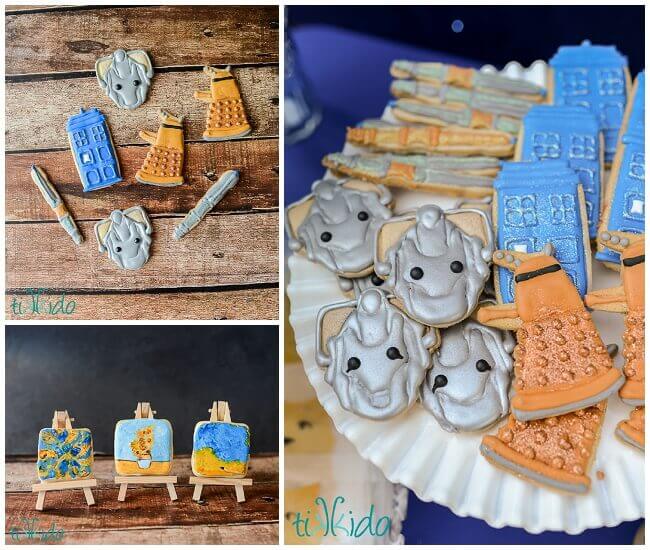 These are not fluffy, soft sugar cookies (I have a recipe for those, too!). These are the more crisp style of cut-out cookie that you decorate with royal icing.  These cookies still have a tender texture, though.  There's a reason this is my favorite sugar cookie recipe: the perfect blend of great taste and functionality.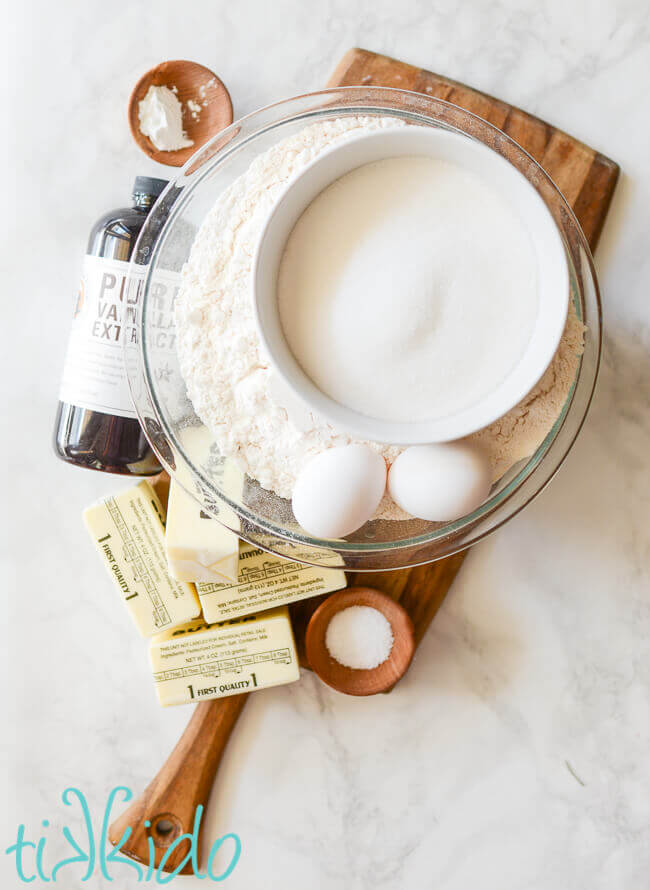 The Best Cut Out Sugar Cookie Recipe:
This recipe makes about 4 dozen cut-out sugar cookies.  It can easily be halved.
6 cups all purpose flour
1 teaspoon baking powder
2 cups (4 sticks) butter, softened
2 cups sugar
2 eggs
2 teaspoons vanilla
1 teaspoon salt
How to Make Sugar Cookie Dough
Cream butter and sugar together in an electric mixer with the paddle attachment.  I'm particularly fond of using a beater blade, which scrapes the sides of the bowl as it mixes the cookie dough.  Add eggs and beat until combined.  Add vanilla (this is the last of the wet ingredients) and mix to combine. Add all dry ingredients (except for the flour) and mix to combine.  Add flour, and mix just until combined, starting at a low speed.  If you live in a very dry climate, like I do, you might find that you need about half a cup less of flour than other parts of the country does. You want the dough to be firm, but pliable.  It should come together in a cohesive dough ball, not crumble apart.
It is possible to use a hand mixer to make these cutout sugar cookies, but since it's such a firm dough, I definitely recommend using a stand mixer for the best results.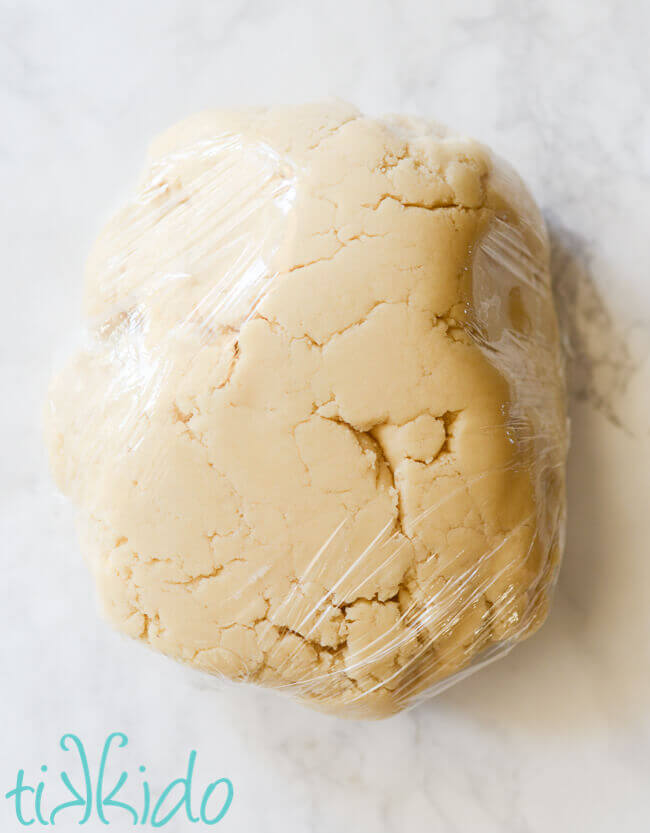 This is a no chill dough meant to be used at room temperature, but when you're not actually rolling out the dough, it's best to keep it wrapped in plastic wrap or in an airtight container like a ziplock bag.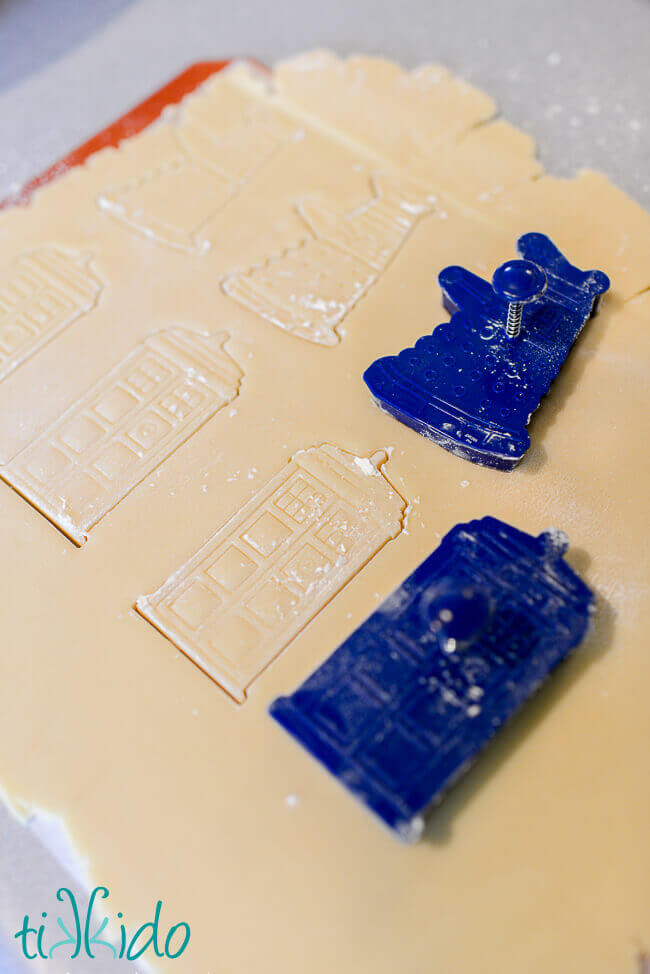 Rolling out the Sugar Cookie Dough
These are no chill sugar cookies, so you can use the dough right away!  It's much, much easier to roll out soft dough than hard, chilled dough with cold butter.  
Don't roll out the dough directly on your work surface and then move the cut out cookies to prepared baking sheets.  That's tricky, especially if you have large cookie cutters or intricate shapes.  Instead, use the same technique I use for making my gingerbread houses.
Place a silicone baking mat (like a silpat) on your clean, DRY counter (dry is important!).  If you don't have a silpat, you can use a slightly damp, clean kitchen towel instead.  Place a piece of parchment paper on top of the silpat.  I always use pre-cut parchment paper sheets, not the kind that comes in a roll.  The stuff in a roll is curly and a PITA to use.
Place the dough on top of the parchment paper, and sprinkle with flour.  Use a floured rolling pin to roll the dough to about 1/8 inch thickness.  The silpat (or damp cloth) will keep the parchment paper from sliding all over the counter while you roll the dough out.   Using this method means that you don't have to chill the dough, so the dough is incredibly easy to roll out!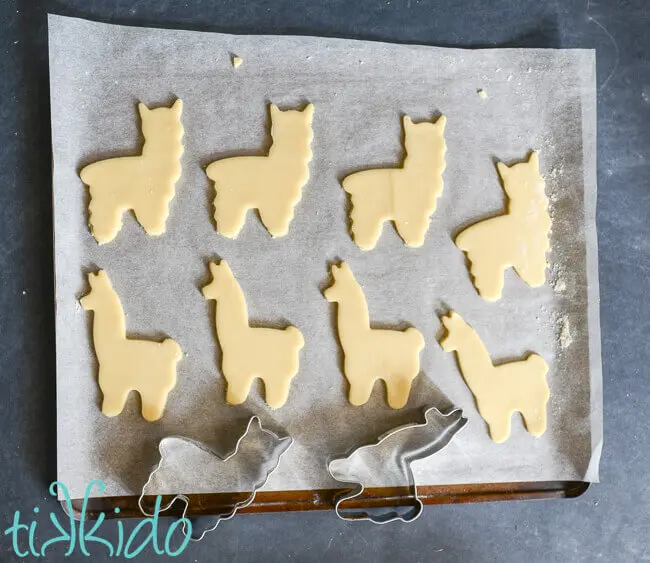 Use your favorite cookie cutters to cut out the cookie shapes from the rolled dough.  It can be quite close, really.  These are essentially no spread sugar cookies, so while you don't want the unbaked cookies to touch, you don't have to leave a lot of space between them.
Use a spatula to lift away the excess dough.  Since we're leaving the cookies on the parchment paper and lifting away the extra dough (instead of trying to move the cookie shape with a spatula), you can use complex cookie cutters without the risk of completely mangling the shape when attempting to move the cut out dough to the cookie sheet.  Simply slide the baking sheet under the parchment paper and sugar cookies, and bake.
Baking the Sugar Cookies
Preheat the oven to 350 degrees Fahrenheit (or 325 in a convection oven with the fan on).  Bake for between 8-12 minutes. Smaller cookies bake more quickly, and larger cookies take longer.  Try to bake cookies of a similar size on the same cookie sheet for this reason.  The cookies are done when they start to turn golden brown at the edges.
Can you Freeze Sugar Cookies?
Yes, absolutely!
Freezing Unbaked Sugar Cookies. Freezing the homemade sugar cookies BEFORE baking is a great way to spread the effort of making decorated cookies out over days or weeks. Baking directly from the freezer means that the cookies will keep their shapes  and crisp edges absolutely perfectly. Remember to place an extra sheet of parchment paper between each sheet of cookie dough cutouts, so they won't stick together when frozen.  Frozen, unbaked cookies can be kept for several months in the freezer.  Bake directly from the freezer.  You'll have to add a couple extra minutes to the bake time with this technique.
Freezing Baked (but Not Decorated) Sugar Cookies.  You can also freeze the baked cookies.  Place pieces of waxed paper or parchment paper between the cookies so they don't stick, wrap tightly with plastic wrap, then store in a ziplock bag or other freezer-safe container.  Let the cookies thaw in a single layer on a cooling rack (to get air flow on both sides).  Thaw cookies completely and let come to room temperature before decorating.
Freezing Decorated Sugar Cookies. I've never tried this myself, but SweetAmbs has a tutorial on how to do it, and I trust anything SweetAmbs says when it comes to sugar cookies!
Printable Roll Out Sugar Cookie Recipe
Want a one page, printable version of this recipe?  Click the image below to print the PDF directly or save it to your device.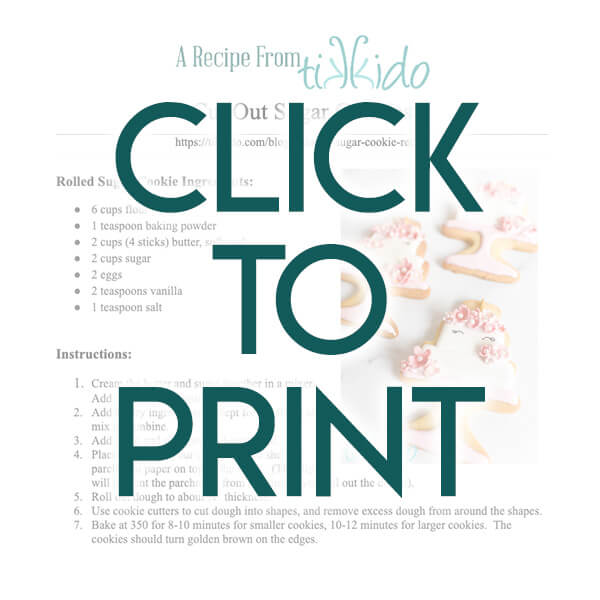 Other Sugar Cookie Flavors
These vanilla cookies are absolutely delicious as the recipe is written, but you can certainly use other flavors instead of the vanilla extract.  Try:
almond extract (use only 1 teaspoon in the recipe--almond extract is strong!)
lemon extract
peppermint extract (I use this AND the vanilla together)
Any extract you want, really!
You can also use candy flavorings, like Lorann Oil brand flavors (think orange cream!  Butter rum!  So many possibilities!)
I've also made several variations on this recipe.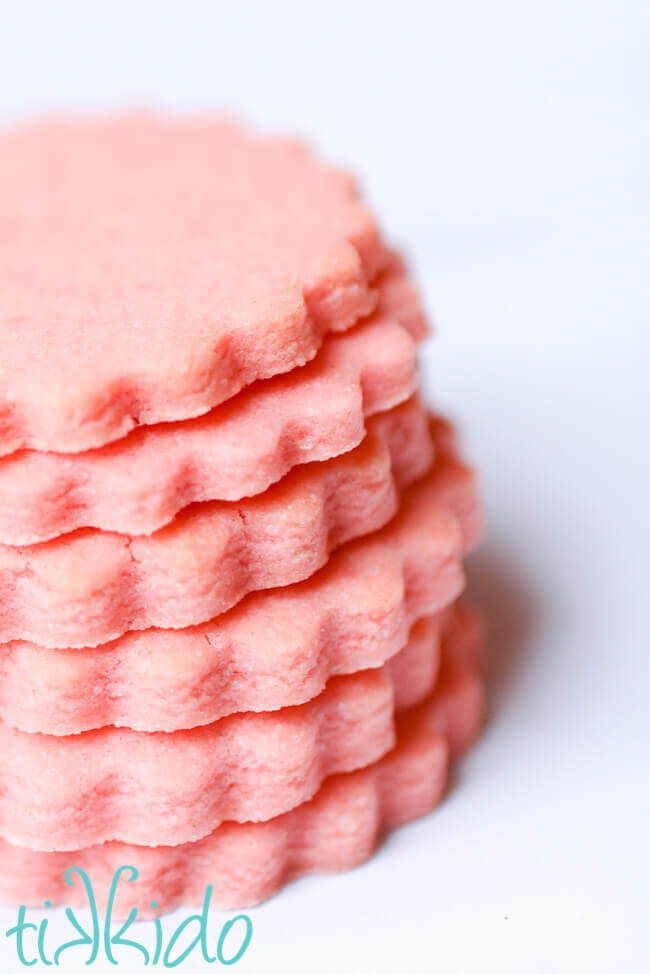 Try my cotton candy sugar cookies recipe!  Made with real cotton candy sugar.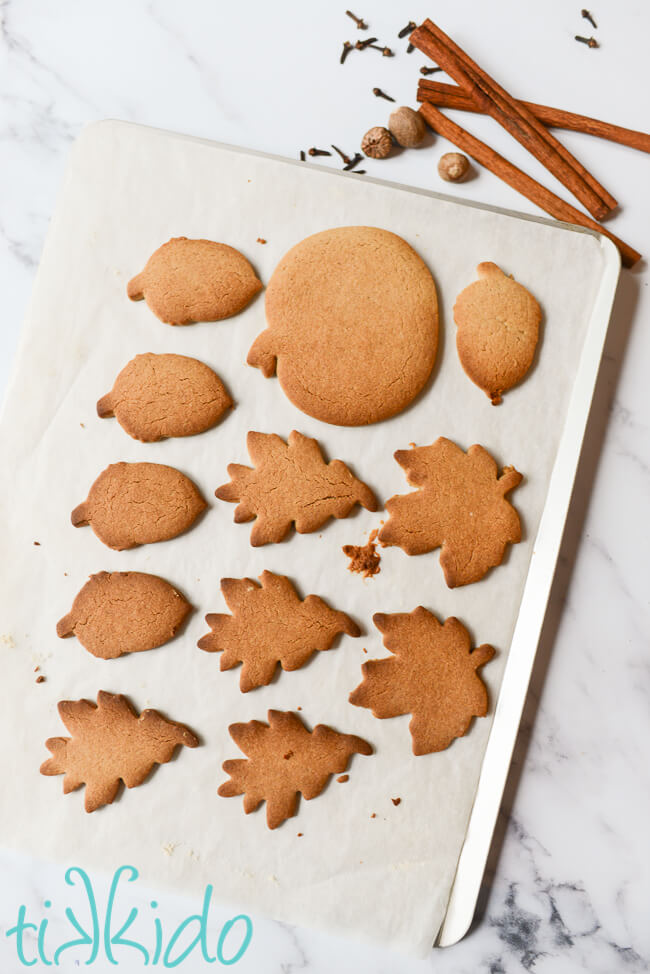 Or my pumpkin spice sugar cookie recipe.  This is a huge hit in the fall.
I also collected some of my favorite fancy sugar cookie recipes (chocolate sugar cookies!  Apple cider sugar cookies!  Cookies and Cream cut out sugar cookies! And more!) in this cut out sugar cookie recipes roundup.  They are all absolutely delicious, so if you want to mix it up from classic vanilla, checkout the roundup for inspiration.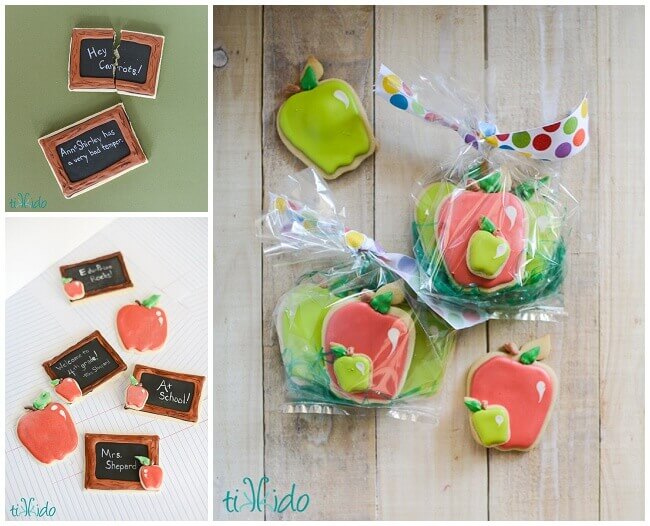 The decorating?  There are whole blogs and books dedicated to that.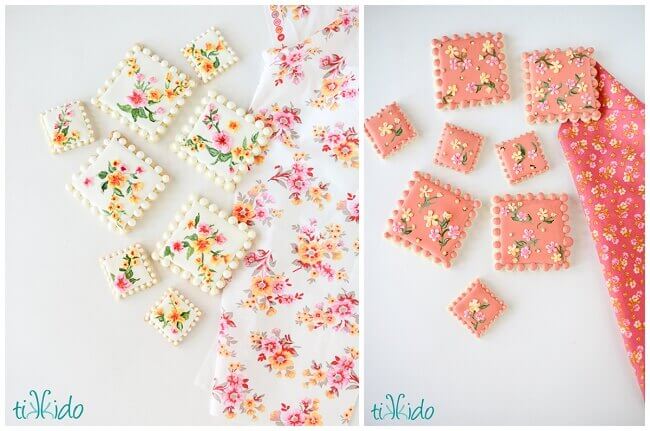 It took me a long time before the vision in my head turned out anything like what I produced in cookie form.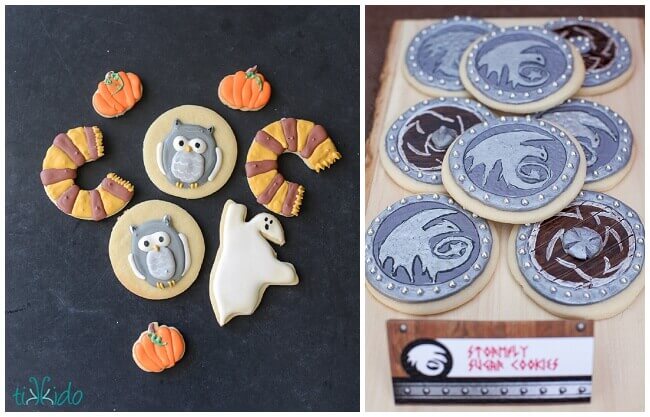 Even now, yeah, I like the cookies I make.  I'm happy with them.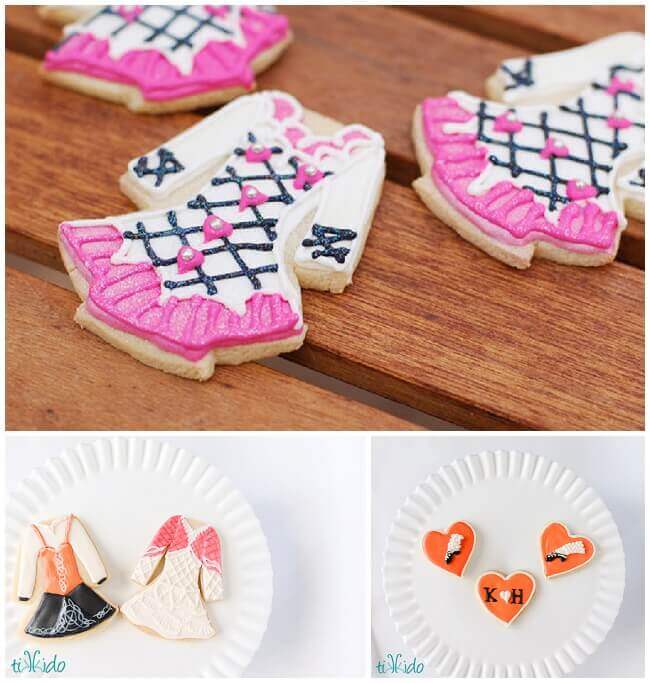 But whenever I get proud of myself, I log on Cookie Connection, or visit Pinterest, and realize just how much more amazing SO many people are than I am.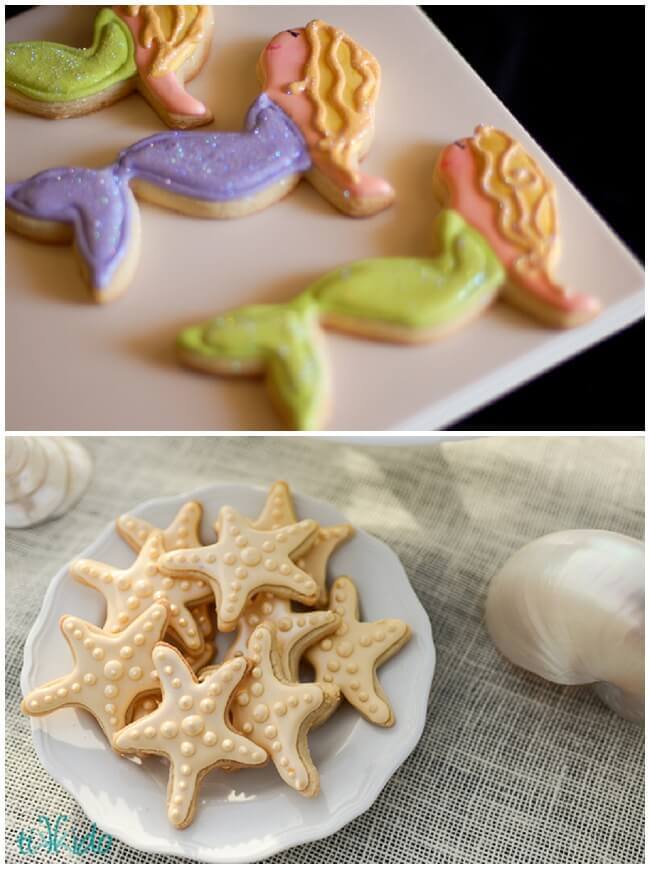 Still, I'm way better than I was.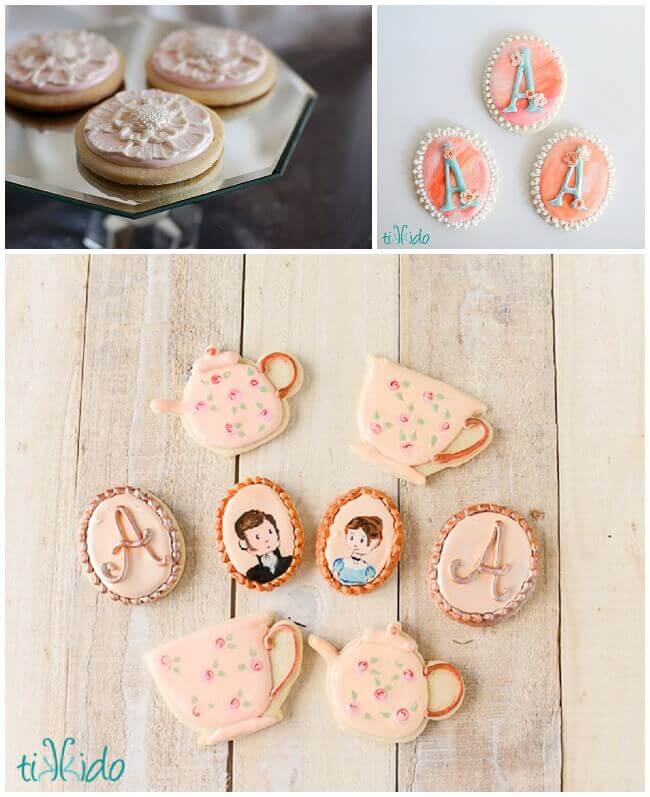 And I have to say, I make some pretty darn cute cookies.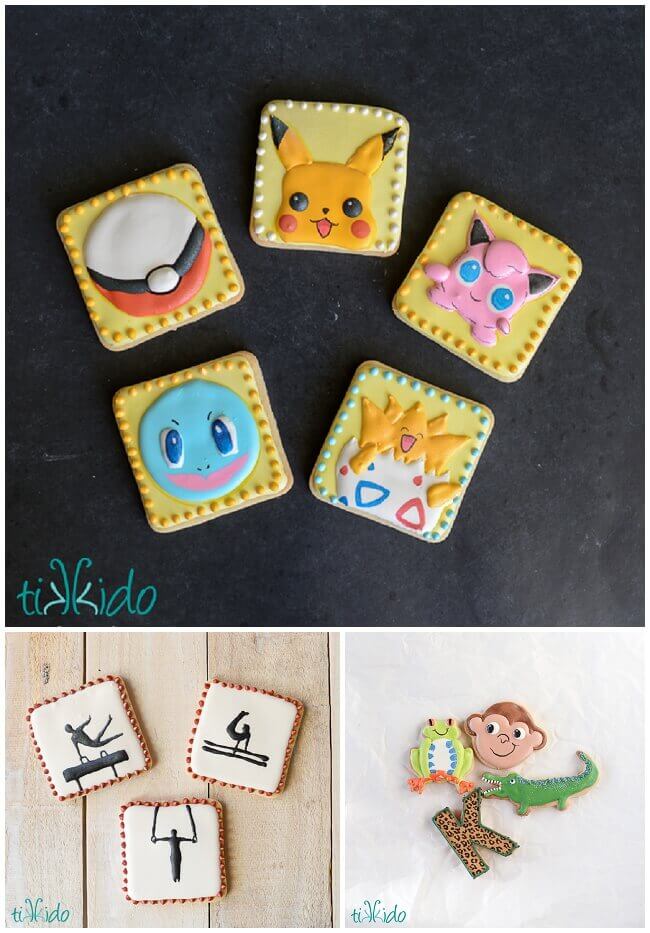 Maybe not yet with the same level of amazing perfectionism...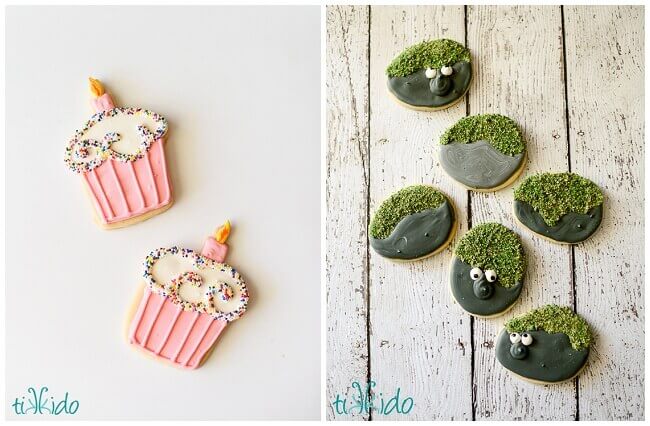 ...but with a lot of love.  I'm happy with where I am on my cookie-making journey, and delighted with where I'll go!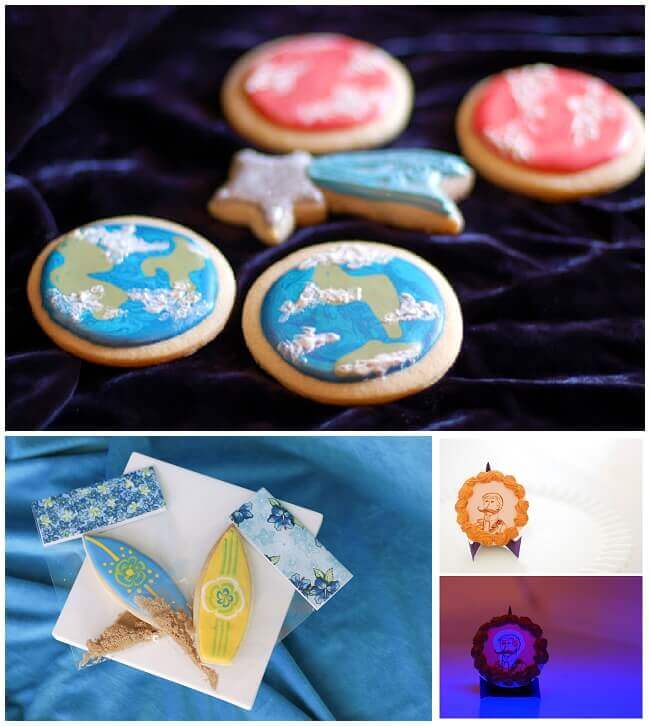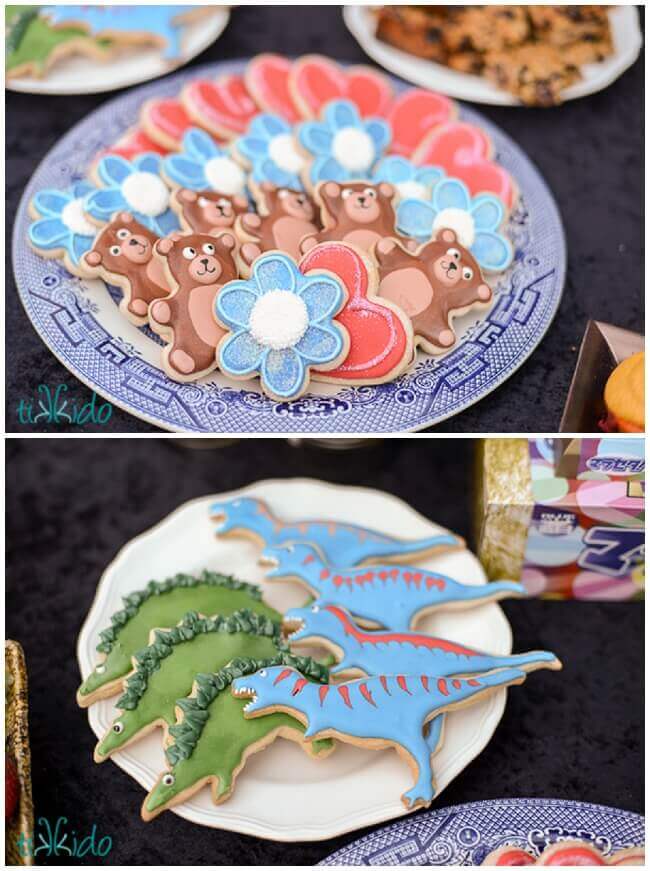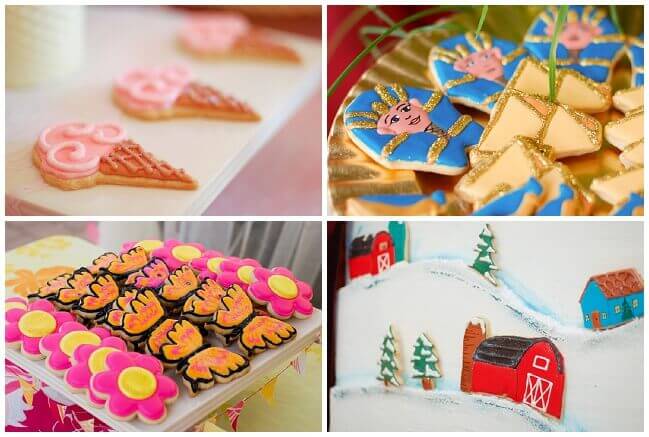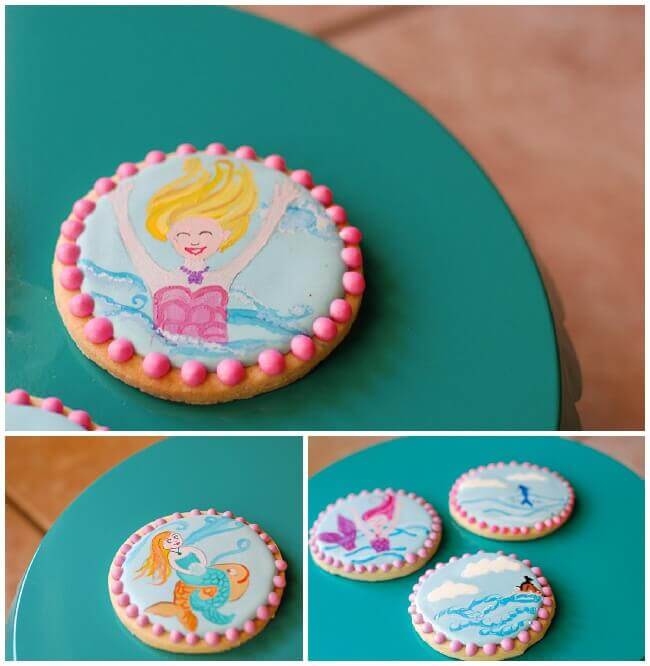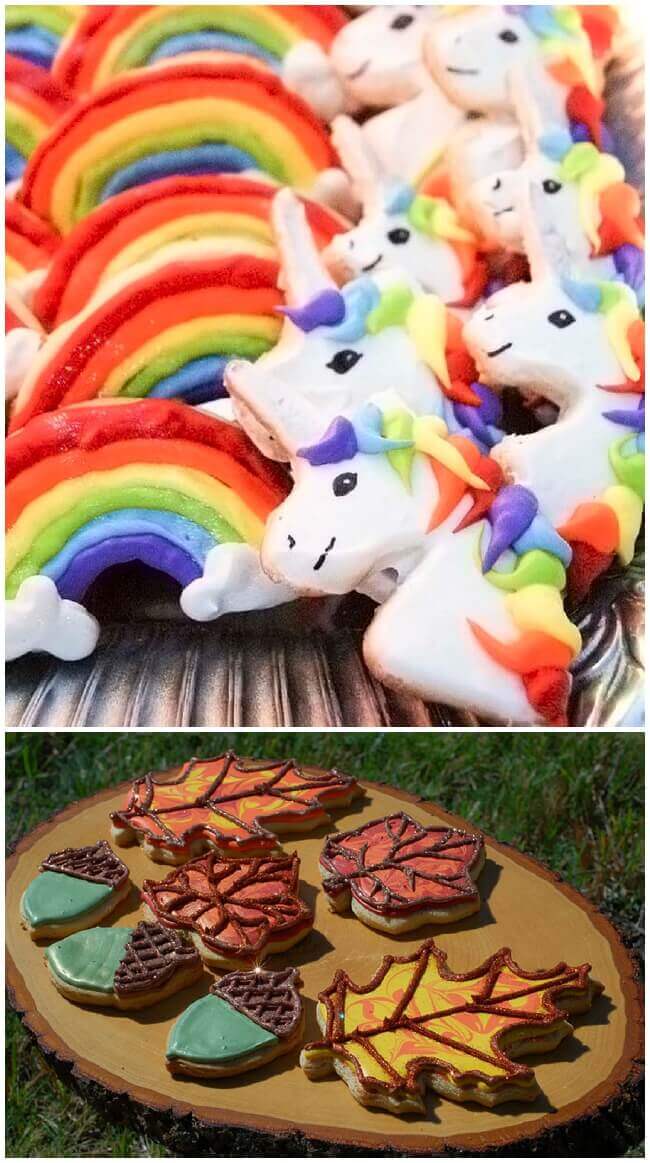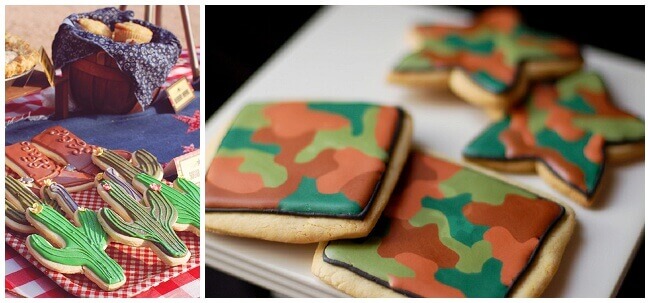 So go forth!  Make cookies!  Experiment, learn, and start down your own cookie-art path!  It all starts with the canvas, and no chill sugar cookie recipe is the only delicious canvas you'll ever need.
Sugar Cookie Decorating Tutorials You Might Like: