Printer-friendly version
Wondering if you can make a balloon garland the night before your party?  I tested it out, and will show you exactly what the balloon garland looks like when it's freshly made versus when it's several (or even ten!) days old.   And I have all the tips and tricks you'll need if you do want to make your balloon garland ahead of time.
This is the balloon garland I made for my daughter's Crystals, Geodes, and Gemstones birthday party.  I used a very standard balloon garland kit from Amazon, and just added some clear balloons with gold confetti to my mix.  To assemble my balloon garland, I used the brilliant technique in this video instead of the fishing line and glue dots included in the garland kit.  I HIGHLY endorse this method for making better, easier balloon garlands!
I made this balloon garland the morning of the party, so when I took this photograph, the garland was just a few hours old.  But I wondered--could I have made this balloon garland the night before?  So I decided to experiment, and see how long the balloon garland would last, and how it would change over the next several days.
How a Balloon Garland Looks on Day 1 and Day 2: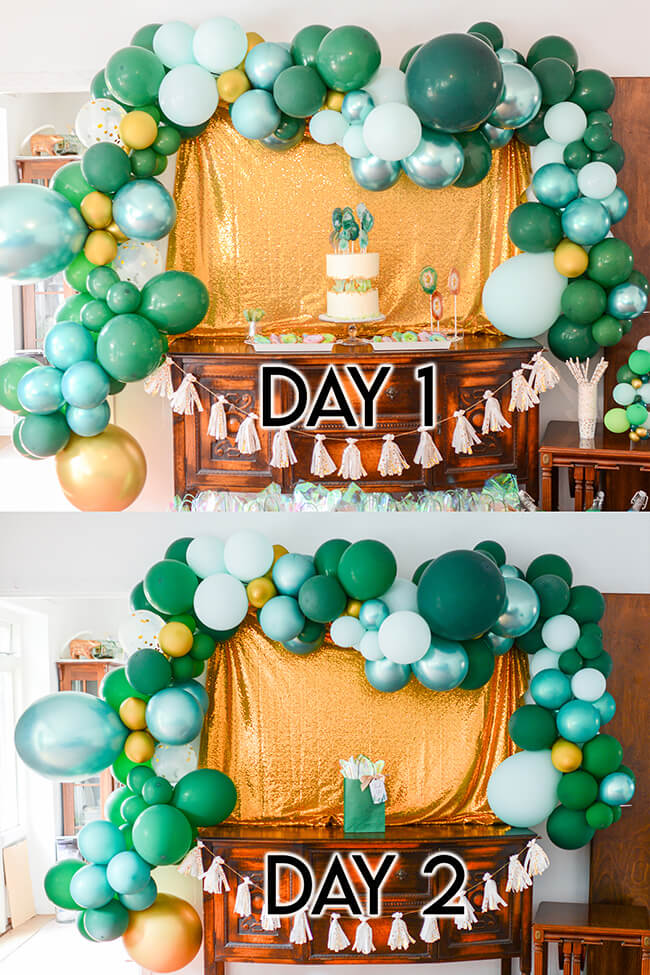 Here's a side by side comparison of the balloon garland about 4 hours after it was made (Day 1) and about 24 hours later (Day 2).  You can see some oxidization starting on the non-metallic green balloons (they start to look less shiny and more velvety). 
Day 2 Balloon garland Closeup: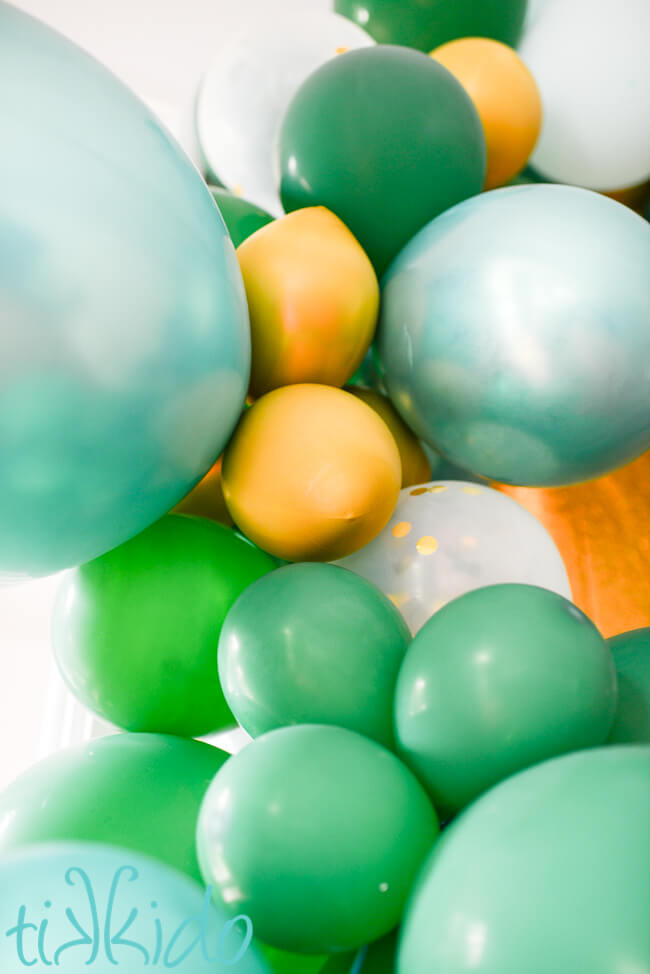 I quite liked the velvety look of the slightly oxidized balloons next to the metallic balloons!  As you can see, the metallic balloons--especially the blue metallic balloons--kept their shine through day two.  The gold balloons started to lose a little bit of their luster, but I wasn't impressed with the gold balloons in the kit I got to begin with; not very shiny to start with and the smaller gold balloons had a kind of weird nipple shape on the ends, no matter how much I filled them.
The oxidization is most noticeable on the clear confetti balloons, which have started to look more white than clear.  But you can still see the confetti clearly, and they still look lovely!
Balloon Garland on Day 3 and Day 10: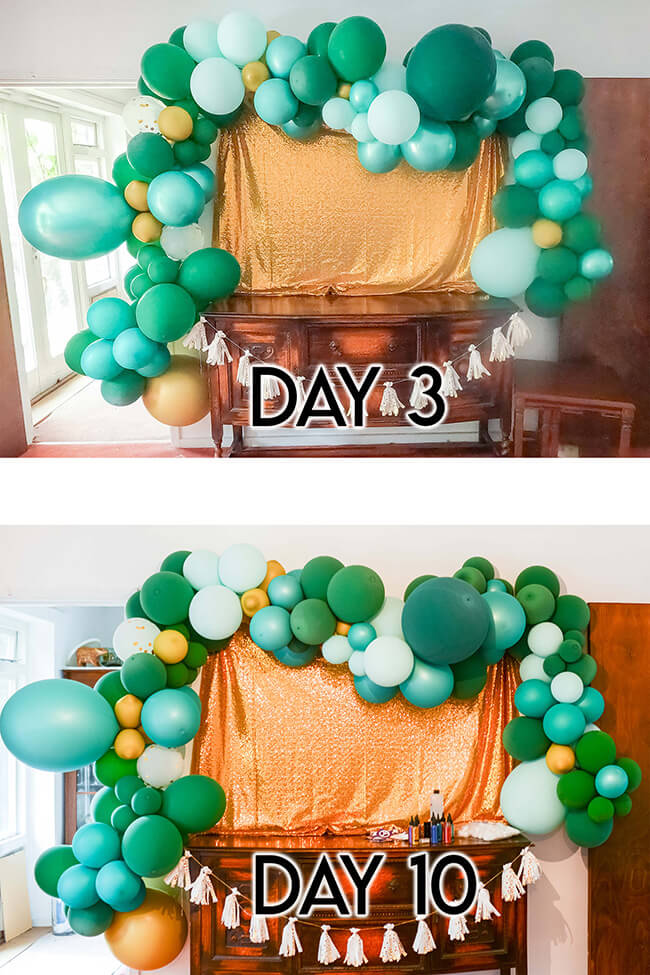 As you can see on day 3 of the balloon garland hanging on the wall, the oxidization is definitely more noticeable.  All of the balloons are looking more opaque and velvety, but the metallic balloons are still holding on to a bit of their shine.  I got tired of taking pictures every day when there wasn't much change, so I just let the garland hang for several more days.  I took pictures again on day ten, and by then, the balloons looked very matte and have started to shrink a bit. 
Closeup of the Balloon Garland, Day 3: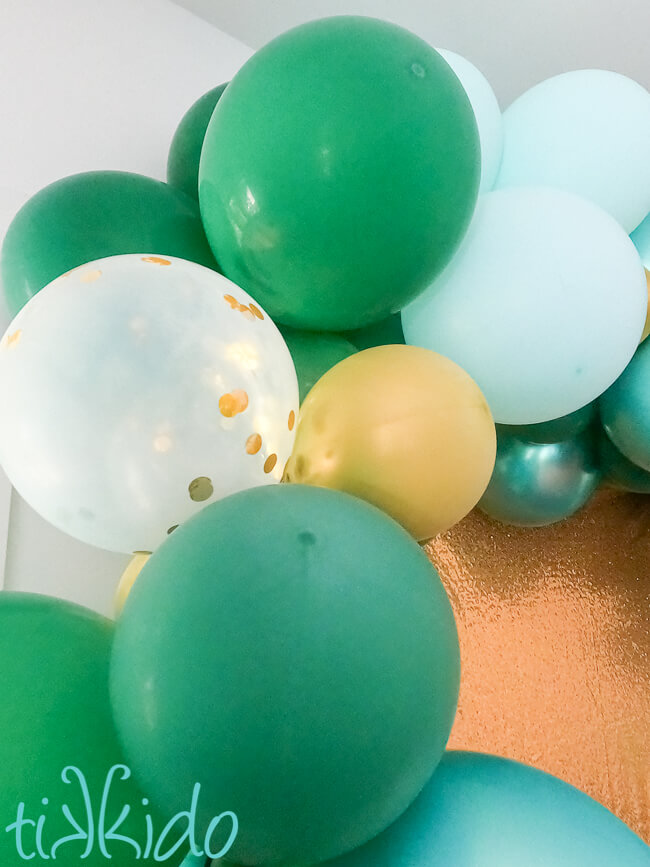 Oxidation had continued, but on day three, the balloons still had very good shape, and still looked great--just a little less shiny and different.
Closeup of Balloon Garland, Day 10: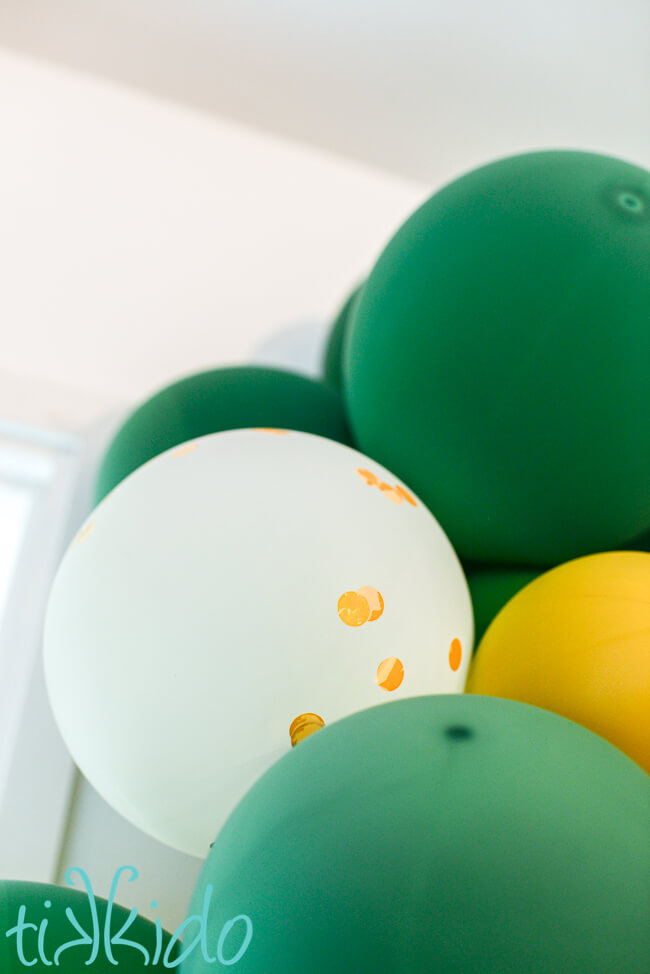 As you can see, the balloons became more and more velvety and matte looking, and have basically lost all their shine by day 10.  The clear balloons look completely white at this point, but you can still see the gold confetti perfectly!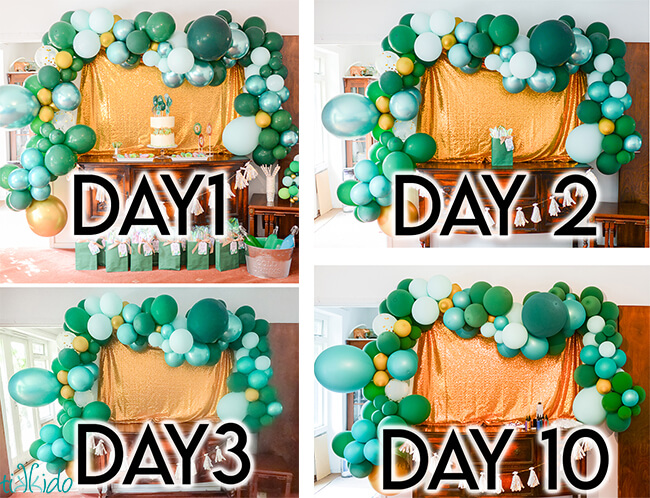 Here are all four of the photos in one collage so you can see the difference all at once.  
So can you make a balloon garland the day before?  Yes, definitely. BUT... be aware of how the look of the balloon garland will change over a period of one or more days.  If you want the balloon garland to look as shiny as possible, and especially if you're using clear balloons, it's best to make it as close to the party time as possible.  If you don't mind a little less shine on your balloons, your balloon garland will still look great the next day. 
General Tips for Increasing the Longevity of Balloon Garlands
It's important to note that this experiment was done in pretty mild weather (mid 70s), and out of direct sunlight.  Sunlight and heat are the enemies of balloons!  So if you want to make a balloon garland the night before keep in mind that you should:
Keep the balloon garland out of direct sunlight and cool until you're ready to use the garland!  Sunlight/heat makes the balloons expand, and can make the balloons pop.
Consider placement.  The garland will last longer inside, in a cool place.  If placing the balloon garland outside, try to keep it out of direct sunlight.  If that's impossible, put it out at the last possible moment.
Sunlight and heat will also accelerate the oxidization process, making the balloons look less shiny more quickly.
Dark balloons will absorb more sunlight and expand and pop even more quickly than light colored balloons.  If the balloon garland is going to be outside, consider using light colored balloons.
Other Balloon Tutorials You Might Like: