Printer-friendly version
This homemade cherry limeade recipe is all natural--no day-glow maraschino cherries, no soda.  Just fresh limes, cherries, sugar, and water.  If you've never had real cherry limeade, you're in for a summertime treat!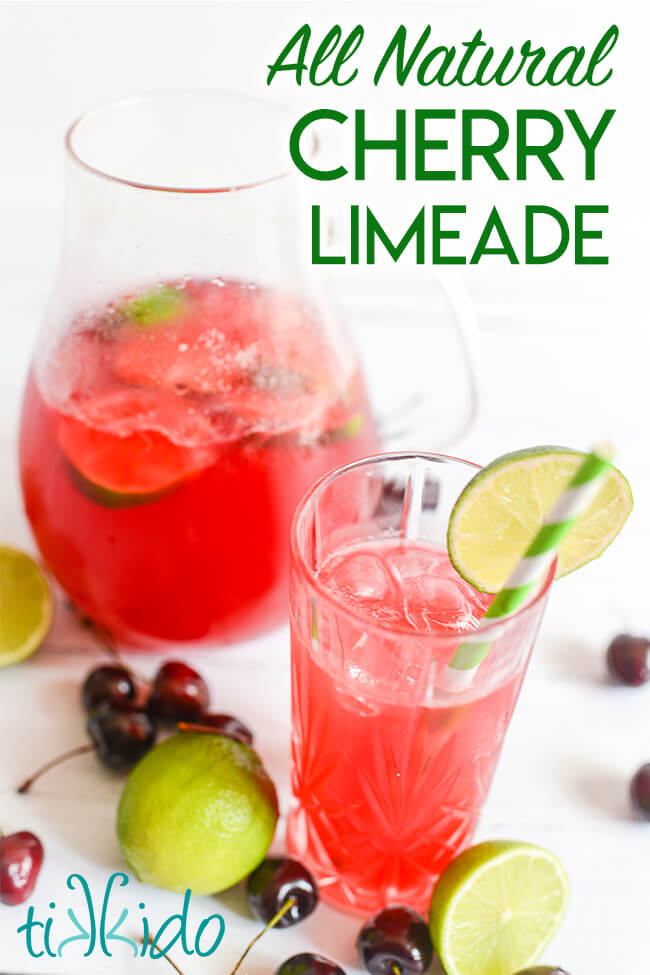 My family loves my fresh-squeezed lemonade, and I make my limeade with the same recipe.  But even though cherry limeade is a very popular flavor combination, I've never tried making it myself.  I googled for recipes, and found a lot of things combining maraschino cherry juice and lemon-lime soda, but that really didn't appeal to me.  I love homemade limeade, and the flavor of fresh cherries, so I set out to create my own recipe for all-natural cherry limeade.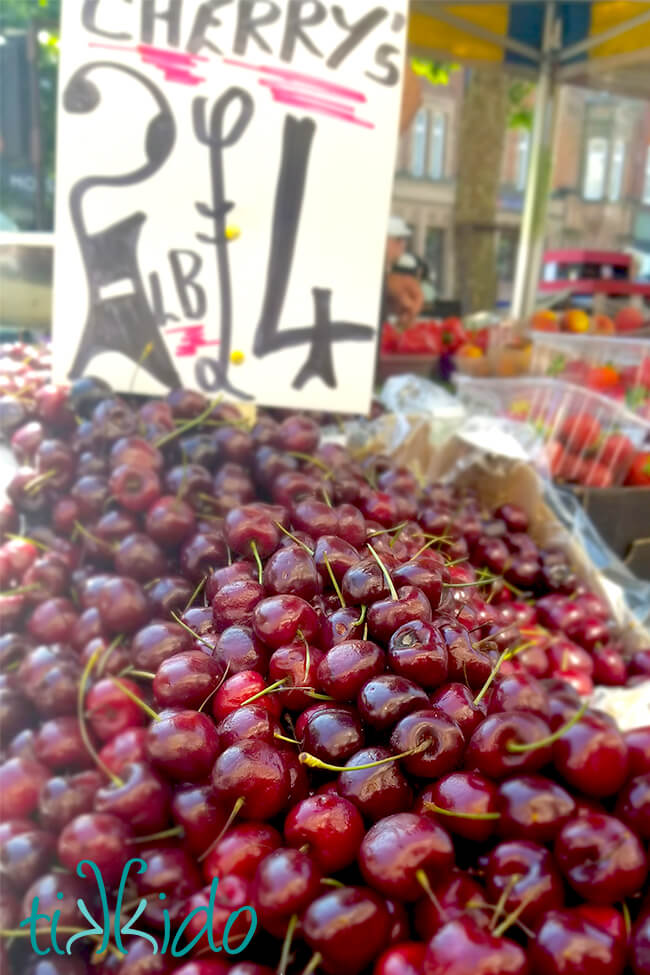 Cherries are in season and amazing where I live!  I bought these delicious cherries from my twice-weekly local market.  We live about a 5 minute walk away from this incredible resource. 
How to Make Cherry Limeade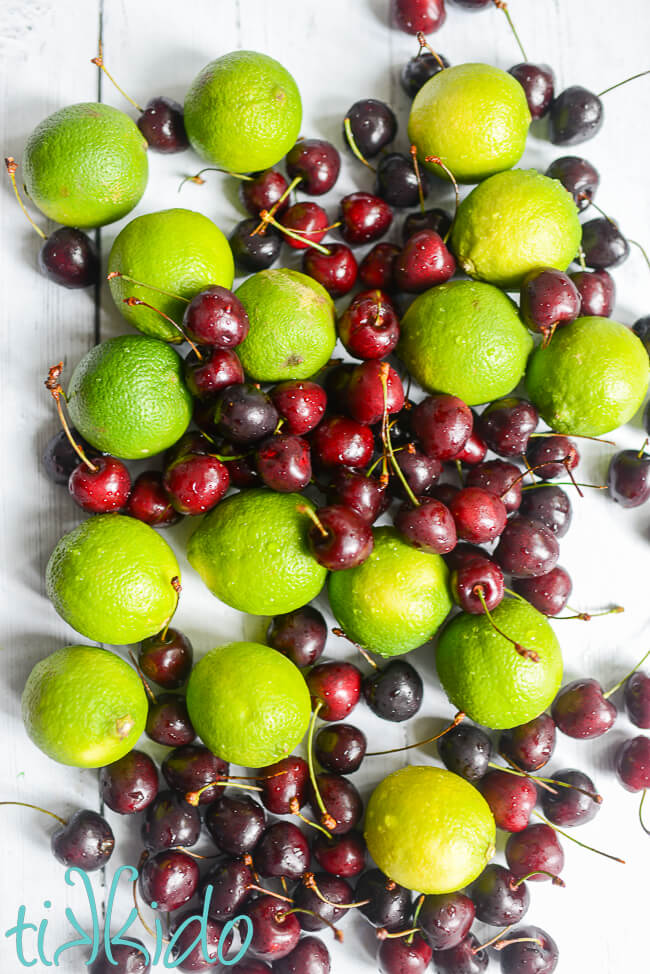 Homemade Cherry Limeade Ingredients
1 part lime juice
1 part cherry simple syrup (details below)
2 parts water
I make my lemonade and limeade by ratio, rather than strict measurements, so you can make as small or as large a batch as you please.  To fill my pitcher, for example, I used 1.5 cups of lime juice, 1.4 cups of cherry simple syrup, and two cups of water.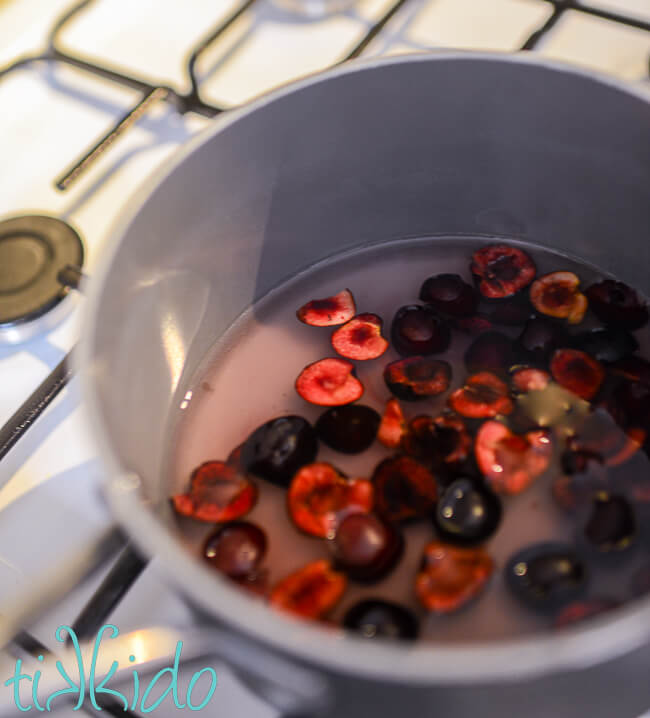 How to Make Cherry Simple Syrup
The first step in making cherry limeade is to make a bright, flavorful, cherry simple syrup.  I used sweet cherries for this recipe, but you could definitely use sour cherries, too.
Simply combine:
1 part sugar
1 part water
1 part pitted cherry halves
Pit and slice the cherries, then place in a saucepan with the sugar and water.  bring the mixture to a simmer, and cook for five minutes.  Use a potato masher or a spoon to gently mash the softened cherries a few times to help release the juices and flavor.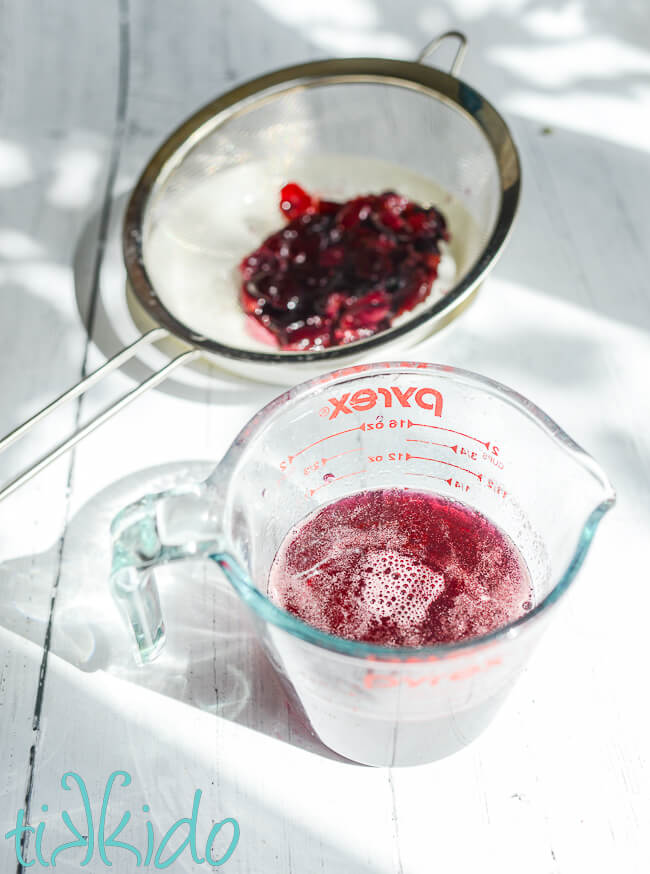 Let the cherry simple syrup cool to room temperature, then strain the fruit from the deep red cherry syrup.  Save those cherries, though!  I'm going to teach you how to use them to make amazing Brandied Cherries Ice Cream Topping with them.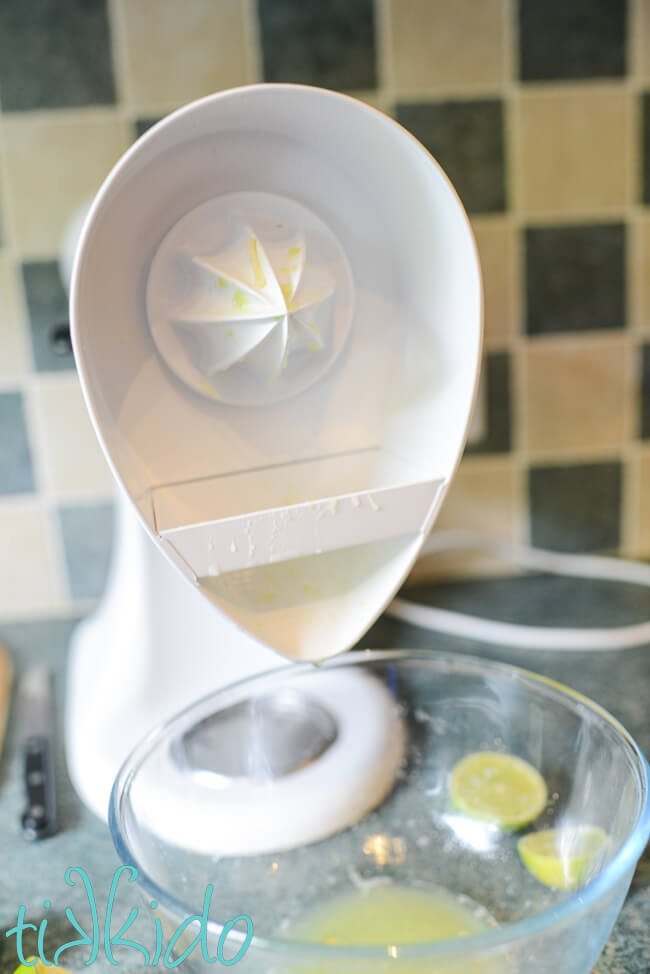 Juicing the Limes
You can use any kind of citrus juicer to make your limeade, but when I'm making limeade, I pull out my Kitchenaid Juicer attachment.  It's brilliant for juicing a lot of citrus quickly.   It took 12 limes for me to accumulate 1.5 cups of lime juice for the batch I made.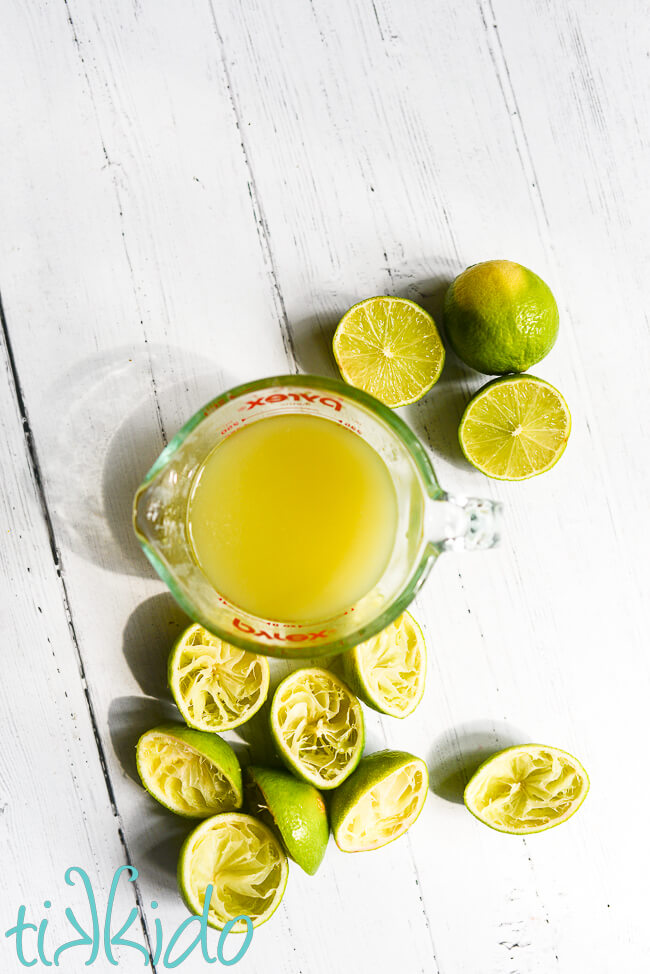 Strain the lime juice with a fine mesh strainer to catch any seeds or pulp.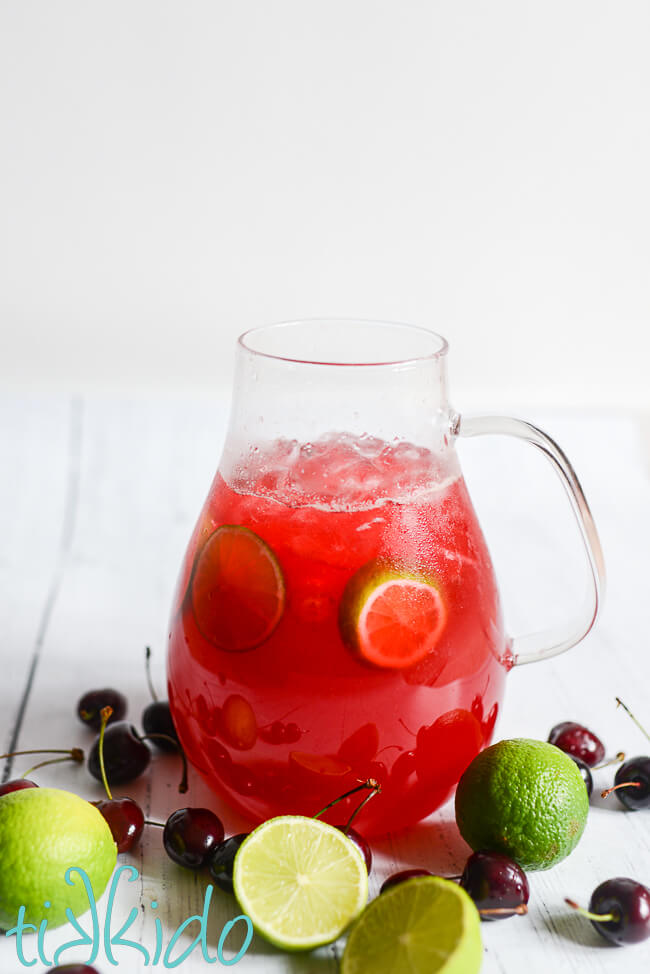 Combine the lime juice, cherry simple syrup, and water in a pitcher, and stir to combine.  It really is that easy to make this absolutely AMAZING summer drink.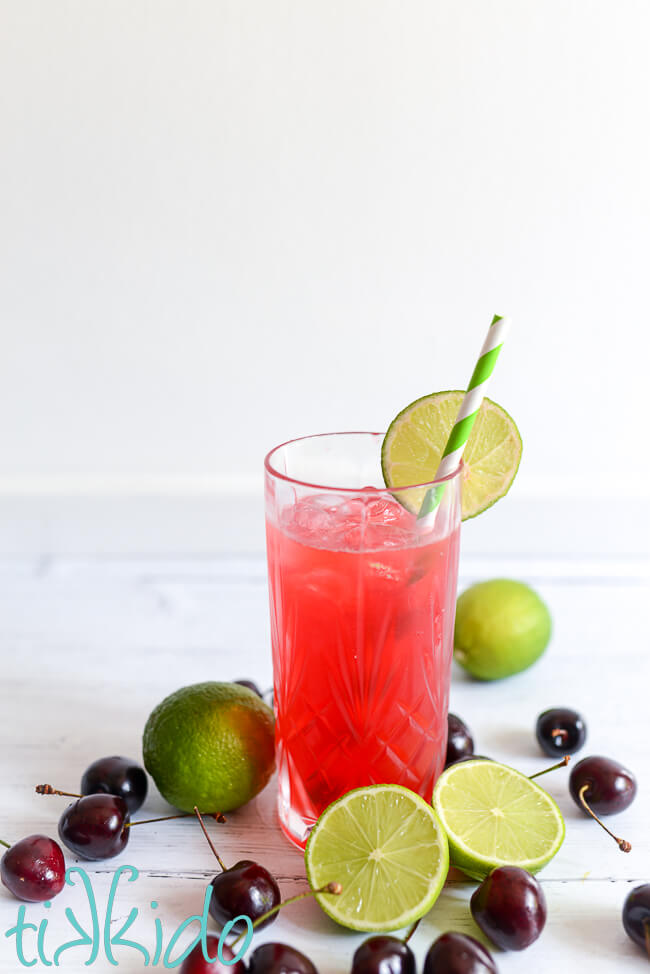 I'm not going to knock Sonic Cherry Limeade--it's iconic.  But this homemade cherry limeade takes the flavor combination to the next level.
Printable Homemade Cherry Limeade Recipe
Want a one page, printable version of this all natural cherry limeade recipe?  Click on the image below to print the PDF directly or save it to your device.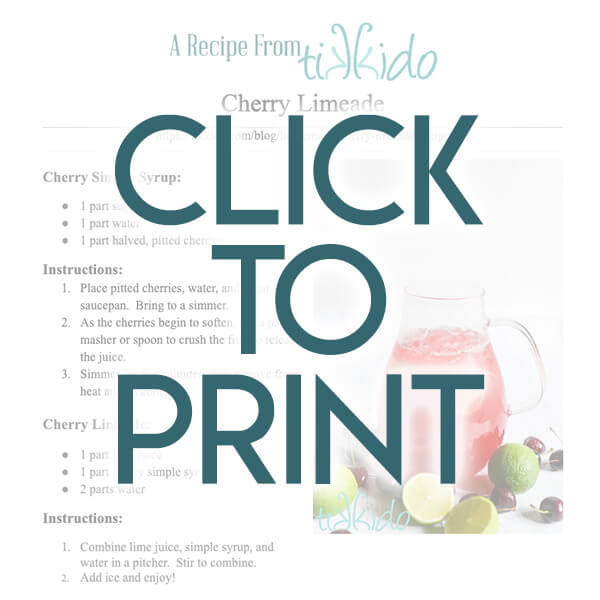 Other Farmer's Market Recipes from the Taste Creations Blog Hop: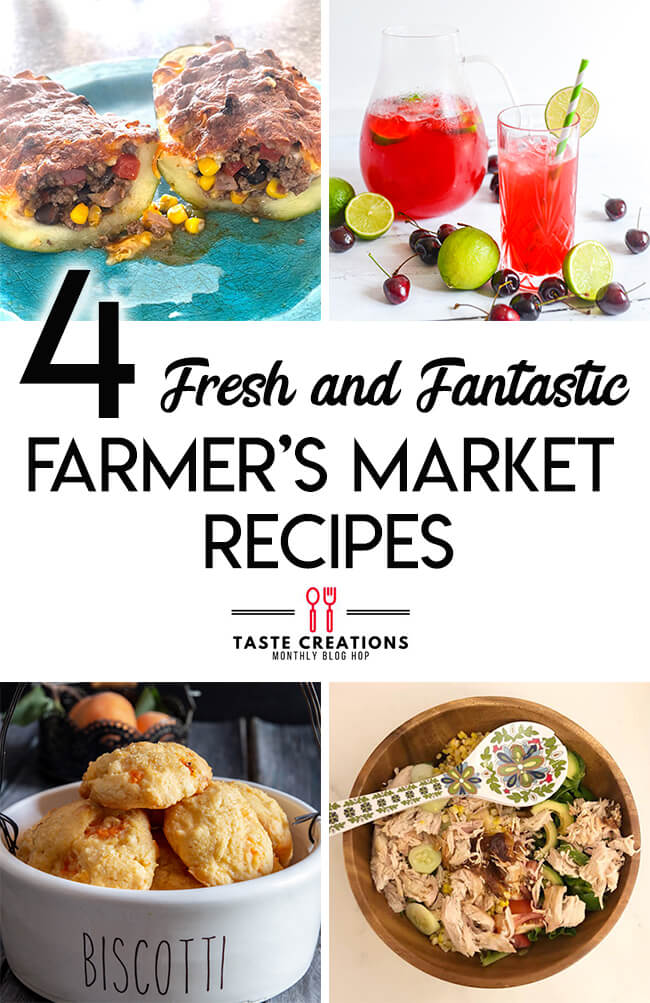 Be sure to check out the other amazing farmer's market recipes from my blogger friends in the Taste Creations Blog Hop!  Take advantage of all that amazing summer produce.  Between us, we have salad, main course, a drink, and dessert!
Mom Home Guide:  Farmer's Market Summer Salad
Our Good Life:
Stuffed Zucchini
Breads and Sweets: Apricot Drop Cookies
Other Non-Alcoholic Drinks You Might Like: