Printer-friendly version
Rhubarb custard pie is one of the most delicious ways to eat rhubarb.  The creamy, sweet custard pairs perfectly with the tart rhubarb in this amazing rhubarb pie recipe.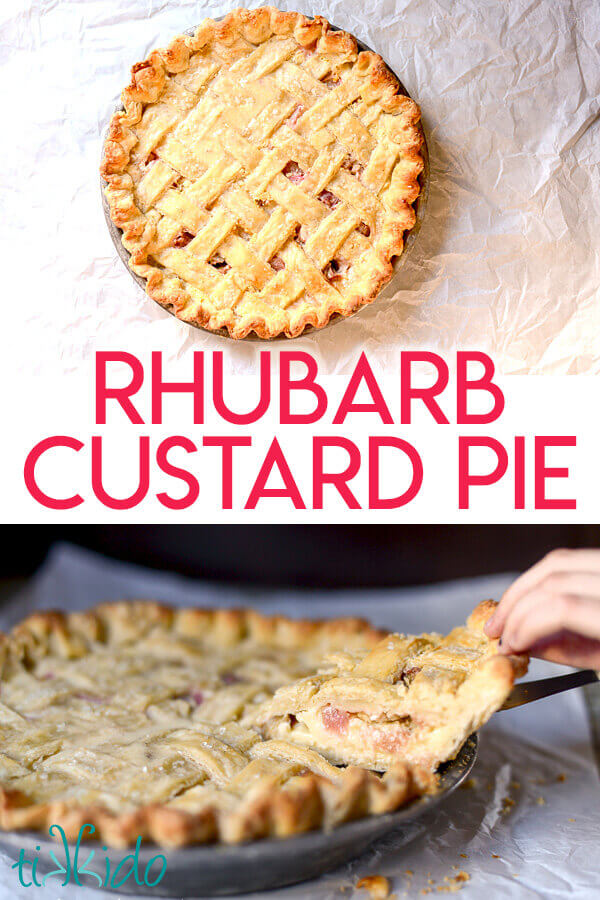 I've never been a big fan of strawberry rhubarb pie.  To my taste, strawberries are infinitely better fresh than cooked.  I don't like the texture they get in a pie.  Give me straight-up rhubarb any day. Plus, did you know that strawberry rhubarb pie actually came about through a misunderstanding?  There's a type of rhubarb called Strawberry Rhubarb because of its beautiful red color.  Strawberry rhubarb pie is clearly a mistake.  But plain rhubarb pie is a thing of wonder.
Rhubarb is a spring crop, but it freezes beautifully, and whenever I see it in the market, I buy a ton, chop, and freeze for use throughout the year. 
I LOVE rhubarb in any form--crisp, crumble, compote, whatnot--but especially in pie.   I made an obligatory pumpkin pie for Thanksgiving yesterday, but I also made a rhubarb custard  pie.  The rest of the family can keep the pumpkin pie.  Give me tart fruit and creamy custard any day.
Rhubarb Custard Pie:
1 1/2 cups sugar
1/4 cup flour
1/4 t nutmeg
1/4 t salt
3 eggs, beaten
1 cup half and half (the fat free version works perfectly)
2 cups rhubarb, chopped
butter (about 2T, for dotting)
Preheat oven to 400 degrees Fahrenheit.  Line a 9" pie tin with pie dough (here's my favorite recipe).
The rhubarb was completely frozen at this point--no need to thaw before making the pie.  Dot with butter.
Mix together sugar, flour, nutmeg, salt, eggs, and half and half.  Pour over the rhubarb and butter.
Roll out more pie dough, cut into strips, and weave over the top of the pie filling to create a lattice top crust.  Brush lightly with water and sprinkle with sugar, if you'd like.  I always like.  Particularly coarse crystals of sugar.
Bake for 50 minutes.
Let cool completely before cutting and serving, so the custard has a chance to set up completely.  Otherwise you'll end up a delicious, but soupy mess.  
Yuuuuuum.  I'm thankful for PIE.  RUBARB PIE!
Other Pie Recipes You Might Like:
Other Rhubarb Recipes You Might Like: