Printer-friendly version
These chocolate cherry muffins are just the thing to make for Dad for Father's day!  In fact, you could even call them double chocolate cherry muffins, because they're a rich chocolate muffin absolutely packed with chocolate chips and tart dried cherries.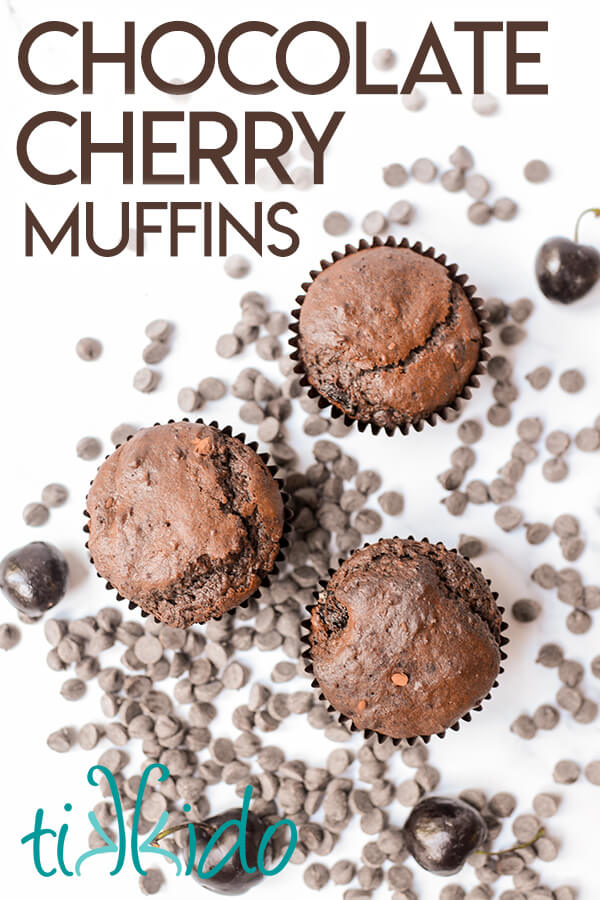 It's the first Monday of the month, and that means it's time for the Taste Creations blog hop.  This month, we're sharing delicious Father's Day breakfast ideas.  The dad in our household loves chocolate and loves cherries, so I thought it was high time for me to make some chocolate cherry muffins for him.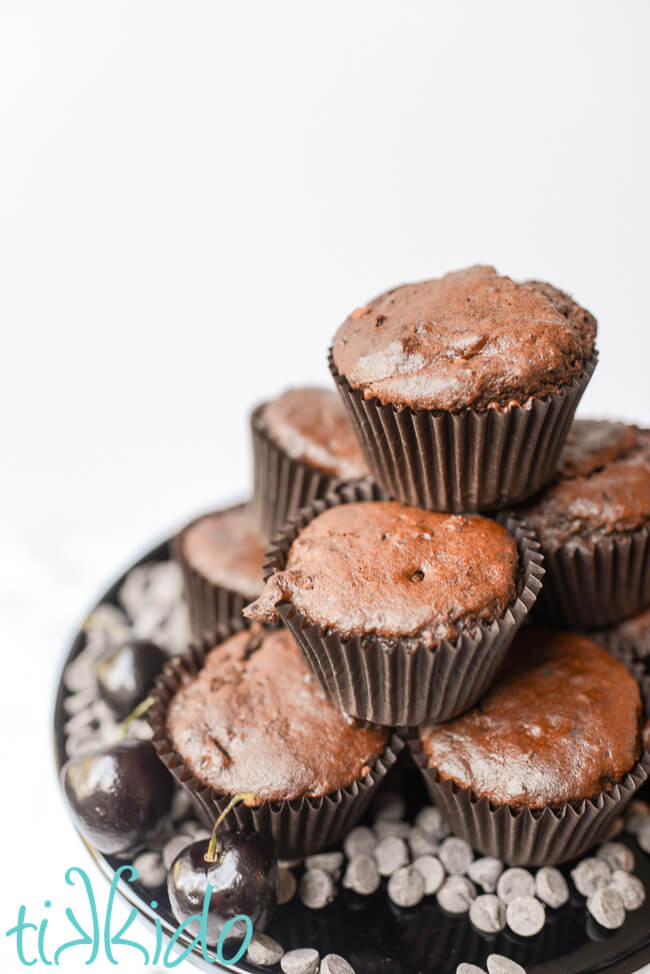 Cherry Chocolate Muffin Recipe:
2 cups flour
1 teaspoon baking powder
1 teaspoon baking soda
1/2 teaspoon salt
2/3 cups cocoa powder
1/2 cup chocolate chips
1/2 cup dried cherries
2 eggs
1 1/4 cup packed brown sugar
3/4 cups milk
1 stick (8 Tablespoons, or half a cup) of butter, melted
1 teaspoon vanilla
2 teaspoons vinegar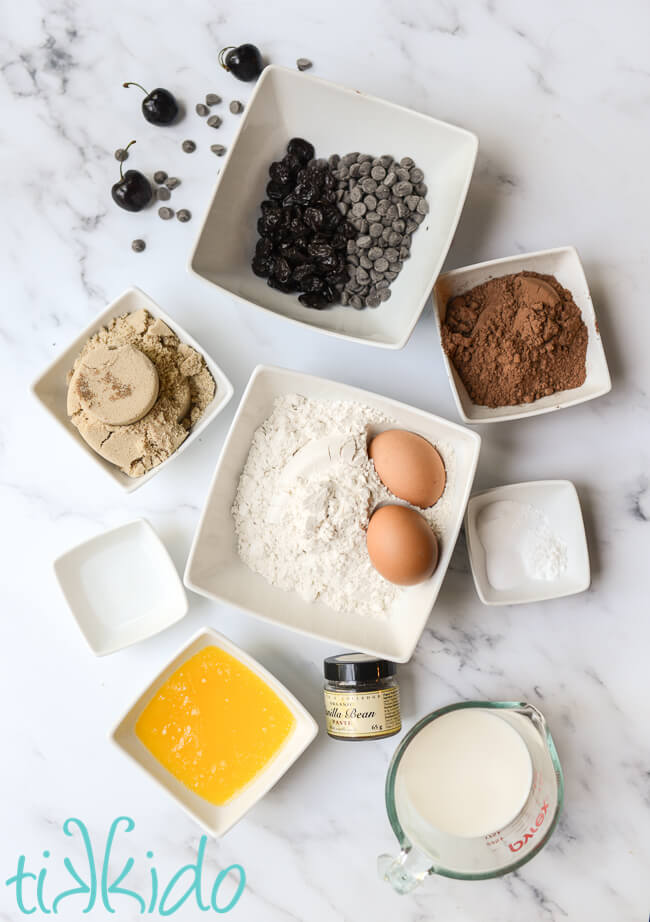 Muffin recipes are incredibly easy to make, and don't require any special equipment like mixers.  You just need a bowl and a spoon!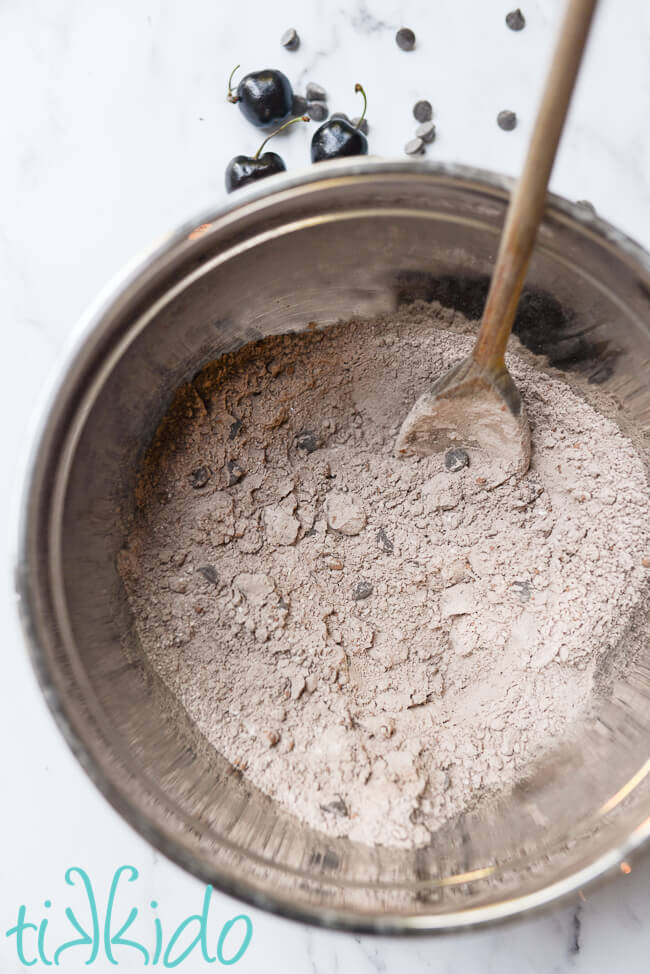 Mix all the dry ingredients together in a large bowl.  This includes the chocolate chips and dried cherries, but actually doesn't include the sugar!  My pastry chef mother taught me that sugar actually is considered a wet ingredient when making muffin recipes.  Adding the sugar with the wet ingredients, not the dry ingredients, helps to prevent the formation of gluten protein strands (which would make the muffins more tough and chewy).
Can I use fresh cherries instead of dried cherries in this Chocolate Cherry Muffin recipe?
Yes, absolutely!  You could use fresh or even canned cherries (drained) in this cherry chocolate muffin recipe.  The moisture content will be a little higher with both of these substitutions, so you might have to bake the muffins a little bit longer.  But they'll be just as delicious.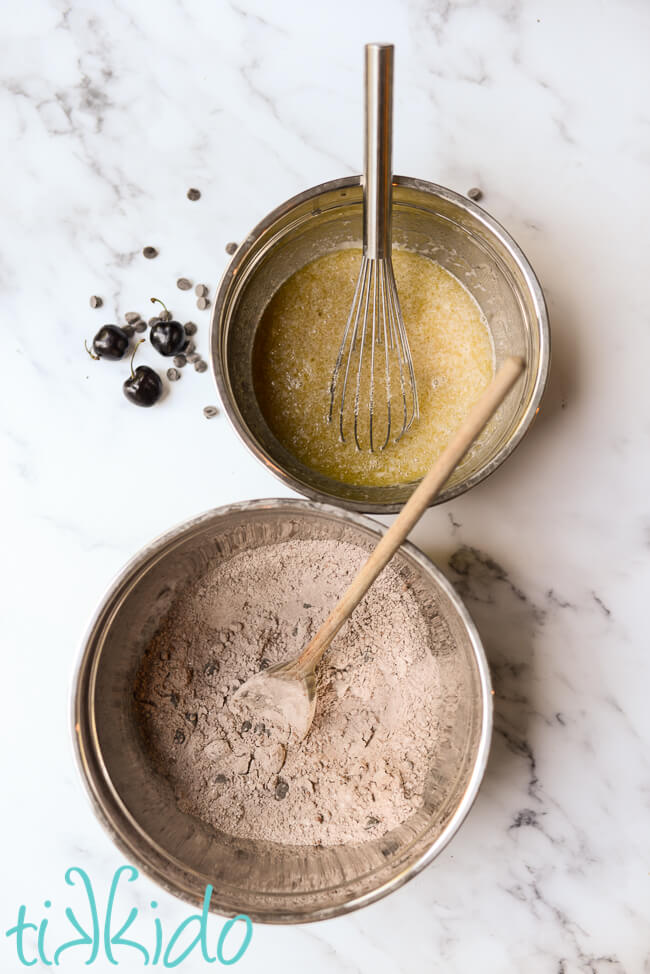 Mix the wet ingredients together in a second bowl.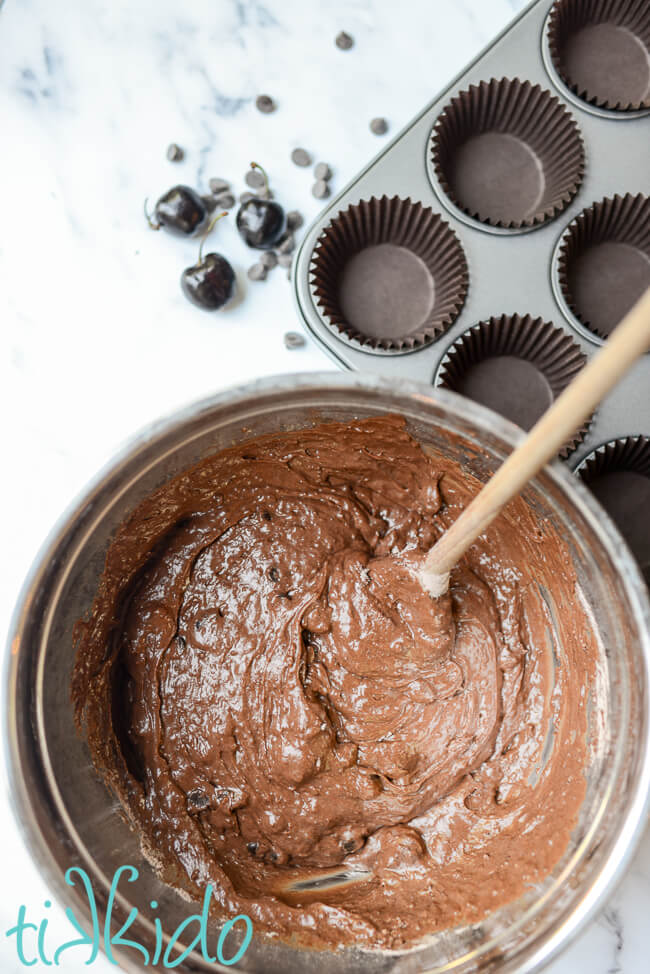 Mix the two bowls of ingredients together to form a thick, fudgy chocolate muffin batter.  Don't over-mix!  Just stir until the ingredients are combined.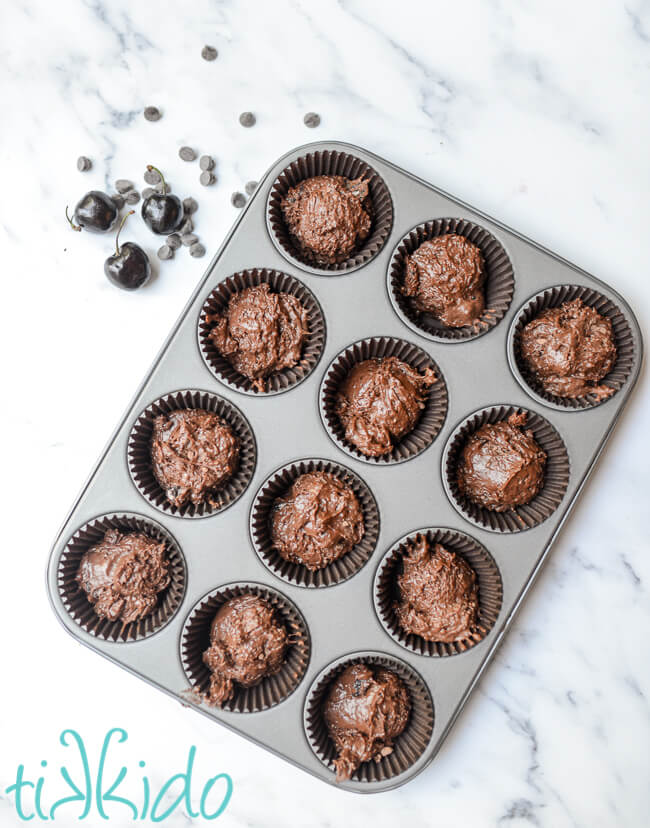 Fill lined cupcake/muffin tins with the batter.  This recipe makes 18 muffins in a cupcake tin.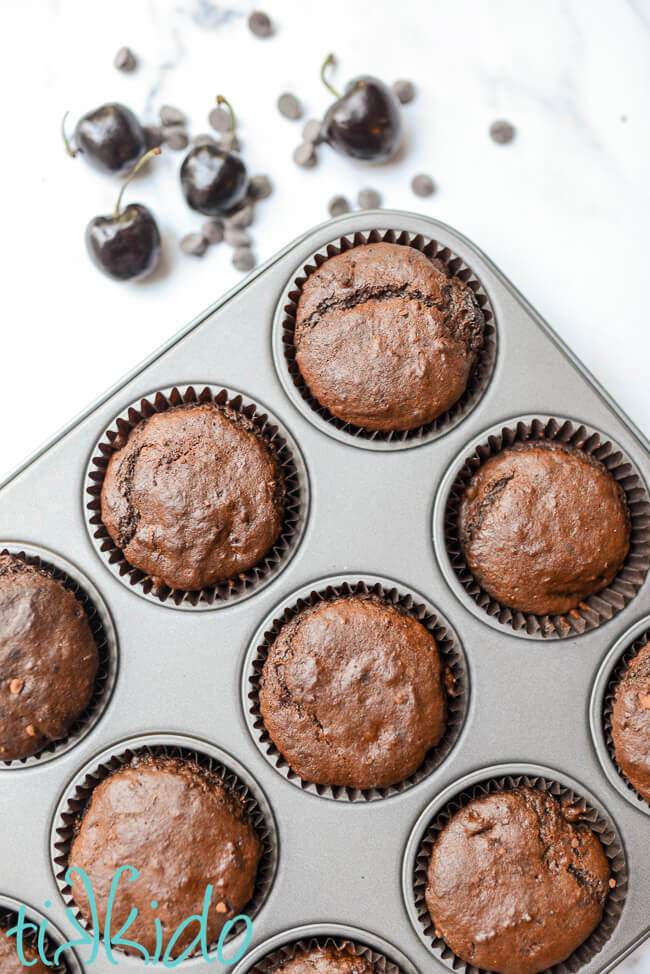 Bake at 350 degrees Fahrenheit for 20-23 minutes.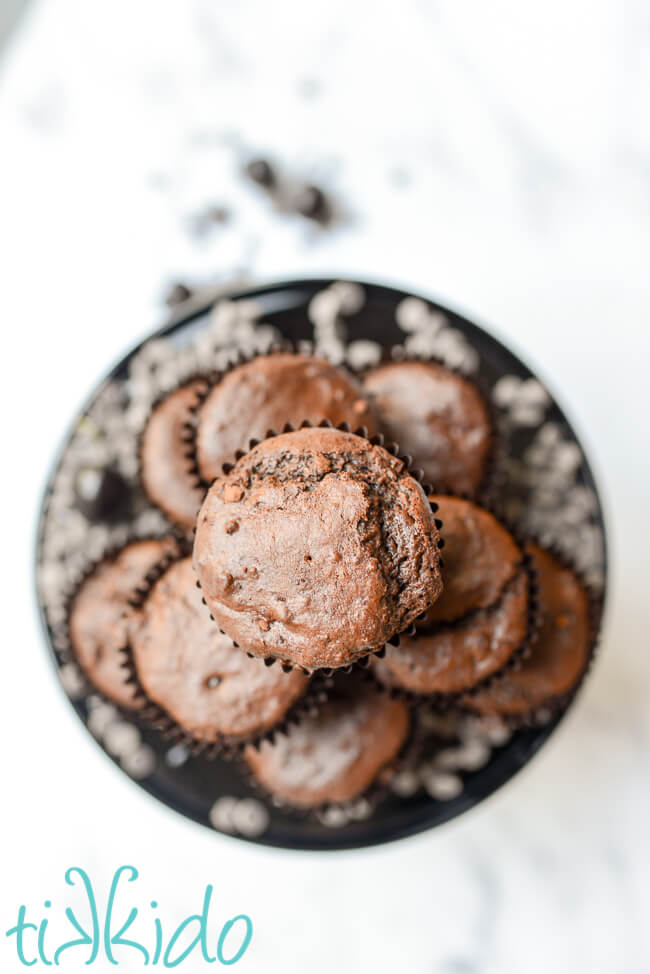 How to Make this Chocolate Cherry Muffin Recipe Vegan:
You can make a delicious vegan version of this recipe with a few easy substitutions.
Replace butter with 1/3 cup of vegetable oil.
replace eggs with a vegan egg substitute (I love this handy guide that shows many different options, and their best uses).  In this recipe, replacing the eggs with a 1/2 cup of pumpkin puree works especially well.
Replace the milk with a plant-based milk or water.
Be sure to use vegan chocolate chips.
Printable Chocolate Cherry Muffin Recipe: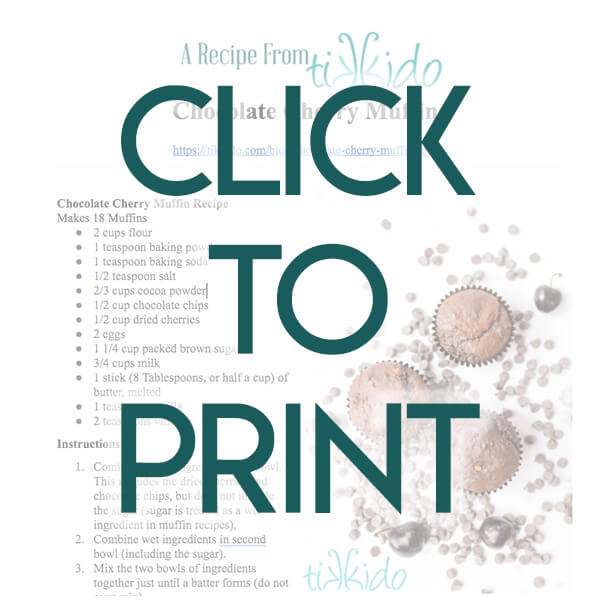 Father's Day Recipes from the Taste Creations Blog Hop: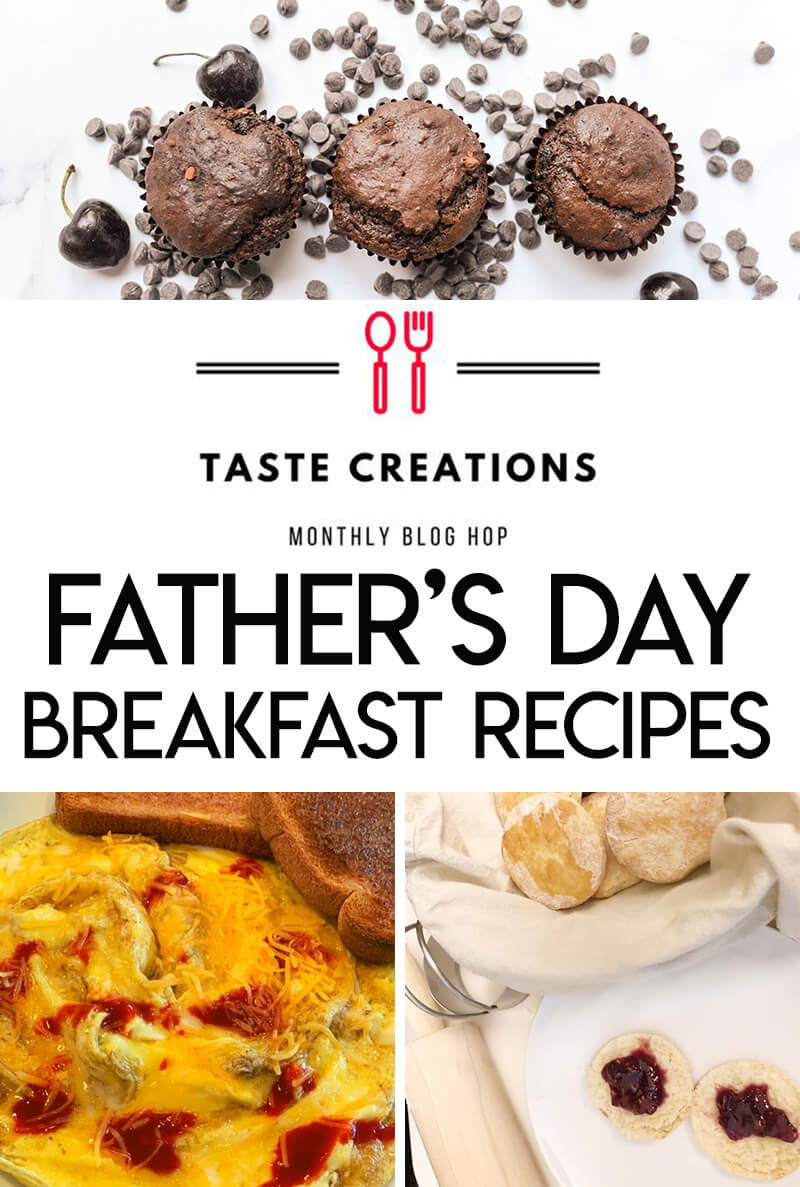 Be sure to check out the other delicious Father's Day breakfast recipes from my friends in the Taste Creations Blog Hop this month:
Our Good Life: Tornado Eggs
Mom Home Guide:  Homemade Biscuits
Other Muffin Recipes You Might Like: