Printer-friendly version
This soft sugar cookie recipe has been one of my absolute favorites since I was a little girl.   There's something so simple and so perfect about these soft vanilla sugar cookies--a soft, tender interior with just the hint of a sugary crunch on the exterior.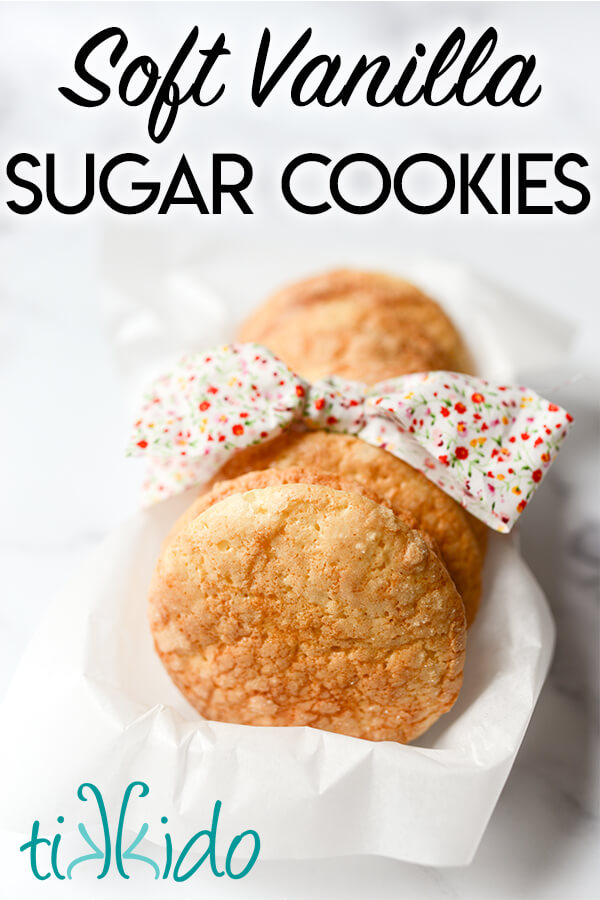 This recipe makes a soft sugar drop cookie, not a cut-out cookie (if you want an amazing cut out sugar cookie, I have one of those, too).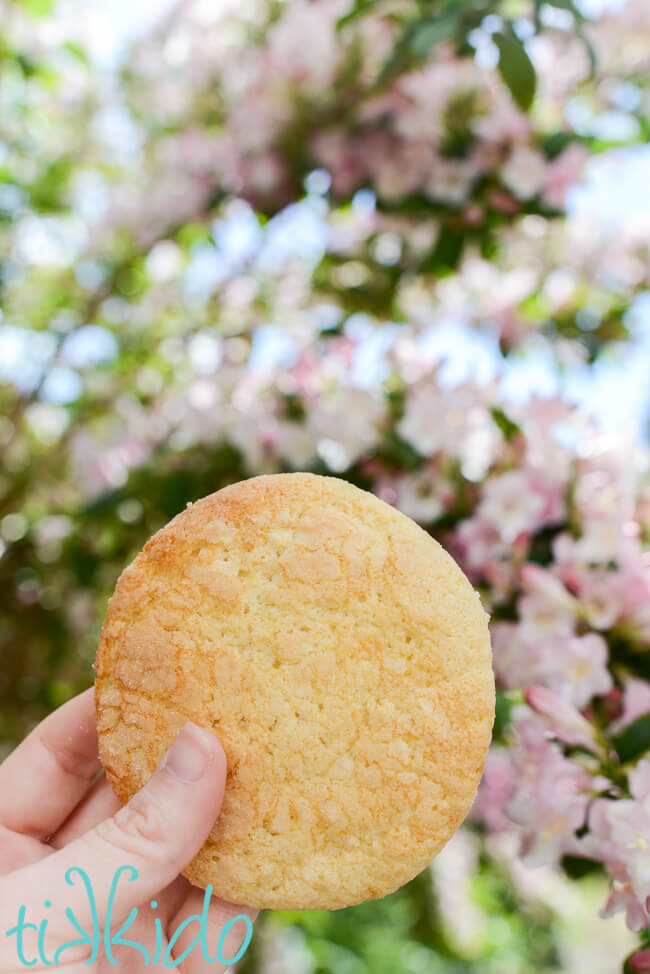 You can top these soft sugar cookies with icing if you want, or use them to make sandwich cookies with frosting inside, but I like them best just plain.  They're absolutely perfect all on their own.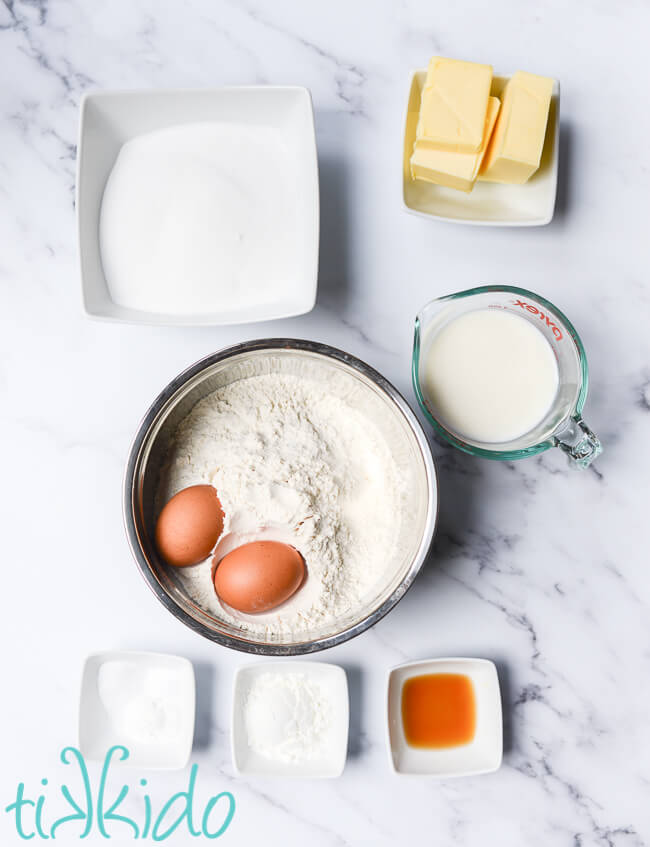 Soft Sugar Cookie Recipe:
1 cup butter, softened
2 cups sugar
2 eggs
1/2 teaspoon salt
4 cups flour
1 teaspoon baking soda
2 teaspoons baking powder
2 Tablespoons corn starch
1 cup buttermilk
2 teaspoons vanilla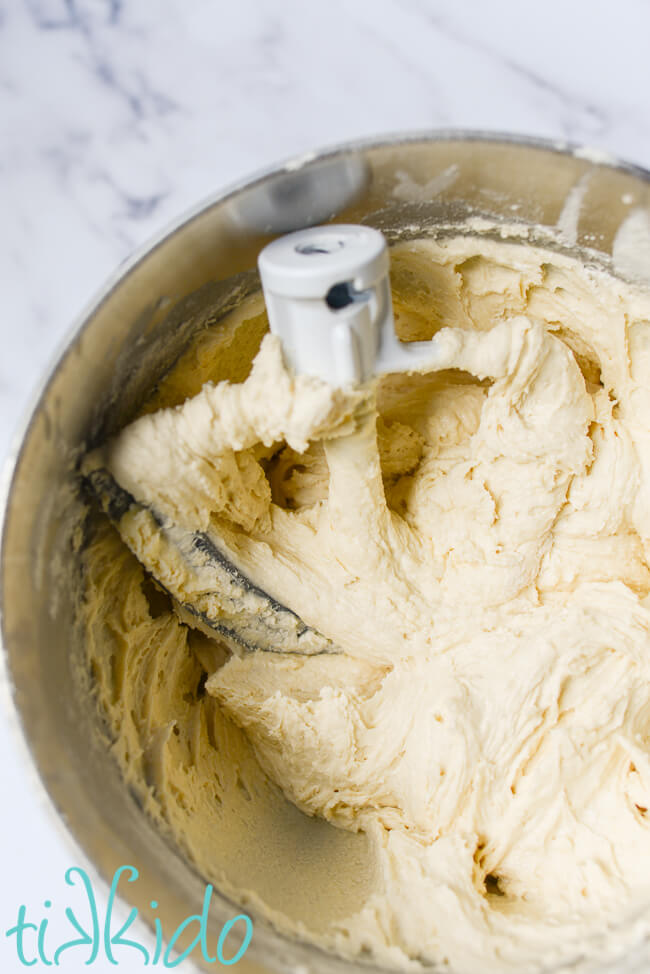 How to Mix the Soft Sugar Cookie Dough
Cream the softened butter and sugar.  Add the eggs, one at a time, and beat after each addition.
Combine the dry ingredients (flour, salt, baking soda, baking powder, and corn starch) in a separate bowl, and mix together.
Combine liquid ingredients (buttermilk and vanilla).  
Add the dry and liquid ingredients to the creamed butter/sugar/egg mixture, alternating between the wet and dry.  
What to Substitute if you Don't Have Buttermilk for Soft Sugar Cookies?
If you don't have any buttermilk, you can use regular milk and vinegar instead.  Add vinegar to the milk, just a little at a time, and stir until the milk just begins to curdle.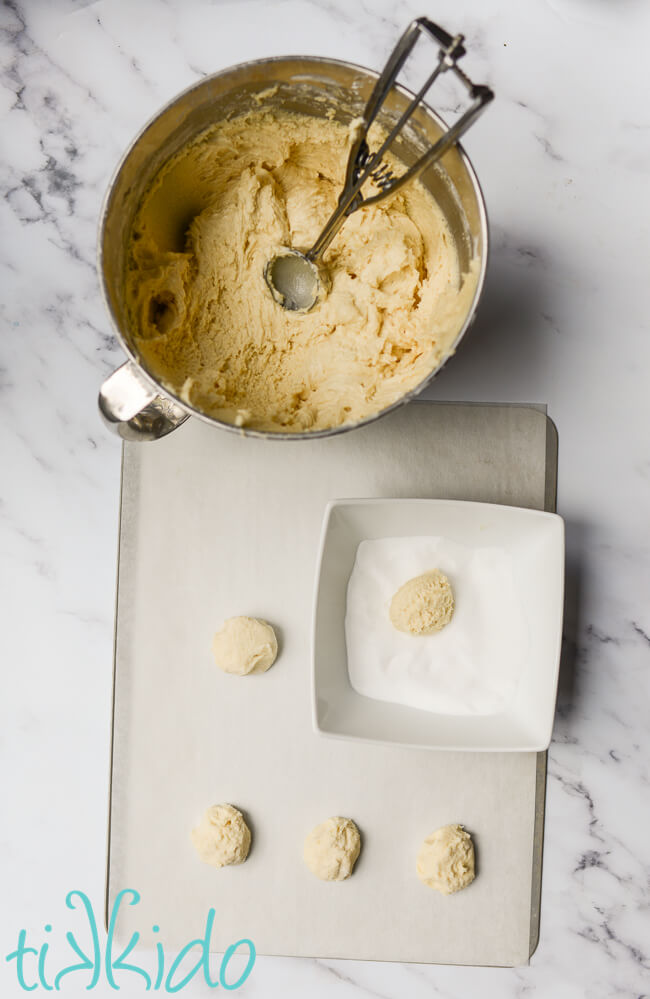 Scoop the cookie dough out (I like using a cookie scoop to get even cookies) and roll the dough in sugar.
Place the sugar-coated cookie dough on a parchment-lined cookie sheet.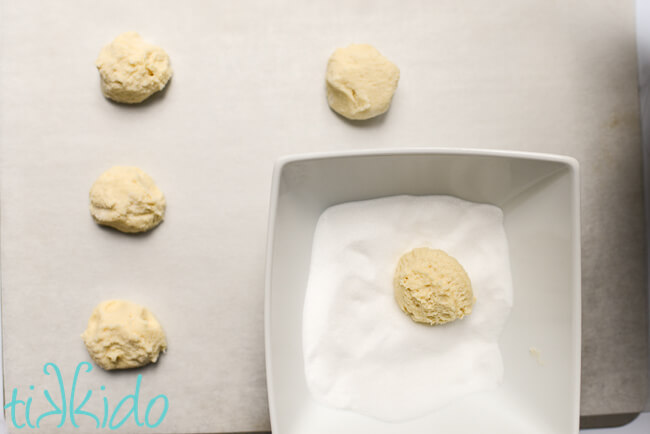 If you use regular baking sugar, you'll get a slightly crinkled top.  If you want extra crunch, use coarse sugar crystals (typically found with cake decorating supplies rather than the sugar for baking).  Both are delicious, but I used just regular, fine baking sugar here.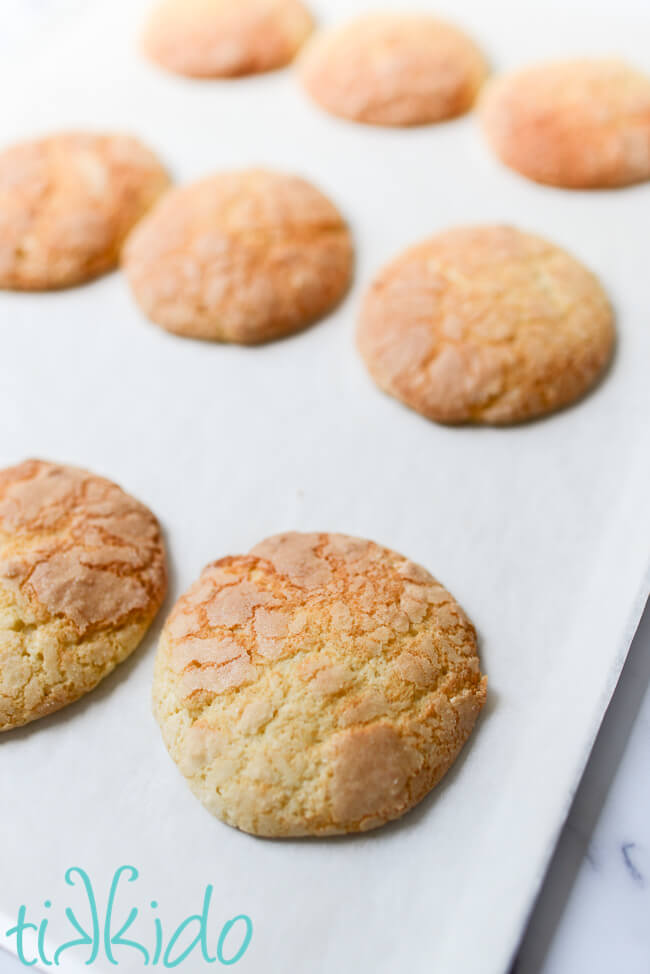 Bake at 350 degrees Fahrenheit for 12 minutes.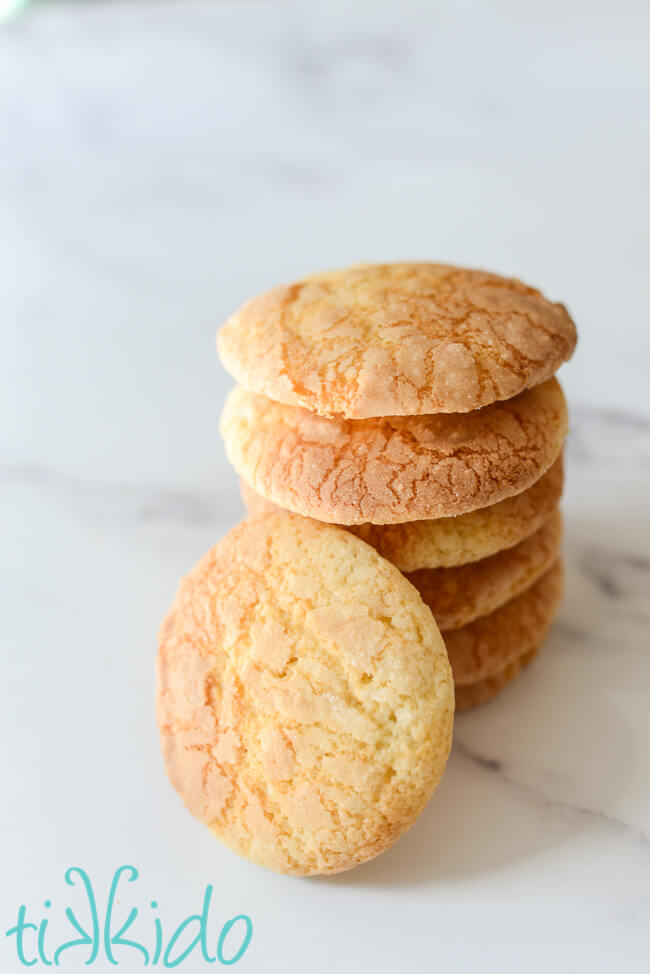 The cornstarch in these cookies helps to create the incredibly tender, soft texture that I love so much.  That pillowy softness combined with the delicate crackle of the crisp sugar on the outside of the cookies makes the most amazing texture.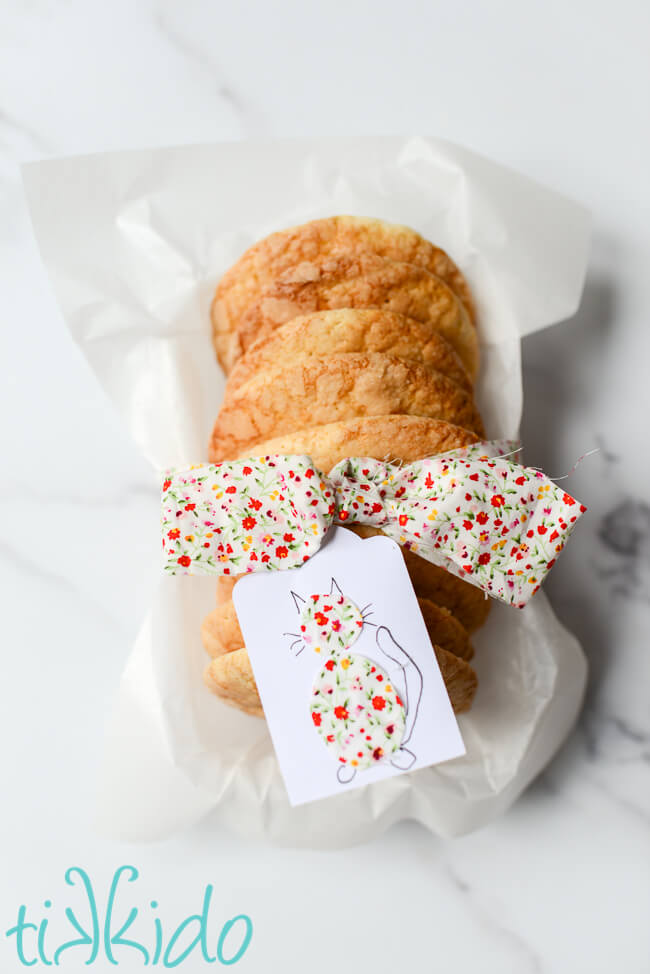 And the taste?  Simple, classic, and absolutely perfect.  These soft sugar cookies aren't the flashiest cookies around, but I'll bet you'll love them as much as I do.
Printable Soft Sugar Cookie Recipe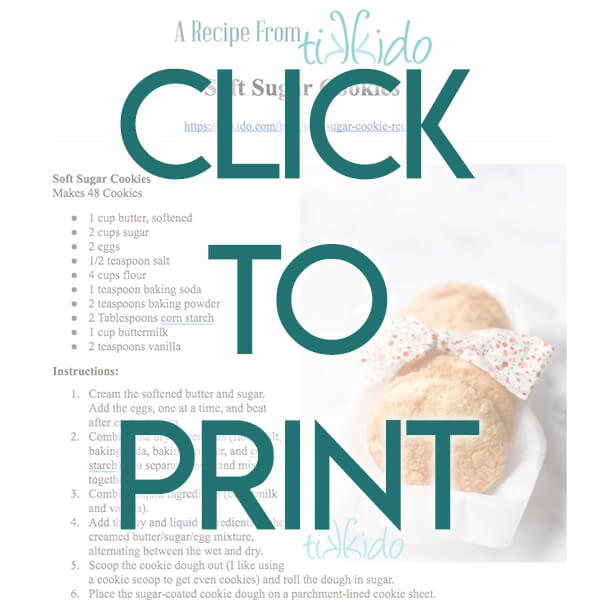 Other Soft Cookie Recipes You Might Like: