Printer-friendly version
I absolutely love chocolate covered strawberries.  Chocolate is great on its own, strawberries are absolutely delicious, but together?  Pure magic.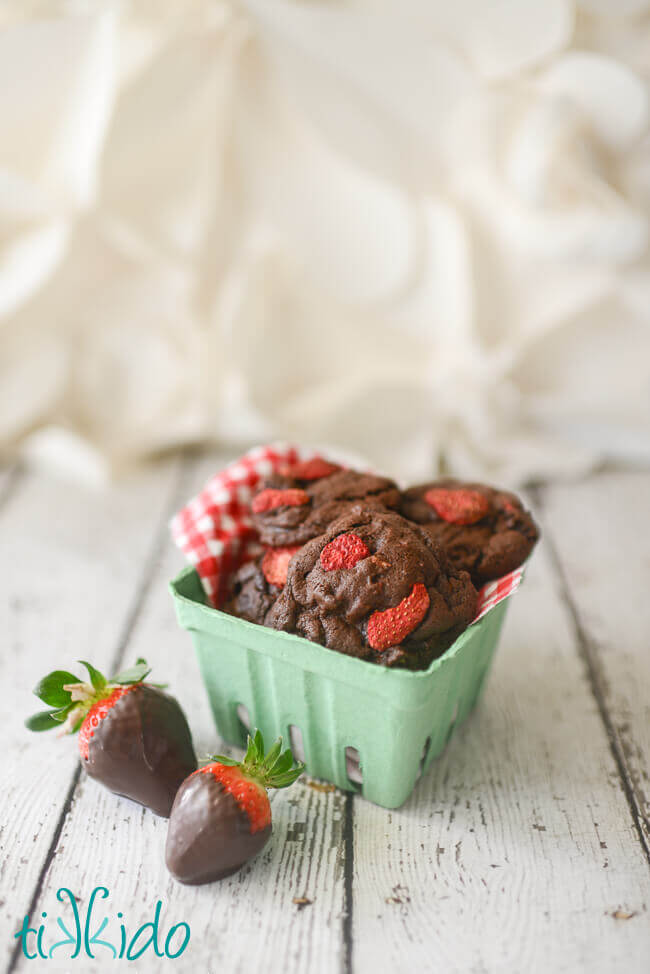 I've been on a bit of a freeze dried fruit kick recently, and I absolutely love baking with freeze dried fruit (like my strawberry cake recipe, and my blueberry scones).  As I was thinking of Valentine's day and that classic romantic flavor pairing got me thinking of trying to create a cookie version of the treat.  And so I did.  Chocolate covered strawberry cookies, people.  Oh yes.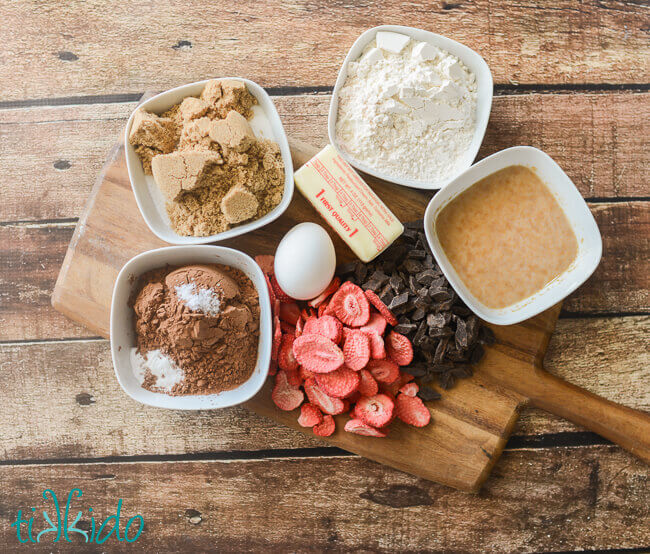 First I went searching for a fabulous chocolate chocolate chip cookie recipe.  I tried a few, but absolutely loved the Inside Out Chocolate Chip Cookies by Sally's Baking Addiction.  This recipe is just a variation on her excellent recipe.
Chocolate Covered Strawberry Cookie Recipe (printable recipe at the end of the blog post):
1.2 cup butter, softened
1/2 cup sugar
1/2 cup brown sugar
1 large egg
1 teaspoon vanilla
1 cup flour
1/2 cup plus 2 Tablespoons unsweetened cocoa powder
1 teaspoon baking soda
1/4 teaspoon salt
2 Tablespoons milk
3/4 cup chocolate chips
1 1/2 cups freeze dried strawberries
Cream the butter and sugars together, then beat in the egg.  Add the milk and vanilla and beat.  Add the dry ingredients (but not the strawberries or chocolate chips yet!) and mix until a rich, chocolate dough forms.  THEN add the freeze dried strawberries and chocolate chips and mix until just combined.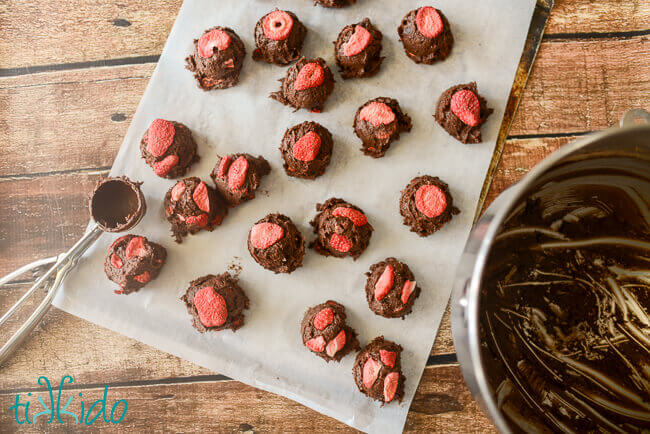 Here's where I deviate from Sally's Baking Addiction's technique slightly.  Instead of chilling the dough and then scooping and rolling, I find it much easier to scoop the cookies out first, and then I like to freeze them, not just refrigerate them.  Sally definitely mentions the possibility of freezing the dough, but it's hands-down my preferred technique.  
Scoop the dough out onto a parchment-lined baking sheet.  I added some strawberry bits to the tops of the cookies so you could really see them, but that's purely a cosmetic thing.
 Note:  I don't bake them this close together!  I just scoop them out like this so I only have to find room for one cookie sheet in the freezer.  Freeze for at least 30 minutes, and up to three months. (If you're doing the weeks or months thing, you should remove the frozen cookie dough balls from the baking sheet and place in a freezer bag.)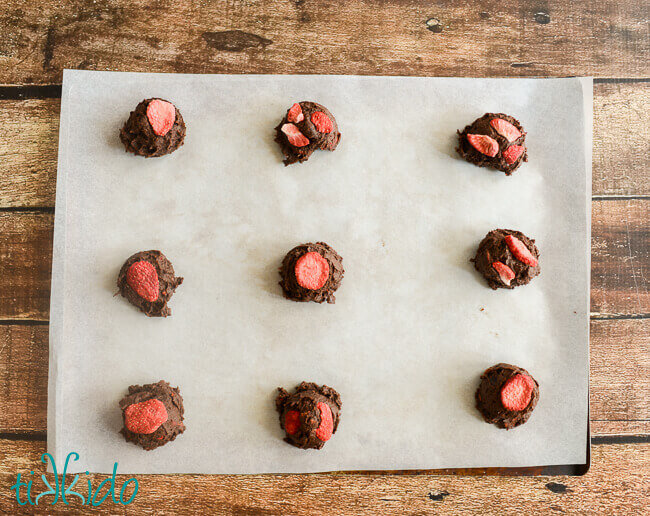 This is how far apart I bake the cookies.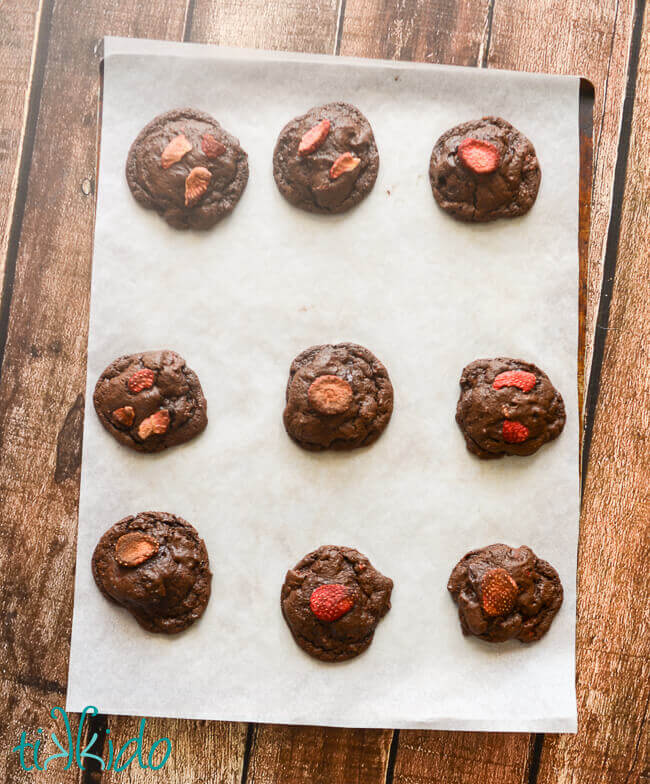 Bake for 10 minutes at 350 degrees, or 9-10 minutes at 325 convection.
Let cool completely before removing from the parchment paper.
Some of the strawberries I put on the top of the cookies turned toasty brown, and some didn't.  I have no idea why or how some of them retained their color while others didn't.  I was baking with convection, and the browned strawberries seemed really randomly distributed on each of the three pans.  I have no answers for you, sorry.  Maybe the browned strawberries had a higher natural sugar content?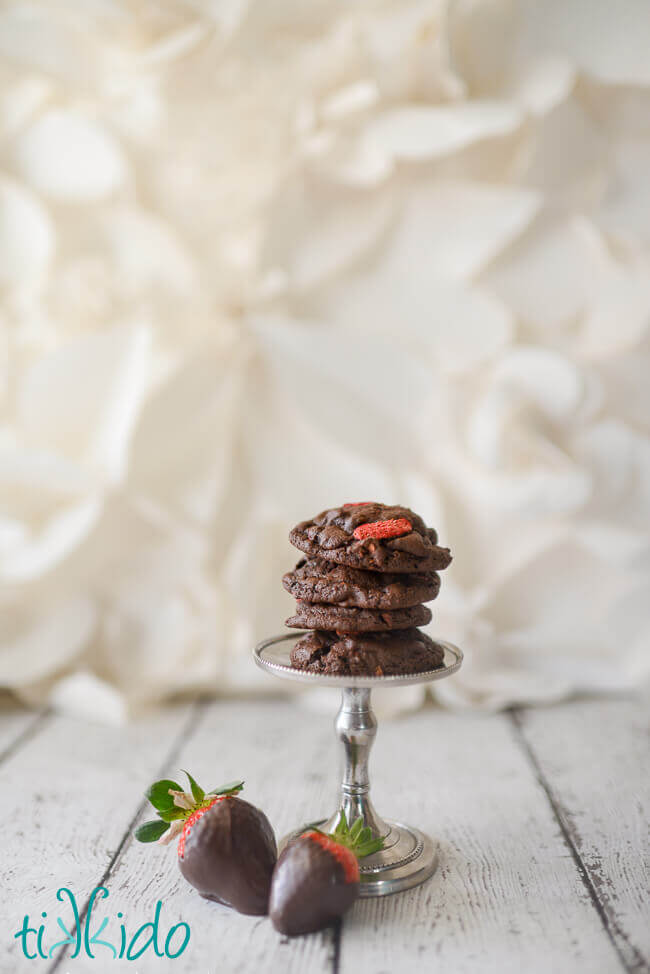 These cookies are amazingly rich and chocolatey, with a fudgy, soft, brownie-like interior texture.  The freeze dried strawberries (unlike dried fruits) keeps an intensely bright fruity flavor that can stand up to the double-whammy of chocolate in this cookie recipe.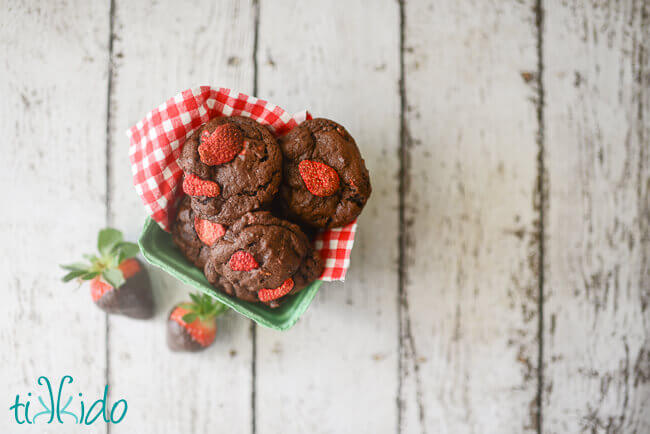 Nothing could quite beat a classic chocolate covered strawberry in my book, but there is definitely a place in my heart for the chocolate covered strawberry cookies.  And in my mouth.  And my stomach.
What's your go-to Valentine's day dessert?
Want a printable, one page version of this recipe?  Here you go:  Printable Chocolate Covered Strawberry Cookies Recipe