Printer-friendly version
Strawberry cake from scratch is absolutely delicious, and so much better than anything made with a box mix!  This strawberry cake recipe bakes up to the perfect shade of pink, and is full of real strawberry flavor.  Looking for a homemade strawberry cake recipe to make the perfect pink Valentine's Day dessert?   This is it!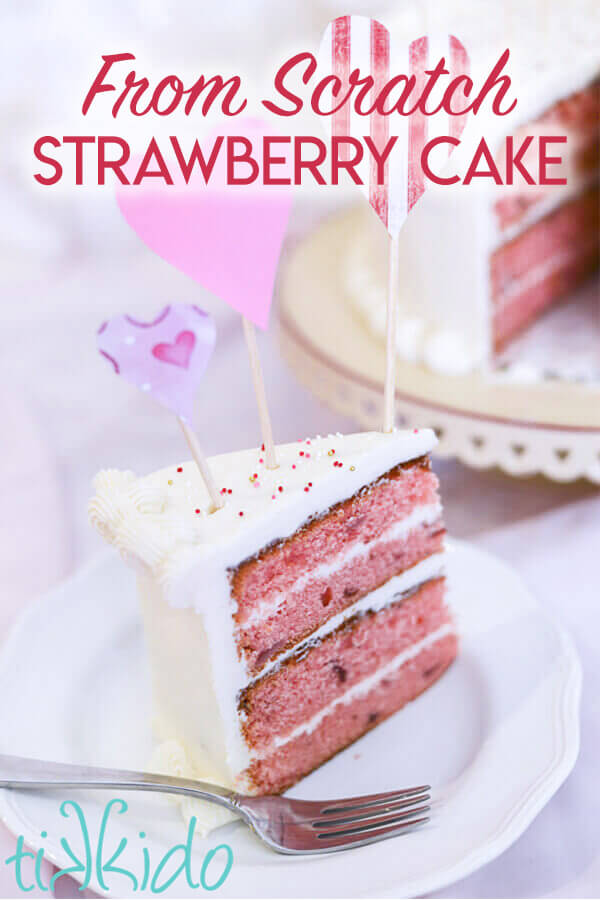 It's hard to find a strawberry cake recipe that doesn't start with "Go buy a box of strawberry cake mix."  I don't have anything against boxed cake mixes as a general rule, but boxed strawberry cake always tastes so artificial, and nothing at all like real strawberries.   This recipe absolutely bursts with REAL strawberry flavor, and is incredibly delicious.
This is a recipe for strawberry cake with Jello, but if you want a version without any strawberry gelatin, scroll down to the bottom of the post where I share how to adapt this recipe.
Strawberry Cake from Scratch
2 cups sugar
1 3 oz box of strawberry gelatin
1 cup butter, softened
4 eggs
1/2 t salt
2 1/2 t baking powder
2 3/4 cups flour
1 cup milk
2 t vanilla
1/2 cup strawberry puree
1/2 a package (about .6 oz) freeze dried strawberries
This recipe was good when I was just using the fresh strawberries and strawberry gelatin.  But when I decided to try adding the freeze dried strawberries, WOW.  What incredible strawberry flavor!  Don't be tempted skip that ingredient; it really makes a huge difference.
Preheat oven to 350 degrees Fahrenheit.  
Beat together the sugar, butter, and strawberry gelatin, until the mixture is nice and fluffy.
Beat in eggs, one at a time, and be very sure to mix well after each egg is added.  Don't be tempted to throw in all the eggs at once!  Doing it one at a time really makes a big difference in this recipe.
Add the salt, vanilla, and baking powder, strawberry puree, and mix.  
Add the flour and the milk, alternating between wet and dry.  By that, I mean add some of the milk, then add a portion of the flour, then add a little milk, etc.  
Once the all the flour and milk have been incorporated, add in the freeze dried strawberries and mix one more time, until incorporated.  
Divide batter between two 8" round, prepared cake pans. 
How to Prepare Cake Pans for Baking Homemade Strawberry Cake:
The traditional method for preparing cake pans so that the cake will come out nicely after baking calls for coating the inside of the pan with a coating of butter, and then coating the butter with a layer of flour.  That absolutely works, but I'll share an alternate method that I think is easier, faster, and more reliable.
Cut a circle of waxed paper or parchment paper the size of your cake pan.  I just trace the bottom of my cake pan with a pencil and cut just inside that traced line to make my circles the perfect size.  Place the waxed paper circle at the bottom of your cake pan. 
When the cake comes out of the oven, run a knife around the edge of the pan, and the liner will make the cake pop right out when you invert the pan.  Just remember to peel it off before icing the cake!
Bake at 350 for approximately 45 minutes, or until a toothpick comes out clean.
This cake is seriously good iced with a simple cream cheese frosting.  Add a few simple decorations (these only took me five minutes, tops, to throw together), and you have an impressive, and more importantly delicious, Valentine's day treat.
From Scratch Strawberry Cake Recipe Without Jello
If you're making a strawberry cake for a vegetarian, you'll want to eliminate the strawberry gelatin (which contains animal products) from this recipe.
Double the freeze dried strawberries in the recipe.  Use a mortar and pestle to grind half of the strawberries into strawberry powder to help the flavor disperse evenly.
Don't increase the fresh strawberry content!  It throws off the moisture balance.  Rely on the freeze dried strawberries for great strawberry flavor.
The color of the cake won't be as pink as the version made with strawberry Jello.  Add pink food coloring if you want a more distinctly pink cake.
Want to know how to make the heart cake topper?  It's SO easy!  Get the tutorial for the paper hearts cake topper here.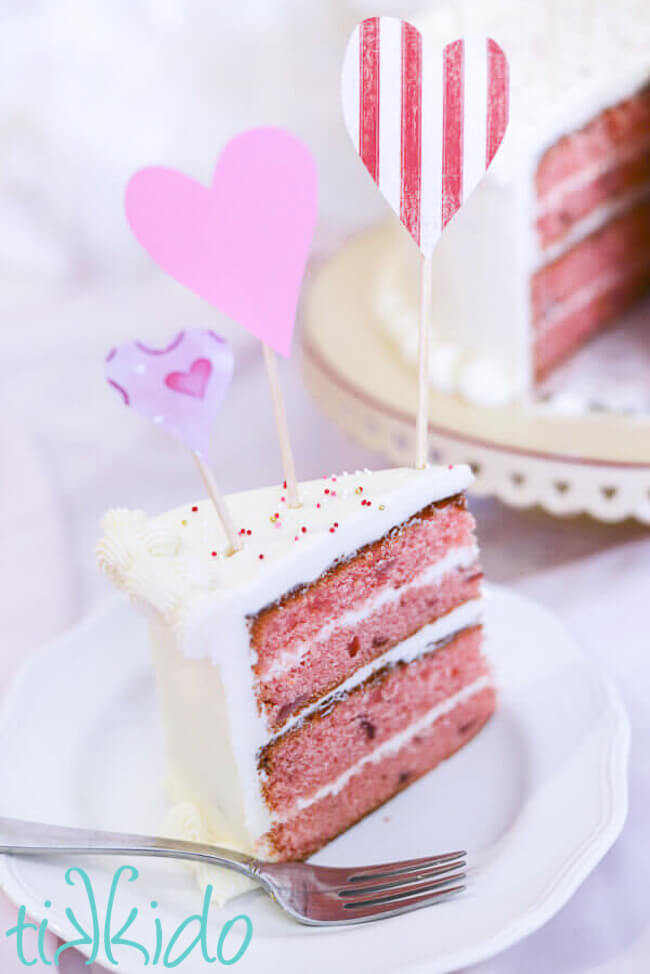 what are you making for Valentine's day?
Printable, One Page Strawberry Cake Recipe (From Scratch!)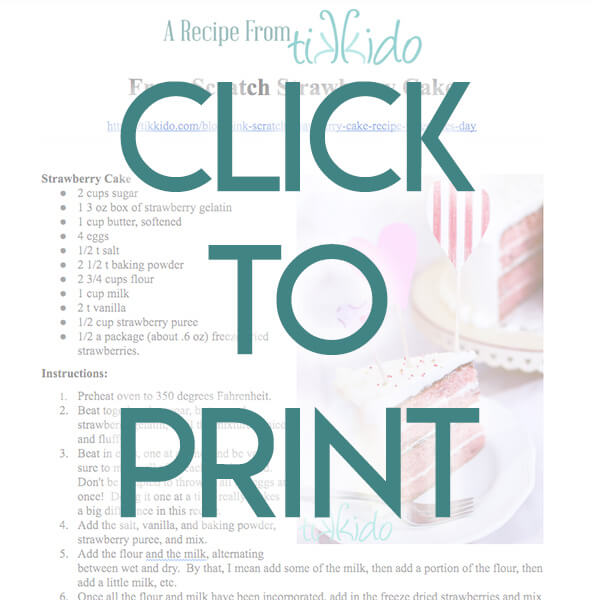 Other Cake Recipes You Might Like: