Printer-friendly version
Mmm, cookies and cream.  One of my favorite flavor combinations.  So when I was creating the popcorn bar for the Firefly Theater outdoor movie night for Festivities magazine, I knew I wanted to play with those flavors and make a popcorn version. Cookies and cream popcorn--the best of both worlds!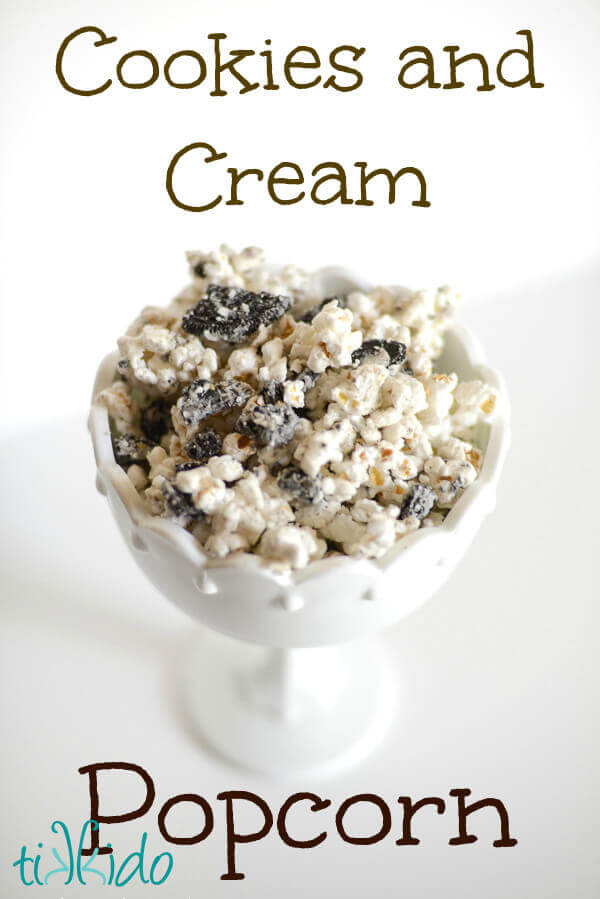 This was so insanely simple to make, but it was just snarfed down by everyone who tried it.  
Cookies and Cream Popcorn Ingredients:
popped popcorn
white chocolate melts
crushed Oreo cookies
First, pop your popcorn.  I absolutely love my Nordicware microwave popcorn popper.  It takes up way less space than an air popper, and doesn't overheat after two batches and conk out like the air popper, either.  It doesn't require the use of any oil at all, though you have the option of using oil for flavor. I'm so glad I bought this device!  We use it all the time.
How much popcorn to make, you ask?  Eh, this is less of a recipe and more of a technique.  I was making popcorn for a crowd, and so popped about 15 cups of popcorn.  You could easily scale this recipe up or down, though.
While the popcorn is popping, put Oreo cookies in a large plastic bag and start taking out your agression on it.  Or give it to your kid, if you trust your three year old with a kitchen weapon with that kind of p-atk.  Be sure to leave some good sized chunks of cookie, and not pulverize everything into delicious dust.
Melt the white chocolate melts in the microwave.  I used a 12oz bag of Wilton white chocolate candy melts, available at any major craft store.  
Pour the melted white chocolate over the popcorn and stir to coat.  Add the crumbles of Oreo cookies, and stir to combine.  Let cool until chocolate hardens again (this can be sped up by putting the popcorn in the fridge).  
Cookies and Cream Popcorn Tips:
Be sure to pick out any unpopped kernels of popcorn before mixing the Oreo cookies and chocolate in the mix!
Spread the chocolate covered popcorn in a single layer to cool and harden. Otherwise you'll end up with a giant lump of Cookies and Cream popcorn.  Delicious, but difficult to eat.
Yes.  Just...yes.
Other Popcorn Recipes You Might Like: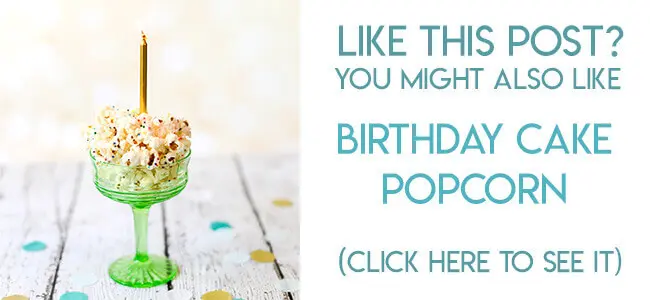 Other Cookies and Cream Recipes You Might Like: