Printer-friendly version
Does anyone else get all tingly with excitement when cranberries start appearing in grocery stores again?  Anyone?  ....Anyone?  Ok, maybe that's overstating it a bit, but really and truly, I love cranberries.  Especially in baked goods.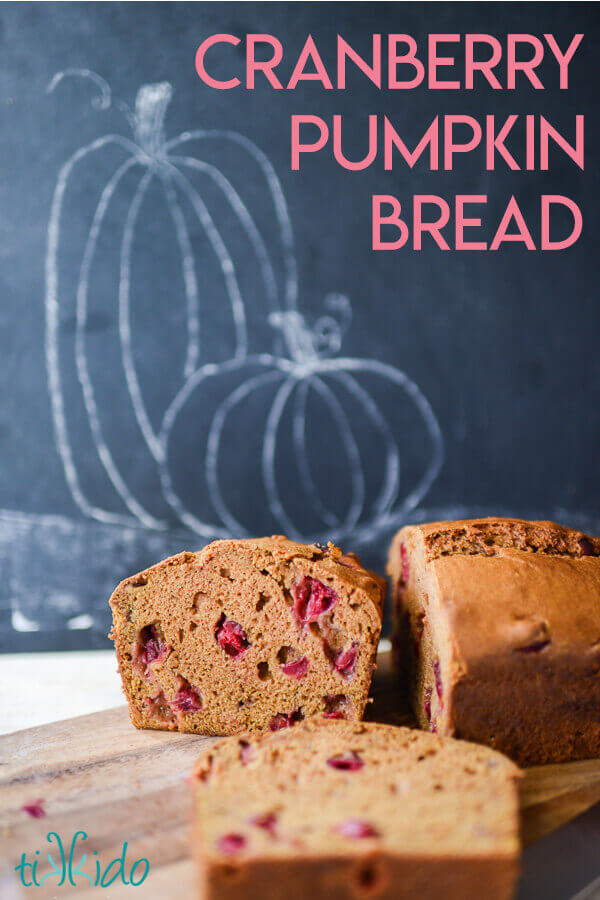 And one of my very favorite ways to bake with cranberries is in my favorite cranberry pumpkin bread.
Sweet pumpkin bread dotted with juicy, tart cranberries: what a perfect combination of flavors!
Cranberry Pumpkin Bread Recipe:
4 eggs
2 cups pumpkin puree
1 cup vegetable oil
3 cups sugar
4 1/2 cups flour
1 T cinnamon
1 t ground ginger
1 t ground nutmeg
1/2 t ground allspice
1/2 t ground cloves
2 t baking soda
1 t salt
4 cups whole fresh cranberries
You read that right, four cups of whole, fresh, unsweetened cranberries.  I love that this recipe doesn't skimp on the tart, fruity goodness. I want cranberries in EVERY BITE.  
Combine everything but the flour and the cranberries, and mix well.  Add the flour, and mix until combined.  Finally, add the whole cranberries, and stir until they're evenly distributed.
Place batter in two ungreased loaf pans.
Bake at 350 degrees for 80-90 minutes.  Use a toothpick or wooden skewer to test to be sure the loaf of bread is done.  
The scent of this bread baking is absolutely amazing.  It's a good thing this recipe makes two loaves, because the enticing aroma is sure to lure anyone within sniffing vicinity to the kitchen to beg for a slice.