Printer-friendly version
One of my best friends from college, Beck, introduced me to Crepes Suzette.  Oh, my parents had probably made them for me, but they were one of Beck's specialties, and I always think of them as one of her special dishes.  Her birthday was last week, and since it nicely coincides with fresh oranges on the tree in our backyard, I've made a habit of making Crepes Suzette every year on Beck's birthday, even though we're far apart.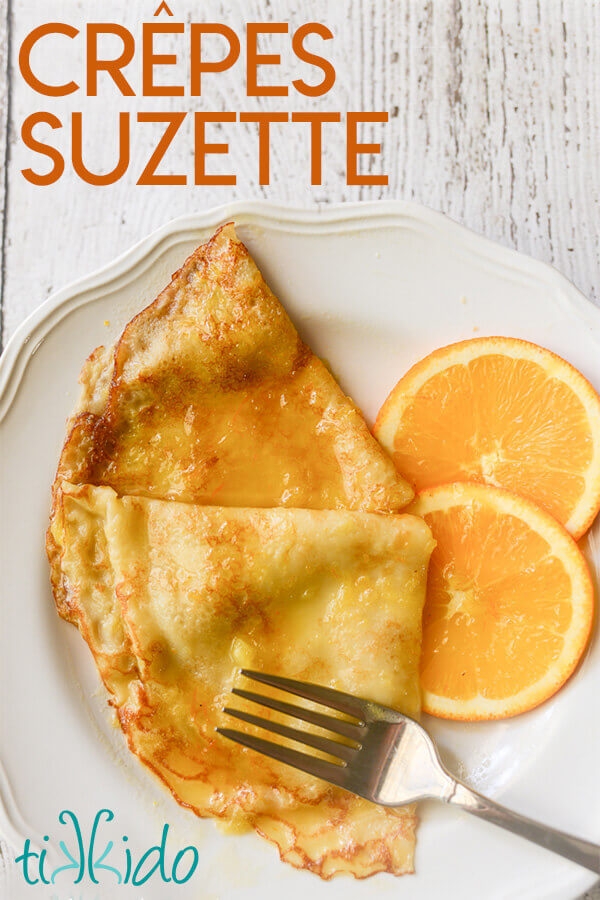 Some people deem these merely a dessert, and they are a decadent treat, but I say they can totally be a breakfast or brunch, too.  They're just a type of pancake, after all!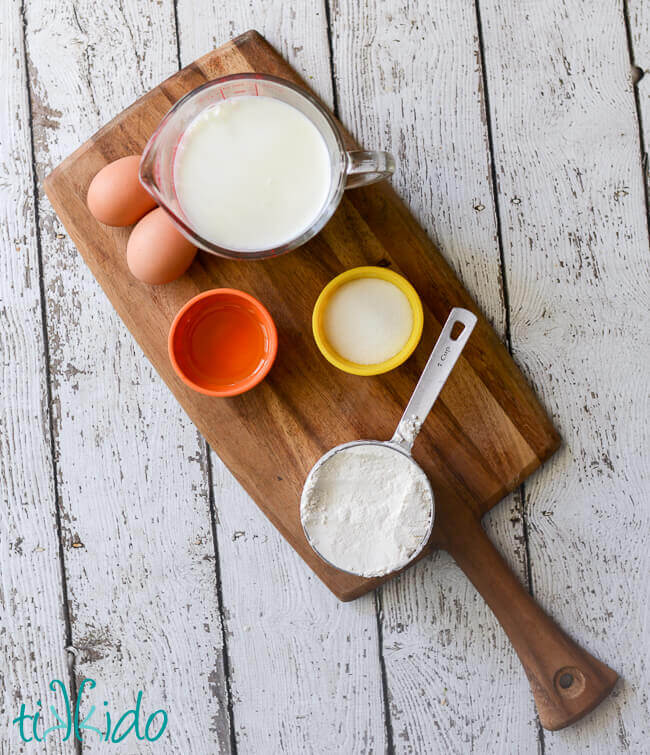 The recipe I use is from the Better Homes and Gardens cook book, a long-time family favorite.
Sweet/Dessert Crepe Recipe:
2 eggs, beaten
1 1/2 cups milk
1 cup flour
1 Tablespoon cooking oil
1/4 teaspoon salt
2 Tablespoons sugar
Whisk all ingredients together to form a thin batter.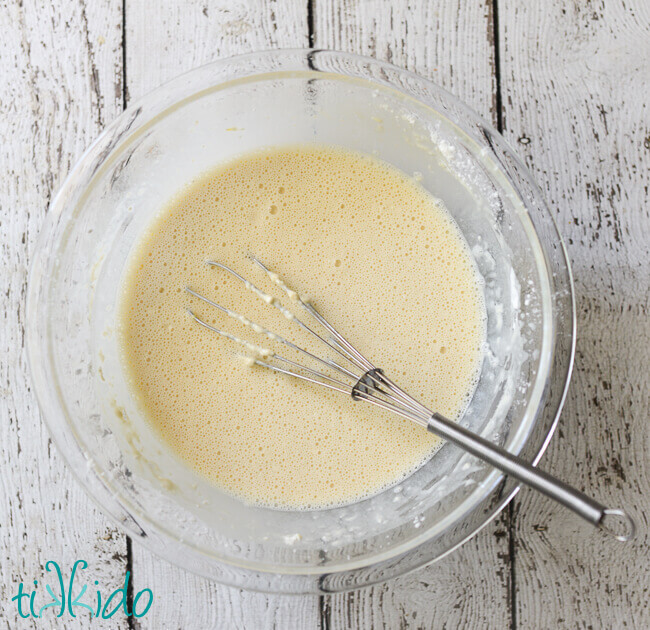 Place a smallish non-stick skillet or crepe pan (Beck gave me mine one year!  I'll cherish it forever.) over medium heat, and add a small bit of butter to the pan to further help the batter release easily.  I just take a stick of butter, unwrap one end, and rub it on the hot pan briefly to leave a small coating of butter on the surface of the pan.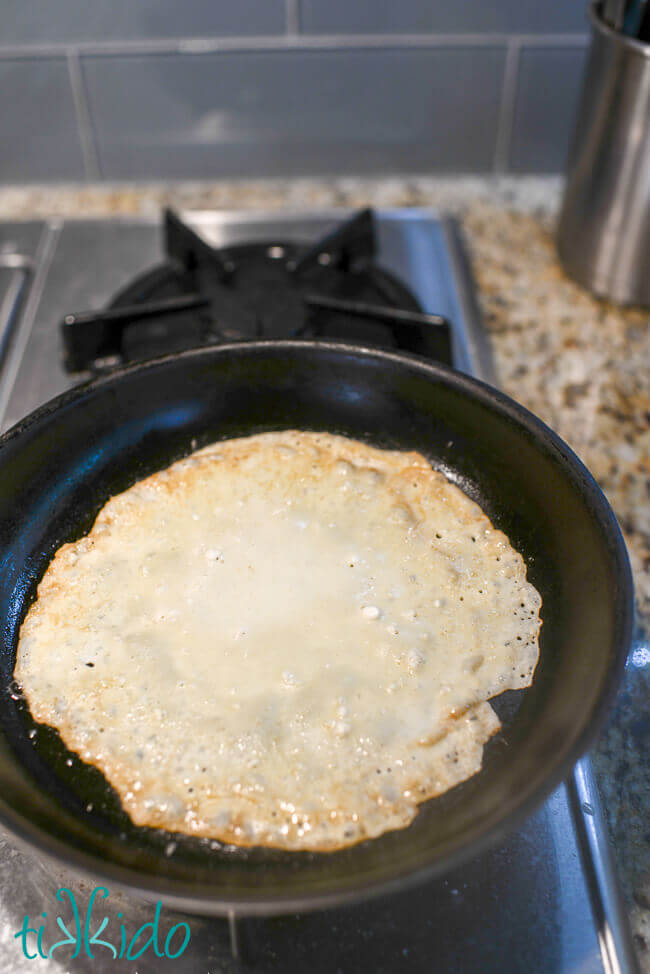 Pour 1/4 cup of batter in the pan, and tilt the skillet to spread the batter evenly.  Let cook until the batter is cooked through, but only cook on one side.   Use a spatula to fold the crepe into quarters, and transfer to a waiting plate while you make the rest of the crepes.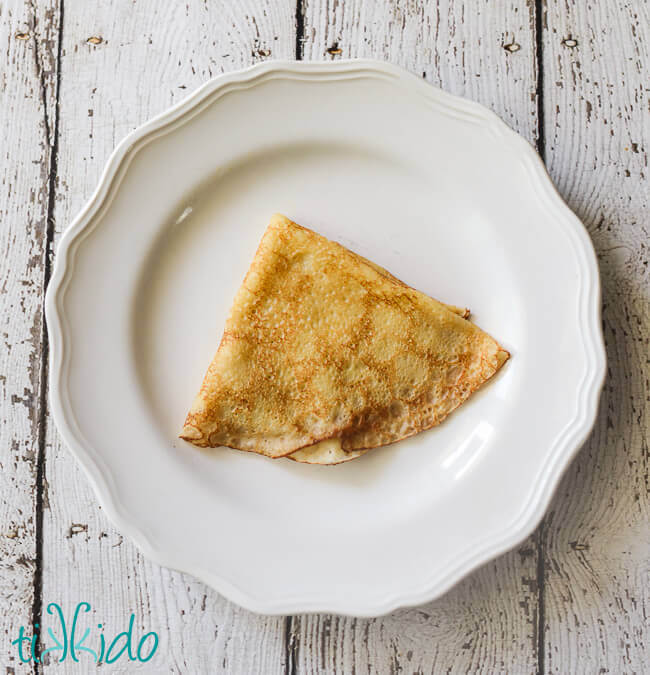 Now it's time for that amazing crepe suzette sauce!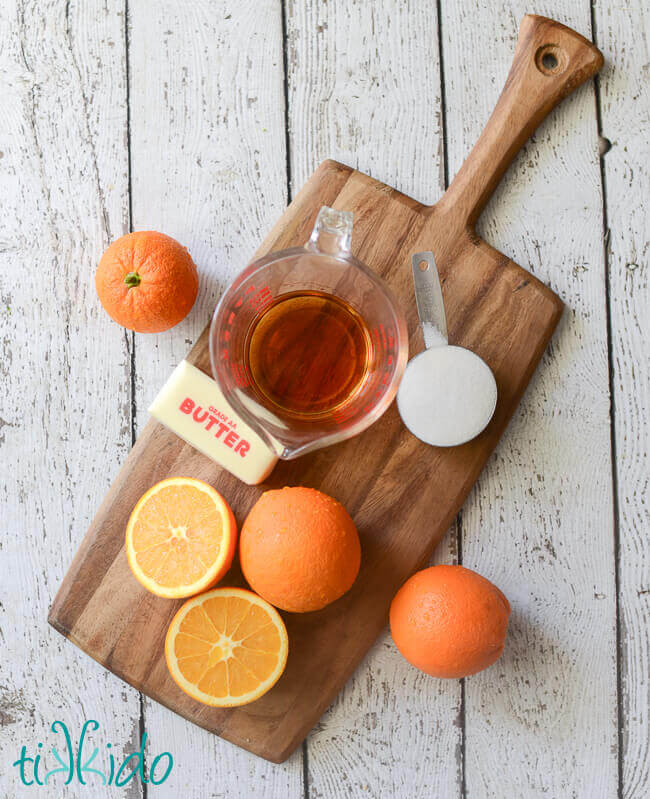 The crepes are delicious all on their own, but the sauce is truly magical.
Crepes Suzette Sauce Ingredients:
1/2 cup (8 Tablespoons) butter
zest of one orange
1/2 cup orange juice
1/3 cup sugar
1/4 cup orange liqueur
HELD SEPARATELY 1/4 cup brandy
I emphasized the brandy ingredient because I can't tell you how many times I've accidently dumped it into the main sauce when following the directions in the BHG cookbook.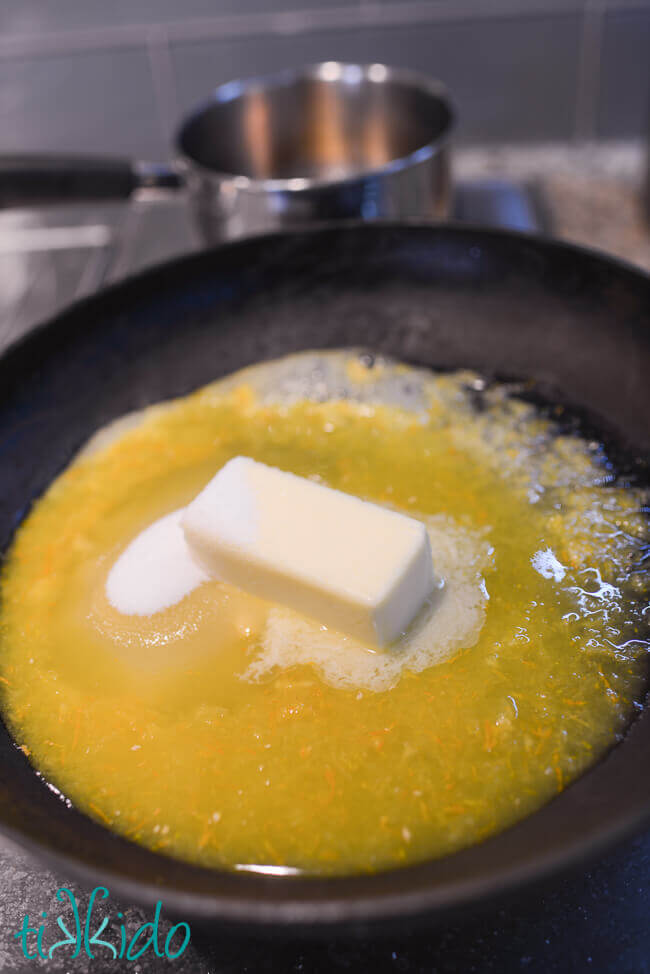 Combine butter, orange zest, orange juice, sugar, and orange liqueur in a large saucepan.  Let the butter melt, and bring mixture to a simmer so that the sugar dissolves and the ingredients combine.  Add the prepared crepes to the pan of sauce, and let them warm in the mixture at low heat.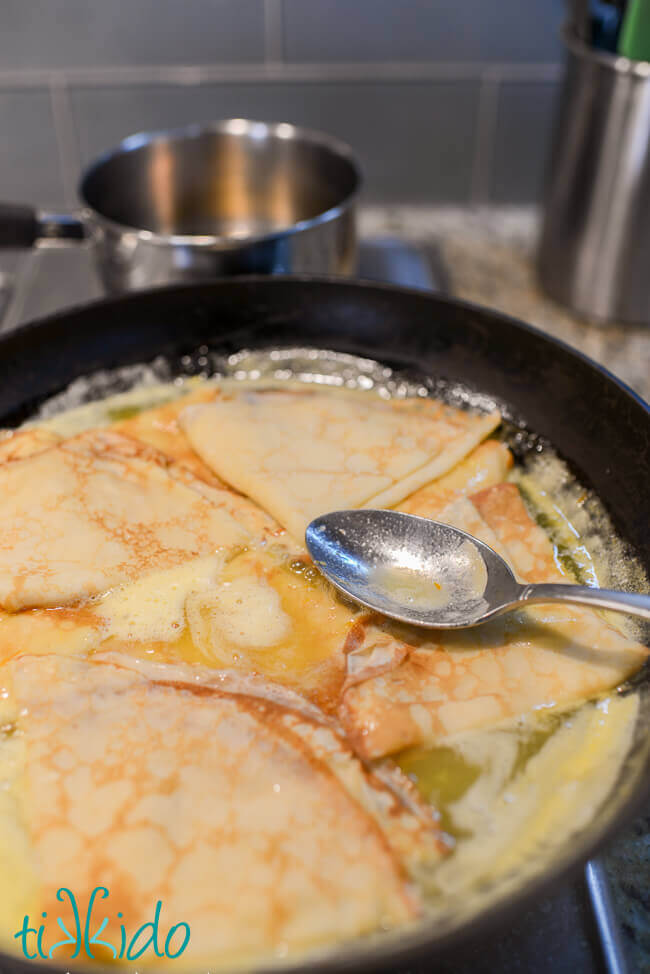 In the meantime, heat the brandy in a separate, small saucepan.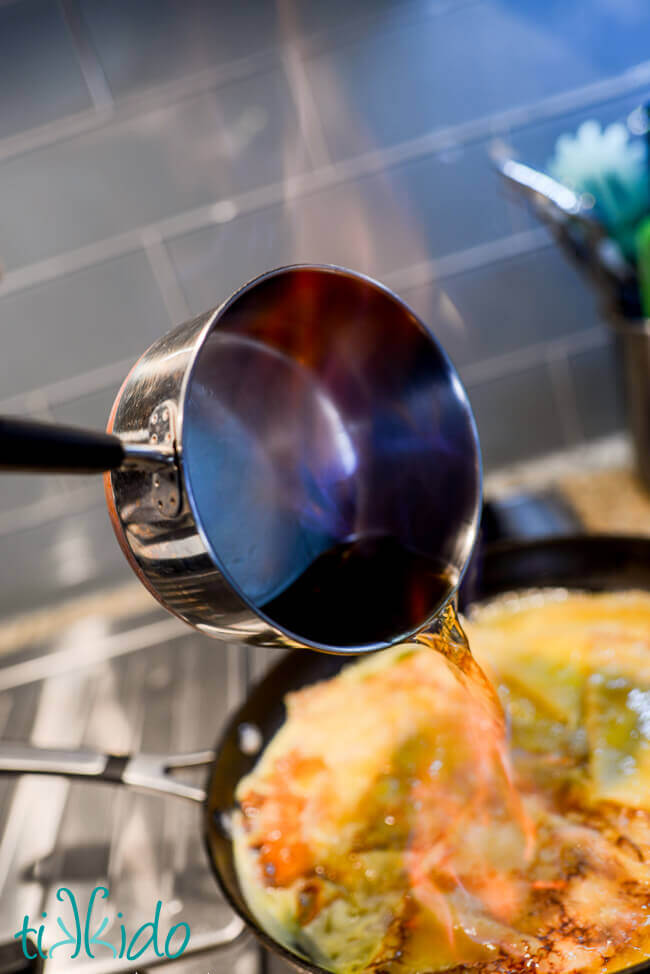 Now for the fun part!  Use a long match or lighter to ignite the heated brandy in the small saucepan, and pour on top of the crepe and sauce mixture.  Look at those flames!  It's very thrilling, I assure you.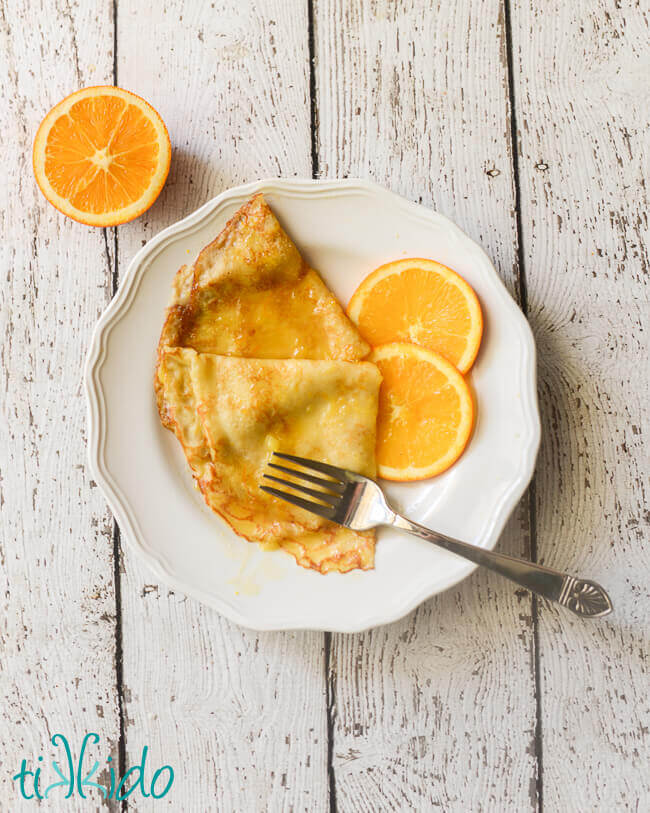 Once the brandy flames have burnt out, place the crepes on a plate, and spoon some of that divine sauce on top.  My oldest daughter hasn't particularly liked Crepes Suzette in previous years, but this year, she couldn't get enough of them!  Yes!  We have another convert to help me celebrate Beck's birthday!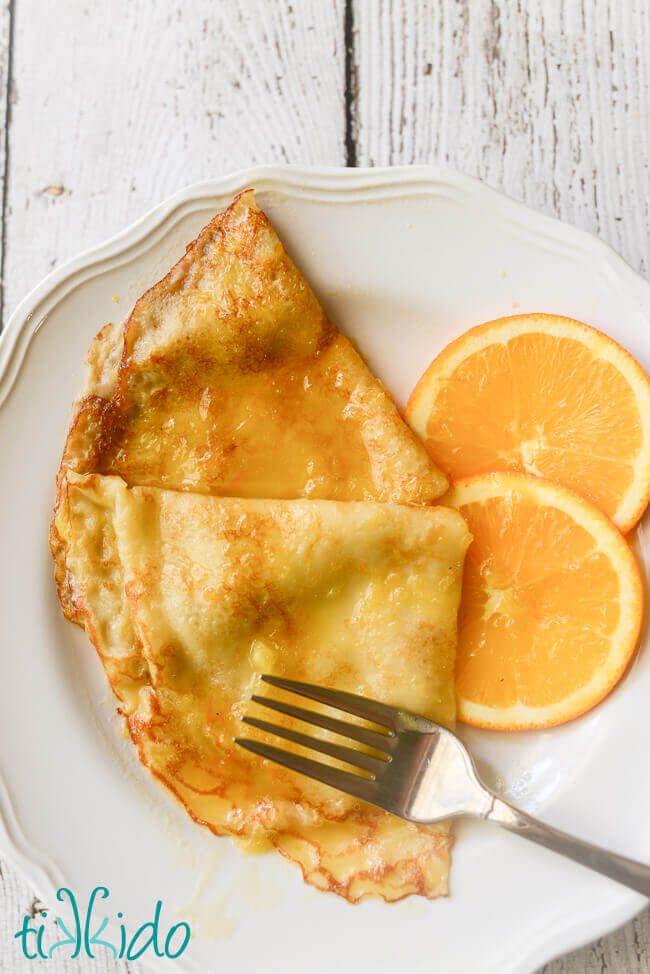 Happy birthday, Beck!  
Printable, One Page Crepe Suzette Recipe: