Printer-friendly version
Candied rhubarb is an easy, delicious method of preserving rhubarb.  Turn rhubarb into a perfectly sweet and tart chewy snack with this candied rhubarb recipe.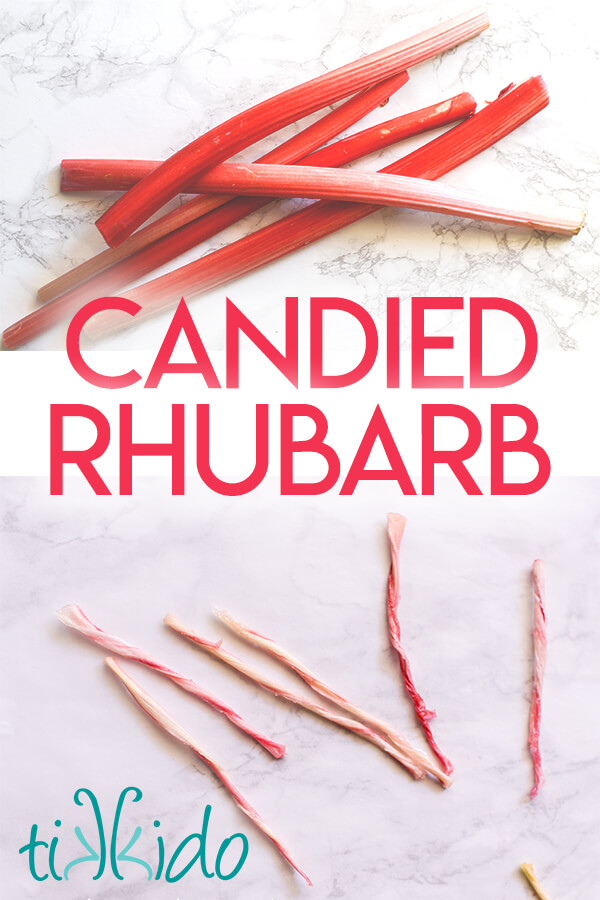 I had a bit of rhubarb left from making the roasted rhubarb compote the other day.  Not enough to make another batch of the sauce, but I certainly didn't want to let my precious rhubarb go to waste, so I decided to make candied rhubarb.
It's simple, it's sweet, it's tart, and it's even pretty, too.  I'm officially in love.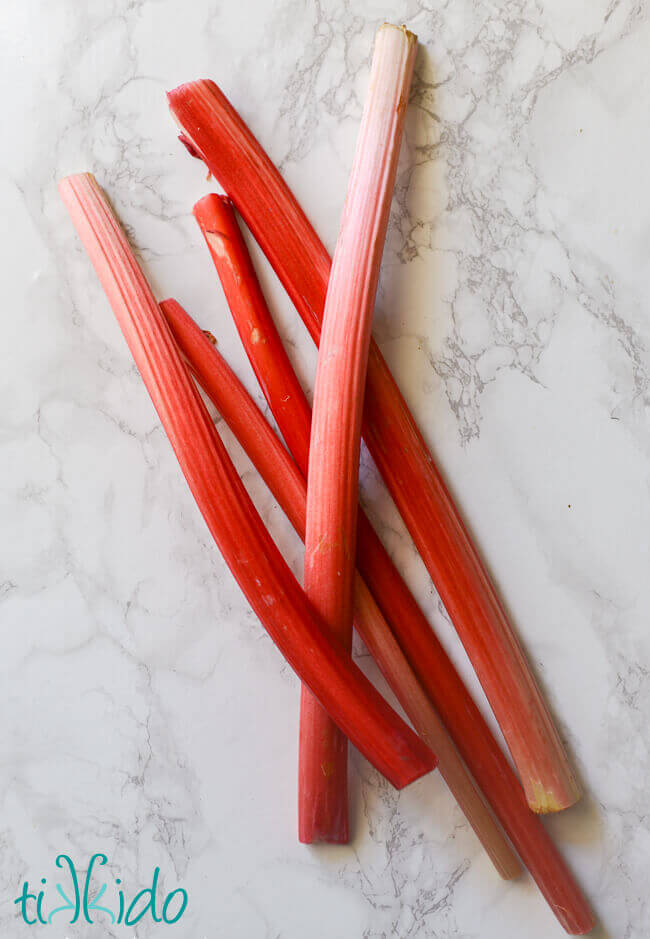 It all starts with glorious fresh rhubarb, one of the very best things about spring, in my opinion.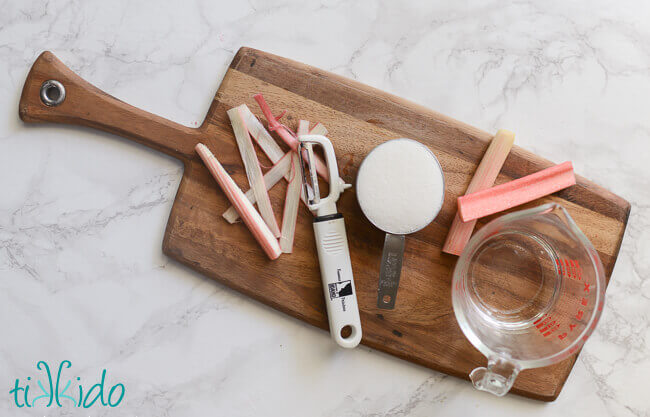 Candied Rhubarb Recipe:
fresh rhubarb stalk, sliced thinly
1/2 cup sugar
1/2 cup water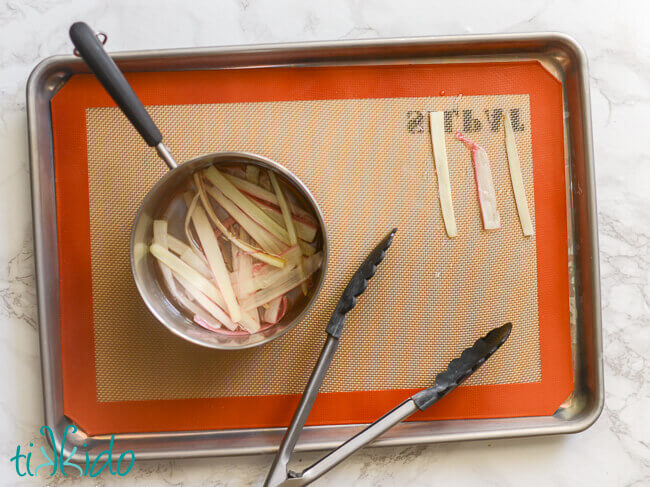 Use either a sharp knife or a vegetable peeler to cut  the rhubarb into thin strips.  
Heat the water and sugar together in a small saucepan, until the sugar is completely dissolved.  Put the strips of fresh rhubarb in the warm simple syrup, and then arrange the sugar-coated rhubarb on a baking tray lined with a non-stick silicone mat.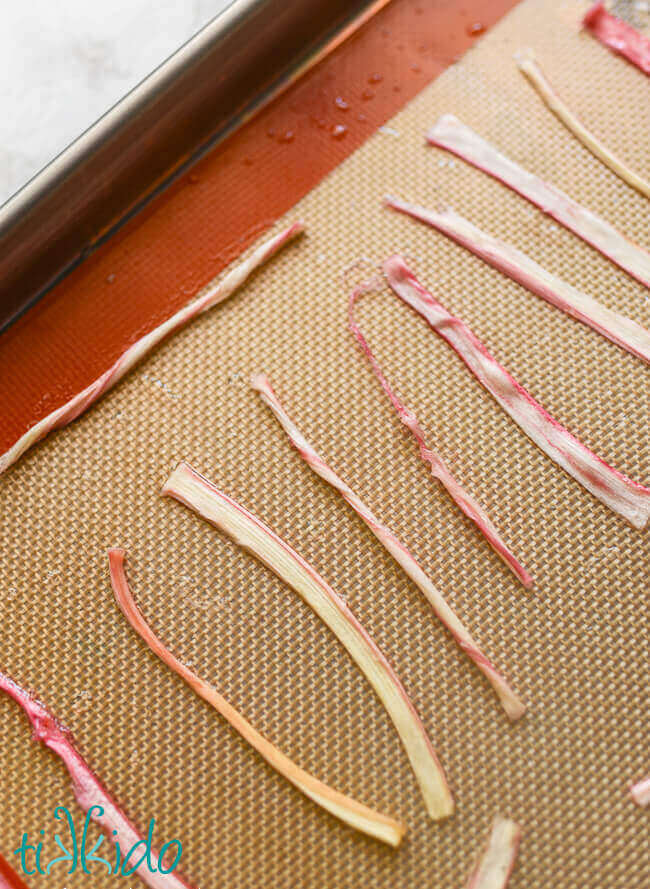 Bake at 200 degrees Fahrenheit for about 45 minutes, until most of the moisture is baked out of the rhubarb.  While it's still warm, it can be twisted into shapes.  It's fun, but sticky work.  I tried shaping some into spirals around wooden skewers, but they just clung to the skewers fiercely.  I think you'd need to use a metal shape at the very least, or perhaps a wax paper wrapped skewer.  I ended up just liking the strips of candied rhubarb just twisted gently by hand.  The red exterior and white interior of my stalk of rhubarb gave the twisted candies a candy-cane kind of effect.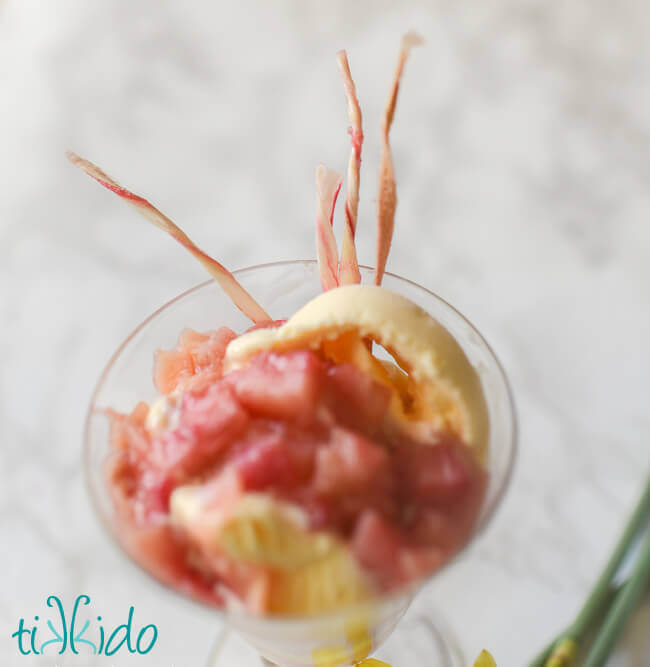 The candied rhubarb made a perfect garnish for my roasted rhubarb compote ice cream sundae, and made for delicious snacking the whole family enjoyed.  I'm definitely going to have to make this again--and in a much bigger batch next time!
Other Rhubarb Recipes You Might Like: