Printer-friendly version
Homemade lemon curd is truly a magical thing.  Bright lemon flavor, with just enough sweetness--it's absolute heaven spread on a fresh scone or a piece of toast.  Or by the spoonfull.  This simple recipe for lemon curd is a magical way to use up some of the lemons that are in season right now.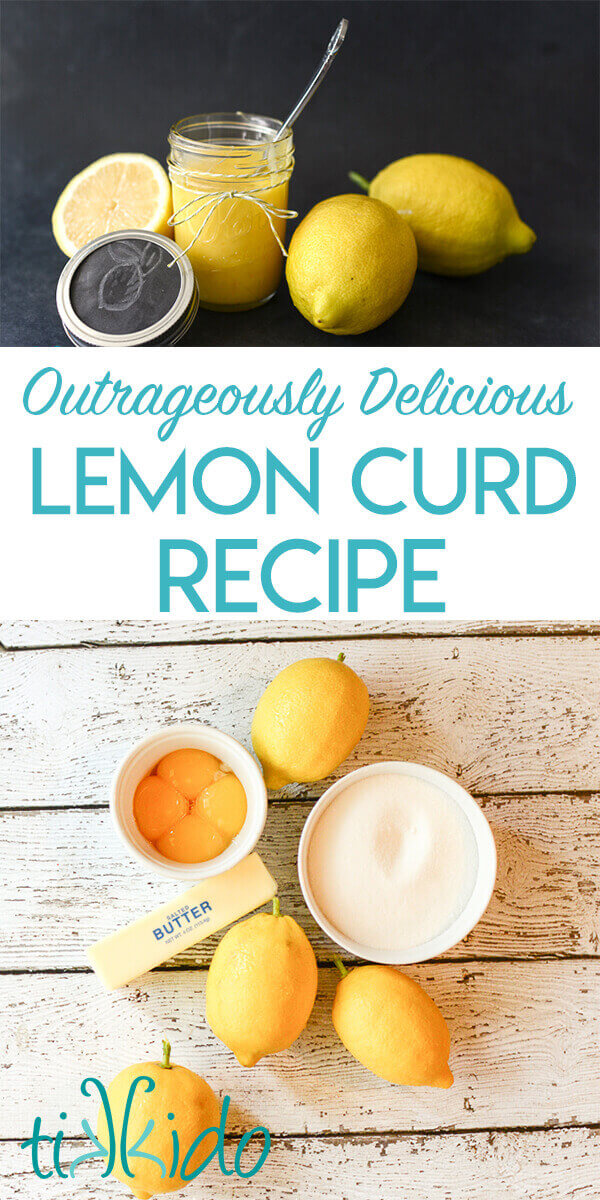 You can buy lemon curd in stores, but it's kind of hard to find, and it's usually kind of expensive, and it's never as awesome as the homemade kind.  If you like lemon anything, do yourself a favor and try this recipe.
Lemon Curd Recipe:
5 large egg yolks
1 cup sugar
1/3 cup lemon juice (freshly squeezed)
8 Tablespoons of chilled butter (one stick, cut into 8 parts)
Since the recipe just uses egg yolks, this is a fabulous recipe to try if you have some leftover yolks from making meringues or pavlova or macarons.
Start by zesting those beautiful lemons with a fine grater.  You'll want a microplane style zester rather than one that peels off large pieces of zest, because you don't want large chunks of peel in your lovely, smooth lemon curd.
I used lemons from my tree, and I know they're organic, because I know I haven't sprayed them with anything (mostly because we're lazy landscapers).  But if you're buying lemons, I'd look for organic, since you'll be using the skin of the fruit.
Lemon Curd Tip:  
Alton Brown recommends 4 lemons zested and juiced, but I think he must have been using awfully sad little dry lemons, because I got well over a cup of juice from my four lemons.  And they're not even particularly big this year, thanks to a glitch in the irrigation system during some very hot months.  You only need 1/3 cup of lemon juice for the recipe.
Whisk together the egg yolks and sugar, and combine until the mixture is smooth and a light yellow color, like this.  If it doesn't look smooth and creamy like this picture, and instead looks lumpy, like you're making a yellow sandcastle, you probably don't have enough egg yolk (eggs too small, perhaps--that's what happened to me).  No worries, just add one extra egg yolk, and you'll get this lovely texture.
Next, whisk in 1/3 cup lemon juice and the lemon zest.
If you have a double boiler, it's time to pull it out.  I don't use a double boiler often enough to justify storing one in our kitchen, so I just use a regular pot with a few inches of simmering water in the bottom, and a bowl large enough to sit on top of the pot.  You don't want the hot water to touch the bottom of the bowl, so just use a small amount of water, and make sure the bottom of the bowl sits high enough.  
Whisk the lemon mixture in the top bowl as it gently cooks until the lemon curd thickens.  This takes 8-10 minutes.  You should keep whisking the entire time, but trust me, it's worth the time spent standing at the stove!
Remove from the heat after the mixture has thickened, and mix in one pat of butter at a time, whisking until melted and incorporated before adding the next bit of butter.  Continue until all the butter has been incorporated.
Keep the finished lemon curd refrigerated.  The lemon curd will thicken substantially when chilled.
Uses for Lemon Curd
Mix lemon curd with plain greek yogurt for a breakfast that tastes absolutely decadent.
Top your morning oatmeal with lemon curd for a bright breakfast option.
Use the lemon curd as a cake filling (particularly delicious with vanilla cake or lemon cake).
Fill mini tart shells with lemon curd to make lemon curd tartlets.
Use lemon curd instead of lemon jam to make amazing lemon crumble bar cookies.
Mix lemon curd with Italian Meringue Buttercream to make an amazing, light, rich lemon buttercream icing.
My friend Stephanie volunteered to bathe in the stuff, she loved it so much.  I'm not necessarily recommending this, but yeah, it's that good.
I once saw a recipe for rhubarb curd.  I'll definitely have to try that this spring!
Printable Lemon Curd Recipe
Want a one page, printable version of the lemon curd recipe?  Click the image below to download the PDF or print directly from your device.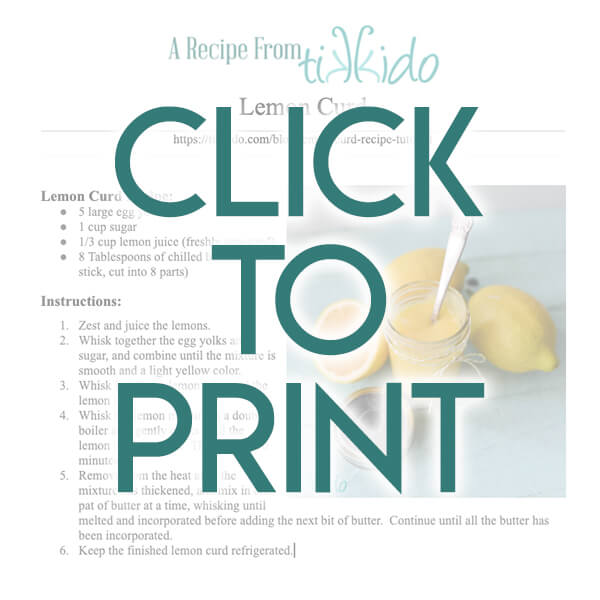 Other Lemon Recipes You Might Like: