Printer-friendly version
This healthy eggplant parmesan recipe is so fast and easy to make using a waffle iron instead of frying!  It happens to be a gluten free eggplant parmesan recipe, too.  And a Keto eggplant parmesan recipe!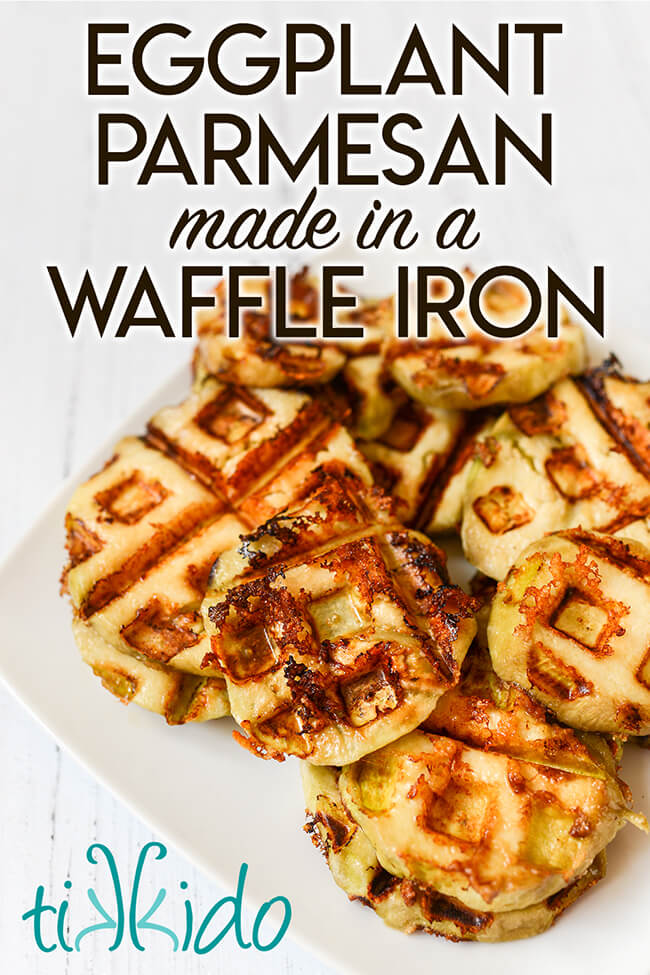 This delicious recipe really does check all sorts of healthy eating boxes!   You can have this recipe with Italian sausage, meatballs or garlic Bread. It has all the fabulous flavor of the classic Italian dish, but without the frying, and all the mess and extra calories that adds.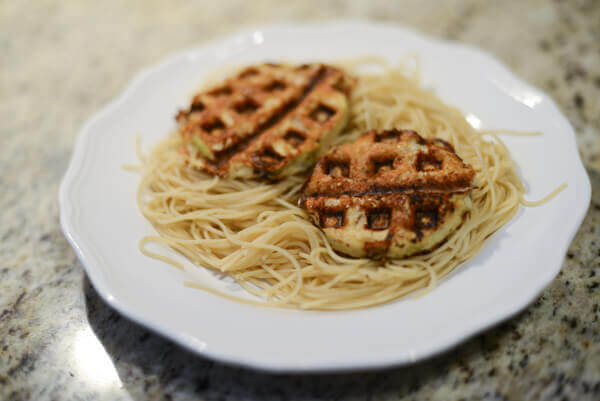 I absolutely adore eggplant parmesan (or as it's known in Italian, melanzane alla parmigiana), but it's definitely an indulgence.  I've tried roasting the eggplant before, and while I like baked eggplant, it's not, you know, eggplant parmesan.  It doesn't have that crunch.  And then I came across the idea of making parmesan-crusted eggplant in a waffle iron on the ChowHound Home Cooking board.  I knew I had to try it.  TODAY.
It was amazing!  It was easy!  It was healthy!  It was fast!  I'm never making eggplant parmesan the conventional way again.  NEVER.  This technique is that good.  It's the best eggplant I've ever made.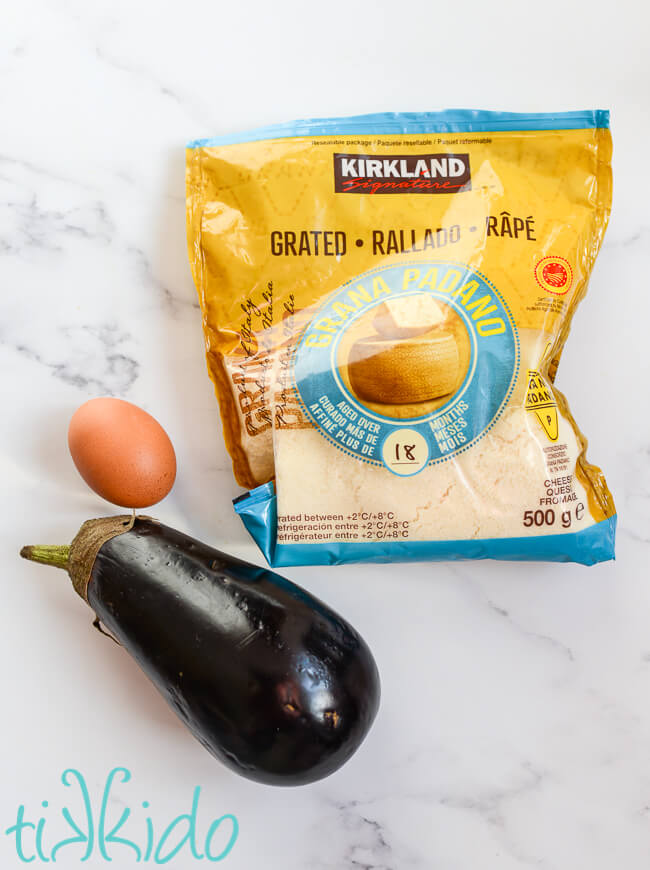 Easy, Fast, and Healthy Eggplant Parmesan in a Waffle Iron
one eggplant
finely grated Parmesan cheese
egg wash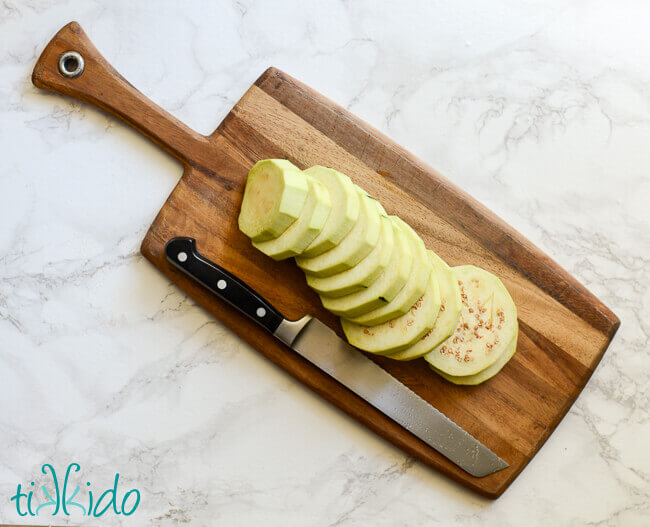 Pull out your trusty waffle iron (I used a regular one, not a Belgian one) and start it heating up.  I've also very successfully used a panini press with this recipe.  Remove the eggplant skin and use a sharp knife to slice eggplant into eggplant rounds about a half inch thick.
Many traditional eggplant parmigiana recipes call for salting the eggplant at this stage to remove excess liquid and sometimes bitterness.  Modern eggplants are very mild, though, so it's generally not necessary to salt the eggplant, let it sit, and drain on paper towels.  That adds quite a bit of time and effort, and I highly recommend just skipping ahead to cooking the eggplant.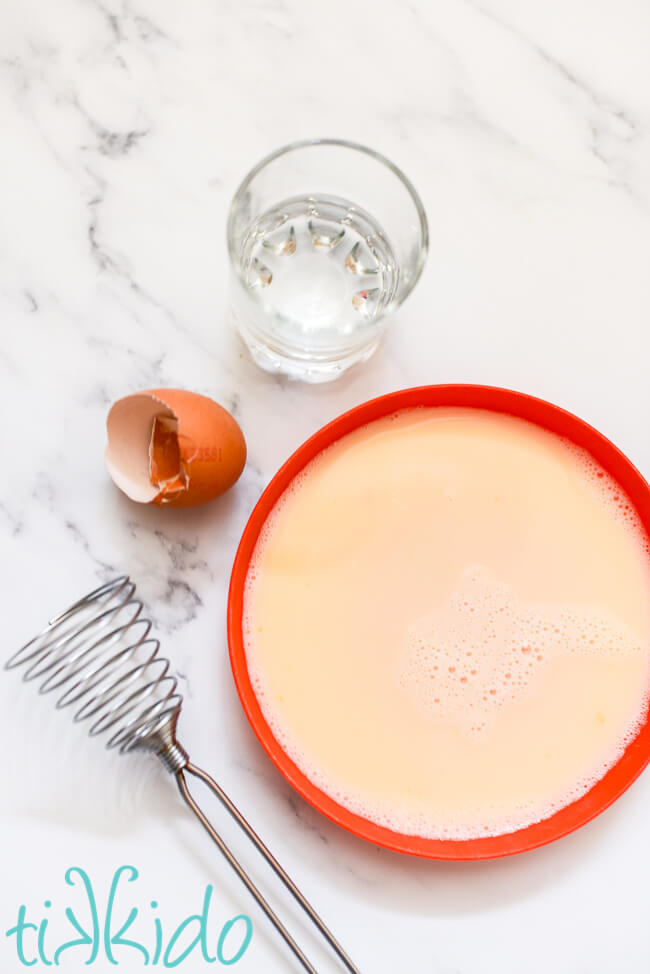 Make an egg wash by beating one egg with some water in a small bowl to make a thin liquid.  Put the egg mixture in a shallow bowl or dish, so it's easy to dip the eggplant slices in it.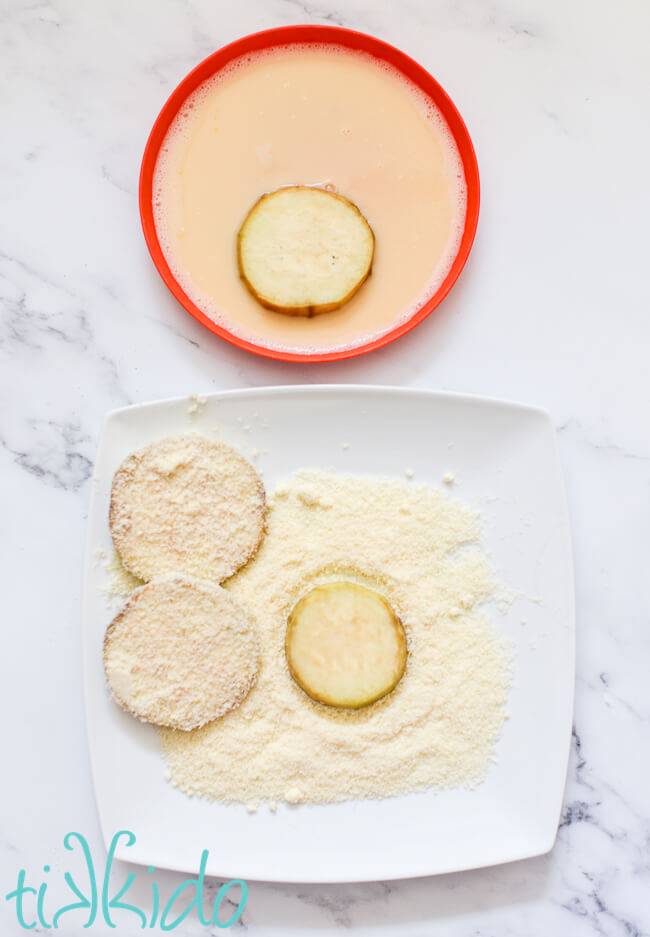 Dip eggplant slices first in the egg wash, and then dredge in the finely grated parmigiano reggiano.   There's no need to add a breadcrumb mixture to get the crunch we want for this lighter eggplant parmesan recipe--the cheese is all you need!
You can also add some Italian seasoning to the parmesan if you want at this stage, but that's entirely optional.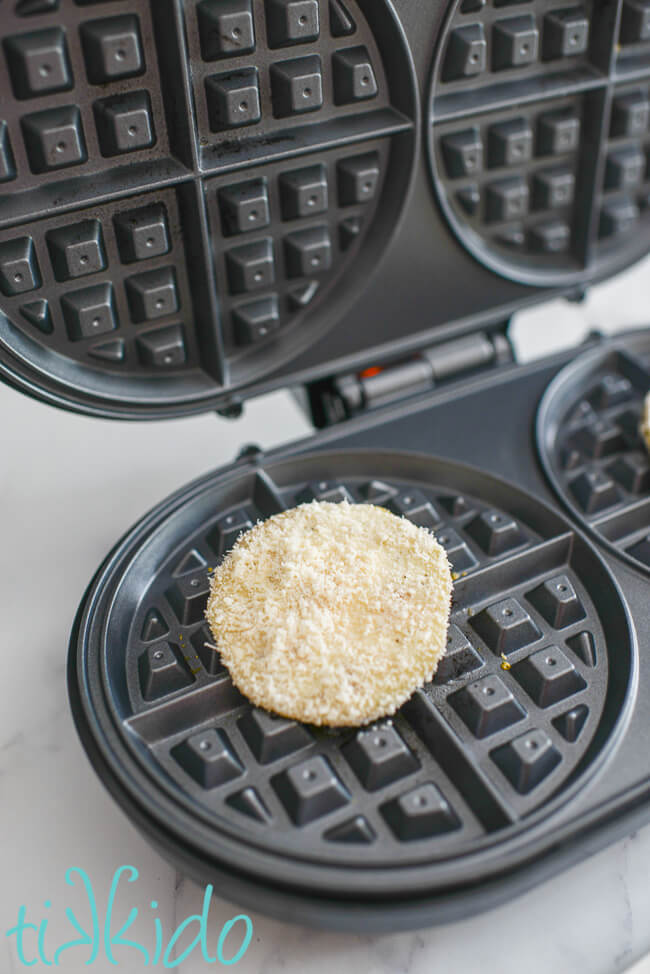 Shake off any excess, and pop it on your pre-heated waffle iron.  My iron has a non-stick coating, so I didn't need any extra oil.  If your waffle iron requires some oil, a light coat of olive oil is the perfect choice to go along with these Italian flavors.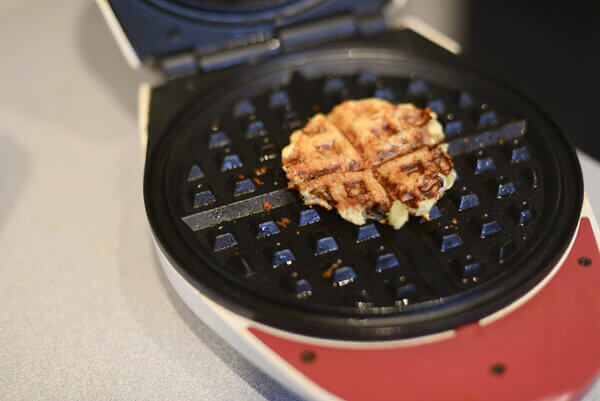 The thin coating of Parmesan turns into a delicate, crunchy coating.  The eggplant gets perfectly tender and cooked through in just two to four minutes (depending on the thickness of the eggplant slices, and how quickly your waffle iron cooks).  The perfect crispy eggplant parmesan, with no breadcrumbs, and no frying!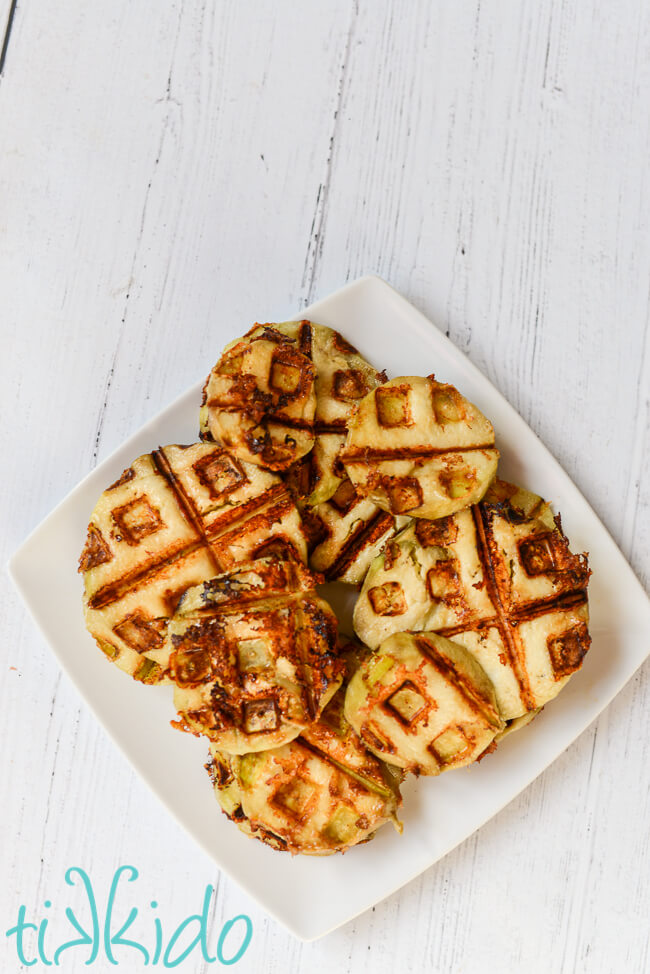 To complete the healthy eggplant parmesan and make it taste even more like traditional eggplant parmesan, add some marinara sauce (or just crushed, canned tomatoes) and a little mozzarella cheese.  Arrange the eggplant rounds in a single layer on prepared baking sheets, top with the tomato sauce and some mozzarella cheese, and put it under the broiler just until the mozzarella begins to turn golden brown and is nicely melted.
You know, I'll bet you could make a chicken parmesan recipe like this, too.  I'd definitely pound the chicken breast thin before attempting to cook it in a waffle iron, panini grill, or George Forman type grill, though.  I'll let you know when I try this experiment!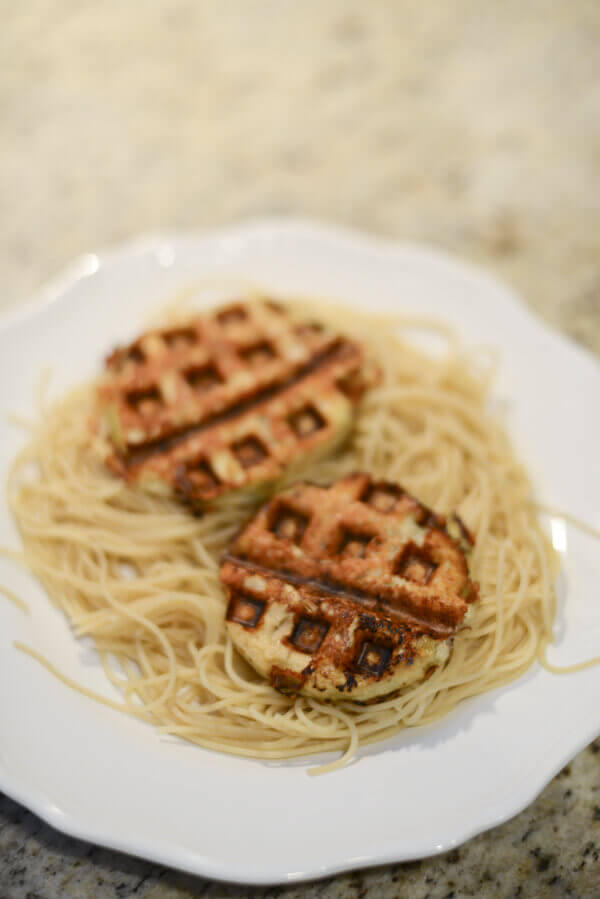 In general I don't like having single-use appliances taking up room in my kitchen, but I can't quite bear to get rid of the waffle iron. I do love waffles.   And now I have a second use for it!  I kind of like how the eggplant ended up in a waffle shape, too.  For one thing, it made nice little pockets for holding the red sauce.  And I totally convinced my kids to eat these by calling them "crunchy Parmesan waffles."  My kids do love their flavorful cheese.
I made pasta for the girls, but as much as I love noodles myself, all I really wanted was the eggplant!  Need something for your Meatless Monday rotation?  This eggplant parm recipe is a sure winner.
Ideas for Keto Eggplant Parmesan:
Use the crispy-coated, gluten free eggplant parmesan disks instead of bread to make an amazing sandwich with some fresh mozzarella and pesto.
Cut eggplant slices into quarters and use the parmesan-crusted eggplant instead of chips or bread with a tasty Italian dip.   
Cut into crouton-sized chunks to add some low-calorie crunch to a light salad.
Other Healthy Baked Eggplant Parmesan Recipes
Baking is another way to make a healthier version of traditional eggplant parmesan.  Check out these other wonderful recipes from some of my blogger friends:
Other Eggplant Recipes You Might Like: