Printer-friendly version
Real wax seals are beautiful... but brittle.  These faux wax seals look like the real thing, but are made out of polymer clay, and are much more durable and versatile.  Add these faux wax seals to invitations, favors, and more to personalize just about anything.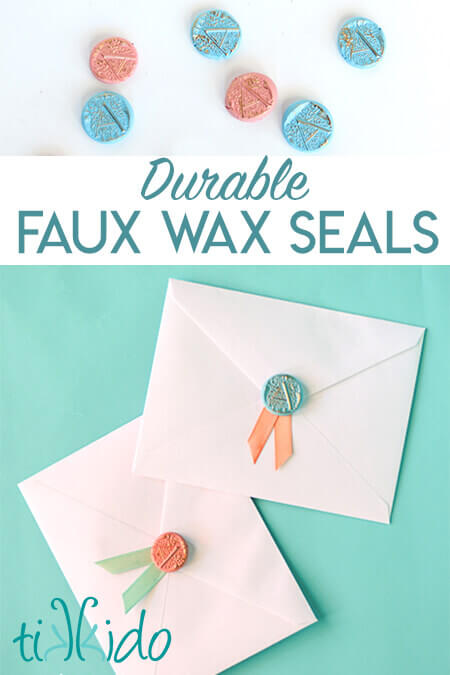 I have always been a sucker for beautiful stationary.  The pretty papers, the coordinating envelopes, all beautifully packaged in an elegant box.  I lvoed it all.  When I was seven or eight, I was given a wax seal set.  It had a mauve wax seal candle, a glitter gold one, and a metal seal with an impression of a butterfly.  I adored dripping the wax on the envelope, quickly pressing my mark into the goo, and creating a seal that made me feel like I was a character in one of my favorite fairy tales.  
Unfortunately, those seals never made it through the mail.  Never.  I even tried enclosing my letter in a larger envelope--the recipient ended up with a nice pile of colorful dust and crushed bits of wax, not my elegant mark.  I was always so sad.
Many years later, as I planned my wedding in 2001, I remembered my love of wax seals, and wished that I could use them.  I had a lovely monogram stamp.  I wanted that look.  I would figure out a way, damnit, I would!  And so I developed my extremely durable, easy, faux wax seals.
Materials For Making Faux Wax Seals
Polymer clay (like Fimo or Sculpey)
A wax seal stamp (I bought this one at a Crane's stationary store)
Gold paint (optional)
The process is very straightforward.  Roll the polymer clay into small balls, then squish with the wax seal stamp.  
Bake the clay according to the directions on the package.  Once cooked and cooled, dab a bit of gold paint on your finger and lightly coat the raised areas of the seal.  This is entirely optional, of course, but it looks great!
Tips for Making Polymer Clay Faux Wax Seals:
If you find the clay is sticking to the stamp and is hard to pull off, wet the wax seal stamp slightly with a damp cloth before making the impression.
Polymer clay comes in bricks with scored lines.  Each line of clay in a standard sized package can make 8-10 faux wax seals.
It's definitely easier to see the embossed monogram in photos when you add the extra dry-brushing of gold paint, but in person, it's easy to see the plain embossed design, too.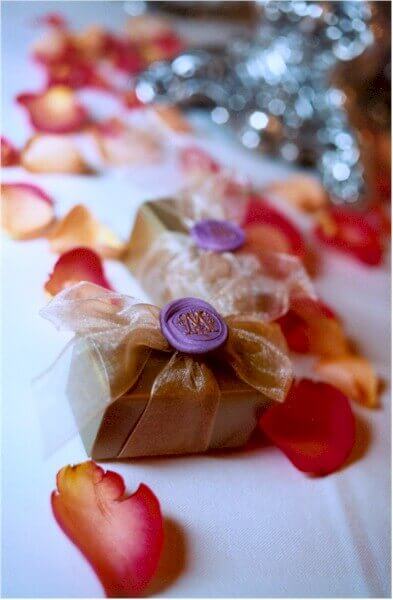 This is a picture of the favors from our wedding in 2001!  The wax seals added the perfect touch.
And of course, best of all, if you glue them to an envelope, they can survive a trip in the mail!