Printer-friendly version
Learn how to make felt balls out of wool roving using an easy wet felting method, and then turn those felt balls into adorable felt acorns for all your fall decorating projects.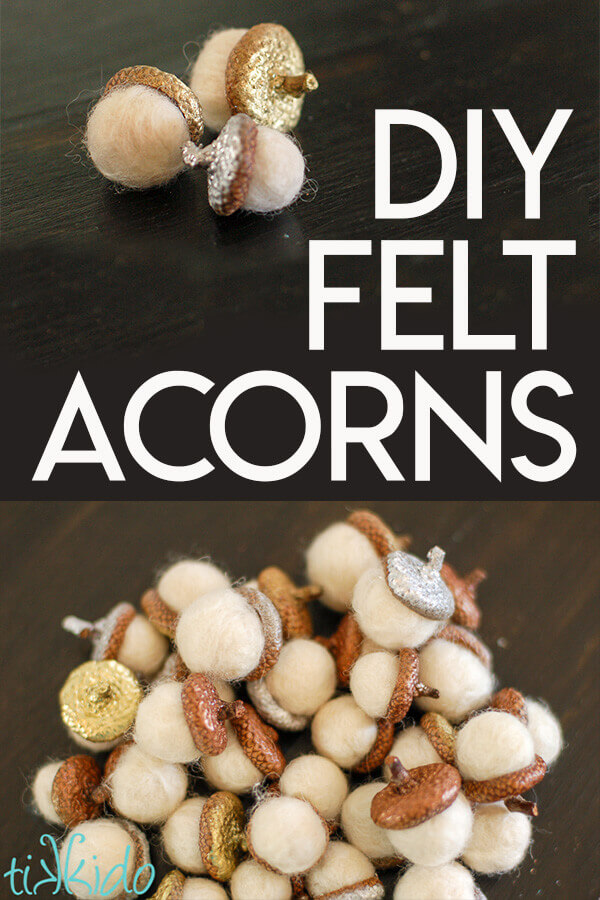 These felted acorns with real acorn caps are the perfect mix of elegance and rustic charm, and are easy to make.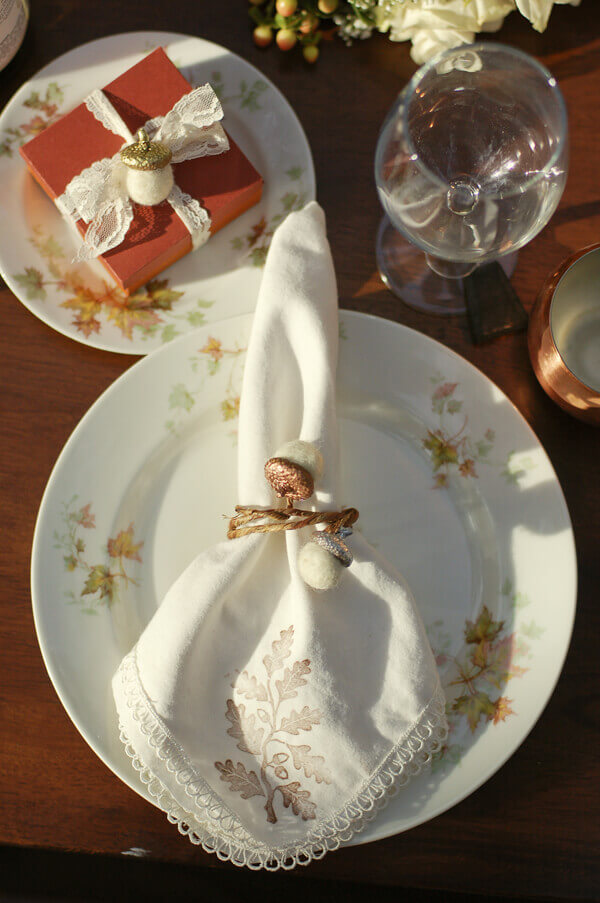 I've used these felt acorns in the past for my felt acorn napkin rings, and for topping favor boxes.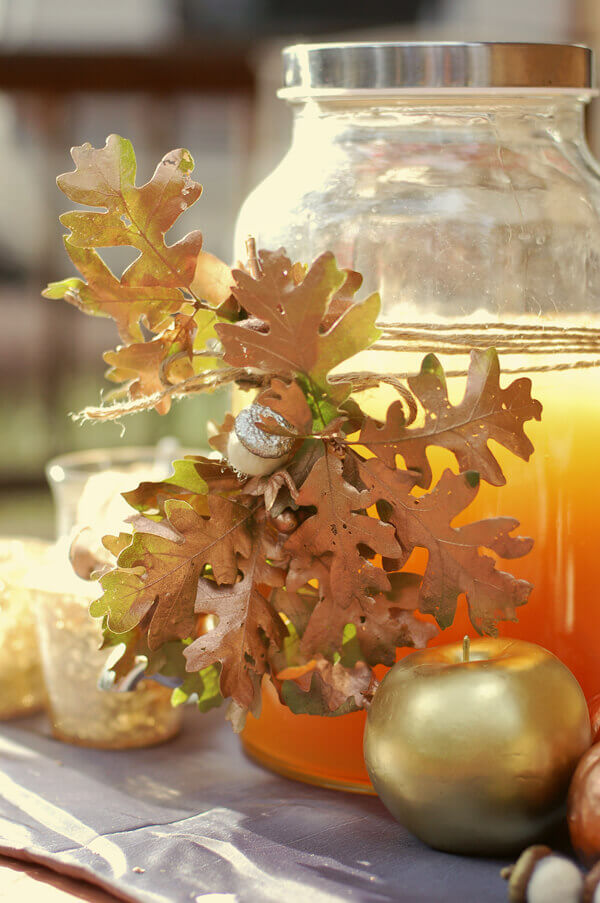 They're the perfect accent to some fall oak leaves in any fall decor.  They add the perfect finishing touch to a drink dispenser with apple cider. 
Making felt acorns is a great activity to do with kids; it's easy and quick and a lot of fun, too.
How to Make Felt Balls (Wet Felting Method):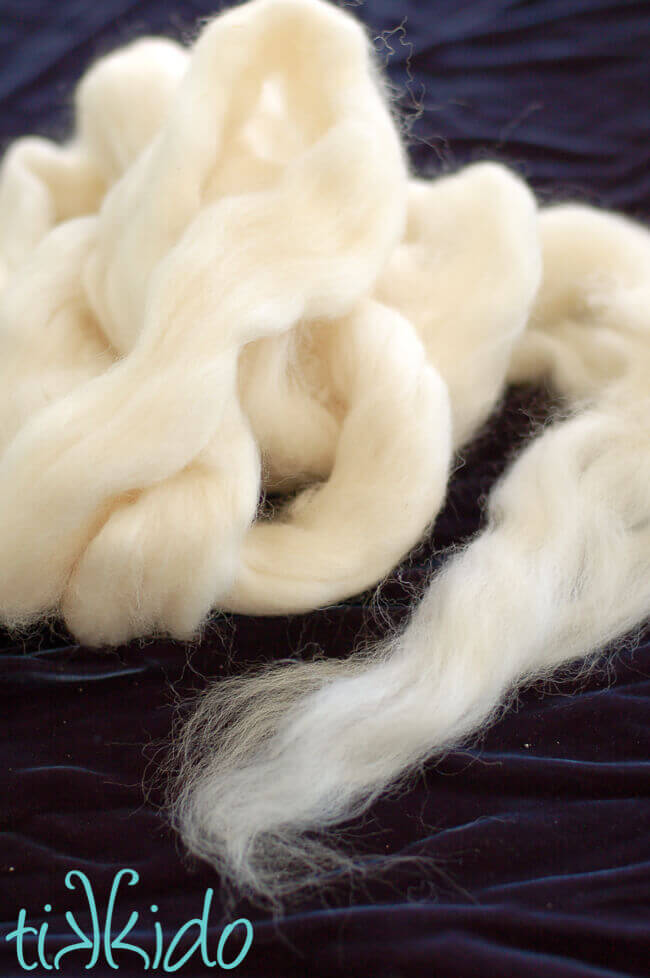 The felt part of my felt acorns are felted wool balls.  Felt balls are a really fun and versatile basic crafting supply.  
Wool for Felt Balls
It all starts with wool roving.  Wool roving is clean, combed, carded wool.  The fibers are all aligned so it's easy to pull apart, but it's not twisted and spun together like yarn. I buy my wool roving at a local fiber arts store, but you can find it online (buy here), too.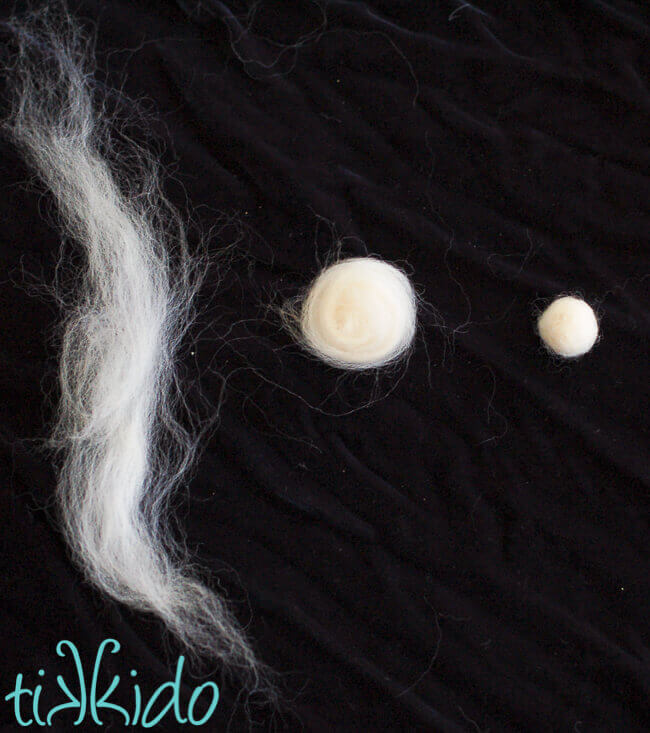 Wet Felting Method for Making Felt Balls 
I like using the wet felting method for making felt balls, because it requires no special equipment (just your hands and some warm, soapy water), unlike needle felting, which requires felting needles and a protective, padded mat.  If you're making these felt balls with kids, the wet felting method is a perfect choice.
To make a felt ball using the wet felting method, pull off a small segment of wool roving.  The more wool you use, the larger your wool felt ball will be in the end.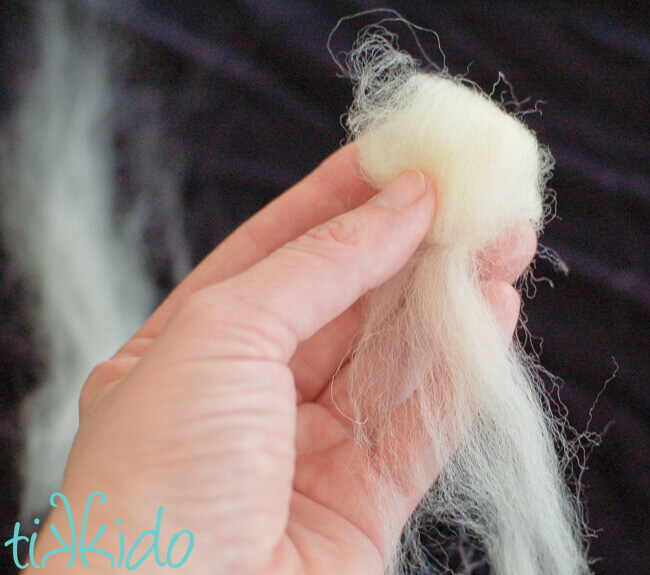 Wind up the wool into a rough ball shape.  You don't have to worry about winding it too tightly.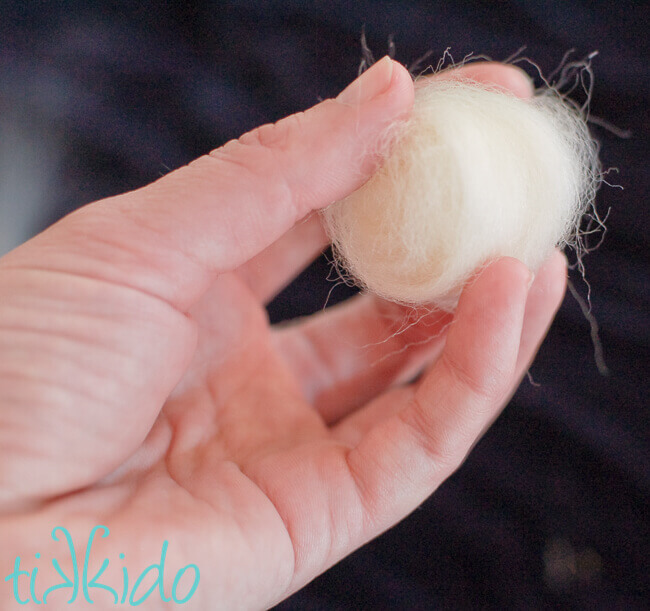 Don't worry about making it a perfect sphere, either; just do your best.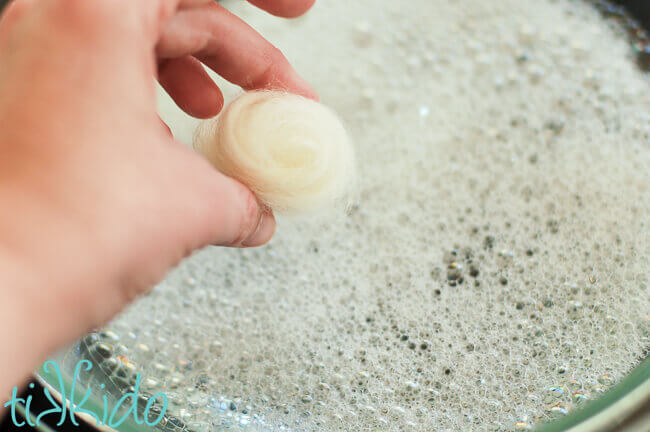 Fill a bowl with warm water with a little dish soap.  Dunk your bundle of wool in the warm water.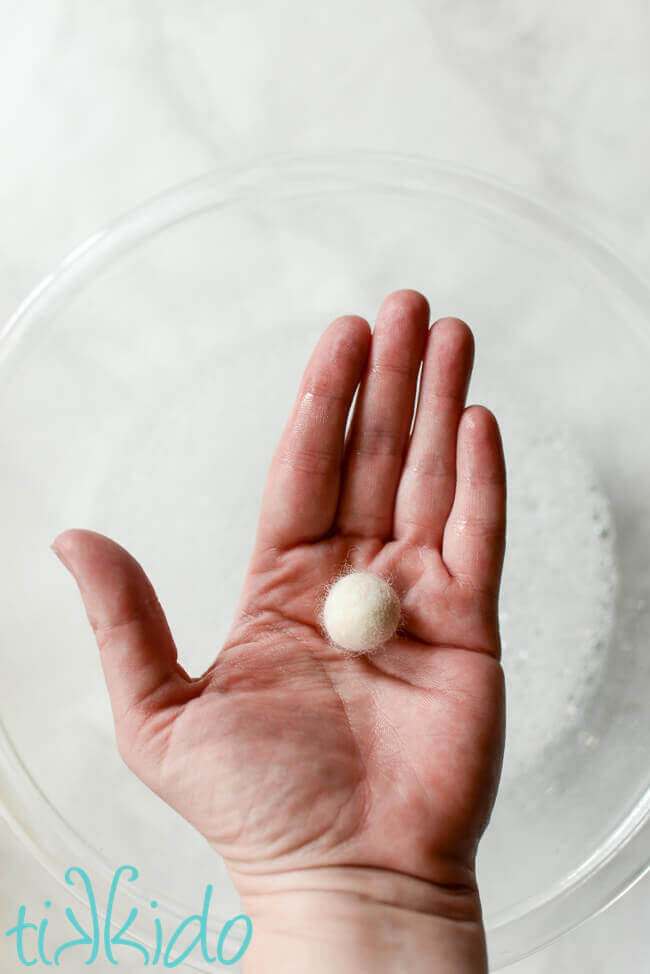 Roll the bundle of wool between your hands.  Every once in a while, dunk the ball back the sudsy water to get it wet again, and continue rolling between your palms.  In a minute or two, the wool will felt together and become a more compact felt ball like this.
The warm, soapy water and simple technique makes this a fun and easy craft for kids to do.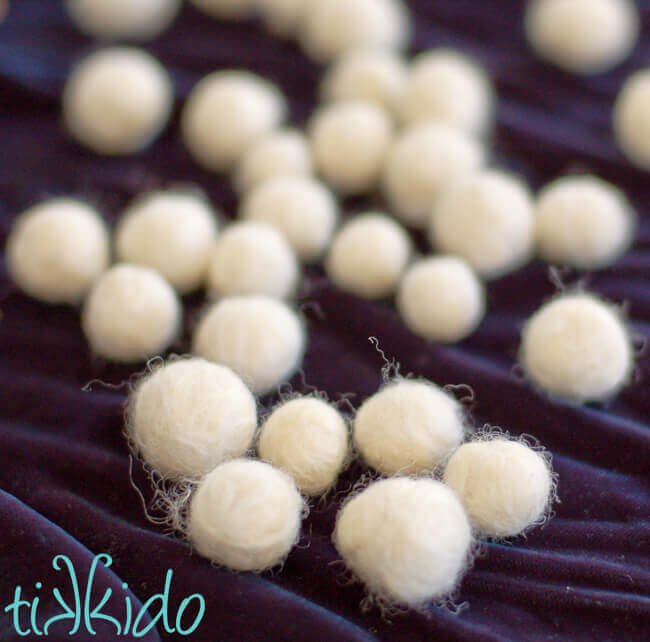 Sometimes my felt balls end up with cracks.  If it's a deep crack, sometimes I add a very thin new layer of wool roving and felt it right over the existing felt ball.  That will cover up any imperfections.  But when I'm making felt acorns, I'm not particularly worried about the occasional crack in my felt ball.  One of those sides is going to be glued into the acorn cap, after all, so why bother fixing something that's just going to be hidden?  
Don't feel like making your own wool felt balls?  You can buy them pre-made!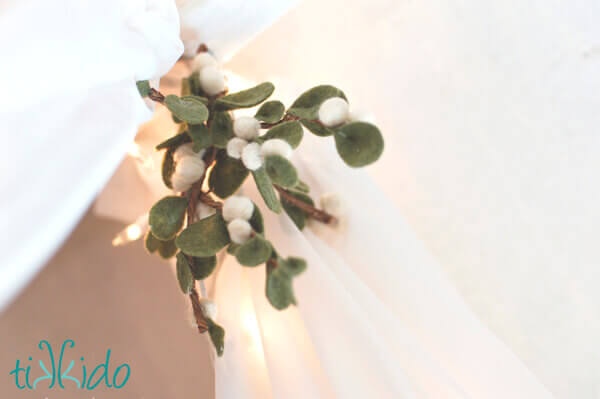 I'm showing you how to make felt acorns today, but these felt balls can be used in so many other crafts, too.  I used them as the berries on this felt mistletoe I made one Christmas.  And I've always absolutely loved this colorful felt ball coaster tutorial from Inspired by Charm.
How to Make Felt Acorns: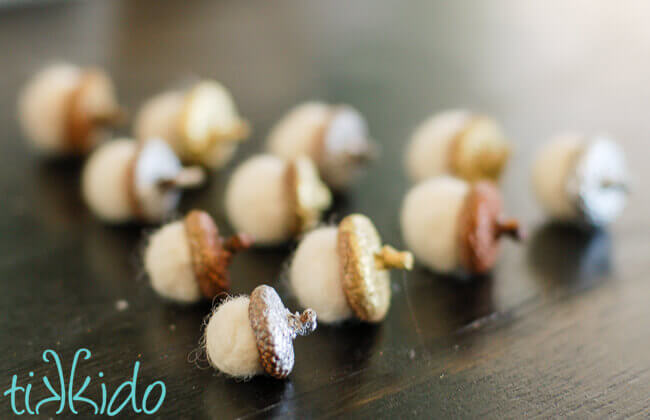 Materials for DIY Felt Acorns:
gold, silver, and copper spray paint (optional)
hot glue gun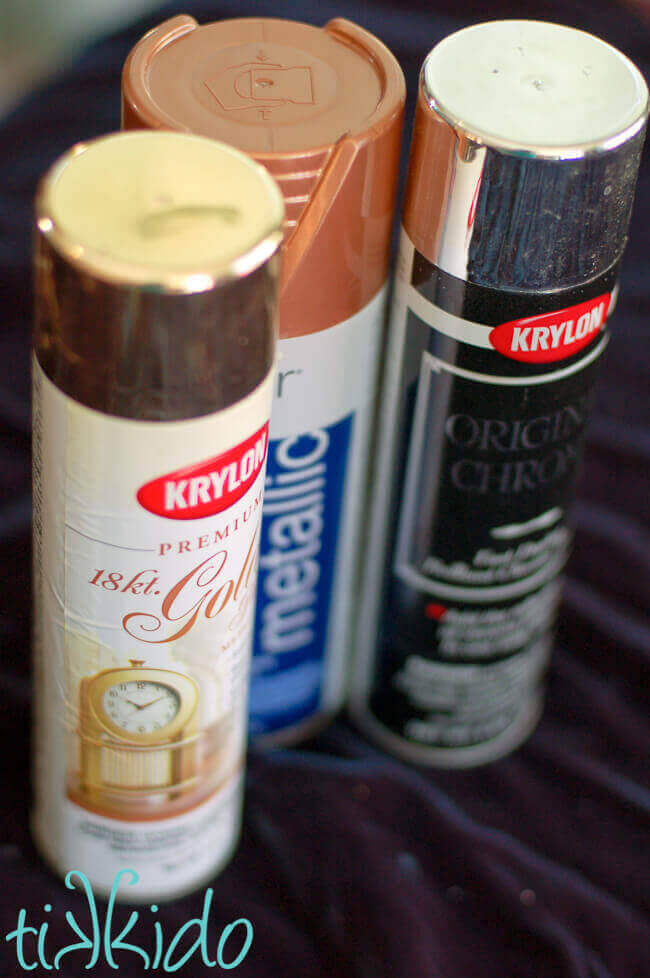 In this project, I wanted my acorn caps to be gold, silver, and copper metallic colors, so I used spray paint to give them quick color.  But felt acorns look absolutely gorgeous with natural, unpainted acorn caps, too.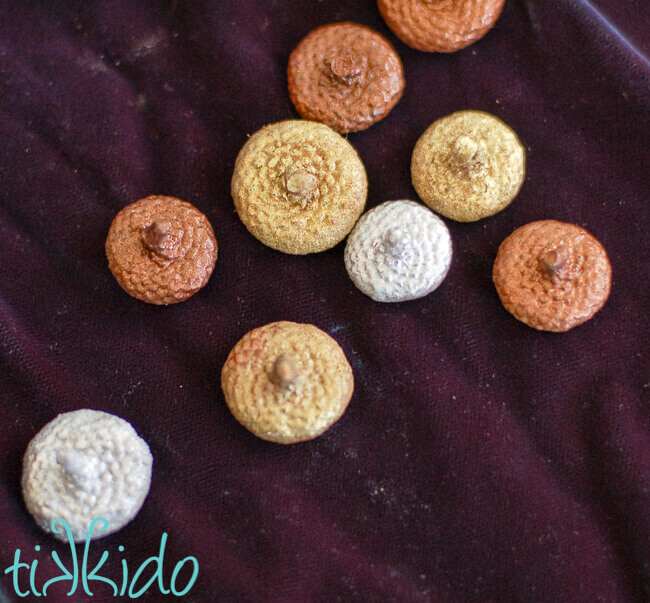 I was just going for a slightly more rustic-glam look when I did this project.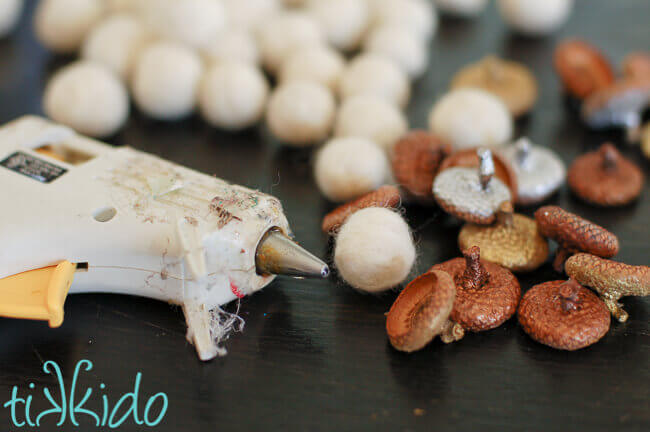 Squeeze a generous dollop of hot glue into the acorn cap, and simply set an appropriately sized felt ball in the cap.  It's as easy as that.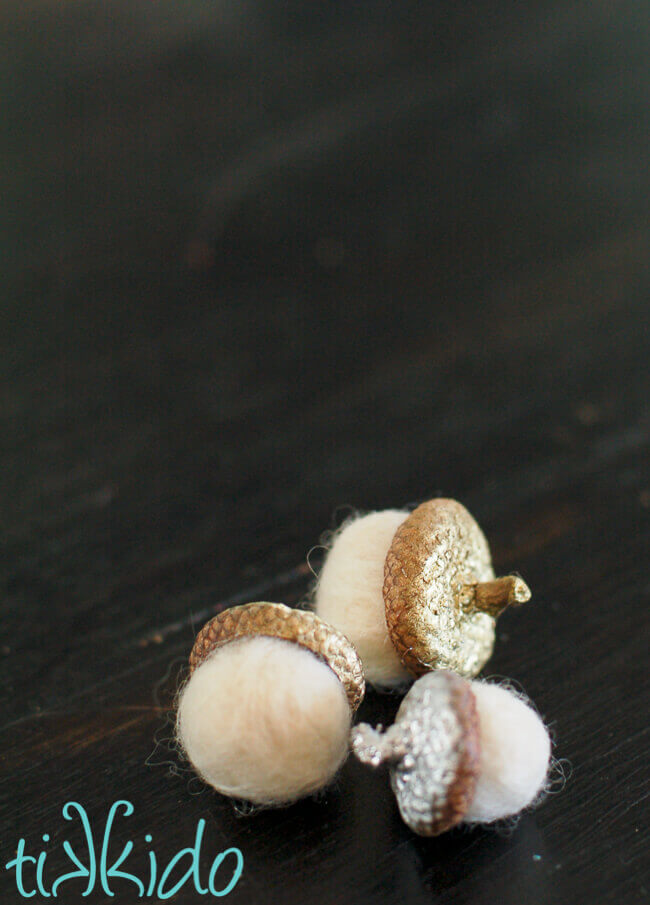 So cute, right?  I can't wait to make a garland with these for my fall fireplace mantle this year.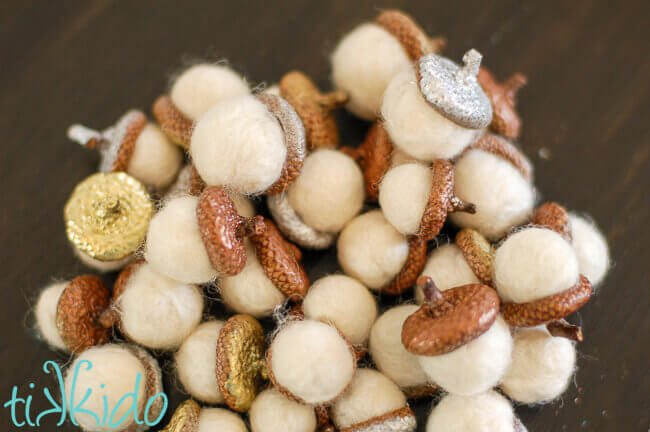 They'd look darling just heaped in a bowl or mixed in with some fall potpourri, too.  I've never tried it, but I'll bet you could put a few drops of your favorite scent or essential oil on the felt balls to make them an integral part of any potpourri dish.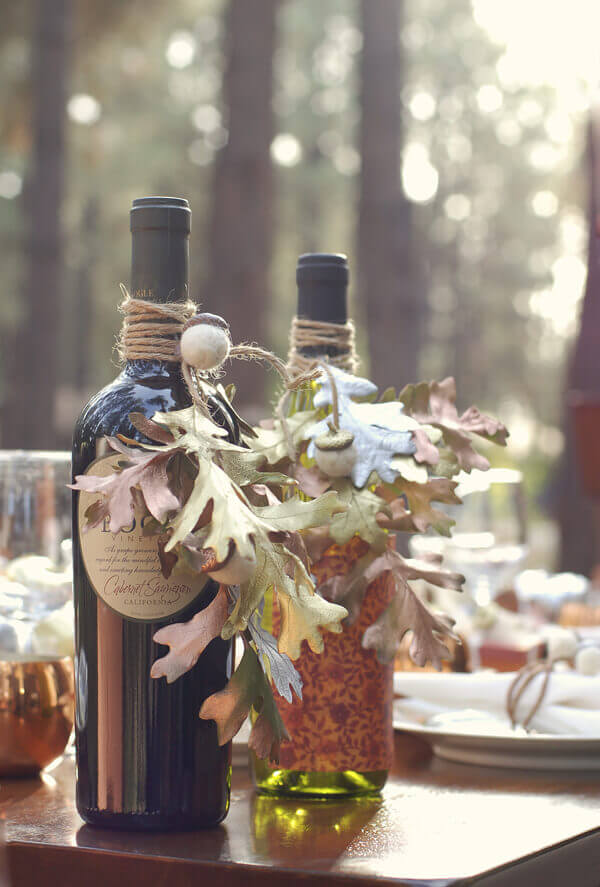 How would you use felt acorns in your fall crafts and decorating?