Printer-friendly version
I've always loved wrapping presents in creative ways, and Christmas provides me with ample opportunity to come up with fun new ideas and techniques.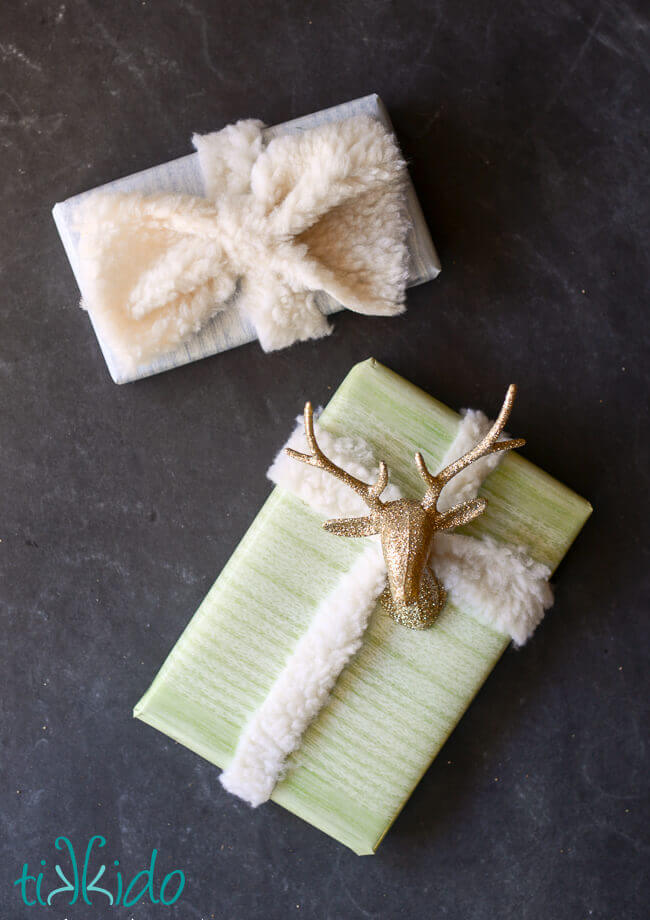 A while ago, I started looking for some wrapping paper that looks like wood.  I know I've seen such a thing before, but of course, when I went looking, I couldn't find it anywhere.  So I made some myself, of course.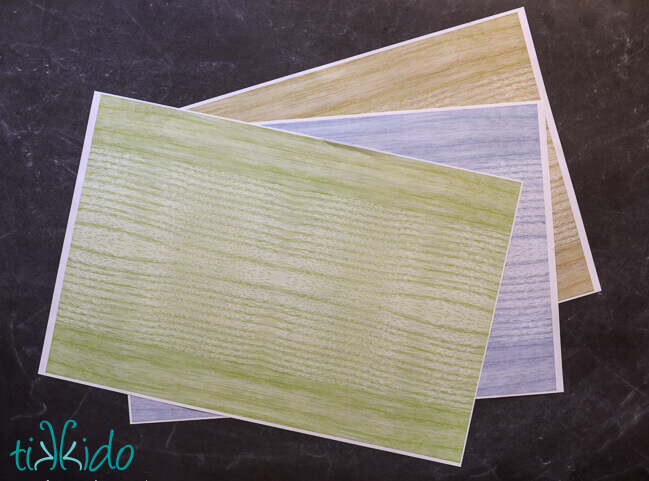 I just took a high resolution photo of a piece of wood grain and digitally manipulated it in photoshop to create three different colors of printable faux bois wrapping paper.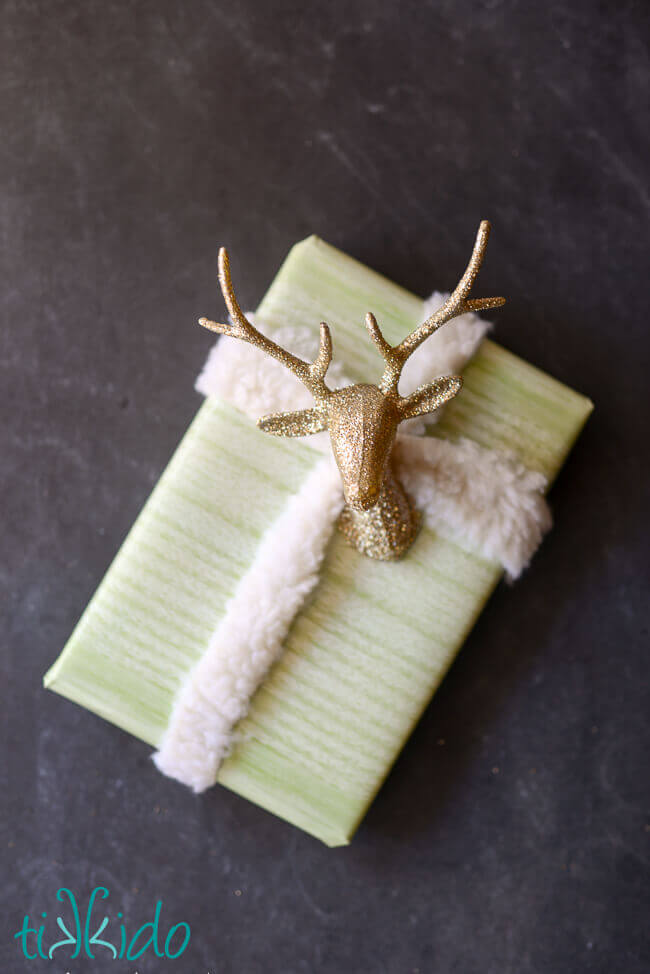 Add a sparkly accessory or two...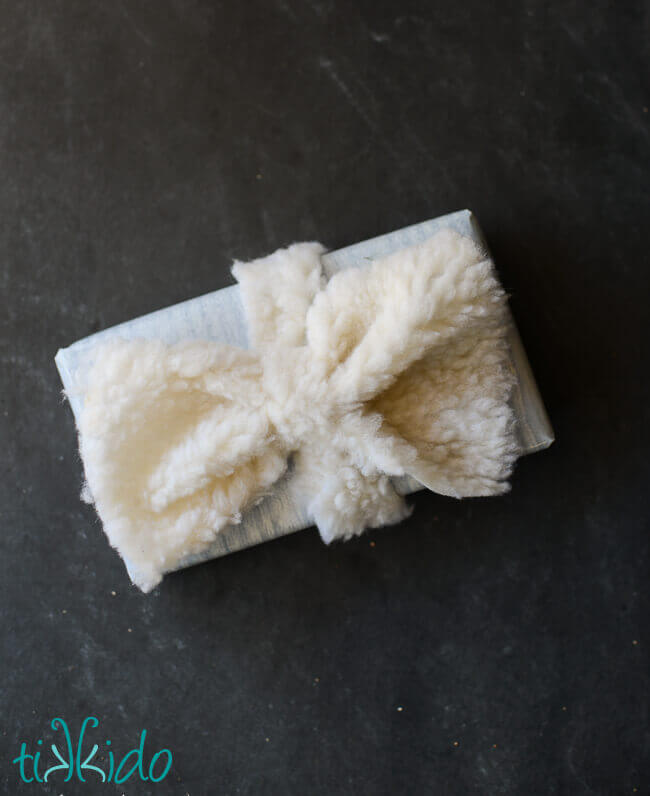 ...and some faux fur...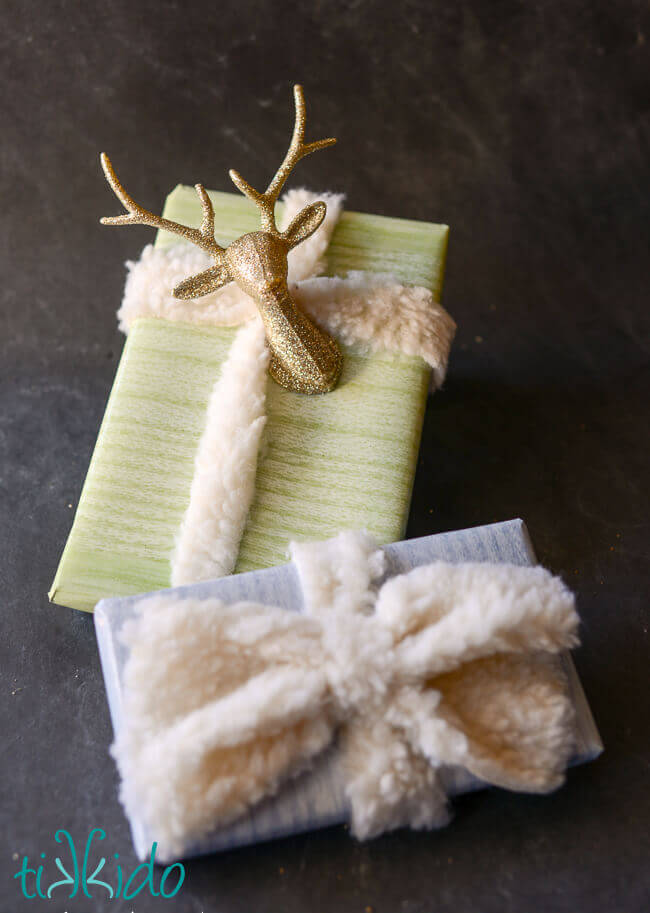 ...and you have an elegant, rustic-chic gift.  
Printable Wood-Grain Gift Wrapping Paper and Rustic Christmas Gift Wrapping Tutorial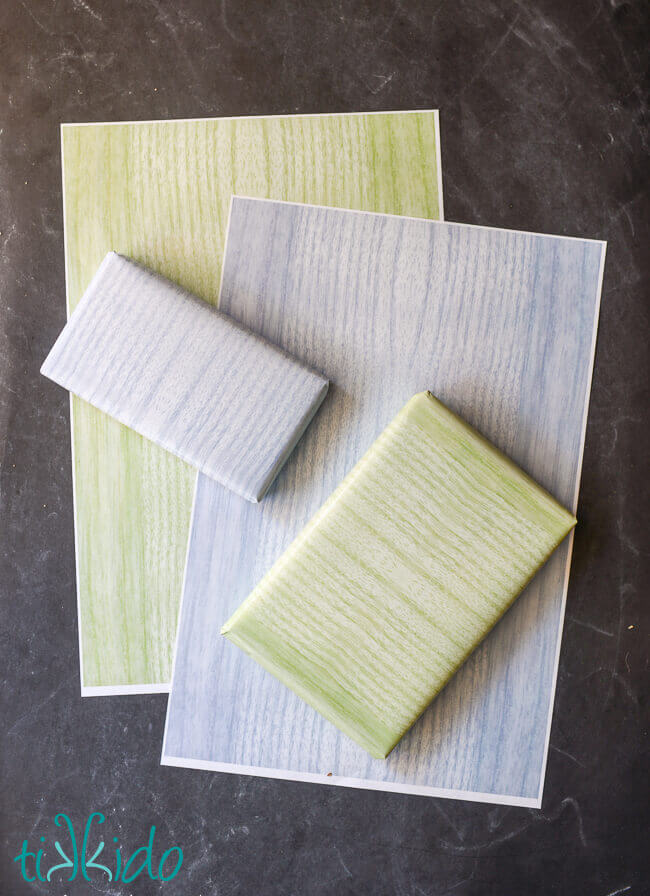 First, obviously, you'll need to print up your faux wood wrapping paper.  Download your free printable wrapping papers by clicking on these links:
Mint Green Wood Grain Printable Wrapping Paper
Winter Blue Wood Grain Printable Wrapping Paper
Classic Maple Wood Grain Printable Wrapping Paper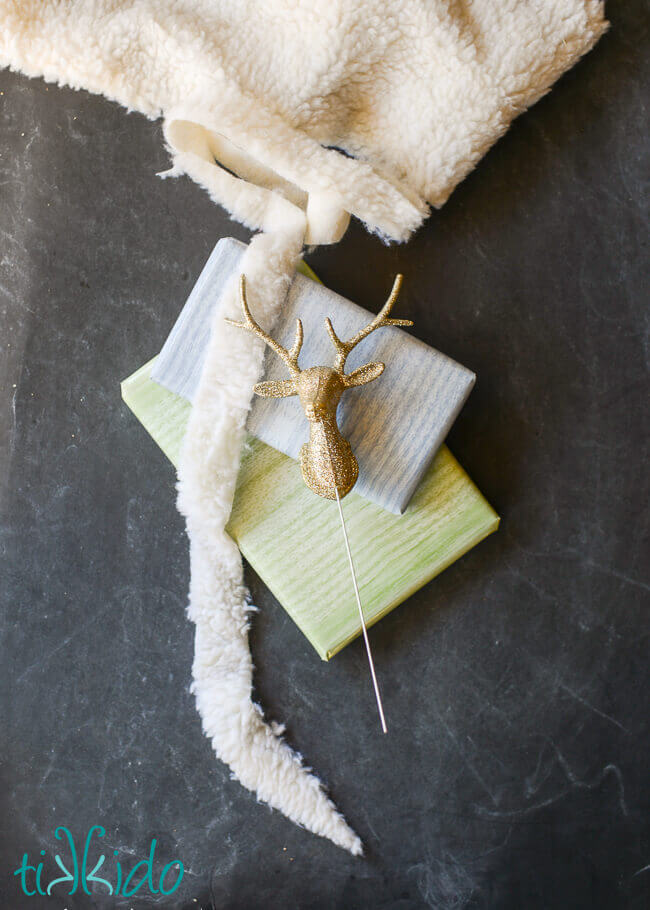 The pastel colors of the mint green and winter blue faux bois wrapping papers made me want to further decorate the gifts with a rustic/glam style.  I found the glittery golden deer head with the wreath picks at Michael's, and I cut strips of faux sherling fabric I had in my stash to create wintery fur ribbon.  No hemming, no fuss, I just cut strips of the fabric.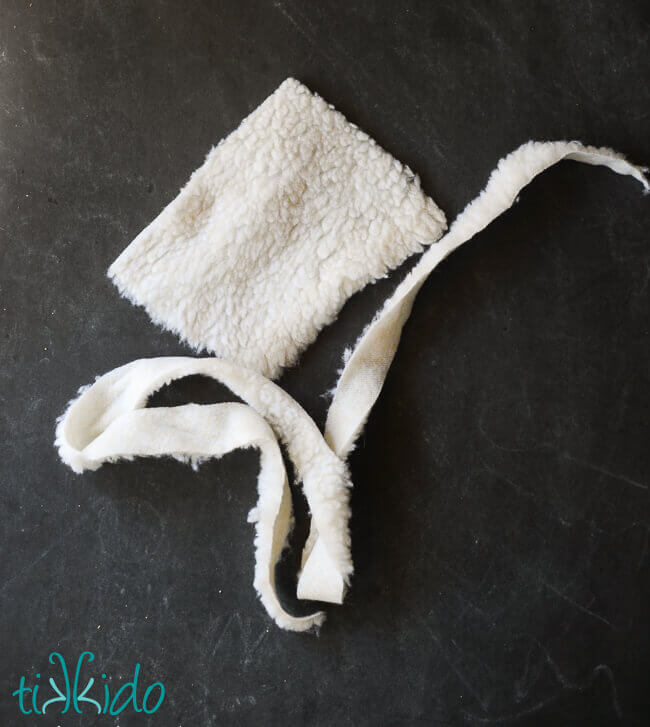 The faux fur is only pretty on one side, so I couldn't just tie a classic bow.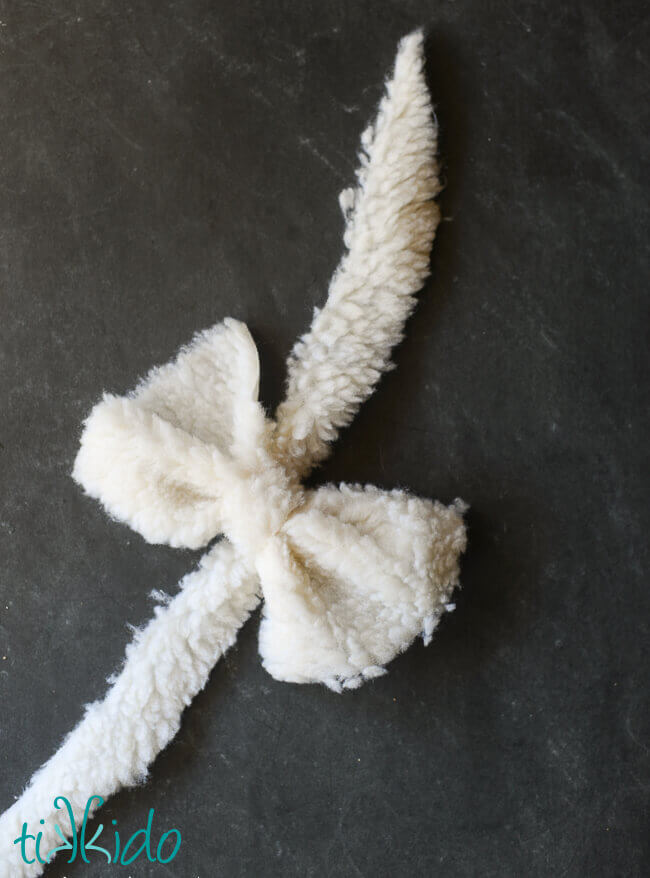 Instead I made a simple bow-tie style of bow by cutting a rectangle of fabric, gathering it in the center, and tying my strip of fur ribbon around the center of the rectangle.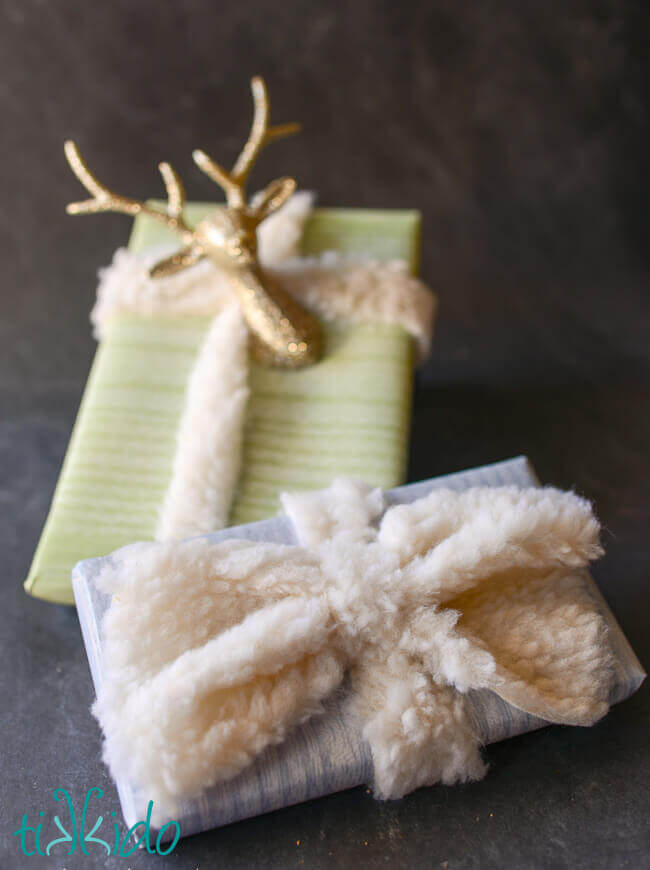 I love my fun twist on classic ribbon bow gift toppers!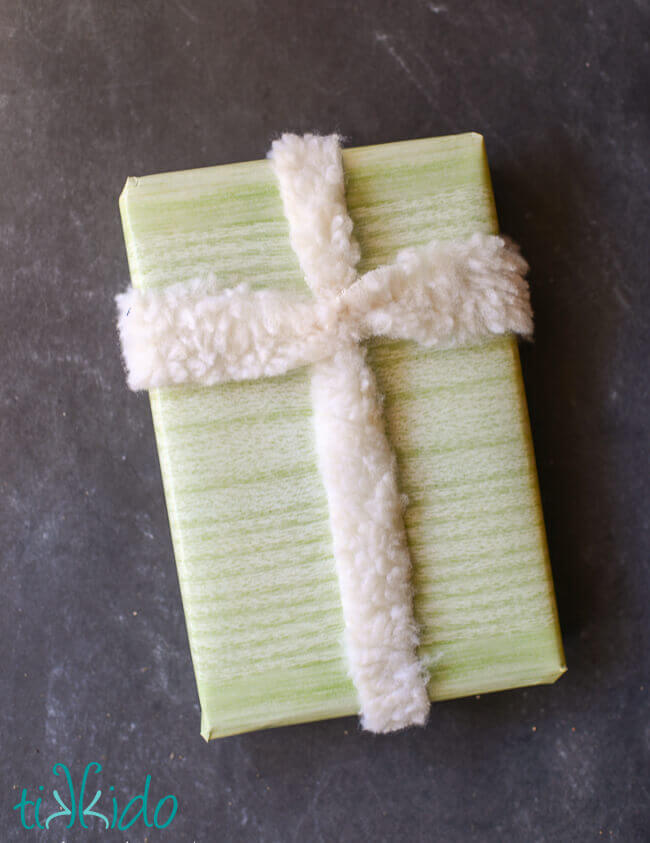 To decorate the second package, I simple wrapped my faux fur ribbon around the present in both directions.  I used two separate pieces of fabric ribbon to do this, and just tied a small piece of string around the ribbons where they crossed to give the package that properly festooned look.  It just didn't look quite complete or right without the ribbons being slightly pinched where they met.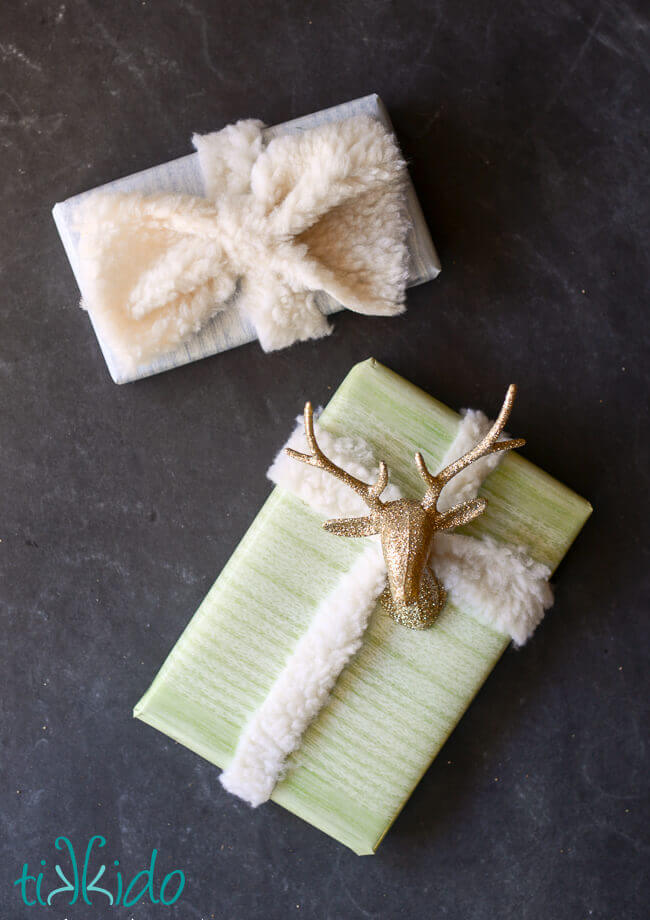 I pulled the wire out of the deer head pick, and simply hot glued the embellishment to the package, nestled close to where the ribbons crossed.  The perfect finishing touch to my rustic-chic Christmas gift wrap!