Printer-friendly version
Chocolate waffles are an easy-to-make, special breakfast treat.  This chocolate waffle recipe is the one my family has been using since I was a kid.  It's a scratch recipe for chocolate waffles, made with real chocolate, and it's absolutely delicious.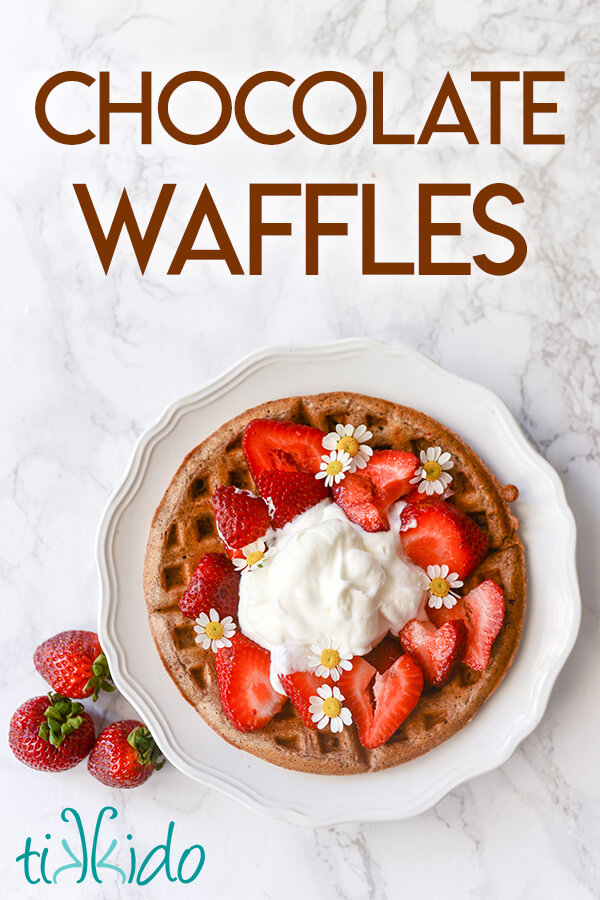 Chocolate waffles are fabulous with just a little butter, but I like them best topped with fresh strawberries and whipped cream.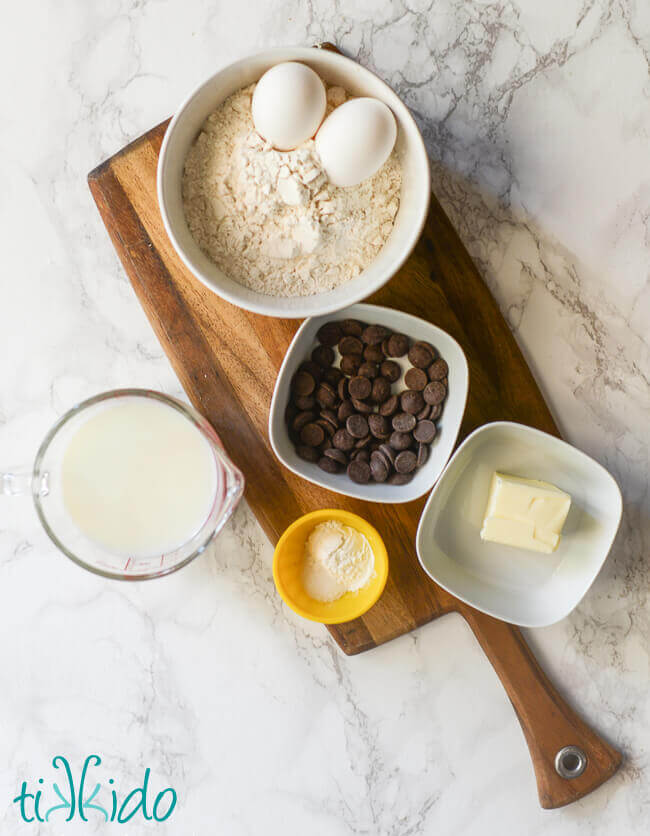 Recipe for Chocolate Waffles:
2 eggs
1/4 cup (4 Tablespoons) butter, melted
1 1/2 cup milk
1 1/2 cup flour
2 teaspoons baking powder
1/2 teaspoon salt
1/2 cup sugar
1/2 teaspoon vanilla
2 ounces unsweetened baking chocolate, melted (or you can use semi-sweet chocolate chips, too)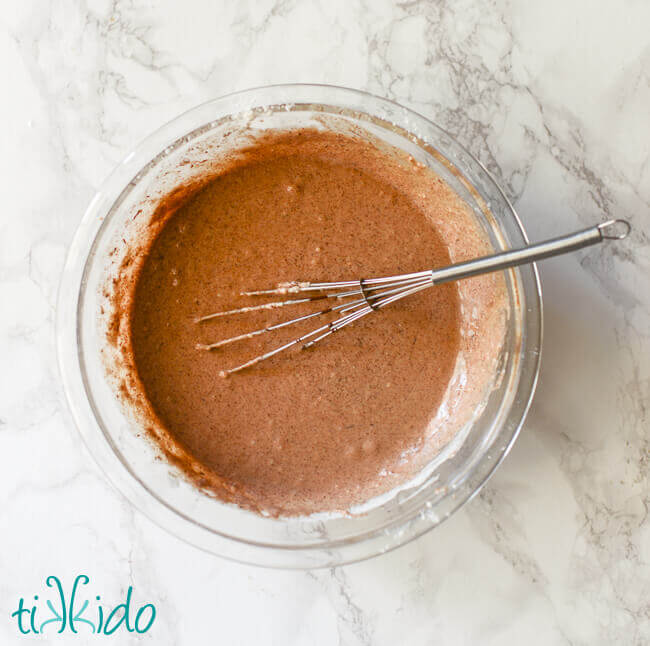 Beat eggs, and combine in a bowl with the milk, melted butter, sugar, and vanilla.  Add in dry ingredients (flour, baking powder, salt) and the melted chocolate, and whisk everything together.  The batter will look a little spotty and speckled, but that's ok.
Can I Substitute Cocoa Powder for Melted Chocolate in a Recipe for Chocolate Waffles?
If you want to make chocolate waffles but don't have any baker's chocolate or semi-sweet chocolate chips on hand, you can use cocoa powder instead.  I prefer to make these chocoalte waffles with the melted chocolate, but the recipe is delicious made with cocoa powder instead, too.  
As a general rule of thumb, you can substitute 3 Tablespoons of cocoa powder and 1 Tablespoon of fat (butter or oil or shortening) for each ounce of baking chocolate called for in a recipe.
So to make this chocolate waffles recipe with cocoa powder, increase the butter to 6 Tablespoons, add 6 Tablespoons of cocoa powder, and eliminate the melted chocolate.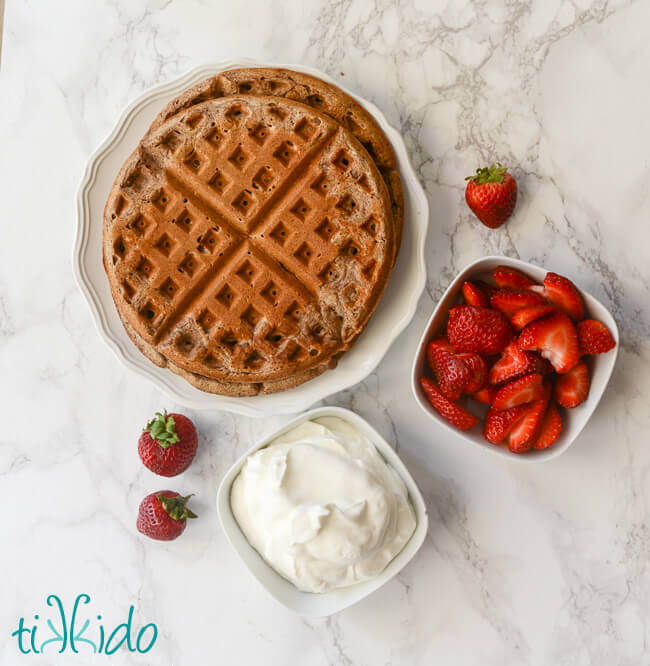 Scoop a generous 1/2 cup of batter into a classic waffle iron (not a Belgian waffle iron), and let cook for 3-4 minutes, or until you stop seeing steam rise out of the sides of the waffle iron.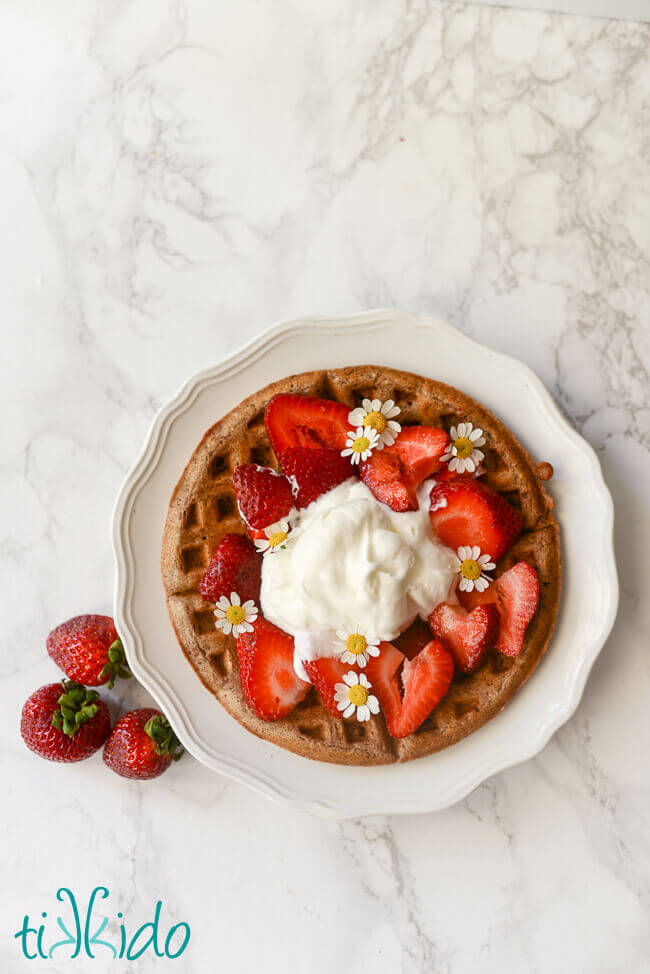 Mmm, now this is a waffle worthy of those farm-fresh berries available now.  Plus, the leftover waffles are delicious as snacks, cold, straight from the fridge.
Printable, One Page Recipe for Chocolate Waffles: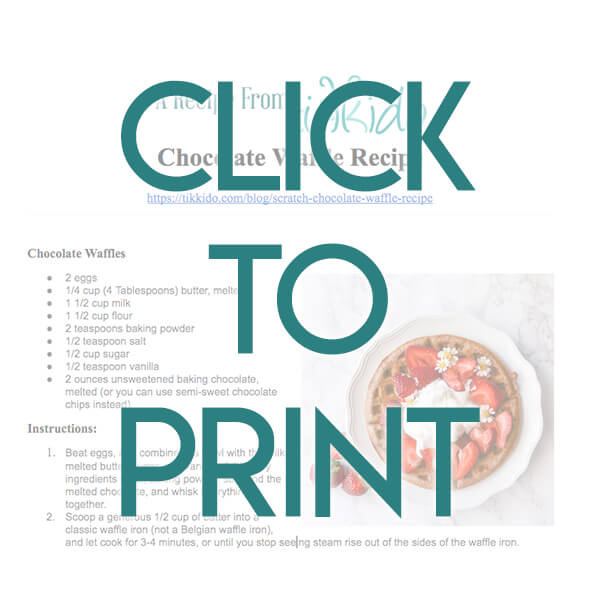 Other Breakfast Recipes You Might Like: