Printer-friendly version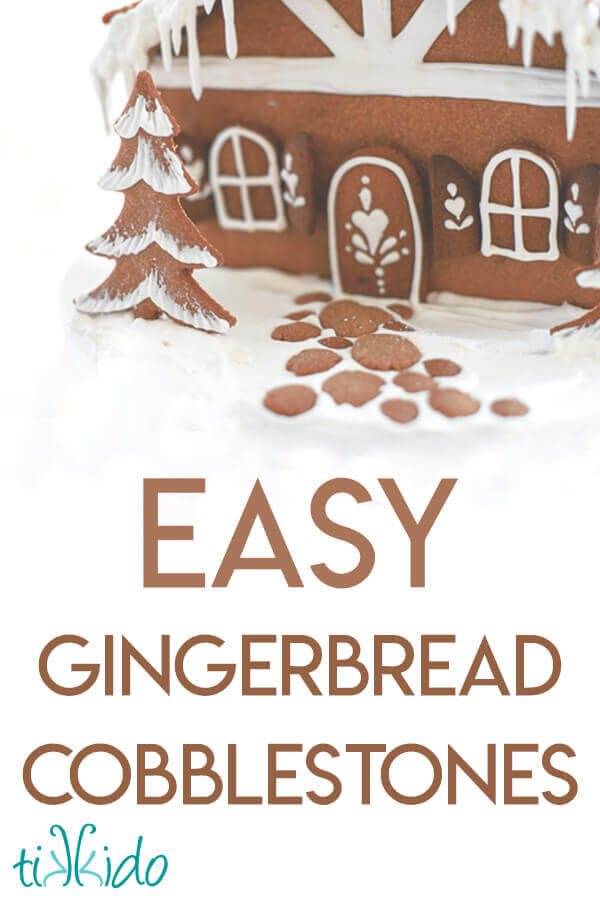 Make gingerbread cobblestones with for your gingerbread house using some leftover gingerbread dough and this easy tutorial.
Most of the gingerbread houses I make are pretty laden with candy, like this one from last year.  But it's a lot of fun to work just with royal icing and gingerbread itself as the only decoration.
When I was working on this house, decorated only with royal icing, I had to figure out a way to make a cobblestone path that didn't involve my usual candy methods.  I thought about Drawing flagstone-like lines on a solid piece of gingerbread, or crumbling up gingerbread into dirt and tiles, but I ended up liking this simple cobblestone technique best.
Making the gingerbread cobblestones is incredibly easy.  All you need is a little bit of the dough.
Roll little balls of the dough in various sizes, then squish with your finger.  Don't worry about being precise; you want the cobblestones to be irregular, in different shapes and sizes.
Bake the cobblestones for 2-3 minutes at 375.  They don't take long at all, since they're so small.  You can also bake some of them longer so that you get some darker and some lighter gingerbread cobblestones.  It makes a beautiful natural variation in the color of the pathway--just like real stone!
Spread a bed of white royal icing over the base of the gingerbread house, and simply set the gingerbread stones in place.  
Hmm, I wonder what would happen if I didn't squish the stones?  It might make a really charming gingerbread stone wall.  I'll have to try that this weekend!  I'm making a gingerbread cathedral that could really use a lovely stone wall...
Thinking about making a real gingerbread house this year?  Check out my new e-book with all of the recipes, tips, techniques you'll need, and five different gingerbread house templates: