Printer-friendly version
I know it's not quite yet Thanksgiving, but I have GINGERBREAD HOUSES on the brain already!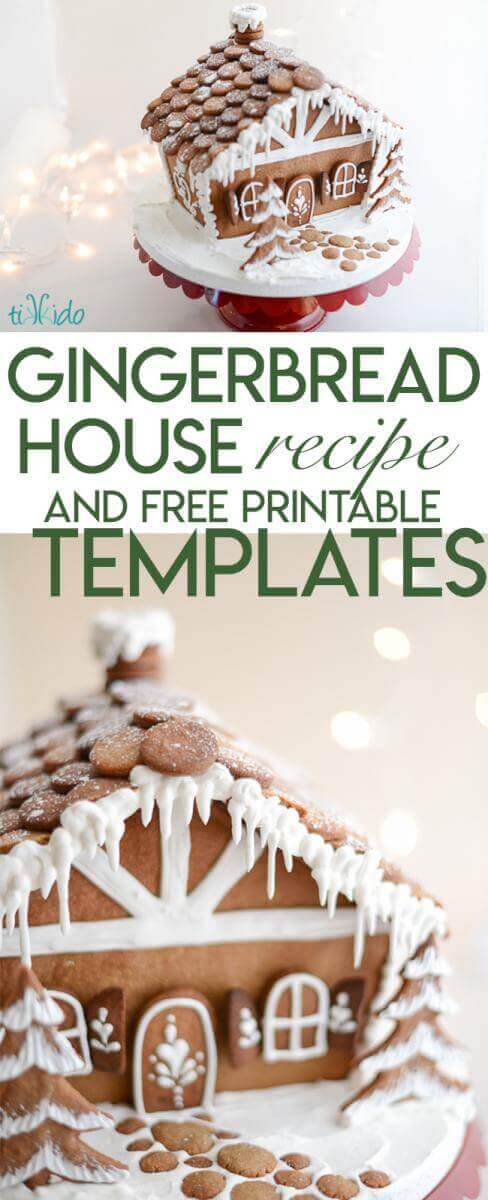 I love gingerbread time!  And since I make north of 100 gingerbread houses each year, I need to start early.
White House Gingerbread House Recipe
2 C granulated white sugar
1 C plus 2T brown sugar
1 C solid vegetable shortening
4 eggs
3 T molasses
1 1/2 t salt
2 t baking soda
1 T ginger
1 T cinnamon
6 C flour
In a heavy duty stand mixer (I couldn't live without my Kitchenaid Mixers--yes, I have more than one!) , combine shortening and sugars.  Add the eggs, one at a time, beating until fluffy after each addition.  Add the molasses, salt, soda, ginger, and cinnamon.  Mix completely.  Add the flour, one cup at a time.  This is a stiff dough, but even so, you might not need quite all six cups if you're in a very dry climate.  Use your judgment.  If the dough is starting to crumble and not hold together, no more flour!
Roll the dough to an even 1/8" thickness and cut out the shapes for your gingerbread house.  
This is just the basic recipe in this post, but've compiled all my best tips, tricks, and techniques in my new gingerbread e-book, Gingerbread for Beginners.
It's essential reading for anyone attempting to make a gingerbread house this year!  Seriously.  You will kick yourself if you don't use the techniques we've developed over decades of experience and thousands of gingerbread houses.  The right gingerbread techniques make the project SO much easier.
When you're ready, head over to Page 2 for the Free Printable Gingerbread Templates