Printer-friendly version
This shop has been compensated by Collective Bias and its advertiser. All opinions are mine alone. #SpookySnacks #CollectiveBias
Delicious potions, tasty brains...er, I mean treats...what could be more perfect for a kid-friendly Halloween than a not-too-gruesome Zombie Science party?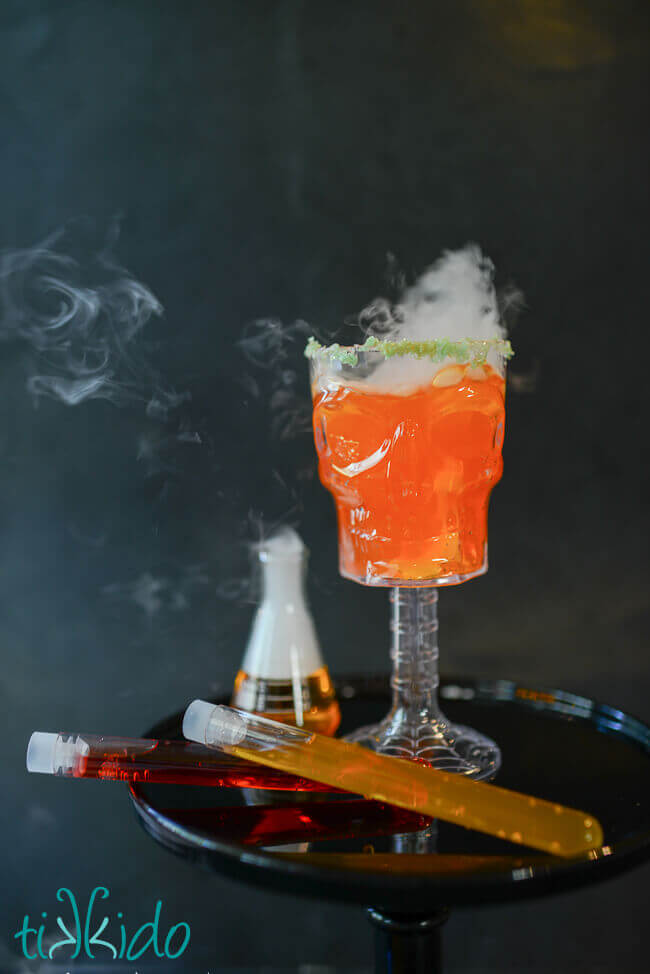 All parties start with good food and a point of inspiration, and for me, it started with Fanta orange soda and OREO cookies.  Orange and (practically) chocolatey black, what could be more perfect?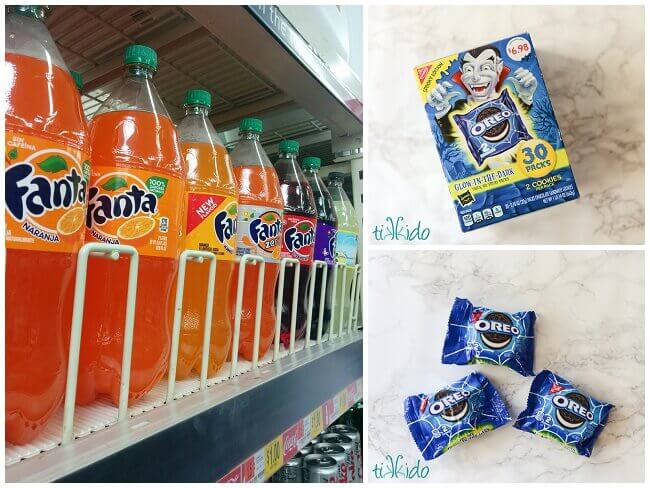 When I was at Walmart picking up my party supplies, I saw the whole range of flavors Fanta has, including the new mango flavor (and I LOVE mango!), and my party idea was born.  Formulas, test tubes, petri dishes, cultures, flasks, beakers--science fun during the zombie apocalypse!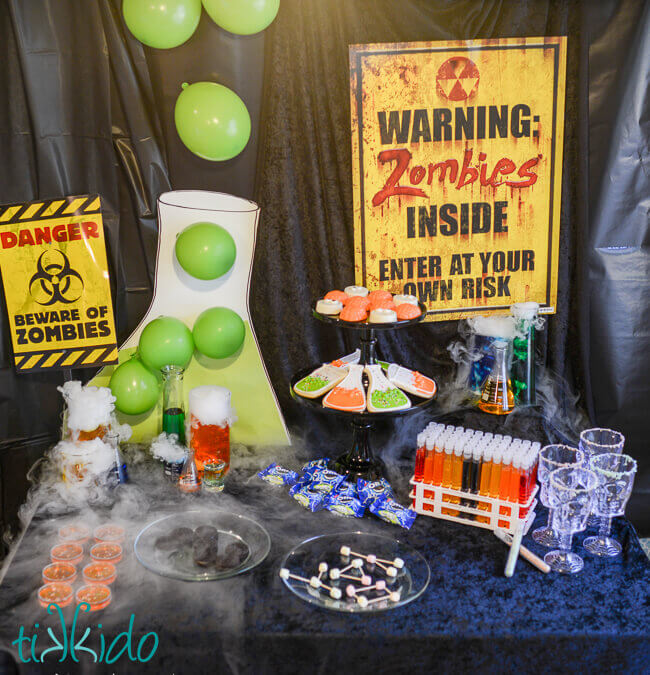 What would you use to cover up your windows during a zombie apocolypse?  Anything you could find!  So I made my backdrop out of a combination of materials, including black wrapping paper, plastic tablecloths, and fabric I had on hand.  The giant Erlenmeyer flask and balloon bubbles were just for fun, and because they matched the cookies.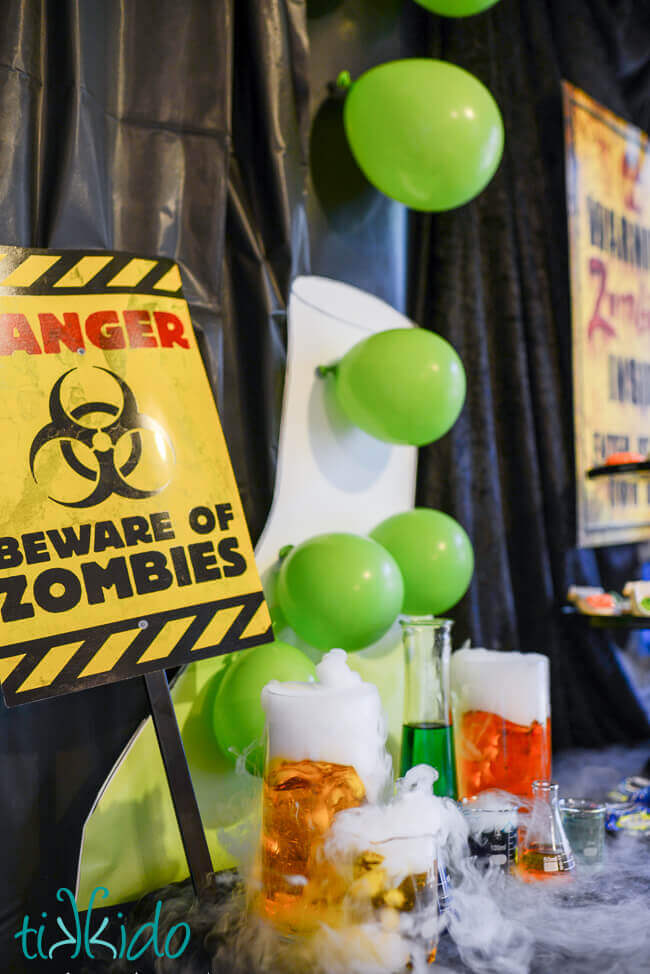 Beakers (buy here), flasks (buy here), and various vases were filled with colored water and dry ice to give our lab the kind of homey touch any mad scientist would appreciate.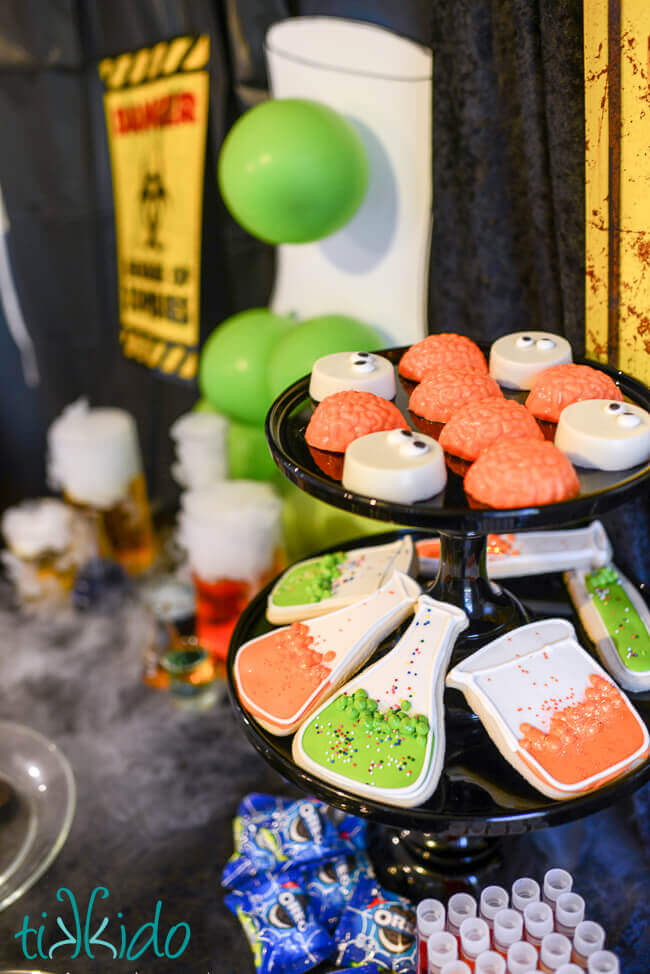 I was pretty darn excited to have an opportunity to use my flask, beaker, and test tube cookie cutters!  Yes, I'm a geek, and proud of it!  
I also made some tasty chocolate brains filled with an orange creme filling made with Fanta soda, and some cute little mutant, googly-eyed chocolate covered OREO cookies.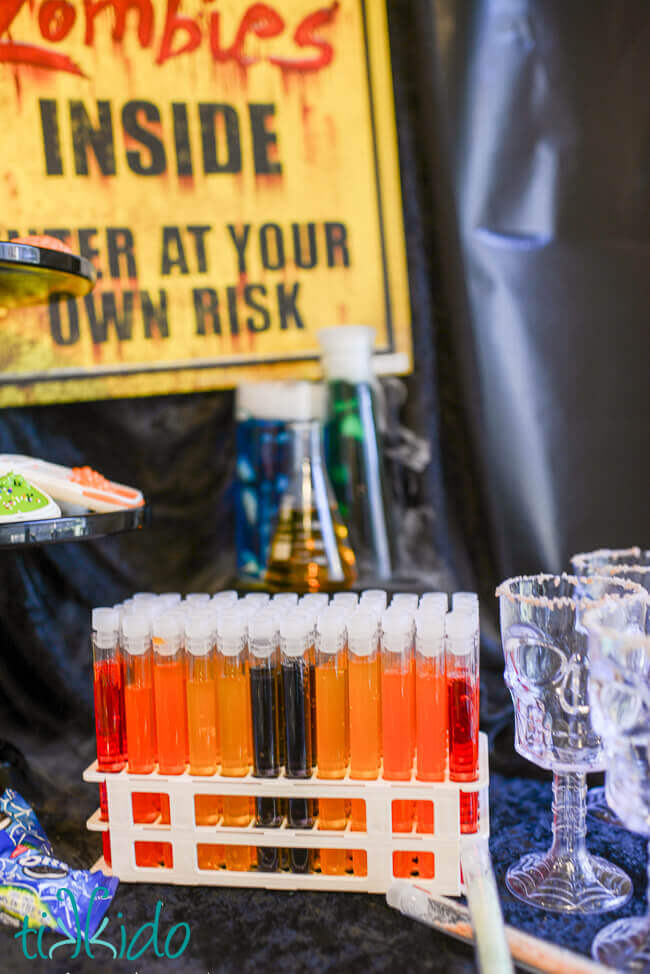 Aren't the soda-filled test tubes fun?  (buy here)
Remember all those wonderful flavors of FANTA I found at Walmart?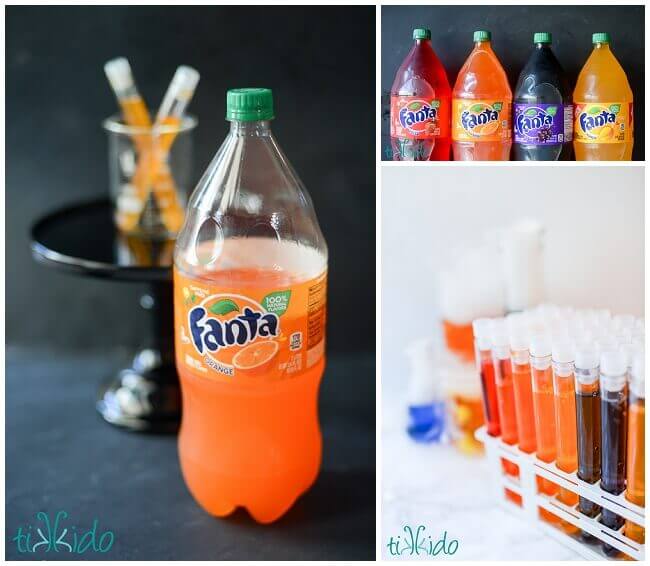 I filled up test tubes with the different flavors of soda, so that our guests could create their own drink formulas, and mix and match flavors.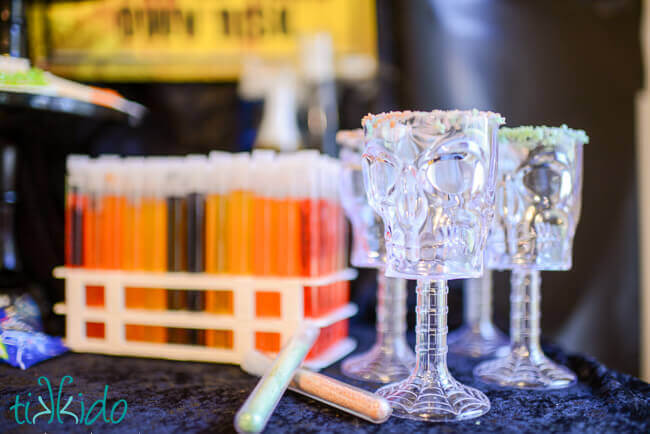 Drinking out of the top of a skull goblet (found at the Dollar Store) just seemed kind of right for our Zombie Science party!  The goblets were rimmed with Pop Rocks for some extra fun (and an opportunity to provide a sneaky science lesson).
Continue on to page two for even more Zombie Science fun, including a recipe for Jello Petri Dishes
[pagebreak]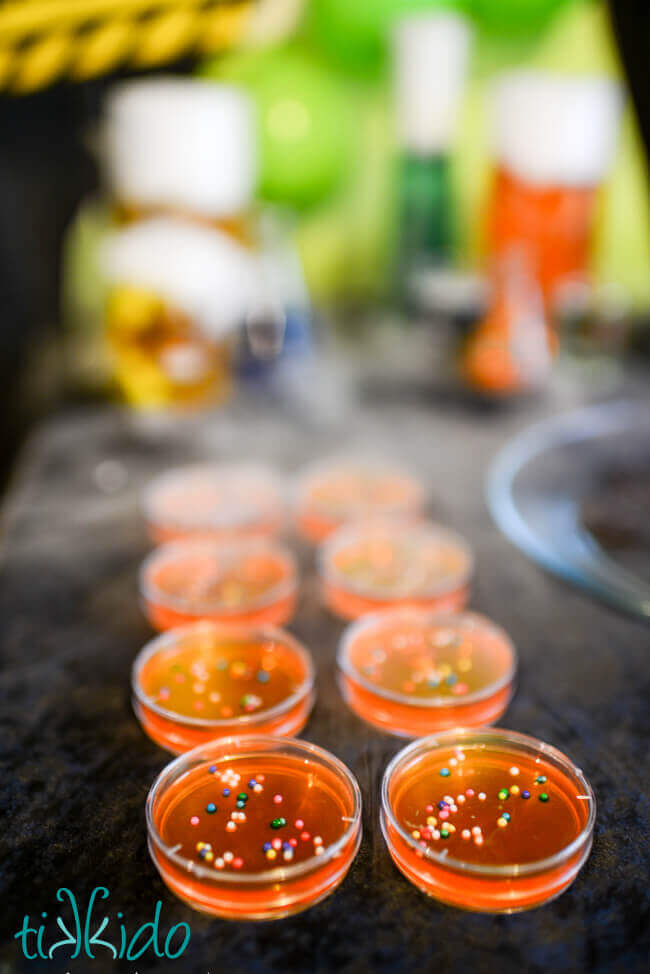 My mom's first career was as a microbiologist, and I grew up knowing a lot more about bacteria and lab procedures than the average kid.  I loved it, and even did some award-winning science fair projects on the bactericidal properties of common Ohio woodland plants.  When I came up with the spooky science theme, I knew that I wanted to involve Petri dishes in some way.  I originally thought of putting a round cookie inside the Petri dishes, but then I thought of the idea of making finger jello, but using Fanta as the liquid.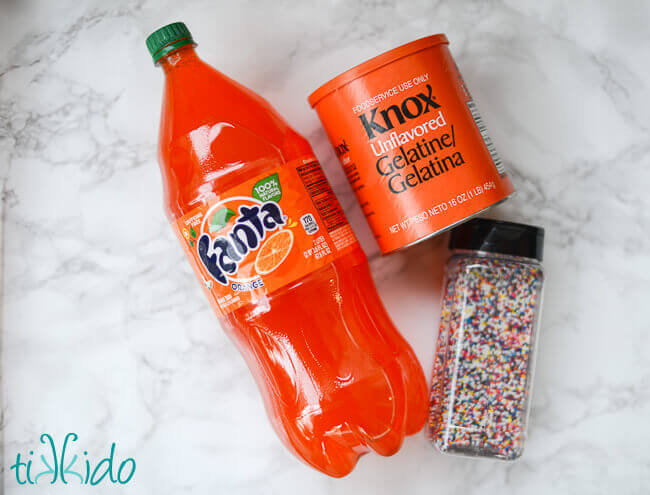 Recipe for Fanta Finger Gelatin Petri Dishes:
2 cups Fanta orange soda
1/4 cup unflavored gelatin (buy here)
sprinkles
plastic petri dishes (buy here)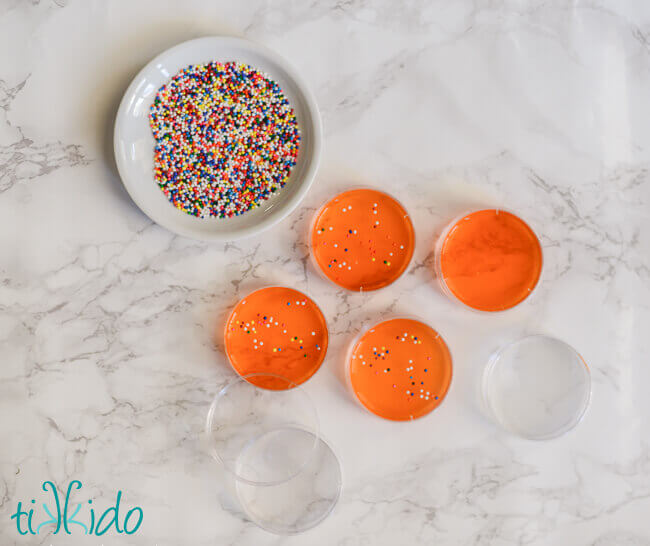 Heat up the 2 cups of Fanta orange soda.  I just microwaved mine for 5 minutes in a large Pyrex measuring cup.  Sprinkle in the unflavored gelatin and stir until it's completely dissolved.
Pour the mixture into Petri dishes, and place in the fridge to cool down and firm up.  Before serving, add a few sprinkles to the top of the gelatin to make some of the cutest little bacterial colonies you've ever seen.  
Gross, and yet cute, too, right?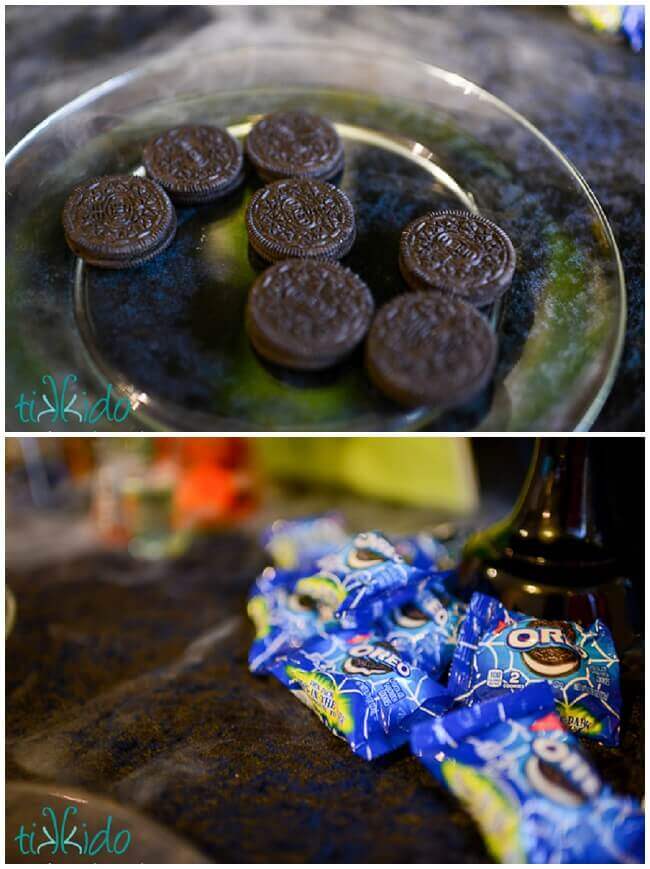 Have you ever looked through a microscope to see streptococcus?  It looks like a chain of fuzzy pom poms, all linked together. I had some OREO cookies in really cool glow in the dark packages that I wanted to keep just as they were, but I also immediately thought of displaying some of the OREOs on a glass plate (like a slide!), displayed all in a linked chain, just like streptococcus.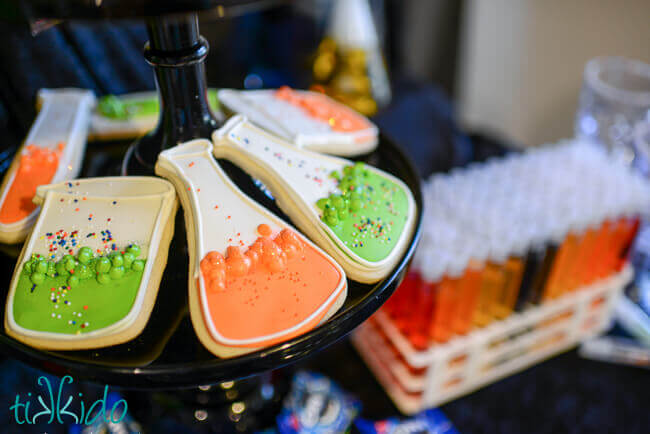 I love how my scientific flask, beaker, and test tube cookies turned out! Sparkly, bubbly, AND it has sprinkles. What's not to love?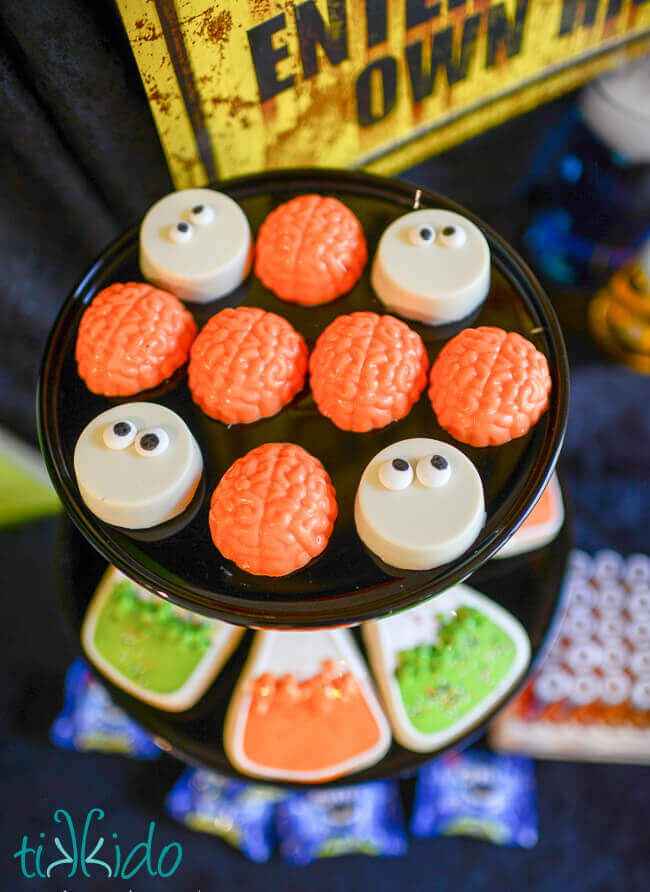 Yum, braaaaaaaains.  With a gooey, orange-cream center!  Disgusting, and yet awesome.  As zombies so often are.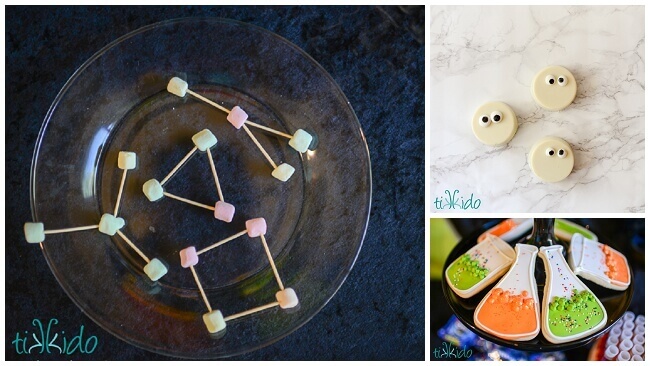 I also made some marshmallow chemical bonds.  Because of course chemists, not just biologists, are going to be important in fighting the zombie apocolypse.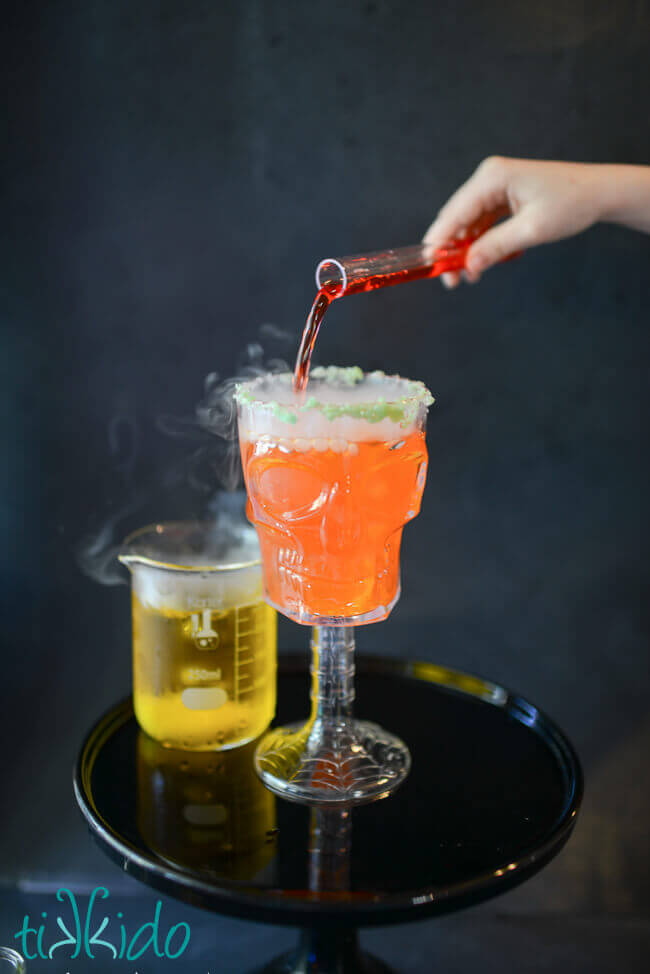 Cheers to Halloween and Zombie Science fun!