Printer-friendly version
My girls--like pretty much every kid ever--love funfetti cakes.  You know, that white cake, with sprinkles baked right in.  The more sprinkles the better, as far as my kids are concerned.  My youngest even requested a Sprinkles themed birthday party for her third birthday (actually came up with that theme herself, but HELL yeah I ran with it!  Best birthday theme ever!).  And my girls have always been so sad that I've never made a funfetti cake for them, for one simple reason: I don't do boxed cake mixes.  Nothing against them, but it's not what I grew up with, so it's not what tastes right to me, and what I tend to want to make.  Oh, I've tried to make funfetti cake before, and always ended up with a greyish, purplish, tumor-looking thing.  Not whimsical and appealing at all.  But I have finally figured it out, and for the first time, successfully made funfetti cupcakes this weekend!  Homemade funfetti cupcakes!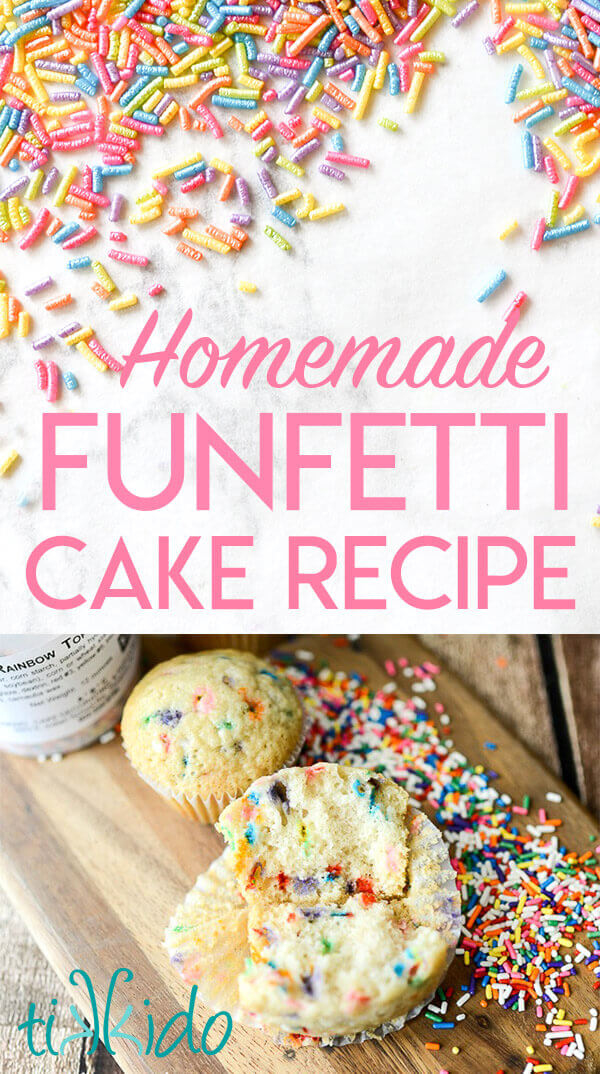 I started with my favorite basic cake recipe, Crazy Cake.  It's that old fashioned chocolate cake recipe that's probably in your grandma's recipe box.  Maybe you called it Wacky Cake, or something similar.  But I did my white/vanilla cake variation on the recipe.  (It took me a shameful number of years to realize that if you don't add cocoa, it doesn't have to be chocolate cake.)  And then added sprinkles.
Homemade Funfetti Cake Recipe:
3 1/2 cups flour
2 cups sugar
2 teaspoons baking soda
1 teaspoon salt
2 teaspoons vinegar
3/4 cups oil
1 Tablespoon vanilla
2 cups water
Mix all the ingredients together in a mixer.  Or with a spoon.  That's one of the lovely things about this recipe: there's no fancy technique required.  Just dump it in a bowl and mix it up.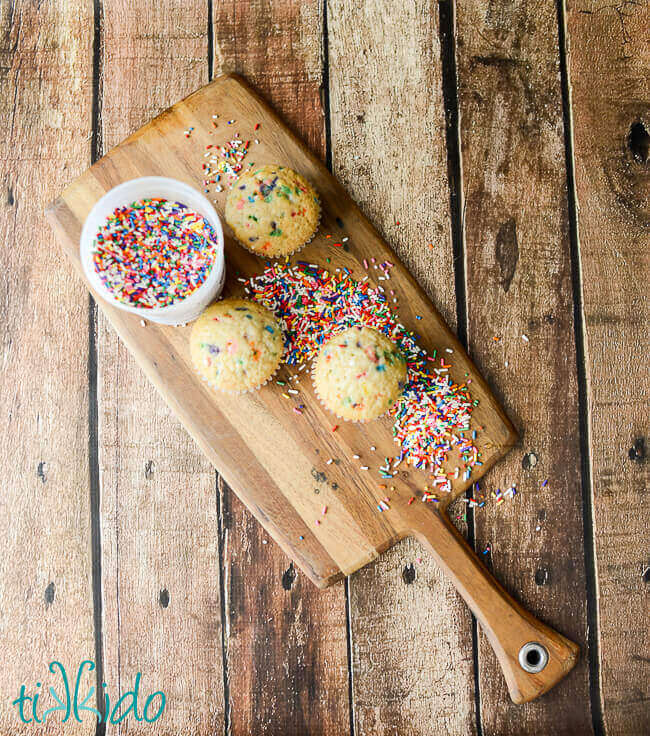 Then, it's time to add the sprinkles. In the past, I'd always used nonpareils, those tiny, round, crunchy sprinkles.  And those always started bleeding their color out horribly the very second they hit the batter, creating an unappetizing, muddy, malignant hue.  It occurred to me that I'd never tried using the other type of sprinkles, the longer, softer type sometimes called "jimmies" (at least in the northeast).  I thought it was worth a try, and added about a half a cup--maybe more, I just dumped them in--to my vanilla cake batter.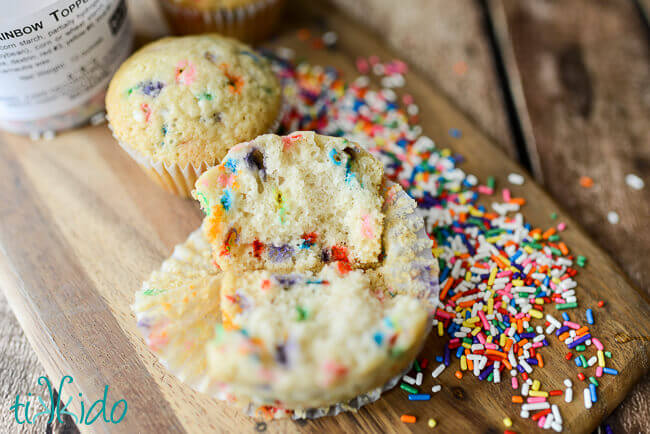 Now, maybe this is stunningly obvious to everyone else in the world who has ever made a funfetti cake mix.  Maybe this is exactly the kind of sprinkles that come in a funfetti cake mix.  I have no clue.  But if you're like I am, and have been living under a funfetti-less rock, this was a revelation.
Amazingly, they didn't turn the batter a bilious shade, but I still worked quickly to get the batter into the cupcake liners and into the oven, not knowing how long my luck might hold out.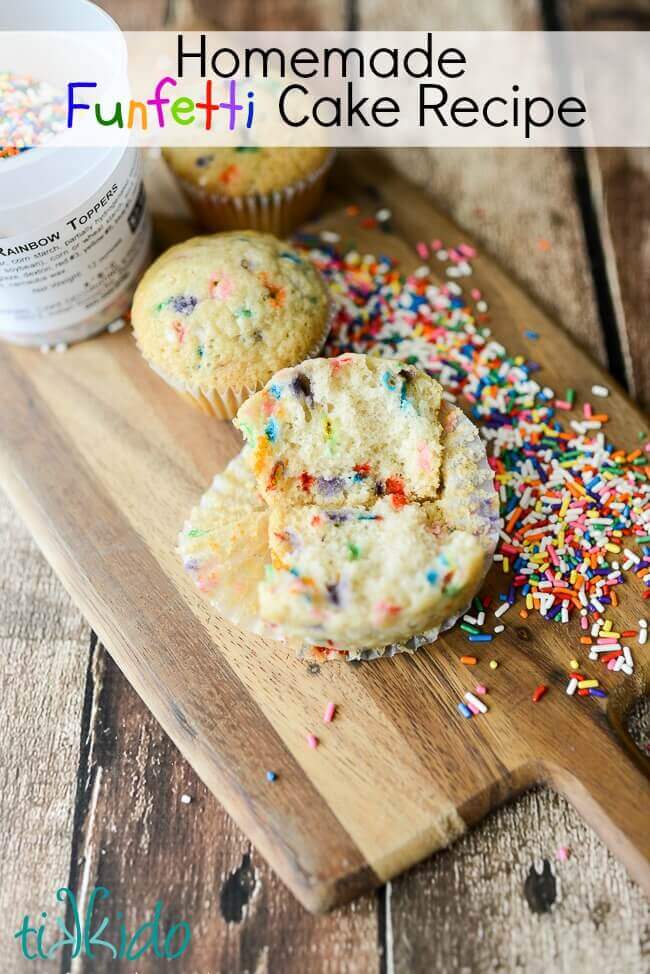 After baking (350 for 25 minutes, or 325 convection for 22 minutes), I had the perfect funfetti cupcake.  It was made with my favorite homemade cake recipe, but it had the bright color and fun of the cake mix loved by so many.  
Yes!  Another Awesome Mom level unlocked!  My quest is complete.