Printer-friendly version
Make an elegant keepsake Christmas ornament using scraps of lace and fabric from a wedding veil.  This sentimental Christmas ornament is the perfect way to use up any scraps of fabric left over from your wedding veil or dress.  Ask the dressmaker or seamstress doing alterations to save any extra bits of fabric and make this Christmas ornament full of sweet memories.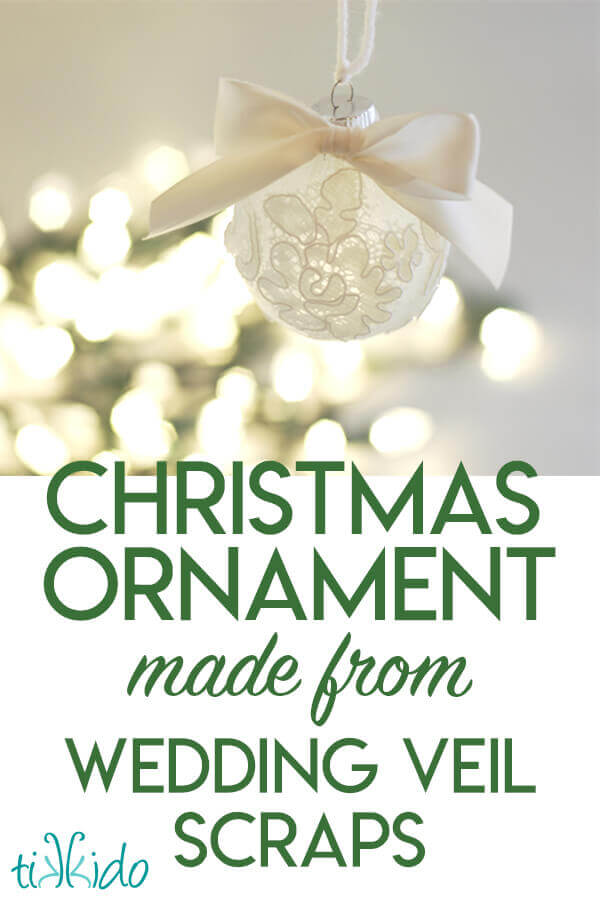 Did you know this blog started out as an outgrowth of my old business?  I was a tiara designer for 13 years! 
I made this Christmas ornament out of leftover fabric scraps from a beautiful veil I made for a sweet and wonderful bride.   Ivory silk tulle, chapel length, one layer, with the most beautiful Alencon lace the bride had found herself and sent to me.  When I was done making the veil, I had a bit of lace and fabric left over.  I hate to waste even a few inches of such gorgeous material, so I came up with a fun way to create a keepsake Christmas ornament with the fabric and lace.
First I used a large scrap of the ivory silk tulle fabric and gathered it around a clear glass Christmas ornament.  Silk tulle is so soft, so flowing, so sheer, that even with some gathering at the top, it wasn't bulky.  I adhered it to the glass ornament with Mod Podge and let it hang to dry.
Looks more like a Halloween project than a Christmas ornament at this stage, doesn't it?
Once dry, I cut some of the lovely re-embroidered flowers so characteristic of Alencon lace, and decoupaged those to surface of the tulle-covered ornament.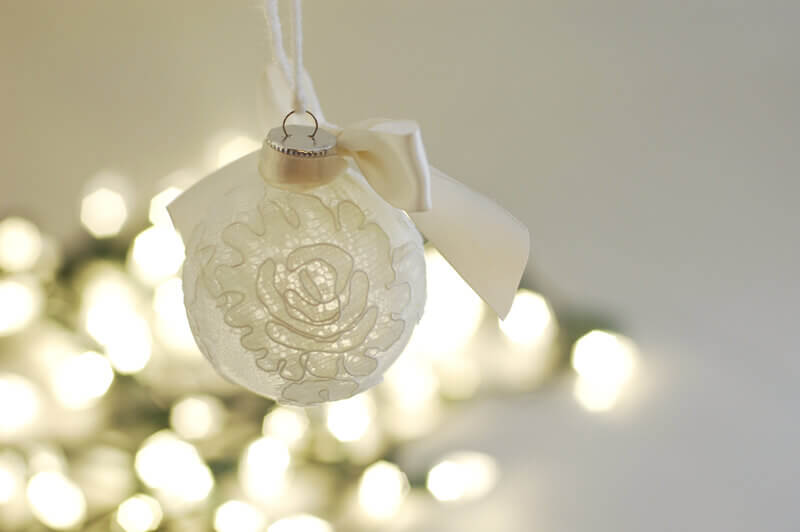 A added a little bit of super-fine white glitter to give the ornament a little extra holiday shimmer, and tied an ivory satin bow at the top to finish it off.  A simple little project, but I hope it makes the bride smile each year when she puts it on her tree.