Printer-friendly version
Victorian tinsel is one of the most classic Victorian Christmas decorations.  These Victorian Christmas ornaments have the same look and all the charm of the original Cornish tin tinsel, but are incredibly easy to make with materials you can easily find at a craft store. 
Looking for an easy, homemade decoration for the Christmas tree--or perhaps a handcrafted gift?  Whip up a collection of these Victorian tinsel ornaments.
I learned about Victorian tinsel (which was, at least some of the time, made with actual Cornish tin!) when I was doing research for our annual gingerbread house decorating party (Dickens' A Christmas Carol themed!) and as soon as I saw it, I knew instantly that I wanted to make some.
Victorian Christmas Decorations
Did you know that Queen Victoria and Prince Albert popularized having a decorated Christmas tree in the home? Victorian Christmas trees were decorated with many handmade items such as:
Have you ever seen something in a craft store and thought, "Wow, I have NO idea what to do with that, but it's cool, and I'm absolutely sure there's something I could come up with?"  That's what happened to me when I saw this flat wire in the floral section months ago.  
I didn't buy any at that time, but I kept  it in the back of my mind, and when I read about Victorian tinsel, I knew it was the perfect material.
Materials to Make Victorian Tinsel (Victorian Christmas Ornaments)
pliers or a clamp (optional)
string (optional)
Cut a length of wire about one yard long.  You want to be able to hold both ends.  Put a screw hook in your power drill (where the bit would usually go) and wrap one end of the flat wire around the hook.
Hold the opposite end of the wire, either with your hands, or a clamp or a pair of pliers.  I got much better results when I used a clamp or pliers to help hold the wire while I was twisting, but it's not strictly necessary.
Hold on to the loose end of the wire, and power up that drill.  The drill and hook do all the hard work for you, creating perfect, even, beautiful twists in the flat wire.
Cut off a few inches of the twisted wire.  You can either just bend a hook at the top (the traditional Victorian style of ornament), or add a loop of string (hangs a little straighter and is fun to spin).
To add a loop for hanging the tinsel ornament, just tie a circle of string, and fold the end of the tinsel over the loop.  Clamp into place with a pair of pliers.
To get that adorable candy-cane twist effect, I simply used a Sharpie to color one side of the silver wire.  The Sharpie colored the wire perfectly, creating good color but allowing the luster of the metal to shine through.
And of course, I had to try gold, too.
These Victorian tinsel ornaments really look spectacular on the tree.  They sparkle and shine fabulously.  And they're re-usable each year, unlike the tinsel of my youth.
 I kind of miss tinsel, but don't miss the mess.  This Victorian tinsel is the perfect solution!
The perfect bit of classic sparkle for any Christmas tree.  They shine and catch the light better than the glitter covered ornaments!  In fact, I tried covering these in glitter, and it just made the tinsel kind of dull and uninteresting.  The classic style is the best.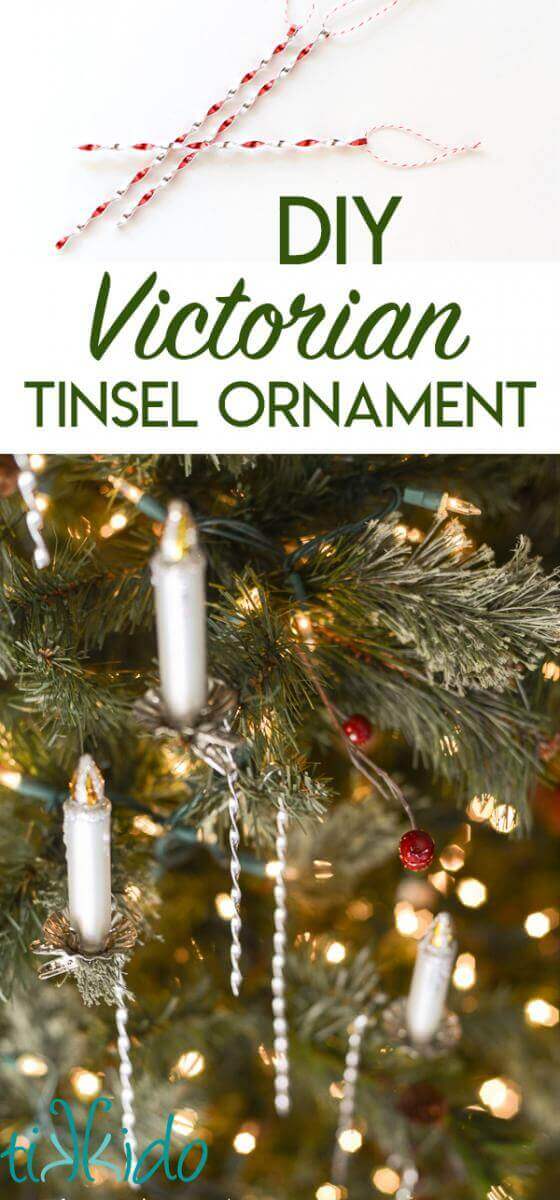 Other DIY Christmas Ornament Tutorials You Might Like: