Printer-friendly version
Use this apple pancake recipe to make a stack of the most delicious, fluffy fall pancakes that burst with real apple flavor in every bite!  These apple cinnamon pancakes are made with both applesauce and small bits of fresh apple, so you really do get great apple flavor in every bite.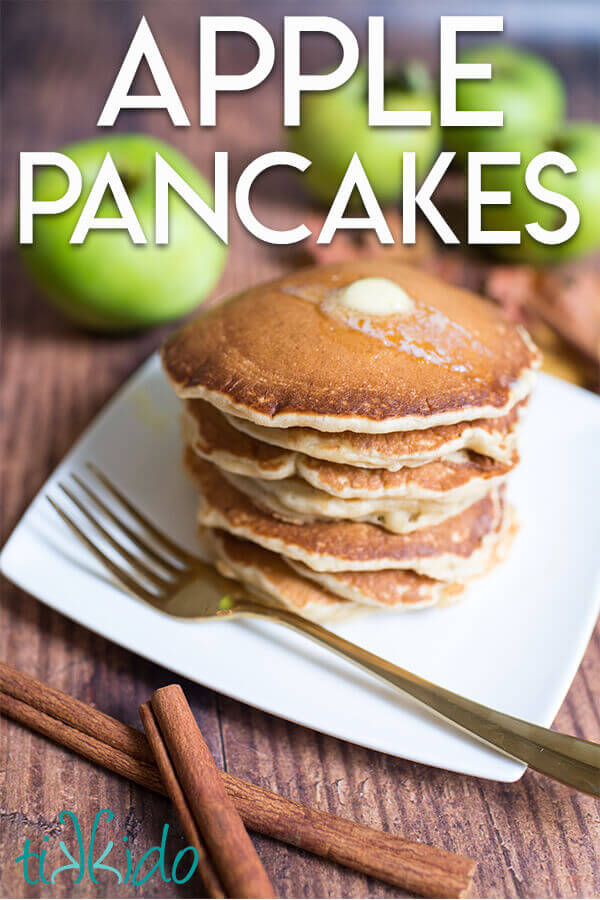 I live in an area where there are a lot of apple trees, and I was lucky enough to have a friend give me a huge bag of delicious, home-grown organic apples.  I made lots of my old favorites, like apple pie and apple crumble, but I still had apples left.  It was time to get creative.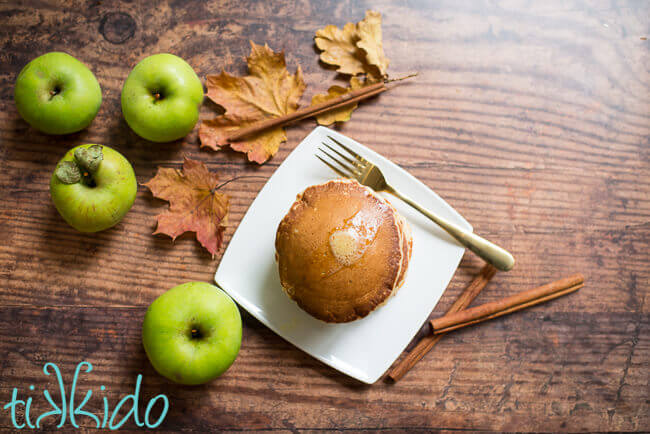 So I messed around with my favorite buttermilk pancakes until I came up with a delicious, flavorful apple pancake recipe.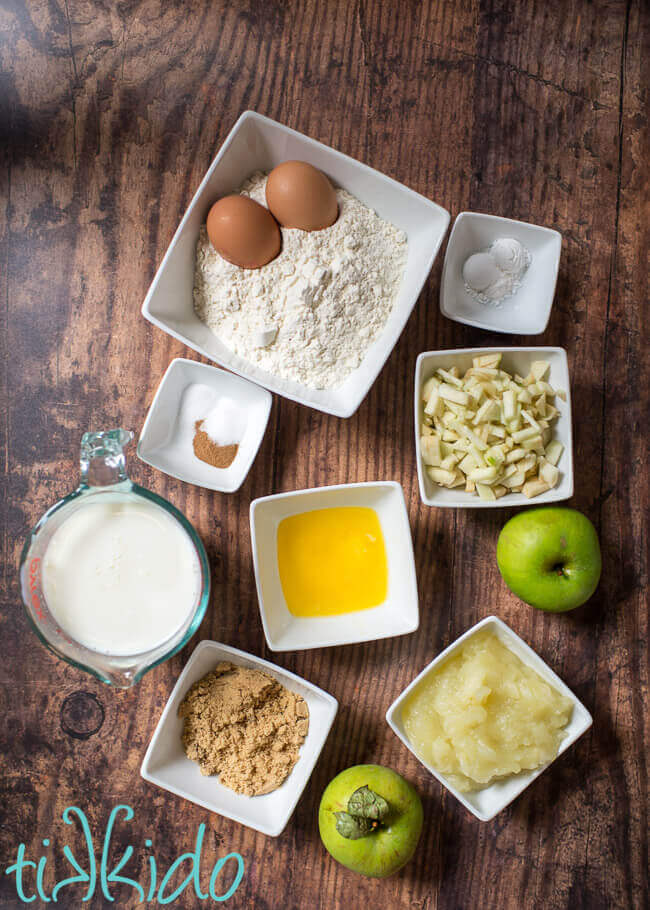 Apple Pancakes Recipe:
2  1/2 cups flour
1/3 cup brown sugar
2 1/2 teaspoons baking powder
1/2 teaspoon baking soda
1/2 teaspoon salt
1 teaspoon cinnamon
1 1/2 cups buttermilk
3 Tablespoons butter, melted
1 cup applesauce (I used my Instant Pot Homemade Applesauce)
2 eggs, beaten
1 cup peeled and finely diced apples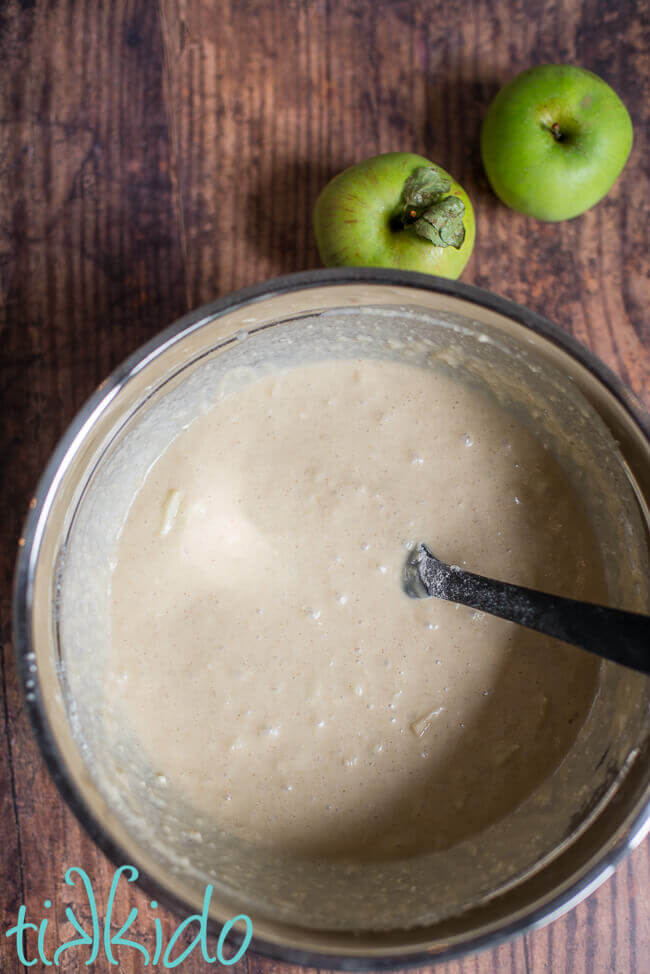 How to Make Apple Pancakes
Pancakes don't really require much technique.  I combine the dry ingredients, then add the wet ingredients and stir them all together to make the pancake batter.
Tip: Chopping Apples for Apple Pancakes
This apple pancakes recipe gets its flavor from both the applesauce and the chunks of fresh apple.  Pancakes cook very quickly, though, so it's important to cut the peeled apples into very small pieces.  If you don't, the apples won't have time to soften while you cook the pancakes, and you'll end up with crunchy bits in your soft, fluffy pancakes.  Not ideal.
If you prefer larger chunks of apples, try sauteeing the apple pieces in a little bit of butter for a few minutes to soften them before adding the apples to the batter.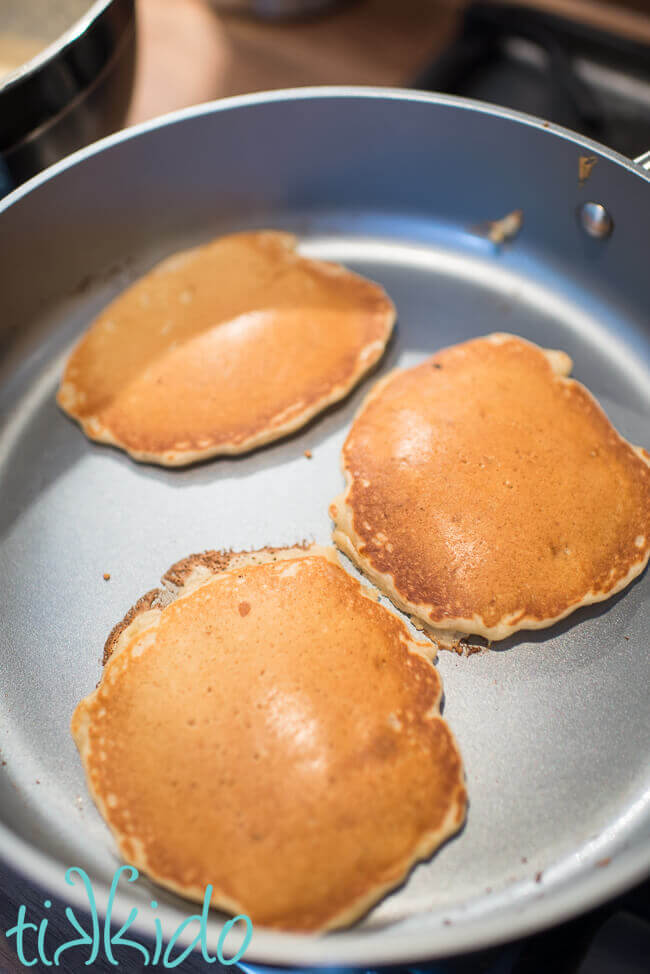 How to Cook Apple Cinnamon Pancakes:
Cook the apple pancakes just like you would a normal pancake:  place 1/4 cup of pancake batter on a moderately hot griddle or frying pan, cook for a minute or two, until the bubbles that rise to the top of the pancake burst, but don't immediately fill in with the batter, then flip and cook for approximately one more minute, until the pancake is golden brown on both sides and cooked through.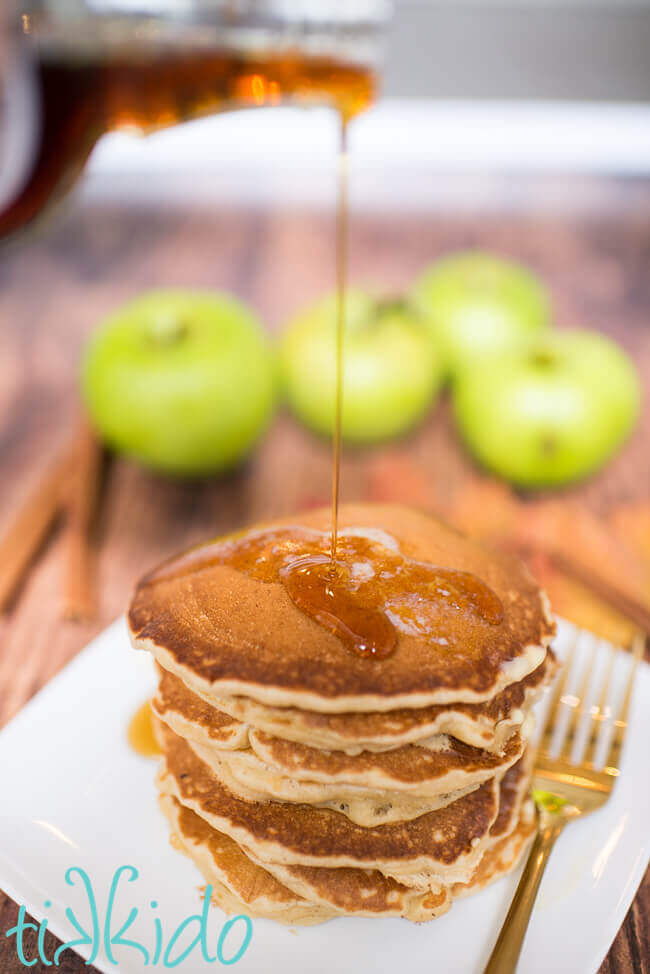 Topping Ideas for Apple Pancakes:
Serve warm.  I loved these pancakes with just a bit of butter, because I really loved the apple flavor, but if you want to add something extra, any of these would be delicious: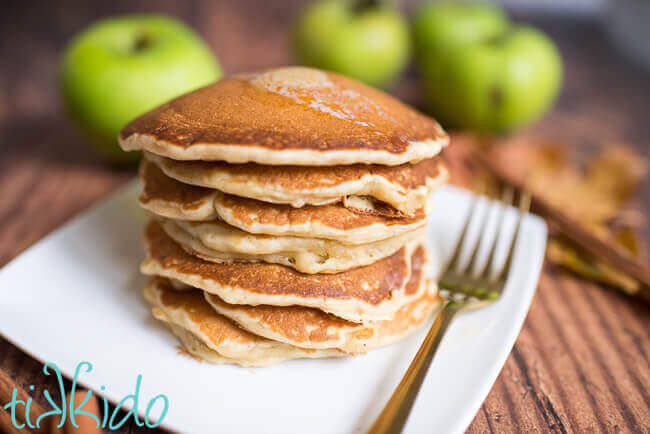 What's your favorite recipe to make when you have a lot of apples?
One Page, Printable Apple Pancake Recipe: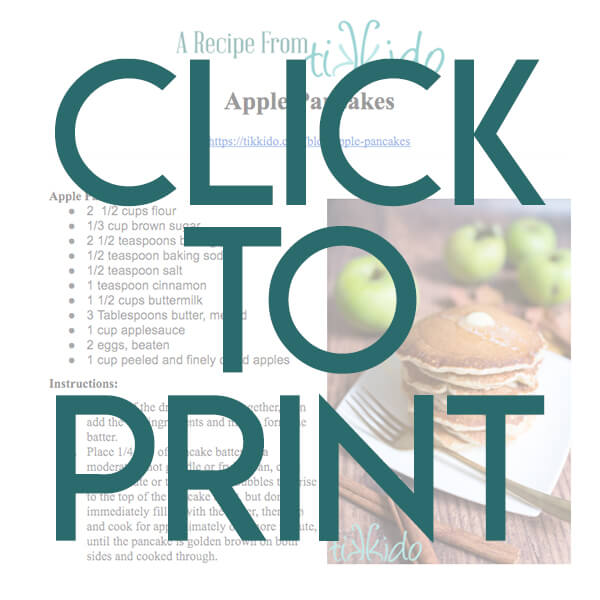 Other Pancake Recipes You Might Like: