Printer-friendly version
Homemade ice cream sandwiches are a fun summertime treat to make.  The secret to a great homemade ice cream sandwich is all in the cookie--that perfectly soft, fudgy chocolate cookie.  This recipe for ice cream sandwich cookies is the best I've found, with the perfect flavor AND texture.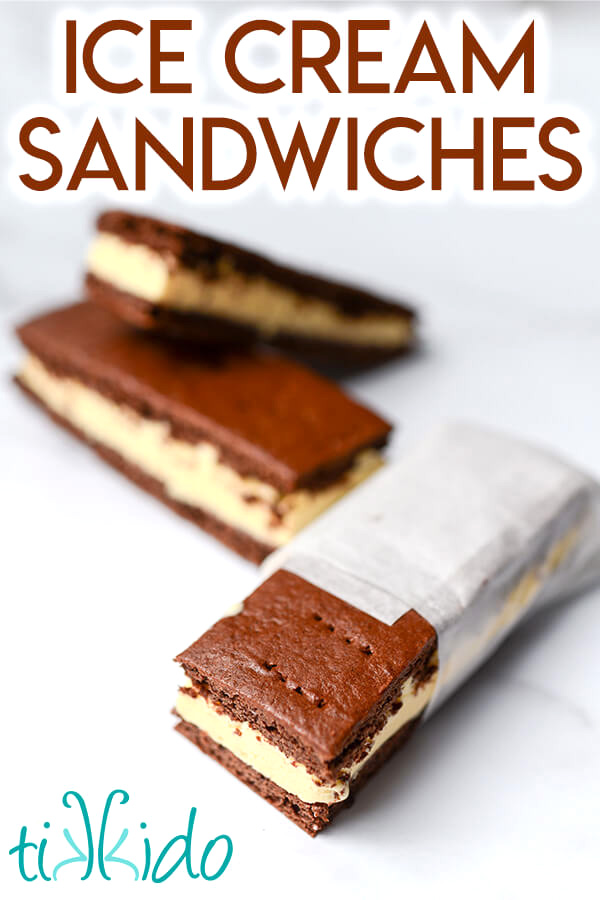 I made these ice cream sandwiches for August's Taste Creations Blog Hop.  Our theme this month is Frozen Treats (yum!), so be sure to check out the other delicious frozen dessert recipes from my fellow bloggers at the end of this post.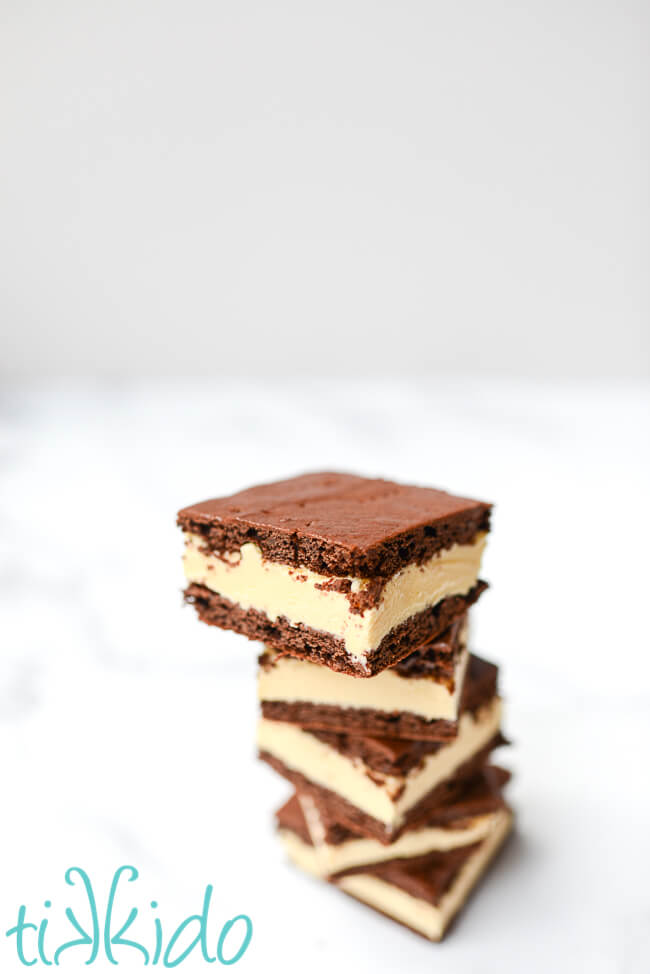 We moved from the USA to the UK last year, and until we moved here, I didn't realize that classic ice cream sandwiches were an American thing.  I can find some variations on ice cream sandwiches here in England, but nothing like what I think of as a classic ice cream sandwich--vanilla ice cream between two slightly soft chocolate wafers.  My daughter misses the American version, so when we decided that this month's theme would be Frozen Treats, I knew it was the perfect opportunity to find a fabulous recipe for homemade ice cream sandwiches.  The winning recipe came from King Arthur Flour.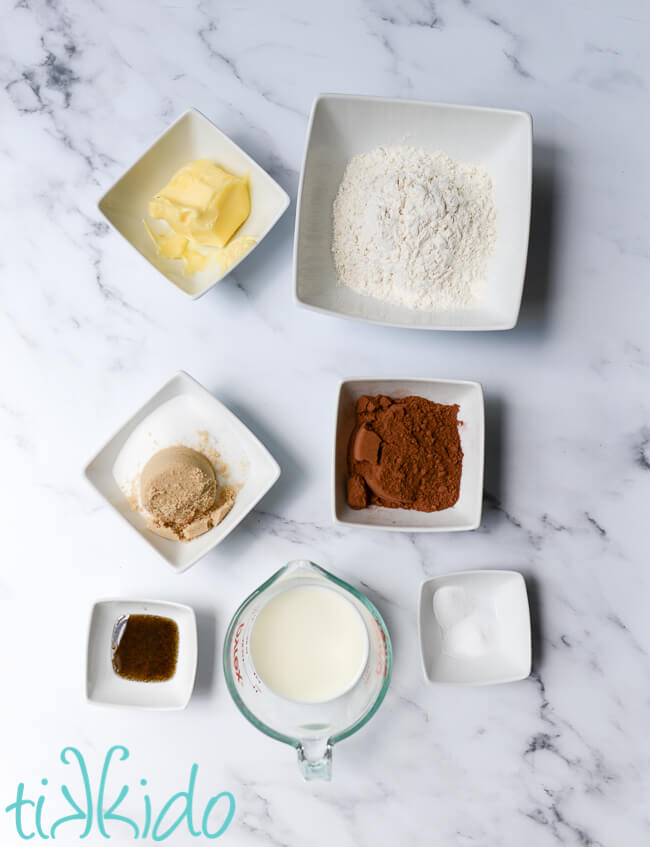 Homemade Ice Cream Sandwich Cookies:
1 1/4 cups flour
1/2 cup cocoa powder
1/2 teaspoon baking soda
1/2 teaspoon salt
6 Tablespoons softened butter
1/2 cup sugar
1/4 cup brown sugar, packed
1 teaspoon vanilla
2/3 cup milk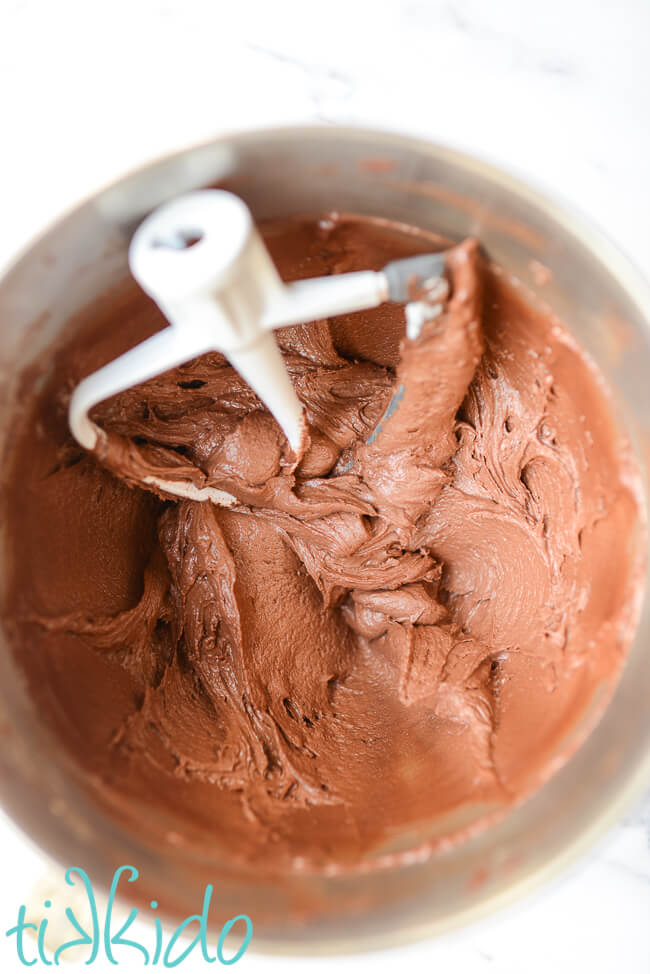 The cookies for the homemade ice cream sandwiches get made as one giant cookie, and get cut only after they're baked.  
Start by creaming the sugars and butter.
Add the baking soda, salt, and vanilla and mix well.
Add the flour, cocoa, and milk and beat to make a fluffy chocolate batter.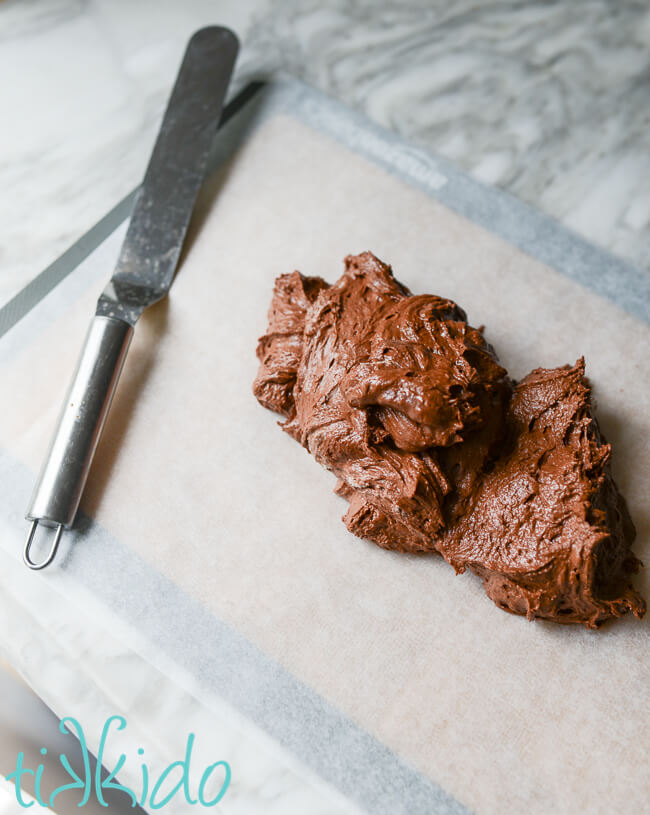 The original King Arthur recipe just tells you to spread out the batter on a sheet of parchment paper, but that's kind of difficult to do if you just put the parchment paper on your counter--it slips all over the place and it makes it very hard to spread the sticky batter evenly.  But I used one of my favorite tips for making gingerbread houses to control the slip.  Put a silicone baking mat (like a Silpat) on the counter, and put the parchment paper on top of the silpat.  The silpat grips the slippery parchment paper, and gives you much more control when spreading out the batter on the paper.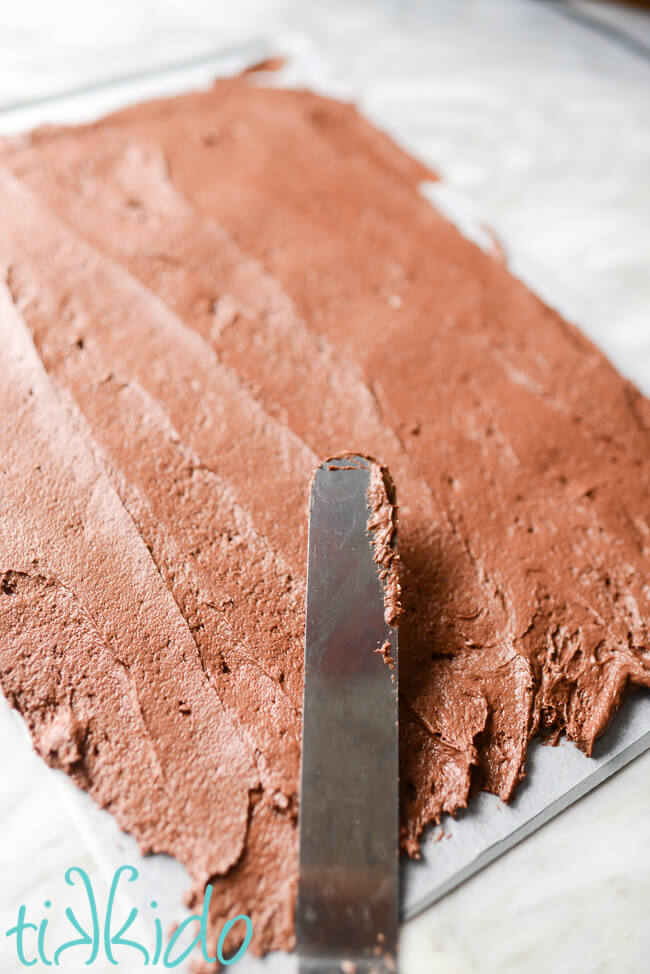 Spread the ice cream sandwich cookie batter as evenly as possible (a larger offset spatula was helpful to do this).  Don't worry about getting the edges neat, though.  That's way too difficult to do with the batter, so we'll deal with that later.  
We're making one large cookie, pretty much the size of your entire baking sheet.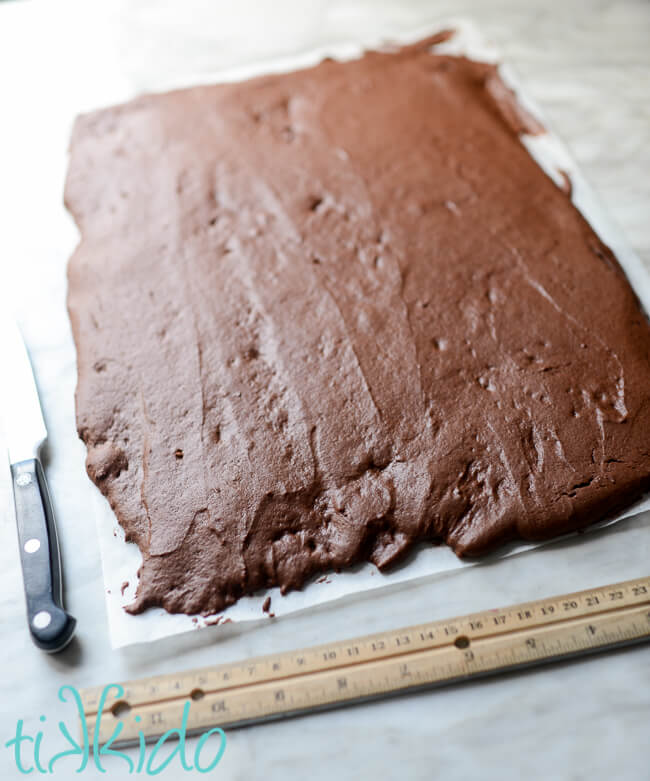 Bake the cookie for 10 minutes at 350 degrees Fahrenheit.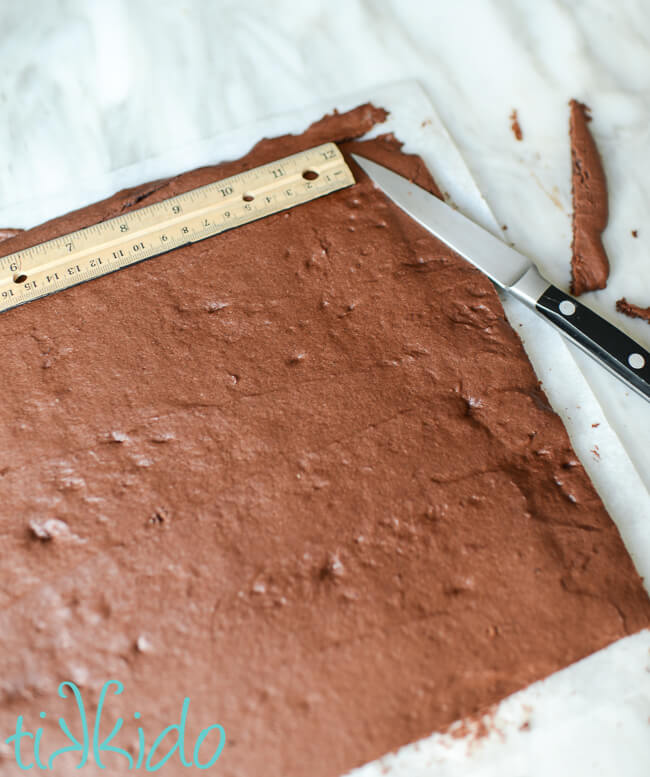 When the cookie comes out of the oven and is still warm and very soft, use a sharp paring knife and a ruler to trim the edges to make a clean rectangle.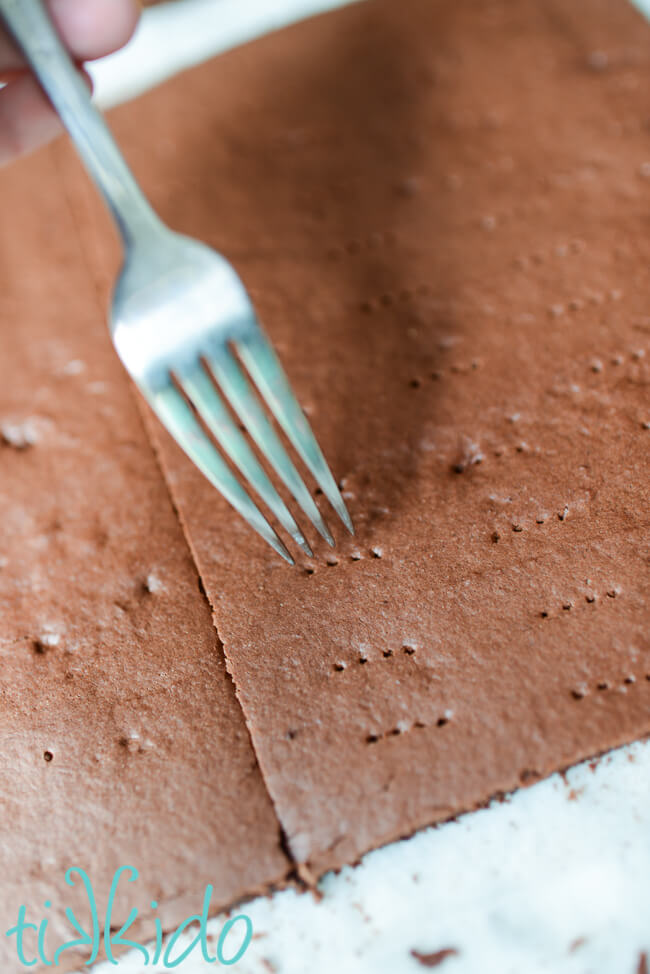 If you want that classic ice cream sandwich look, you can use a fork to make docking marks in the baked cookie.  This is purely aesthetic--real docking is done before baking some kinds of cookies and pie crusts, to help steam escape so that the pastry doesn't puff up.  But with this cookie made with batter, there's no need for docking.  I was trying to recreate that American ice cream sandwich experience for my daughter, so I did the faux-docking on half of my cookie sheet.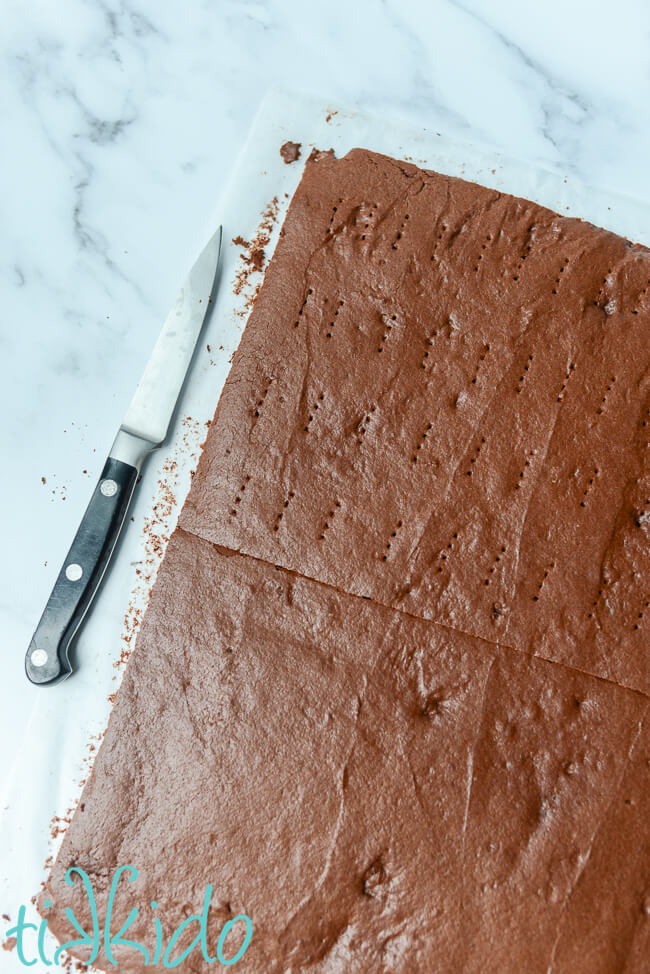 Cut the one big rectangular cookie into two even rectangles (one for the top and one for the bottom of the ice cream sandwich).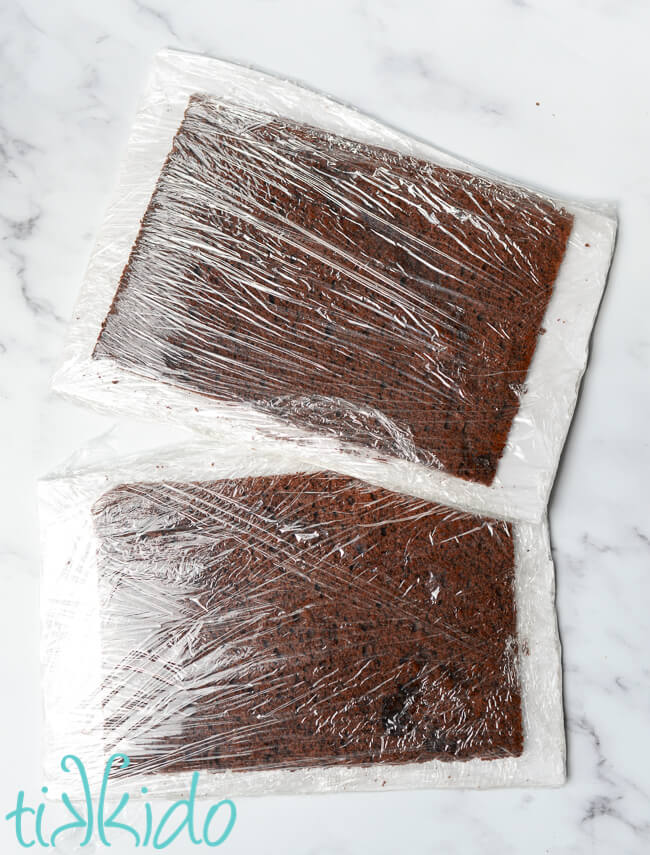 Let the ice cream sandwich cookies cool, then wrap and place in the freezer for at least an hour to firm up.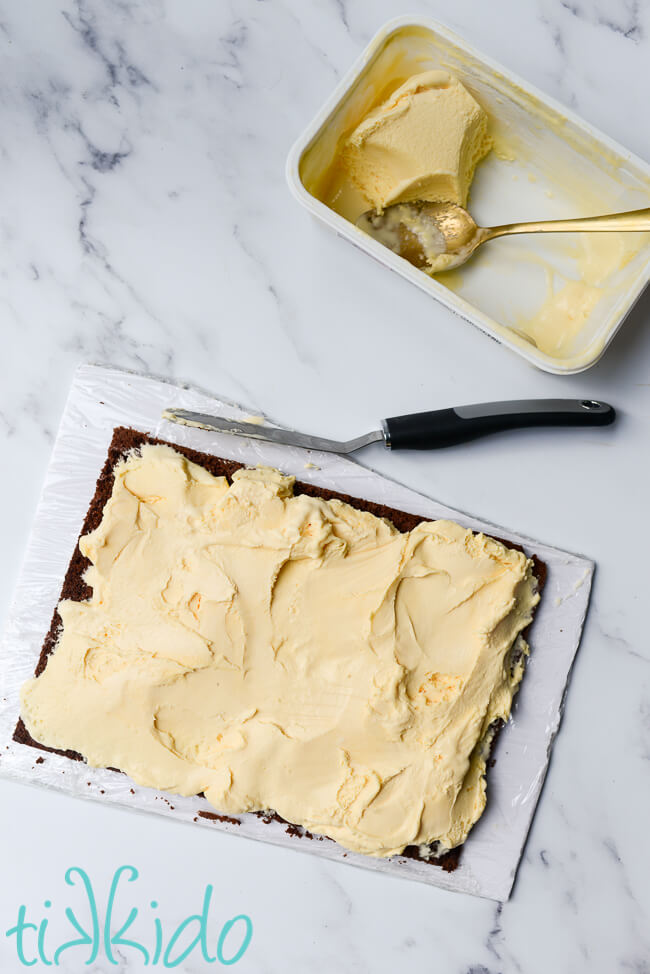 When the cookies are frozen, spread one of the large cookie sheets with softened vanilla ice cream.  You could make homemade ice cream as well, and that would take these homemade ice cream sandwiches to the next level, I'm sure, but I just used a tub of ice cream from the grocery store.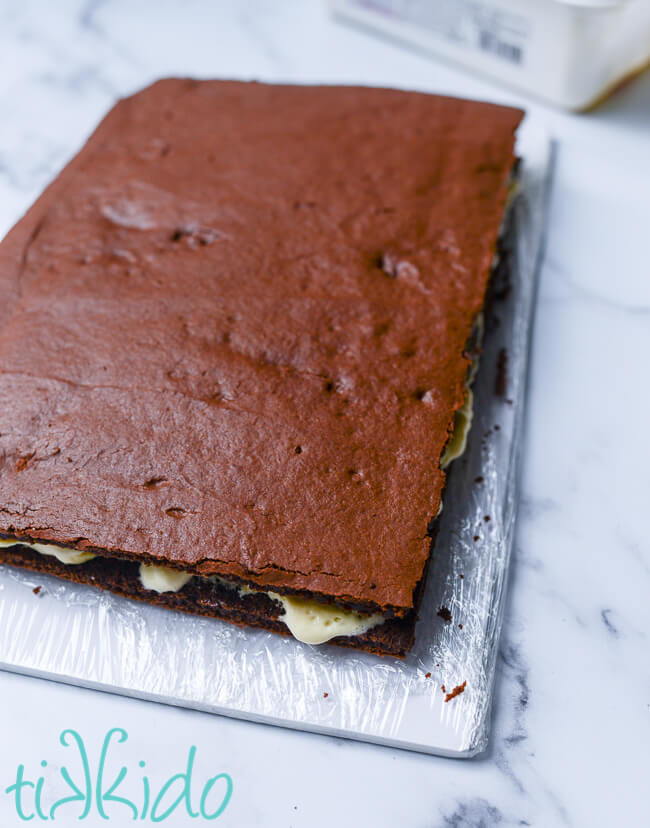 Place the other cookie on top of the ice cream, and press down to create one giant ice cream sandwich.  Return to the freezer for at least an hour to let the ice cream harden.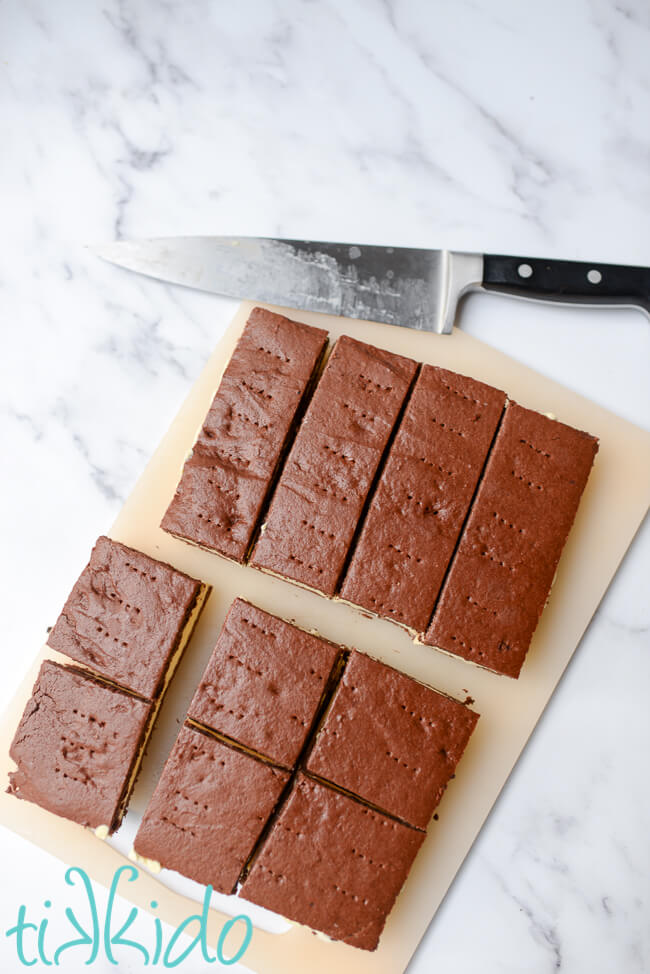 Cut into ice cream sandwiches, and enjoy!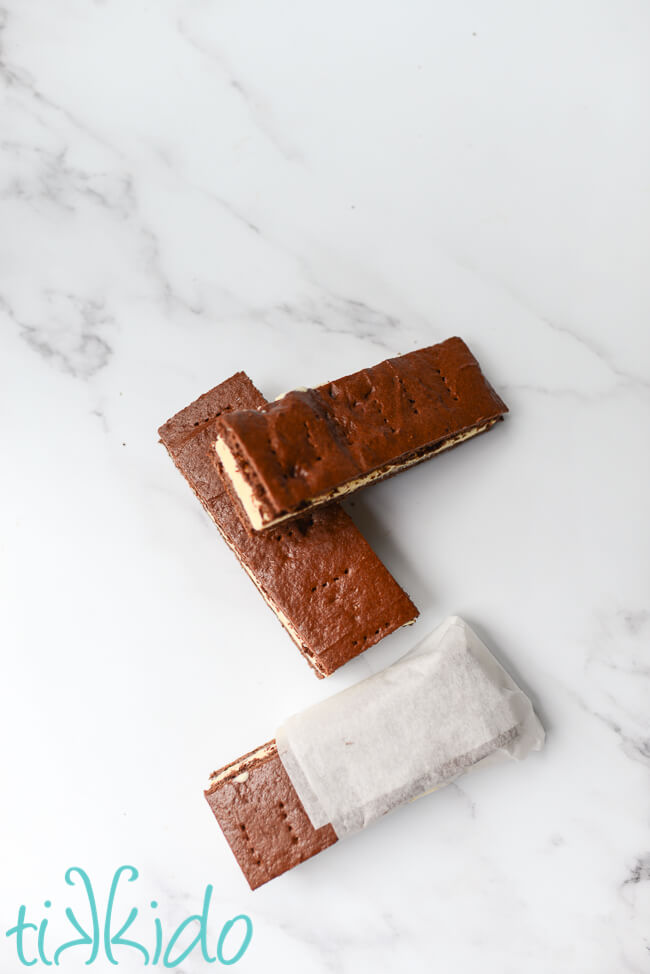 It's kind of hard to describe,but the flavor of the ice cream sandwich tastes right, but also premium.  This is definitely a step up from inexpensive generic ice cream sandwiches, but still instantly recognizable as an absolutely classic ice cream sandwich.  And the texture of the cookie is absolutely perfect: it stays just soft enough, even when frozen, that the ice cream sandwich is easy to eat.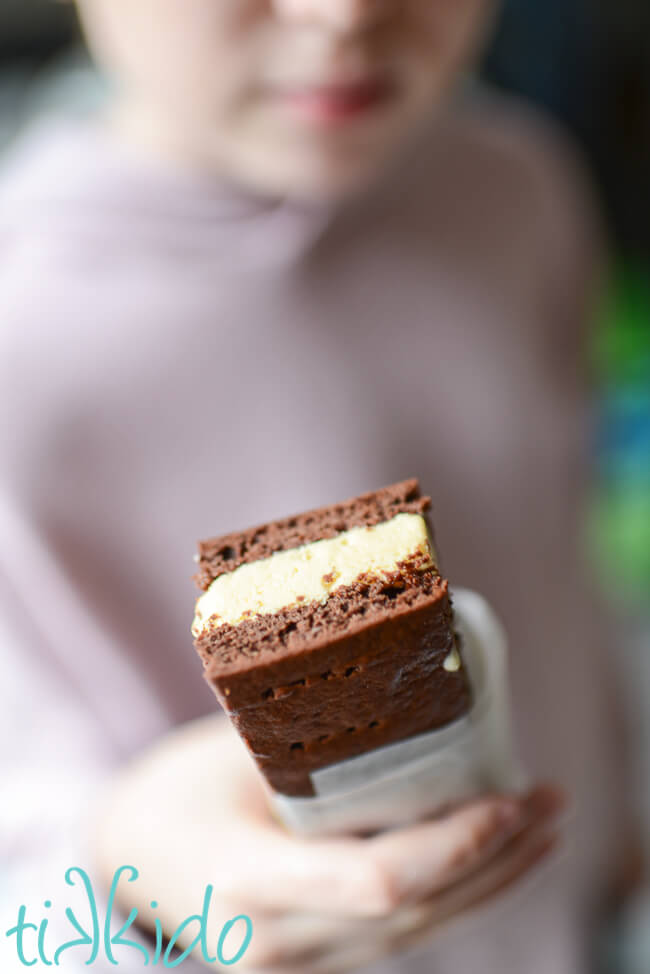 The whole family is delighted to be able to have this classic ice cream treat again, especially on a hot summer day!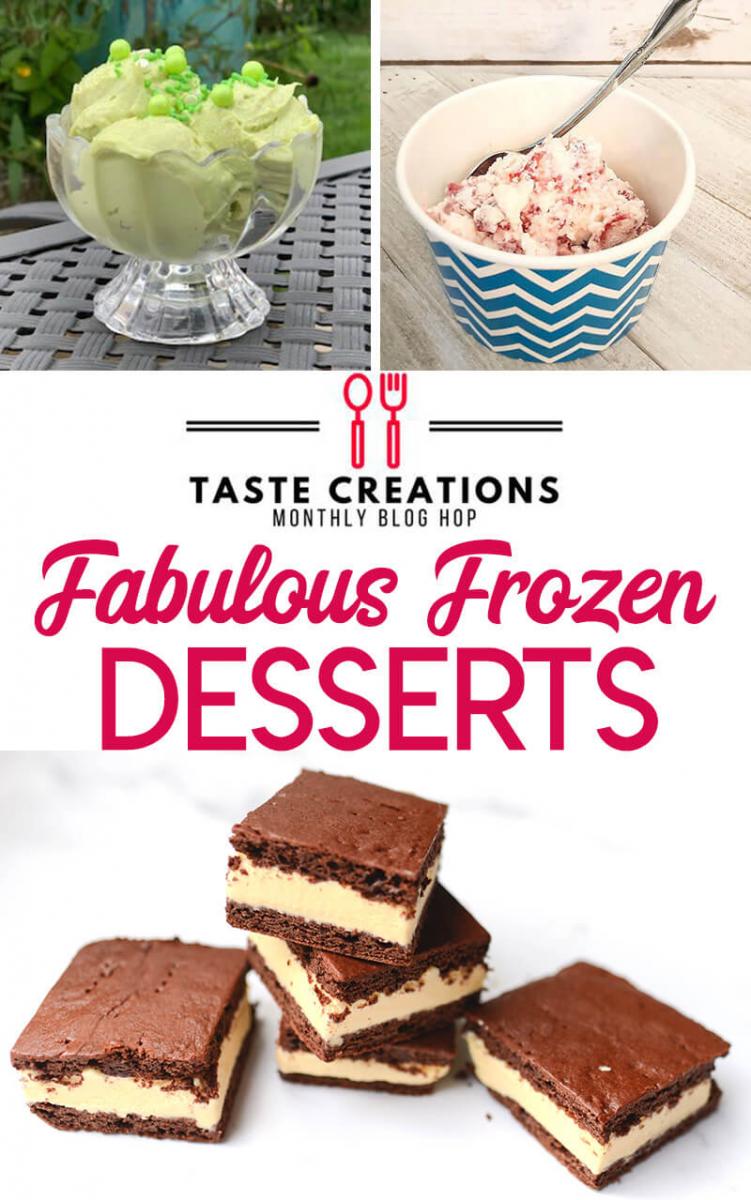 More Frozen Treats from the Taste Creation Blog Hop:
Our Good Life:  Keto Avocado Ice Cream
Mom Home Guide: No Churn Mason Jar Ice Cream
Other Ice Cream Sandwich Recipes You Might Like: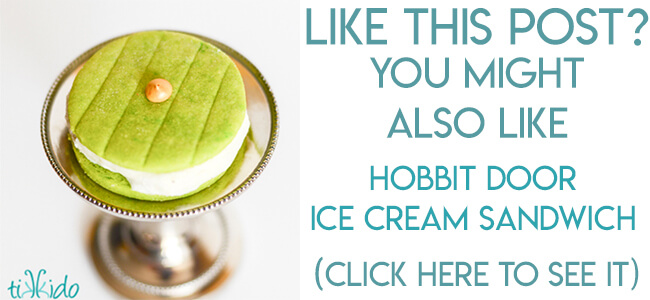 Other Chocolate Cookie Recipes You Might Like: