Printer-friendly version
Homemade biscuits are always amazing, but sometimes you just want something with a little more zesty flavor.  That's when it's time to pull out the recipe for these Sriracha Cheddar Biscuits.  They're classic buttermilk biscuits made with spicy sriracha sauce and sharp cheddar cheese, and they're dangerously delicious.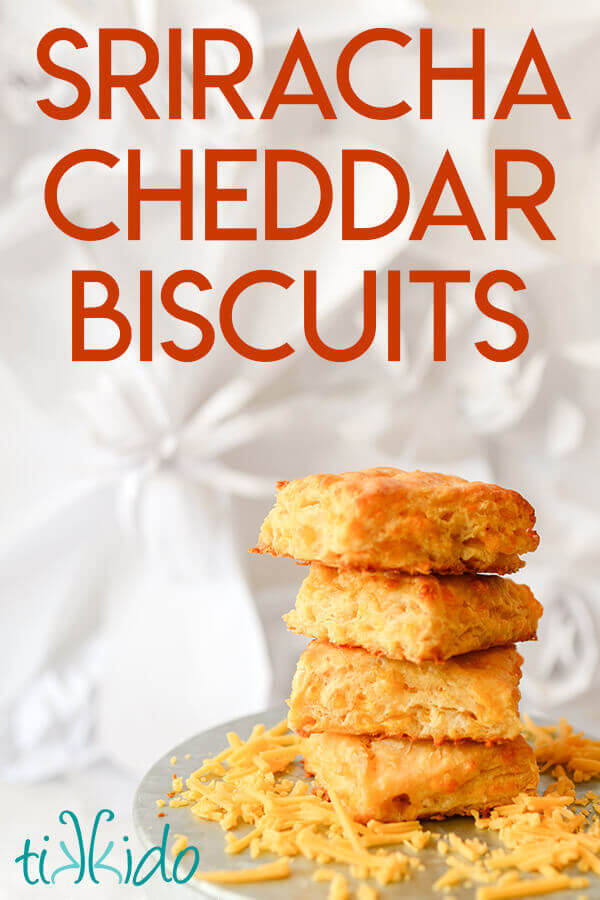 If you're not a fan of spicy foods, you'll still like this recipe.  The Sriracha chili sauce adds a little extra... something.  Your mouth knows it's there, but it doesn't burn.  I promise.  My daughter, who has NO tolerance for spicy foods at all, loved these.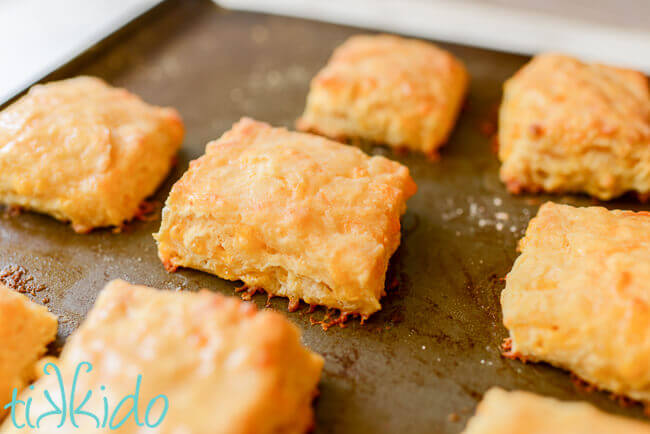 There's pretty much nothing better than a homemade biscuit.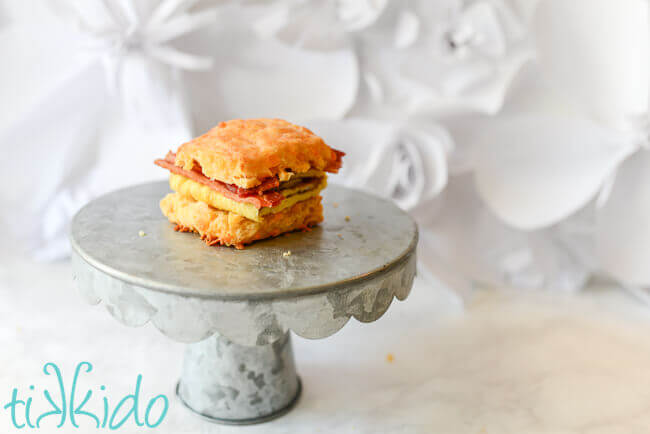 Unless it's an amazingly flavorful Sriracha Cheddar biscuit turned into an amazing sandwich with bacon and egg.  That's what I did for my contribution to this month's Taste Creations Blog Hop.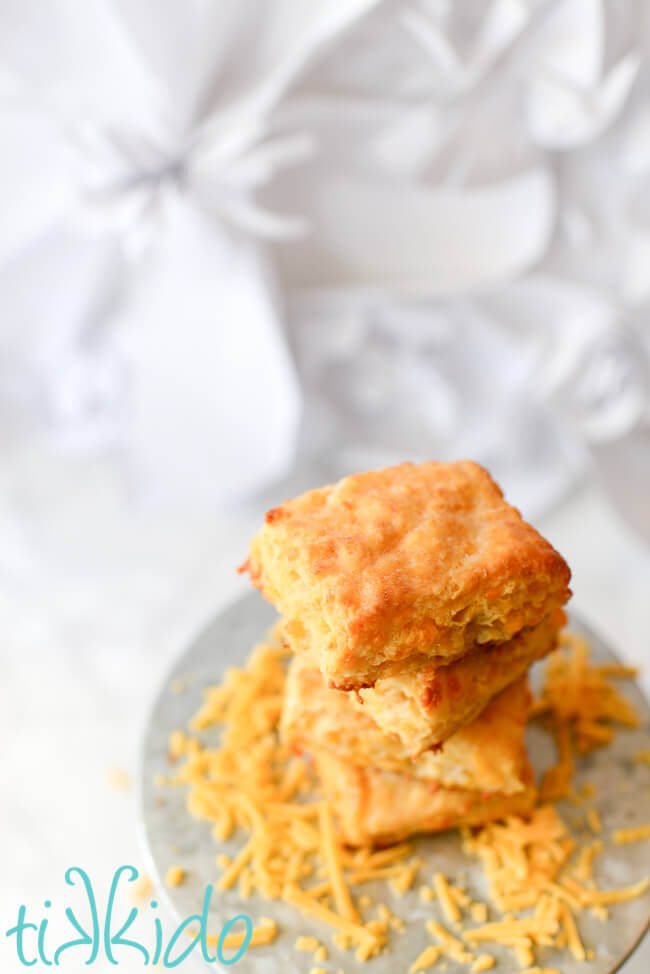 Some of my favorite blogger friends and I all contributed a recipe to create a complete menu for an amazing Mother's Day brunch.  These biscuits would be at home at any special brunch, either on their own, or turned into perfectly sized little breakfast sandwiches.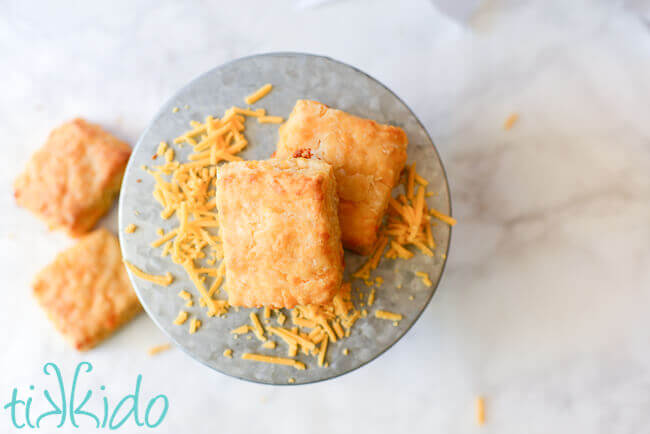 Buttermilk Biscuit Baking Tips:
Keep your ingredients cold (especially the butter!).  It's just like working with pie crust.  The colder the better to inhibit gluten production.
you want to avoid production of those long gluten strands, because that makes a tough biscuit.  Nobody wants a tough biscuit.
The less handling of the dough the better (again, just like making pie crust).  So even though classic biscuits are round, I prefer to cut them into squares so I handle the dough as little as possible.
Be sure to use fresh baking powder.  It lasts a LONG time, but it can lose its effectiveness.  To test your baking powder, pour some boiling hot water over a bit of the powder in a bowl.  If the baking powder bubbles right up, it's still good to use.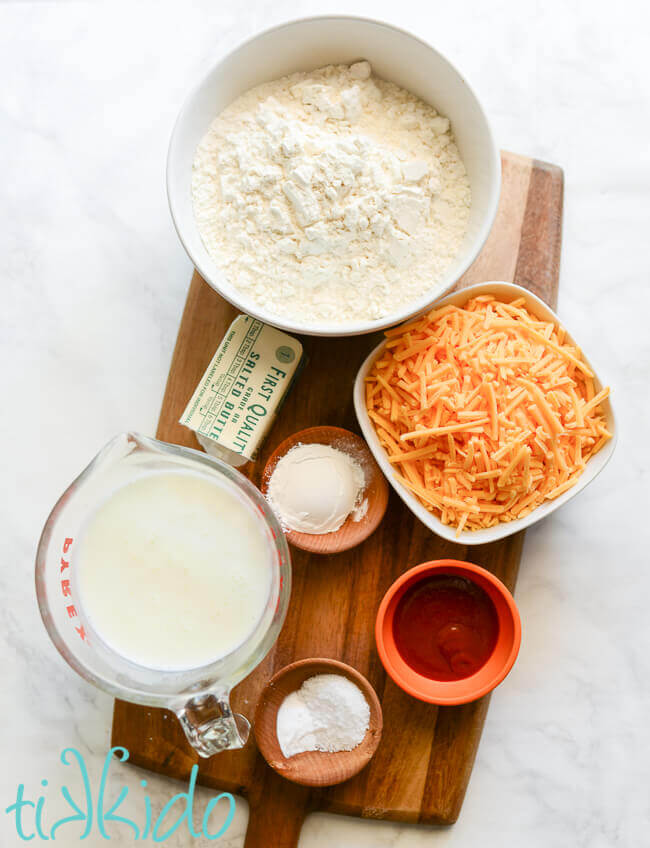 Sriracha Cheddar Buttermilk Biscuit Ingredients:
6 Tablespoons COLD, hard butter
2 cups flour
1 Tablespoon Baking Powder
1/4 teaspoon Baking Soda
1 teaspoon salt
1 cup buttermilk
2 Tablespoons Sriracha chili sauce
1 cup extra sharp cheddar cheese
extra melted butter for brushing on top of biscuits (optional)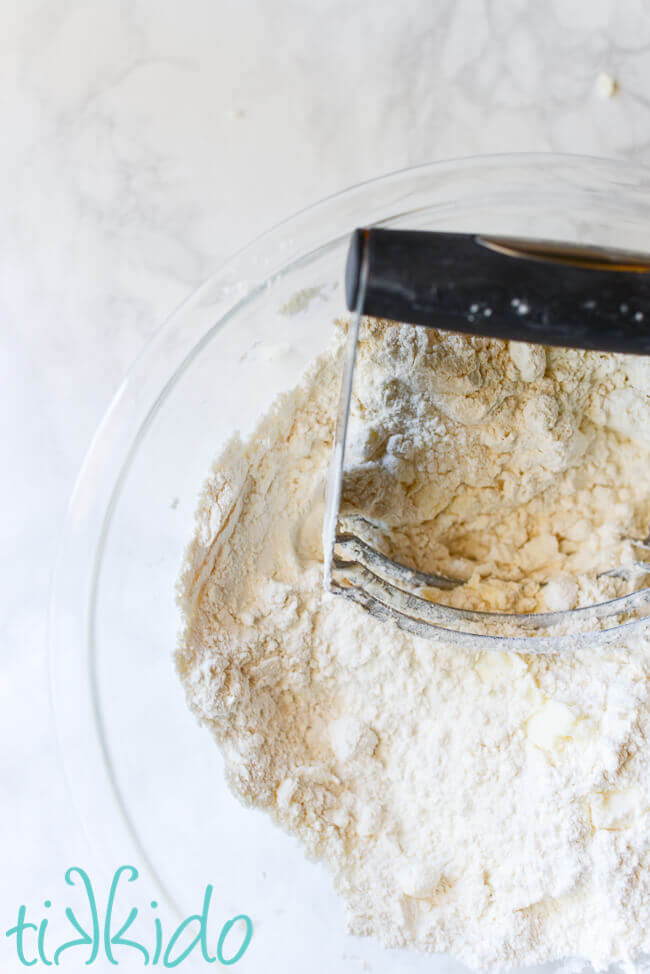 First, combine all dry ingredients together.  Then, using a pastry cutter (or just two knives), cut the cold butter into the dry mixture, until the butter is in pea-sized chunks.  The pastry cutter is a convenient tool, but is by no means necessary.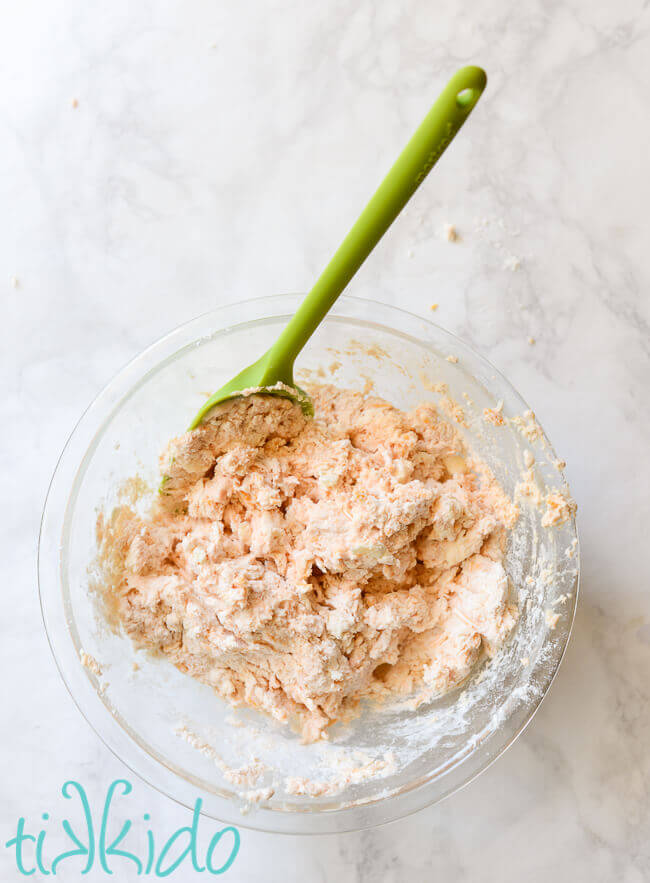 Mix the cheddar, sriracha, and buttermilk into the dry ingredients, and stir just until combined.  Again, we want to work the dough as little as possible.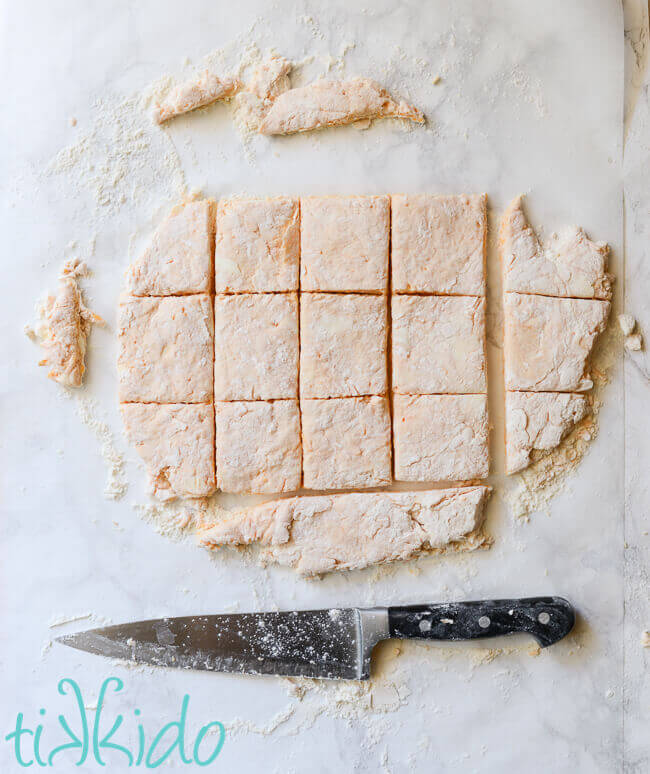 Pat or roll the dough out, and cut into your biscuit shapes.  You can use a round biscuit cutter, or just use a sharp knife to cut the biscuits into squares.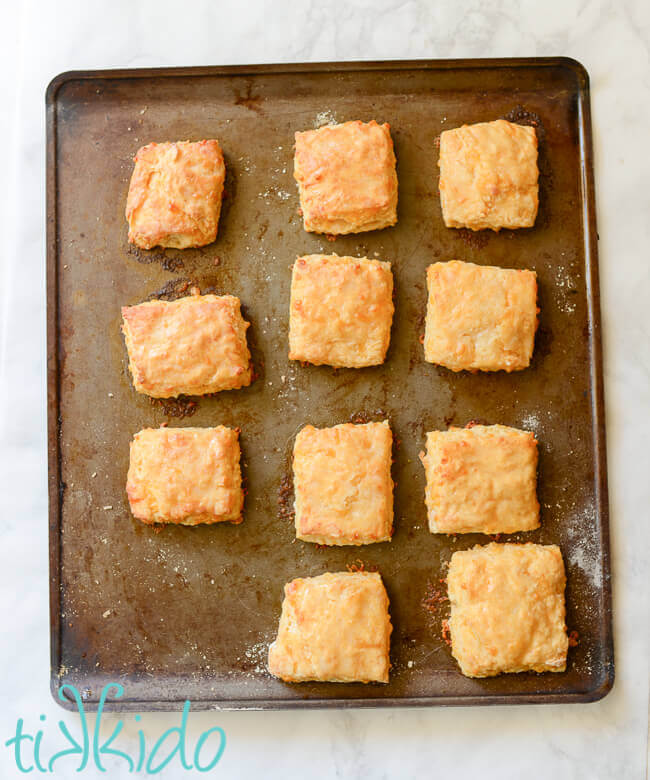 Bake at 450 degrees Fahrenheit for about 12 minutes.  When the biscuits come out of the oven, brush them with melted butter to make the biscuits even more decadent and delicious.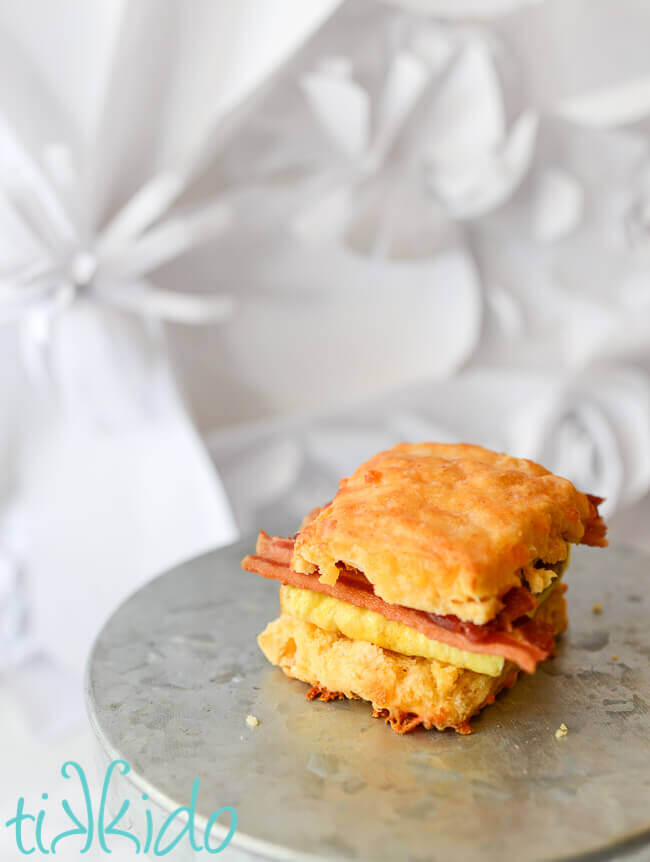 Now this is a breakfast sandwich worthy of your amazing mother.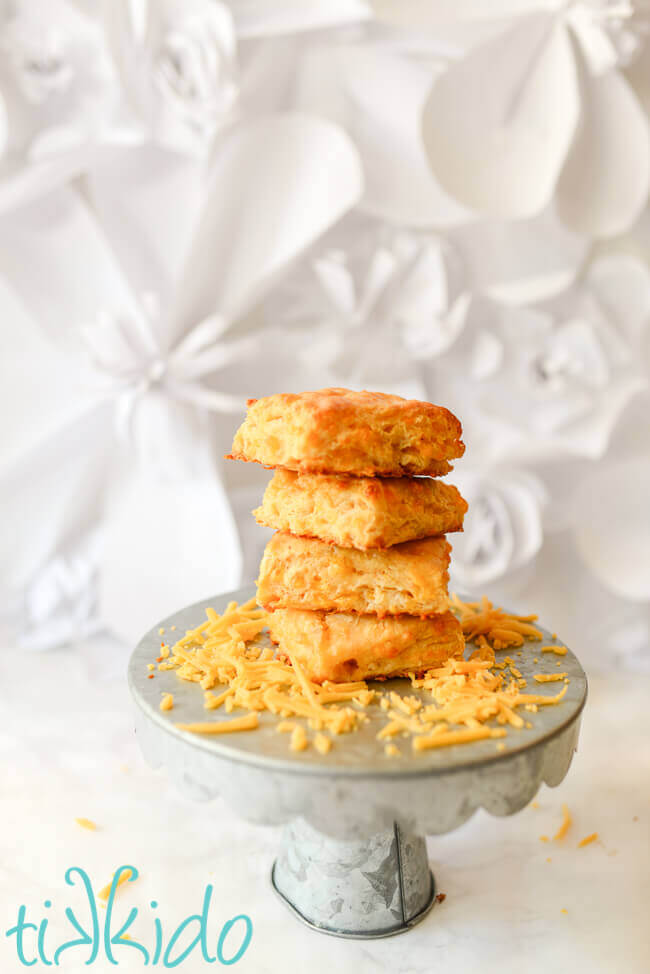 Or she'll be just as happy eating them plain, warm, and straight out of the oven.
Free, Printable, One Page Sriracha Cheddar Buttermilk Biscuit Recipe:
Be sure to check out the other amazing recipes in our Taste Creations Mother's Day Brunch Blog Hop!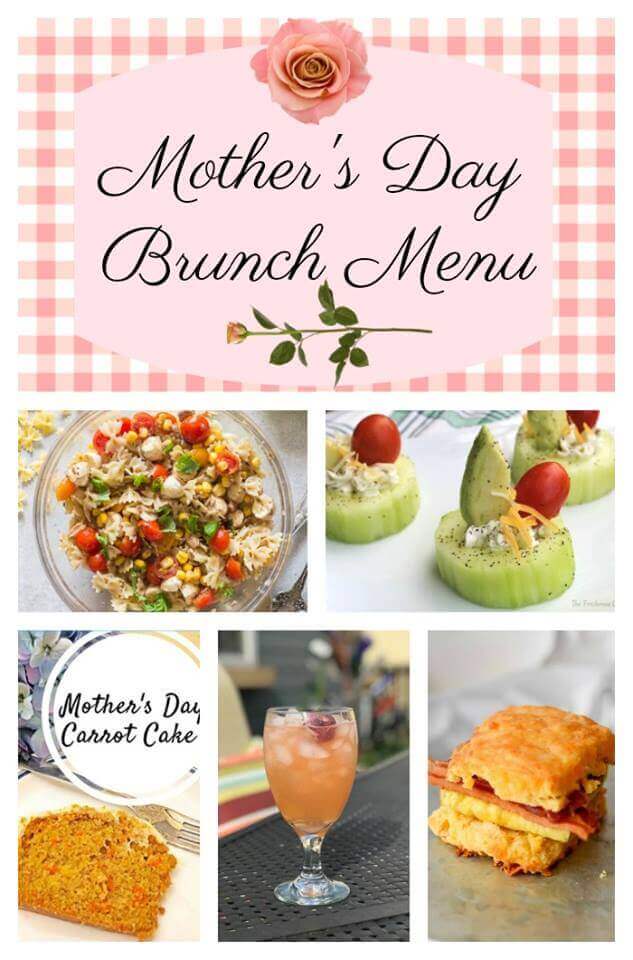 Our Good Life:  Peach Melba Cocktail
An Italian in my Kitchen:  Italian Pasta Salad
The Freshman Cook: Avocado and Tomato Cucumber Cups
Mom Home Guide: Mother's Day Carrot Cake