Printer-friendly version
Turn plain wrapping paper into neon splatter paint wrapping paper with this easy and fun craft.  DIY wrapping paper is the perfect way to customize a gift for a very special recipient.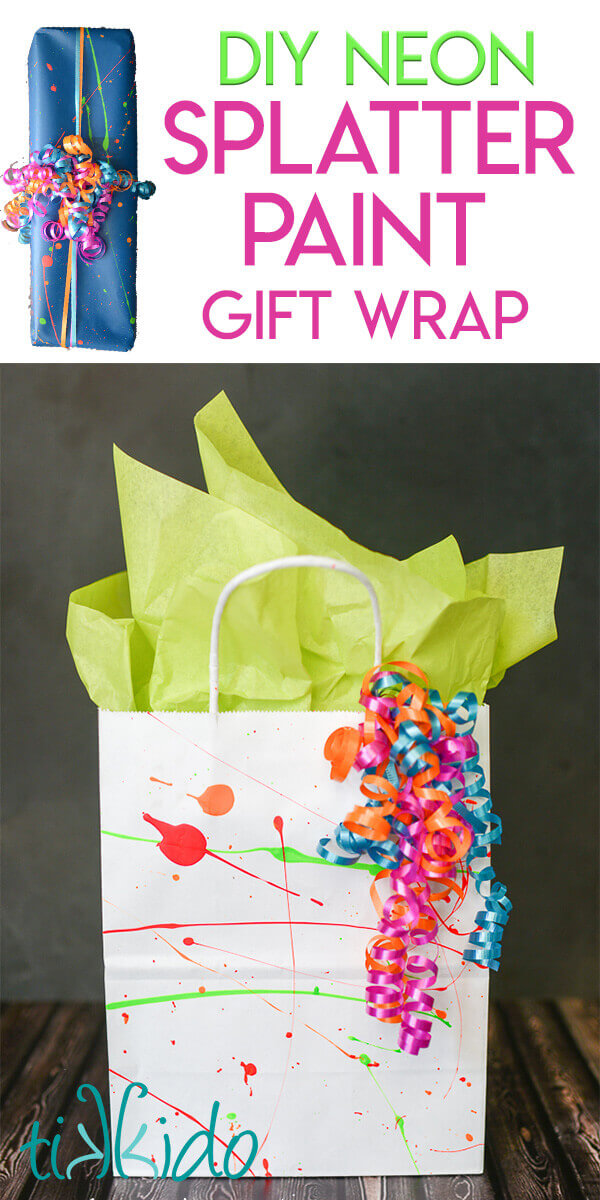 If you check out my articles tagged with "gift wrap," you'll see that I love coming up with creative, fun ways to make presents beautiful.  Without having to stock a bunch of expensive papers and bows. I love beautiful papers--don't get me wrong!  But I could easily turn into a paper hoarder, with the world's largest hoard of gorgeous wrapping papers.  Limiting myself to a few basic colors is as much a self-preservation technique as it is a fun opportunity to be creative.
One of my daughter's friends was having a neon, 80s themed birthday party a while ago, and when it came time to wrap the gift, I immediately knew I wanted to do something that would match the theme. I was a kid in the 80s, and the one thing I wanted more than anything was a neon paint splatter patterned shirt.  Well, truth be told, I wanted jellies more, but the splatter fabric shirt was way up there, too.  I already had bright, colorful curling ribbon (I think those spools are magical, because no matter how much I use, there's always more), so I decided to go totally 80s old-school, and turn my plain wrapping supplies into Jackson-Pollock-esque masterpieces.
Neon acrylic craft paint was easy to find at the craft store, and I already had the plain paper and gift bag.  
We puddled paint on a plastic plate and used paintbrushes to scoop up the paint and splatter it down on the paper.
This is obviously a craft better done outside, because it's a fun, glorious mess.
What is the Best Paint for Splatter Painting?
Inexpensive acrylic paints are perfect for splatter painting crafts.  They come in a huge range of colors, and the inexpensive craft acrylic paints are the perfect semi-runny texture for doing splatter painting.
My girls absolutely loved helping me make the gift wrap!
And my daughter felt like the present was even more special since she had a hand in making the presentation beautiful, and perfect for the party.  
What Else Can I Splatter Paint?
You can use this fun technique to decorate so many things!  Here are some splatter painting projects I love:
If you like creative gift wrapping ideas, be sure to follow my Pinterest board all about creative packaging, too.  I collect fabulous ideas from all over the web there.
More Creative Painting Ideas You Might Like:
More Creative Gift Wrapping Ideas You Might Like: