Printer-friendly version
A DIY painted umbrella is the perfect rainy-day craft.  Umbrella painting is easy to do with inexpensive acrylic paints, and is a fun way to add bright color to an inexpensive, plain umbrella.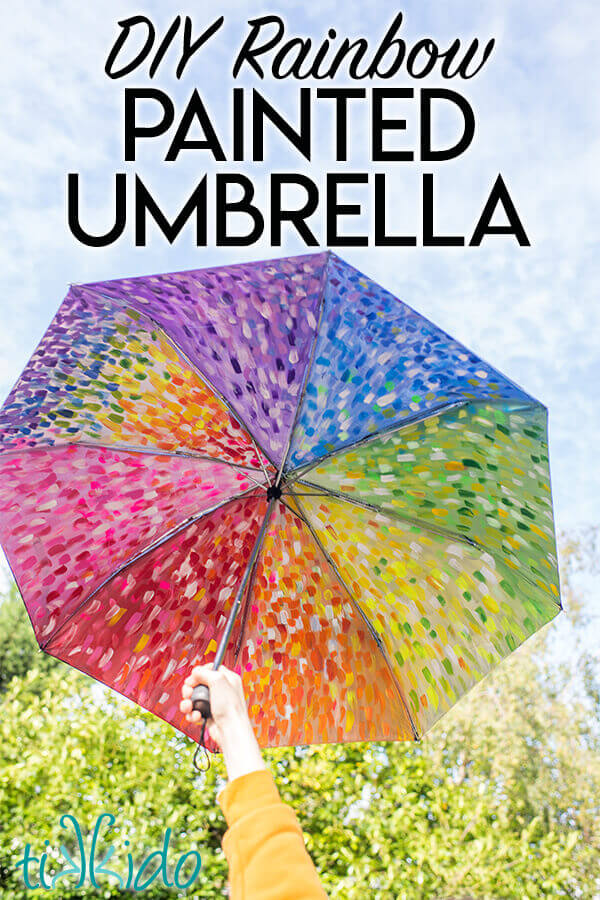 Can you Really Paint an Umbrella?
Absolutely!  I chose to paint the underside of my umbrella so I could enjoy my bright artwork on a rainy day, but you can even paint the outside/top of the umbrella as well.  You just need to use the right kind of paint.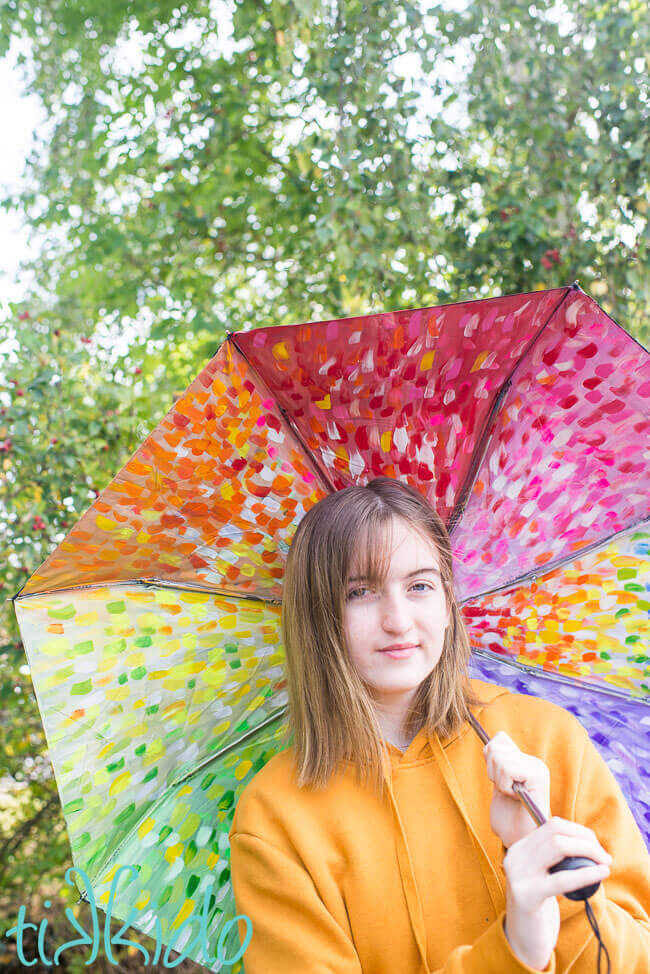 Can you Use Acrylic Paints on umbrellas?

Yes!  Acrylic paints stick very well to synthetic, waterproof umbrella fabric.
So is Acrylic Paint Waterproof?
Acrylic paints are water-based paints, but once the paint dries, it's quite water resistant.  Not entirely waterproof, but very durable.   And they're inexpensive and widely available.  Acrylic paints are the perfect choice for making a DIY painted umbrella.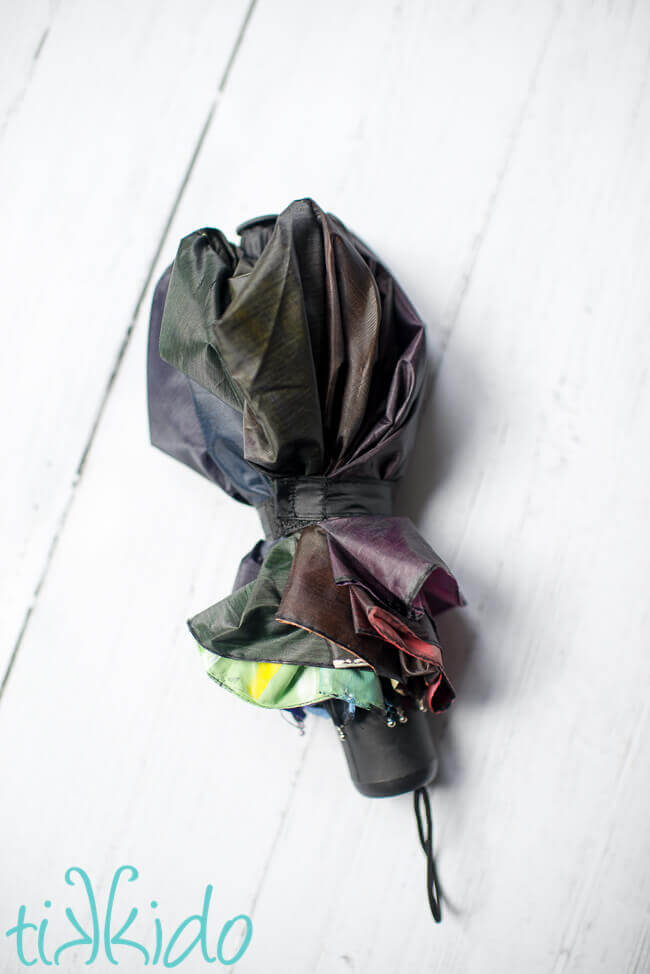 I used an incredibly inexpensive plain black umbrella for this craft.  I bought it at Poundland--the UK equivalent of the dollar store.  I had a vision of a plain black umbrella on the outside that, when you opened it, you'd be delighted by a bright riot of rainbow colors. 
Because I used such an incredibly inexpensive umbrella, I could actually see a hint of the colors coming through on the outside of the umbrella.  And I actually absolutely love the effect.  It reminds me of the stunning colors of an oil slick when it catches the light.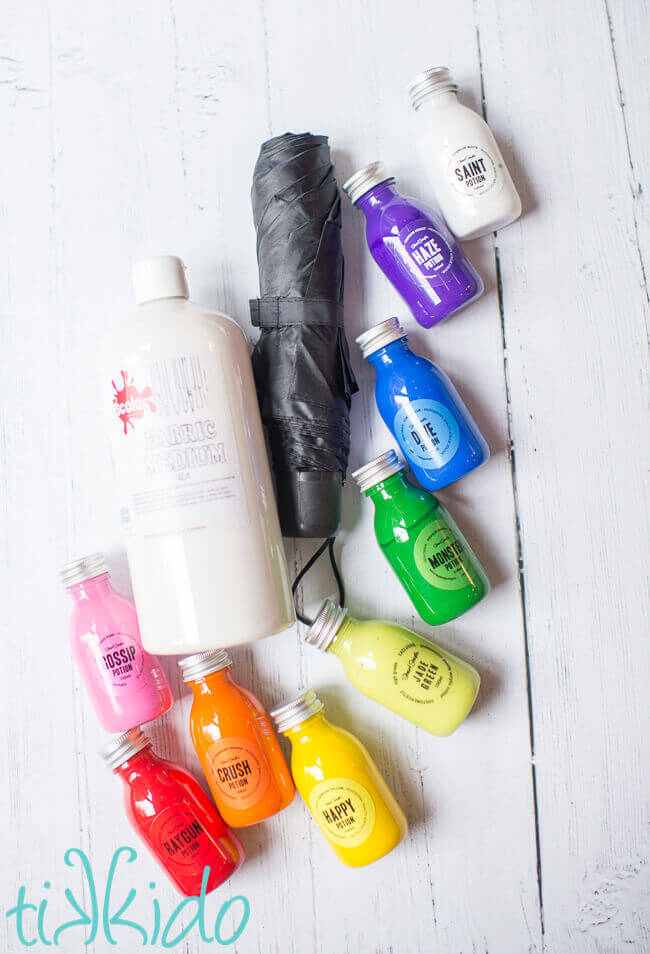 Painted Umbrella Materials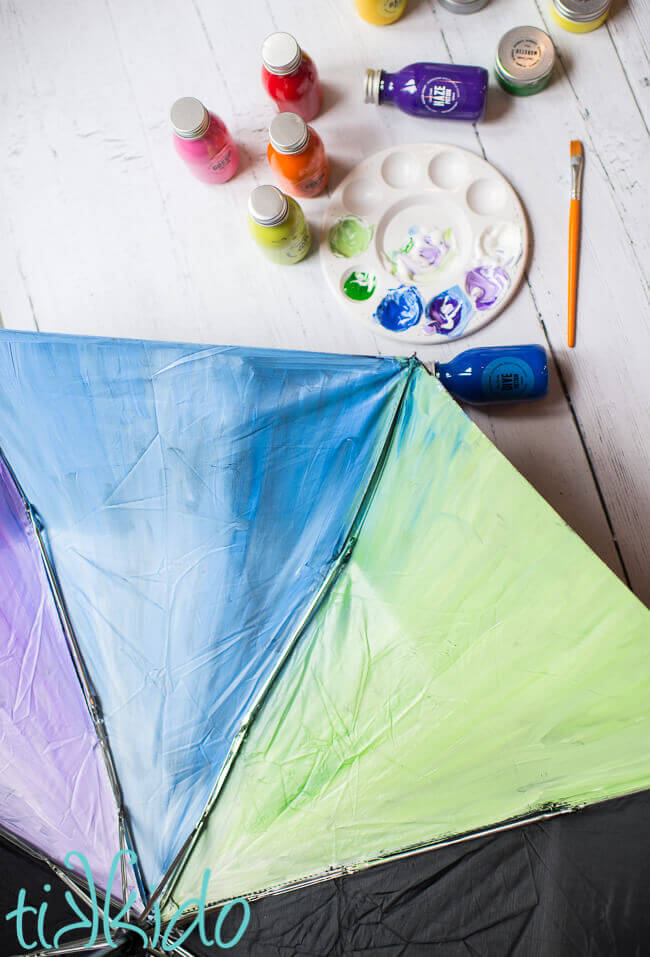 What Brand of Acrylic Paints are Best for Making Painted Umbrellas?
Any will do, really.  The simple, inexpensive kind from your local craft store to more premium, artists' brands.  I bought a set of the fabulous acrylic paint colors created by artist Stuart Semple and available from his website.
If you're going to be painting thick layers of paint, it can be helpful to use an acrylic fabric medium, which, when mixed with any acrylic paint, makes it more flexible and turns it into a washable, flexible fabric paint. 
You could also purchase acrylic fabric paints for this project.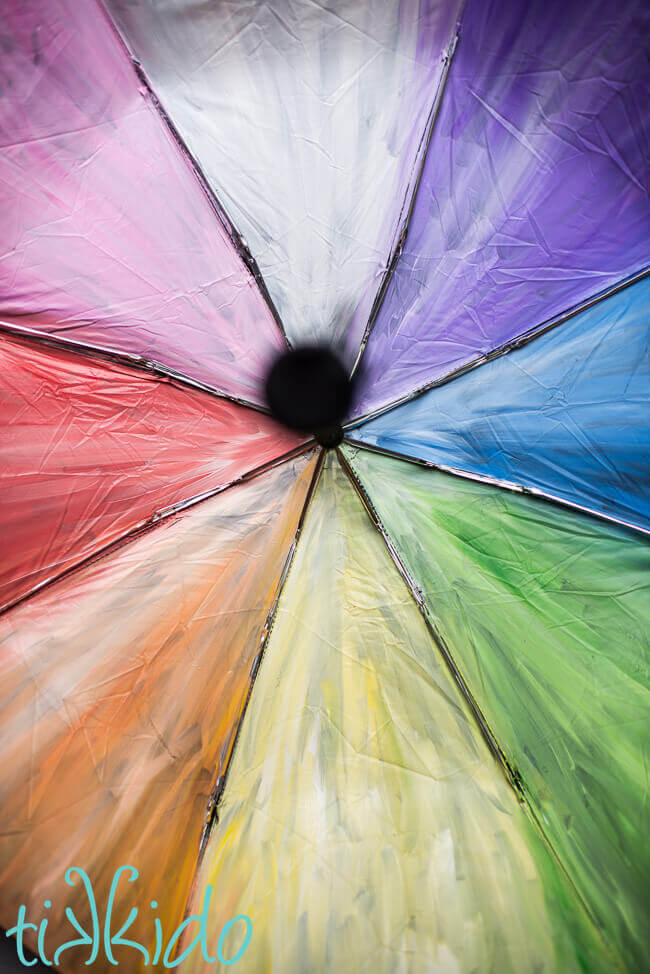 I started by painting a base coat on the underside of my umbrella.  I knew I wanted to have a riot of rainbow colors inspired by the artwork of Sarah Coey, so I didn't mind that my first coat of paint was kind of streaky.  I knew I'd be adding a lot more paint once this first layer was dry.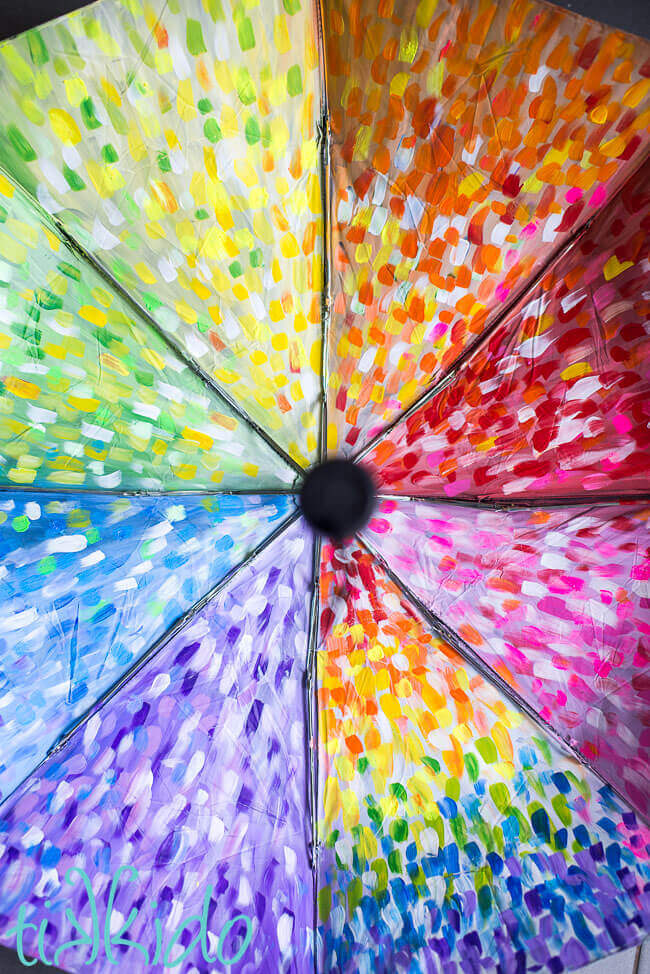 Once the base layer of color had dried, I added dabs of paint--many, many dabs of paint--layering the spots and the different colors until I was happy with my design.
You can't erase paint if you don't like something you've done, but happily, you can let it dry and paint right over it!  I actually did just  that a couple times in this project.  I added a few dabs of a color in a panel, and then decided I didn't like how it looked.  So I waited a few minutes for the paint to dry, and painted right over it with a different color.  So don't be afraid of experimenting!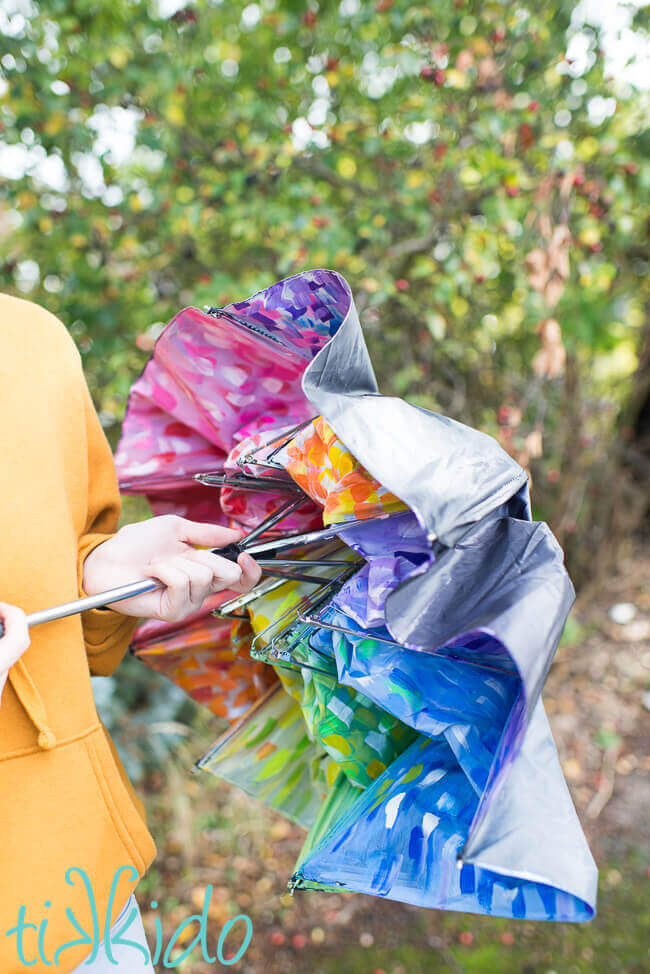 The finished umbrella is like having a secret weapon against gloom.  Open that black umbrella and... WOW.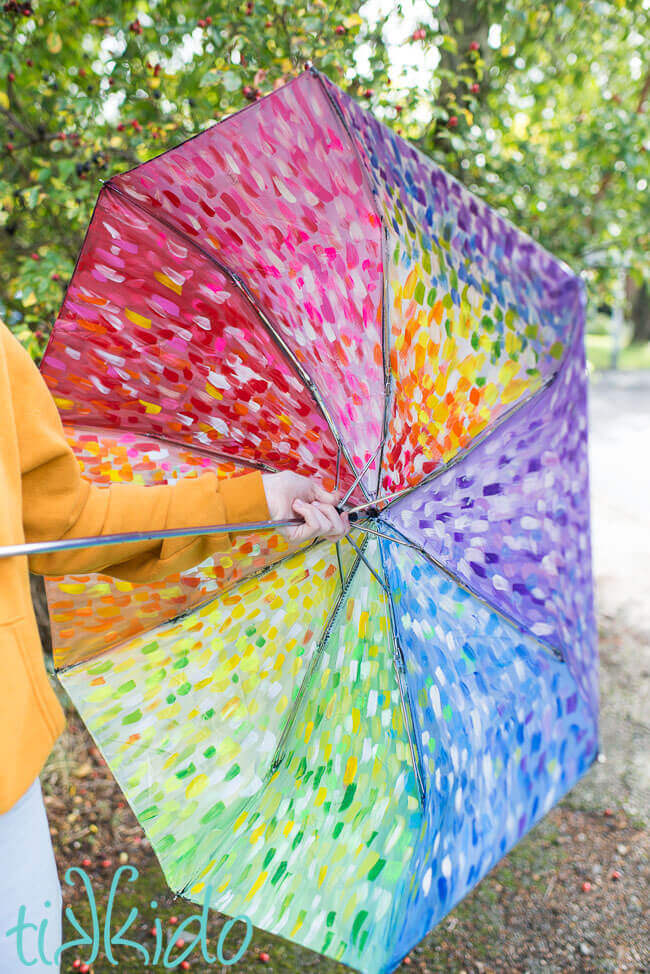 Who wouldn't smile when seeing such a bright, fun sight?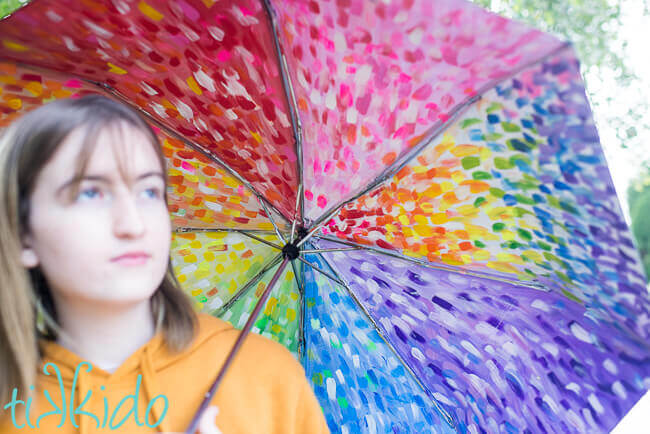 Other Painting Craft Posts You Might Like: