Printer-friendly version
Do you love the look of trendy painted denim jackets and want to dry doing it yourself?  I just made my own painted jean jacket and I am in love with how easy, fun, and beautiful my painted jacket is.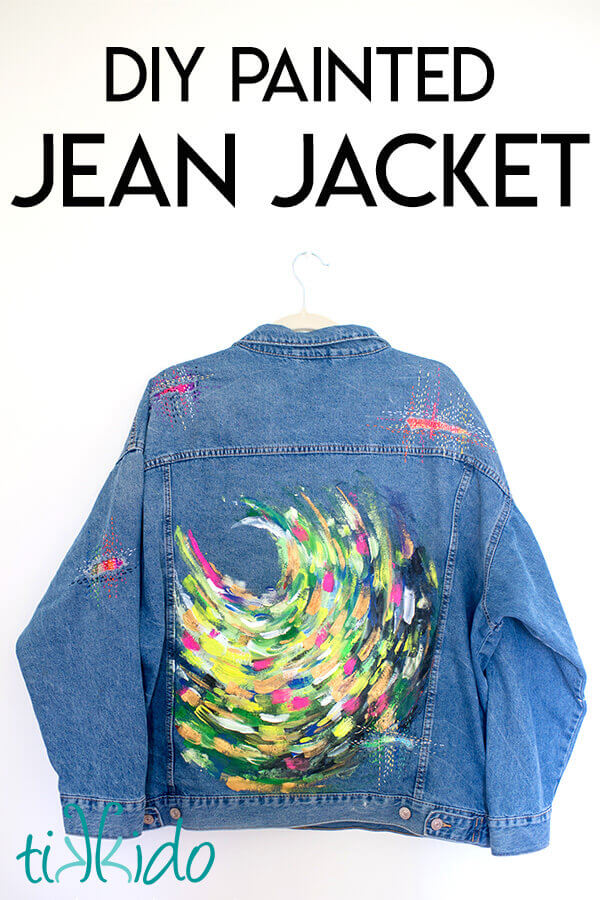 I went to a jacket painting workshop this past weekend run by the artist Jade Laurice at the Culture Hustle Art Shop in London.  I got to play with Stuart Semple's amazing, bright, happy, FUN acrylic paints, and paint a fun design on my own jacket.
I only recently learned about Stuart Semple and his spectacular paints when I read an article about his delightful, funny, pointed feud with another artist, Anish Kapoor.  Do yourself a favor and read about it, and laugh with delight, and then join me in my new obsession with the bright and wonderful and generous and kind and beautiful world Semple is working to create.
At the workshop (which was free, people, FREE!), we got to use Semple's fabulous, vibrant, high quality acrylic paints and powders.
I'd never painted on denim before, and was a little worried about coverage on the darker fabrics, but the paints were so full of saturated color that they covered beautifully, even on the darkest denim I saw at the workshop.
Painted Jackets with Acrylic Paint
One of the workshop attendees asked Jade, the artist/instructor, about using acrylic paints for painting denim jackets versus fabric paints.  Jade said that she happily paints with whatever she has on hand, and that acrylic paints work wonderfully on jean jackets.  She said she only specifically seeks out fabric paints when painting something like a shirt that has to be washed much more frequently. 
How do you Clean Painted Denim Jackets? 
Jade recommends hand-washing your painted denim jacket and letting it air dry.
You can also purchase fabric medium that can be mixed with any acrylic paint to turn it into fabric paint that can be washed and remains more flexible than straight acrylic paint.
For my design, I went with an abstract swirl of colors inspired by the artist Sarah Coey.  I love her bright, colorful designs, and the movement and flow of the riotous colors.
We were REALLY late to the workshop thanks to a navigation SNAFU, but they let us take home paints to complete our designs at home.  Here's my daughter with her half-painted jacket and Jade, the artist.
I love my painted jacket, and I really love how it integrated with the sashiko visible mending I did to patch the rips in the denim.
Painting with both paint and threads!
Have you ever made a painted jacket?  I want to see!  Comment below with a link or share the pictures on my facebook page.