Printer-friendly version
Sashiko is the Japanese art of visible mending.  This tutorial shows you the most basic, simple method of sashiko mending, using a simple running stitch.  But just because the technique is incredibly easy doesn't mean you can't make beautiful things!  You can play with textures and colors of fabric and threads to create art while mending a hole in your clothes.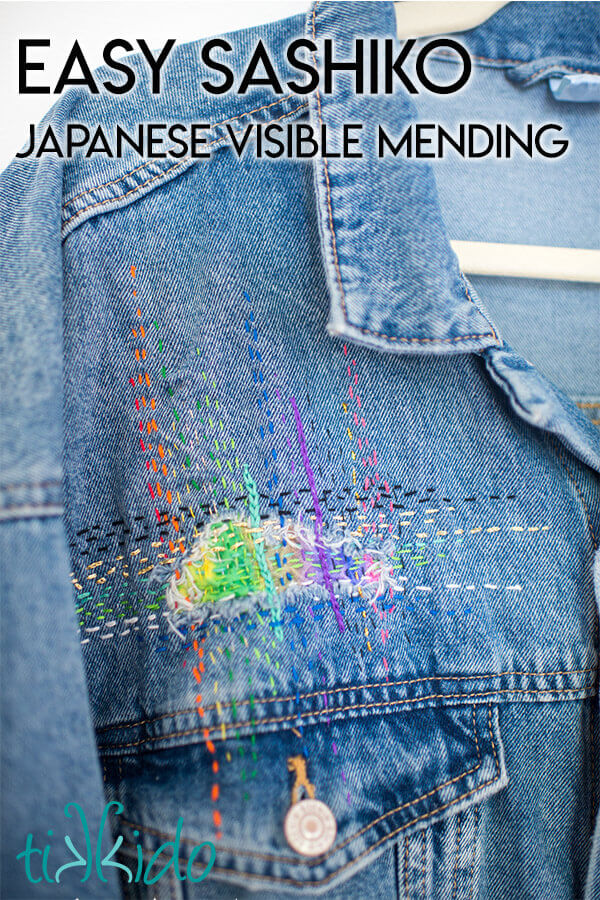 I needed a jean jacket for a jacket painting workshop I attended recently, and the one I found had a lot of trendy rips and tears.  So many, in fact, that it was incredibly annoying to try to hang the jacket on a hanger, because the ends of the hanger kept poking through holes and getting stuck.  So I decided to do a bit of sashiko mending, a method of Japanese visible mending, to patch up the holes and add some gorgeous, colorful, custome detail to the jacket even before I got around to painting it.
I love my colorful sashiko mended jacket so much more than I liked the distressed and worn version I bought at the store!
Sashiko Mending Materials:
fabric to patch the hole
sewing needle
straight pins
thread (I chose a range of colors, textures, and widths for my project)
I really loved the look of this tiny floral pattern fabric with the denim, and will definitely have to make a project with this combo.  But for my painted jacket project, I ultimately decided I wanted to go with something more colorful.
This watercolor rainbow design fabric was perfect for my jean jacket project.  All the colors!  Man, I do love a good rainbow.
Cut a piece of the patch fabric, and pin it in place to the backside of the hole in the fabric.  Make sure that the patch is cut generously so that it's larger than the hole.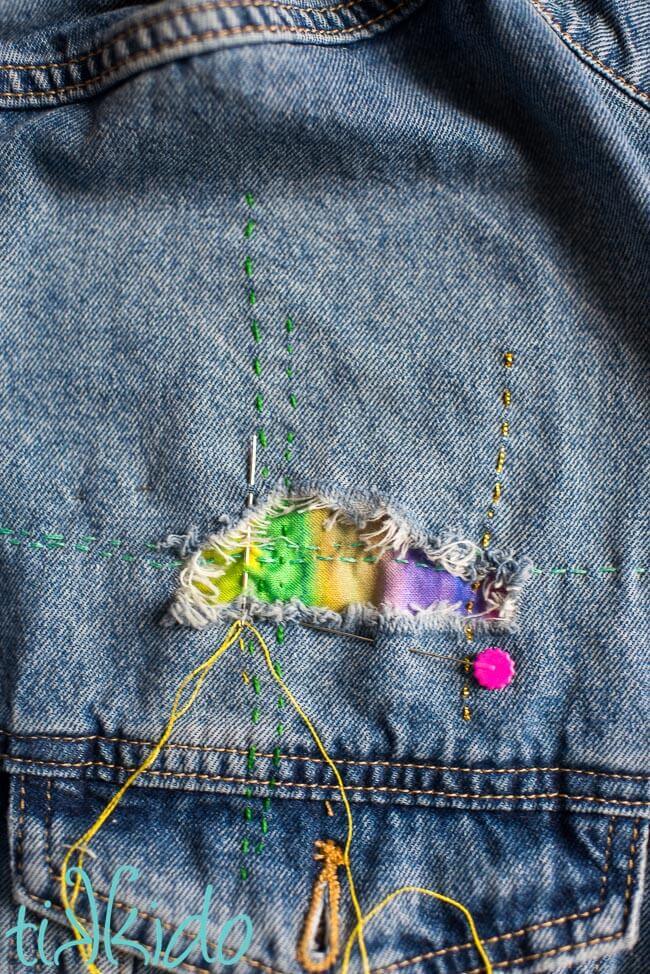 Then thread your needle, and stitch a basic running stitch: over under, over under.  Go vertically and horizontally.  You are, in essence, integrating the jacket fabric with the new patch fabric, creating new warp and weft, weaving the two fabrics together.
Do you Need Special Sashiko Thread for Sashiko Mending?
Not at all!  You certainly can buy official sashiko thread, but you can also use embroidery floss, regular sewing thread, thin crochet and tatting string, or even baker's twine.
You can use just one kind of thread to do sashiko mending, but you can also have fun with colors, thread textures, and thicknesses.  I love having a mix of all of those things.  I used embroidery floss to get a range of colors inexpensively, and I was able to create different textures and thicknesses by using all six strands in the embroidery floss, or pulling it apart to use only a few strands of a color.  I even threw in some chain stitch for fun, too.
Sashiko Mending on Painted Jean Jackets
If you're going to paint an area where you're going to do some visible mending, do the painting first, so that you don't have to paint around or accidentally cover your beautiful stitiching.  
Remember to let the paint dry completely before doing more stitching!
The dried paint can make it difficult to pull the needle and thread through the fabric.  You can purchase needle grippers to help with this, but my friend Eva (who taught me this sashiko technique) had a brilliant solution:  an uninflated balloon.  It works brilliantly!
You can make every line of stitching even and precise, or go for a more organic look, like I did.  I purposefully made each line of stitching a different length.
There are pattern books and even sashiko templates that you can use to mark out precise, elegant patterns.  I love the look of those, too, but I adore the simplicity and ease and expression I can create with just the most basic of sashiko techniques.
I am so in love with the recent trendiness of visible mending.  I love getting more use out of the things I buy, and I love getting to re-invent something in a creative new way.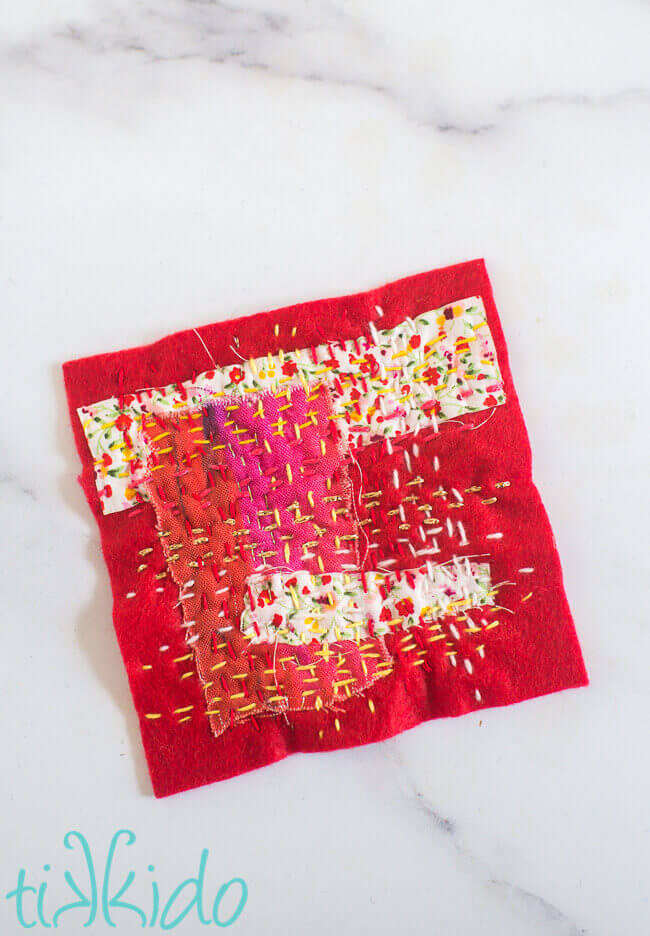 We've recently moved from Phoenix to the UK, and I'm having to deal with condensation on my glasses for the first time in about 20 years!  I don't own any coasters, but I did have some scrap fabric, and I whipped up a set of sashiko coasters to protect our new tables.  This technique is for more than fashion.
You don't even need to use pins to applique scraps of fabric on felt like this; the fabric just sticks nicely to the felt all on its own.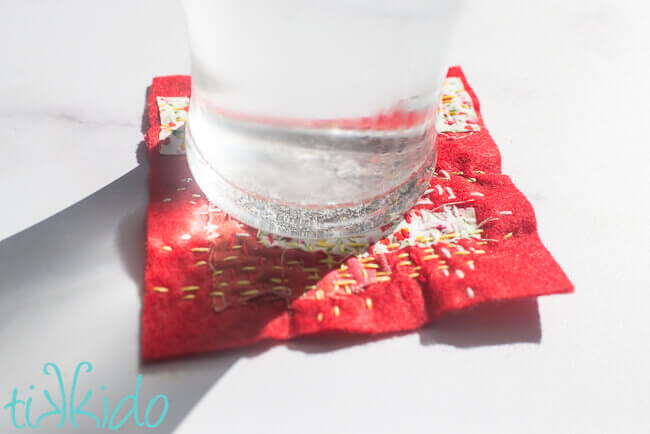 I think new pillows for the couch are going to be the next items to get this kind of treatment!  How would you use sashiko mending techniques to create beautiful, practical things?